Over the past two weeks I have experienced two very different aspects of urban ecology.  The first centered on a pair of peregrine falcons nesting close to where I live in the city of Bath.  The second was a visit to the Olympic Parklands which have been created for the 2012 Olympic Games in London.  They illustrate well the range of issues and opportunities involved with nature in the city.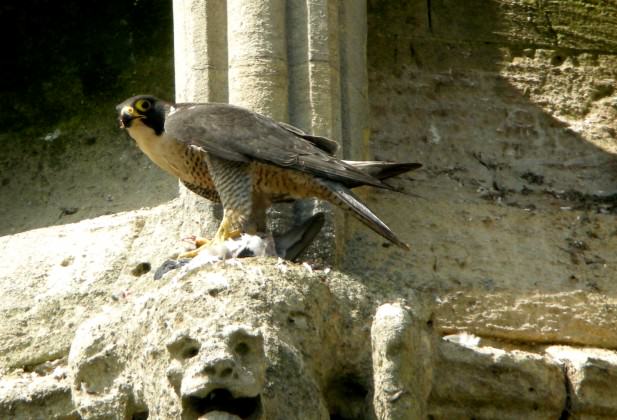 We are all familiar with the way that some species are particularly good at colonising urban areas.  In the UK some groups of birds have been particularly successful, notably those of the crow family and a wide range of water birds, including a number of alien species.  But the colonisation of towns and cities by peregrine falcons has been one of the most dramatic changes of recent years.  Until the 1990s traditional nest sites of peregrines in Britain were restricted to mountain crags and sea cliffs.  But as the population recovered from the low levels brought about by chemical pesticides in the 1960s some birds started to use quarries and artificial structures.  The recent colonisation of urban areas has been spectacular.  I remember the excitement amongst local birders when a pair first took up residence on Battersea Power Station in London in 2000.  This was followed by enormous public interest when people were able to watch the birds through telescopes in central London when they became an established feature on the Tate Modern Art Gallery.  Many thousands of people have enjoyed seeing the birds at first hand.  My local pair in Bath is no exception.  I regularly take my telescope for people to see the birds which nest on a city centre church.  The standard reaction from almost everyone when they first see the bird is "Oh Wow!"  This year they were given live national coverage by the BBC in it's Springwatch programme.
The pace of this recent colonisation has been extraordinarily rapid.  From a few scattered pairs in the late 1990s we now have a situation where many major cities have at least one pair.  London now has over twenty pairs.  Young birds raised in urban areas will find breeding sites in similar places and there are plenty to choose from.  But for me the most significant feature of the colonisation of towns and cities is the discovery that these birds are gaining an advantage by hunting at night.  Examination of prey remains by Ed Drewitt of Bristol Museum has shown that whilst feral pigeons form about half their diet, the other half is made up of a wide range of species, many of which are not local birds.  In Bath their prey in winter months includes large numbers of woodcock which are thought to be migrants flying though the city.  By using the lights of the city the peregrines are adapting very effectively to an urbanised lifestyle.  But not everything is plain sailing.  The urban environment poses a variety of hazards for young birds when they take their first flight and I have witnessed numerous mishaps.  But they also have the advantage of being watched over by many people during the critical period and the proportion of young birds that have been rescued is remarkably high. Local members of the Hawk and Owl Trust have been kept busy. One young bird had to be fished out of the river twice last week!
Once the peregrine nesting season had finished I went to see the venue for the London Olympics.  You may think that the Olympic Games is all about sporting events and has little to do with nature.  But the reality is very different.  London set out to put sustainability at the heart of the 2012 Games and this meant that biodiversity had to be addressed as part of the overall plan.  Construction of the Olympic Parklands with its various sports arenas and Athletes Village includes a range of newly created naturalistic habitats designed to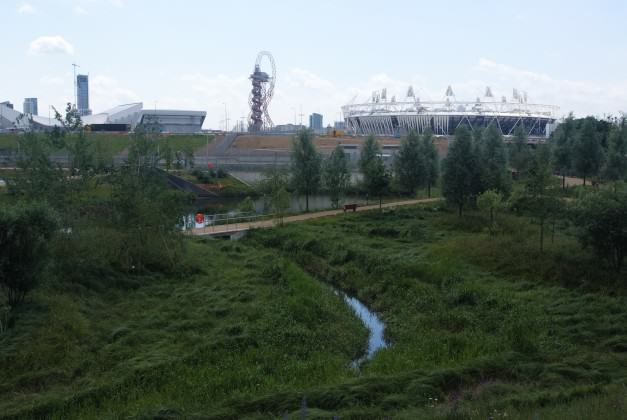 enhance the wildlife of the Lea Valley in which the venue is situated.  After the Games are over the area will become the Queen Elizabeth Olympic Park which has been designed to provide high quality green infrastructure alongside a mixture of residential, sporting and commercial development.  The legacy of the Olympics will be to revitalise an area of London which had suffered severe post-industrial blight and create a new high-quality environment incorporating sustainable drainage schemes, green roofs, and forty-five hectares of new ecological landscapes as part of a much wider area of newly accessible green space.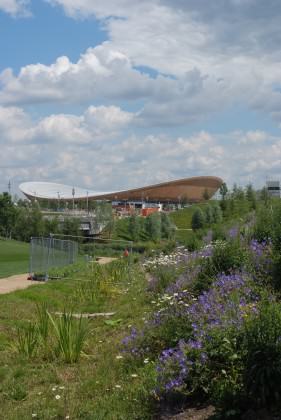 Looking round the park last week I was impressed by the transformation that has been achieved.  Although there are six major sporting venues in the park, including the Olympic Stadium, Velodrome, Aquatic Centre, also Hockey and Basketball pitches there was a sense of space, with river channels and wetlands, as well as more formal areas representing the gardens of the world.  But what I particularly liked was the effort that had been made to incorporate nearly 700 bird boxes and bat boxes into all the built structures.  So gabions of the bridges had large numbers of bird boxes built in to accommodate species such as swift, house sparrow, starling and one of the local rarities the black redstart.  Elsewhere there are artificial banks for kingfishers, and sand martins.  Needless to say the martins were using holes intended for kingfishers. There are also artificial holts for otters.  Reed warblers and reed buntings were singing from the newly created reedbeds and large numbers of native black poplar have been planted to create wet woodlands.  The process involved clearance of extensive areas of invasive plants including giant hogweed, Himalayan balsam and Japanese knotweed.
Both land and water were heavily polluted.  The Velodrome is built on what was locally known as "fridge-mountain".  The whole area of the park has been restored to create high-quality habitats.  Ecological features of post-industrial landscapes have been retained by creation of stone and rubble banks supporting vegetation characteristic of urban wastelands.  It is hoped that these will provide suitable habitat for locally endangered invertebrate species, such as the brown-banded carder bee and toadflax brocade moth.  This is all far removed from one's normal perception of Olympic Games!
I didn't get to see the Athlete's Village, there was too much security, but I'm told that the buildings all have green roofs and there are further areas of species-rich grassland with a large lake for flood alleviation, all of which will be maintained when the athlete's accommodation becomes a residential area.  Biodiversity is only one element of the overall design for sustainability.  The carbon footprint of the Games has been mapped in great detail and the pursuit of sustainability has affected the design of every aspect of the park and the staging of the games.  There is much talk of designing new urban areas to improve their environmental performance, especially in the context of climate change, but also to improve the quality of urban life for their residents.
The Queen Elizabeth Olympic Park provides a microcosm of what is possible.
But it can only happen if sustainability is central to design and if there is the political will to make it happen.  The Olympic Park could provide a new model for urban development.  Its legacy will not only be in the new landscapes and buildings that have been created, but also in what everyone involved has learnt from doing it.  The culture change in addressing sustainability in such detail has been immense.  It has affected everyone from architects and civil engineers to all those involved in the vast supply chain of materials and in the actual staging of the Games.  It has been a unique opportunity to develop solutions that can now be applied more widely.  London 2012 has been dubbed the One Planet Olympics.  The benefits will go far beyond London.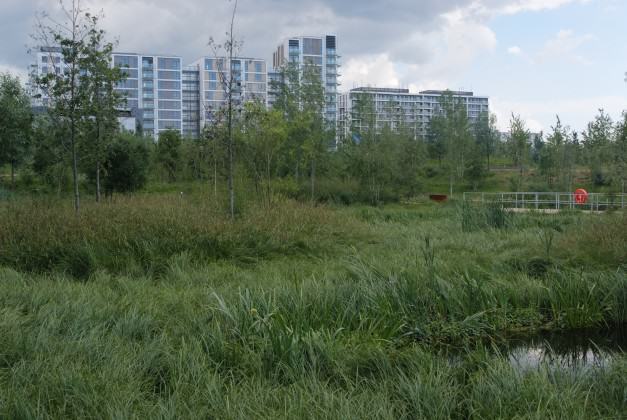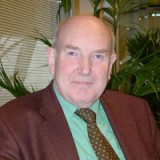 David Goode has over 40 years experience working in both central and local government in the UK and an international reputation for environmental projects, ranging from wetland conservation to urban sustainability.