The belief that the city is an entity apart from nature and even antithetical to it has dominated the way in which the city is perceived and continues to affect how it is built.
The city must be recognized as part of nature and designed accordingly
— Anne Whiston Spirn, The Granite Garden (1984)
Coming on the heels David Maddox's references to Central Park's Pale Male red-tailed hawk and David Goode's recent piece featuring London's peregrines, it may appear that contributors to The Nature of Cities are fixated on urban raptors.  Continuing that thread, it was just yesterday as I sat on the front stoop of the four-plex I've shared with friends for more than thirty years in Portland, Oregon (USA), I heard vaguely familiar cries overhead.  At first the high-pitched screeching evoked the sound of hungry young red-tailed hawks, begging to be fed.  Once I picked them out of the clouds and could see their sleek, swept-back, pointed wings it was clear the plaintive calls were coming from six peregrine falcons who were arrayed, Blue Angel-like across the neighborhood sky.  The peregrine flyby was undoubtedly this year's four fledglings accompanied by both parents from the nearby Fremont Interstate 405 Bridge.  The Fremont, a three-span, half-through-tied arch that soars almost four-hundred feet above the Willamette River, the most productive peregrine nesting site in Oregon, has its western-most footings planted firmly in nearby in Portland's densest neighborhood.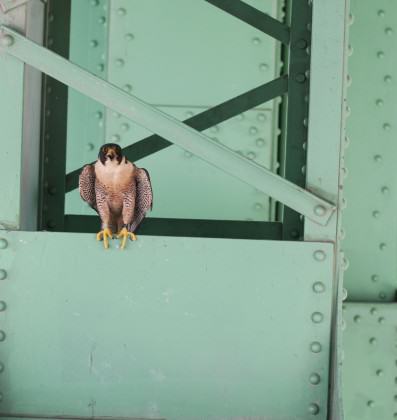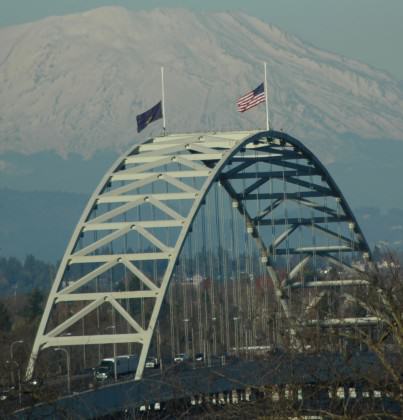 Just a few weeks ago I had a similar aural and visual treat while walking through 5000-acre Forest Park, a ten minute stroll from my apartment.  As a friend and I sauntered down Leif Erickson Road I heard, faintly overhead the unmistakable, nasal whinny of a bald eagle.  It was soon clear that not one, but six bald eagles were kettling directly overhead, less than a mile from my apartment.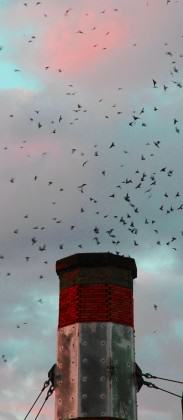 Both the peregrine and eagles sightings came a few blocks from where up to three-thousand nature enthusiasts have migrated during the fall for the past two decades to watch up to 40,000 Vaux's swifts dive into the chimney at Chapman Elementary School.  Families gather with picnic dinners and are treated to a fantastic raptorial display as peregrines slice through the Vaux's whirling votex or a Cooper's hawk alights on the chimney's lip from where they snatch a swift as it enters the opening.  Half the onlookers cheer the birds of prey, while the rest boo and root for the swifts' successful dive into the tall chimney.  All of this near the heart of downtown Portland.
Lessons from Colorado
Shortly after the peregrine flyby I grabbed my copy the New York Times and turned on the television to catch the latest about the Colorado fires.  More than the magnitude of the blaze and the fact that in excess of 30,000 people had been uprooted from their homes, I was intrigued that one lucky soul, whose house had been untouched by the conflagration, re-located to the steep, rural forested slopes outside Colorado Springs because of a desire to be "close to nature", to live where they could "watch chipmunks" at their feeder!"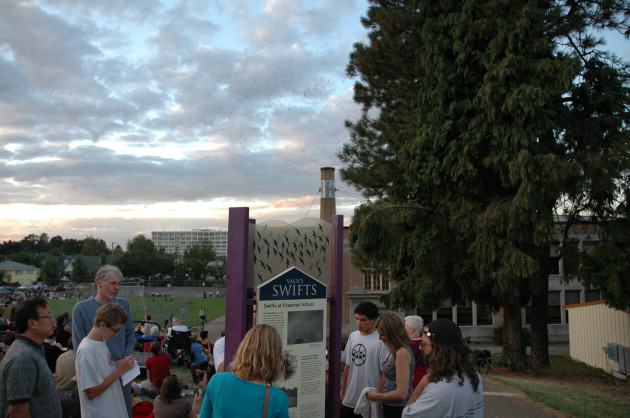 From where I sat, in the densest urban neighborhood in a city of almost 500,000 and metropolitan region of two million–a region that, despite its size, still abounds with wildlife–I was saddened by the tragedy unfolding in Colorado and by the perceived need to locate outside the city in order to commune with nature. Of course their plight has been repeated throughout the country as people seeking their acre or two of paradise build in floodplains, on coastal barrier islands, in wetlands, on steep slopes and other inappropriate landscapes.  Ironically, this unsustainable land use pattern fragments wildlife habitat, diminishing the very resource they located their homes to enjoy.  Unfortunately, these poor choices are often abetted by local elected officials and planning commissions.
Nature Nearby…In the City
Why the perceived need to build outside the city to "have access to nature?"  For too long there has been an anti-urban bias in the United States that has resulted in a desire by some to seek their "piece of nature" outside the city.  Even in relatively progressive Portland, I was told by local planners almost forty years ago that there was "no place for nature" in the city.  Our urban growth boundary and statewide land use planning program, they asserted, was established to protect nature "out there" beyond the urban fringe.  Everything inside the urban growth boundary was "up for grabs", intended for intense urbanization.  If it was nature I wanted there was plenty to be had in the Cascade Mountains, Columbia Gorge or the Oregon coast.
This "real nature is out there" philosophy has even been echoed by some conservation organizations and wildlife agencies whose missions are focused exclusively on protecting pristine rural landscapes.  Dedicating limited resources on "trashed" urban habitats, they argued, was, at best, a fool's errand and at worst a profligate waste of limited resources.
In Livable Cities is Preservation of the Wild
Cities have for too long been demonized.  While it's indisputable that many cities were once oppressive places to live–particularly for the urban poor–and were most certainly not wildlife havens, today there is a growing renaissance in urban planning and design, with access to nature as a central tenet.  People are flocking back to the urban core and new alliances of urban pioneers are working to integrate the built and natural landscapes in and around metropolitan regions across the world.
When we founded the Urban Greenspaces Institute in 1999 we adopted as our motto, "In livable cities is preservation of the wild" as a corollary to H D Thoreau's aphorism, "In wildness is the preservation of the world."
Protecting the rural wilderness requires an equally aggressive commitment to make our cities more livable and loveable.  That requires the protection and restoration of a vibrant urban green infrastructure that includes healthy watersheds, diverse fish and wildlife populations and ecosystems, parks, and recreational trails where the vast majority of our population lives–in cities.  It also requires, as David posited in the inaugural The Nature of Cities blog, that cities be viewed and planned as unique ecosystems for both their inherent ecosystem service values and for their contribution to our quality of life.
Many conservation organizations have begun to retool themselves in recognition of the role nature in the urban and urbanizing landscape plays in a broader conservation national agenda and have begun to focus on the protection and restoration of nature in cities as well.  In fact, numerous local conservation organizations in the Portland-Vancouver region now focus exclusively on urban nature conservation.  The same phenomenon is occurring across the country and internationally.
Yesterday as I reflected on the Colorado wildfires I picked up a copy of our daily paper, The Oregonian.  K D Lang was asked why she had recently moved to a condominium in Northwest Portland's Pearl District.  Her response?  "I just think the proximity to nature is wonderful."
When David asked if I'd participate in The Nature of Cities project I jumped at the opportunity to contribute to a dialogue whose primary focus would be nature in the city.  Until very recently most efforts regarding "sustainability" in Portland have focused almost exclusively on LEED ratings, energy conservation, transit, and recycling with too little attention paid to protecting and managing nature in the city.  Happily, owing to a more than thirty year sustained effort on the part of a few individuals, a growing cadre of NGOs, and a few progressive agencies, we've experience a dramatic shift in thinking regarding nature's role in combining our region's commitment to maintaining compact urban form while simultaneously striving for an ecologically vibrant city and region.  For example, in its new We Build Green Cities initiative the Portland Sustainability Institute recently added natural habitat to its sustainability objectives.
In future contributions to The Nature of Cities I plan to trace the evolution of how our region has moved from a "nature is out there" philosophy to a regional strategy through The Intertwine Alliance to ensure access to nature is equitably distributed throughout the 3,000 square mile Portland-Vancouver metropolitan region.  I'll also explore efforts by the national coalition, the Metropolitan Greenspaces Alliance to mount an effort at the national level to attract more investment from federal natural resource agencies to metropolitan regions across the United States.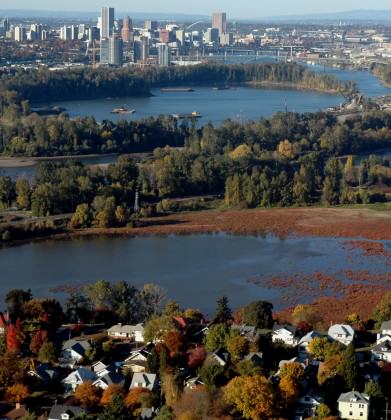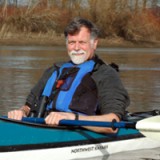 Mike Houck is a founding member of The Nature of Cities and is currently a TNOC board member. He is The Urban Naturalist for the Urban Greenspaces Institute (www.urbangreenspaces.org), on the board of The Intertwine Alliance and is a member of the City of Portland's Planning and Sustainability Commission.