Many entries in this collective blog about the nature of cities will focus your attention on the nature that remains in cities, defined in terms of those patches of semi-natural habitat, the green bits, which are found in all cities, and which can be encouraged or discouraged by human action.  Consider for example Celicia Herzog's recent post delighting in the green landscapes in and around Rio de Janiero, connecting fragments of the famously-biodiverse Atlantic Forest in which Rio is emplaced.  Or consider Mike Houck's paean to the nature nearby, and within, Portland, Oregon, where his organization seeks to make Pacific Northwest cities both livable and loveable for people and other critters.  Lovely pieces both, well worth your time.
I want to write about something related, but different, something which I think is both more encompassing and less well understood:  that is, the total nature of cities.  I want us to conceive of cities in their entirety as ecological places (more precisely, as ecological landscapes), where buildings, streets, boardwalks, sidewalks and parking lots, ball fields, basketball courts, fountains, and power plants, as well as the green bits, participate in a complex and evolving mosaic, where natural things happen.  By nature I mean the interactions of soil and rock, air and water, energy and life, that characterize our verdant planet, and by natural, I mean the qualities of everyone and everything that participates in the great congress of life on Earth, including you and me.  Those interactions and those qualities do not disappear when we build a city.  Rather they take on new, idiosyncratic forms, which contrast in many, ordinary and extraordinary ways, with the ecological mosaics that formerly filled the place where the city now stands.
For example consider the fascinating work from Nova Scotia, where Jeremy Lundholm and his team surveyed the plants living in the cracks of sidewalks, the edges of the lawns, and other corners of the city of Halifax, and then traced back those plants, which most of us would think only as weeds, to the ecological niches where they were originally found in the world.  They found that Halifax city plants have affinities with species that normally inhabit cliffs and talus slopes, and less commonly, grasslands and floodplains.  Sidewalks are, from these plants' perspective, a cliff on its side.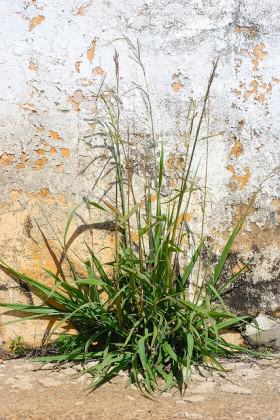 Lundholm's open-minded inquiries are on to something:  can we read an urban landscape "naturally"?  Perhaps with analogues we can.  Let's let tall buildings stand in for cliffy hills, notice how gutters guide bubbling streams during a storm, observe sidewalks as animal trails with regular patterns of use in morning and evening.  Let's talk about the evaporation coming out of grates on a cold Manhattan morning in the same breath as the evapotranspiration from trees on a summer afternoon, for both flows are part of a hydrological cycle returning rain water from the ground to the atmosphere.  Let's find out how biological matter passes through an ecosystem, whether that biomass is measured in leaves falling from a tree, or sandwiches passing through the deli door.  The nature of cities requires us to broaden our sense of what nature is.
Of course part of what we are broadening to include is us.  In ancient texts, nature was commonly contrasted with artifice:  artifice is what people create; nature is what is created without us.  What a terrible notion!  Terrible on two counts.  Terrible on the first count, because it suggests an equivalency, as if one species (people) were somehow equivalent in creative powers to everything else on Earth, an idea ludicrous and arrogant, no matter how much we may delight privately in our own inventions.  Terrible on the second count, because it suggests a sundering, a division of us from our world.  Rather than seeing us as participants in the network of life, which we manifestly are, we instead imagine we are removed and separate.  Much havoc has been wreaked on the backs of these misconceptions, with not the least of the mayhem originating from cities.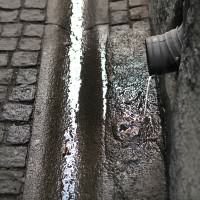 So let us reconceive.  What are cities?  Cities are constructed habitat for people.  Most species in nature come to an environment with whatever skills and characteristics their evolutionary history has provided them with and then they try to fit in.  How well they do, whether they survive, depends on how well-suited they are to the new conditions.  Cliff plants do well in sidewalks because they are pre-adapted to living in tight places.  The human trick is instead of adapting to the environment, we change the environment to adapt to us.  Too cold in winter?  Build a building and close the window.  Not enough food?  Domesticate plants and animals and grow a garden.  Water levels uncertain?  Construct a dam and an aqueduct.
How are we able to do these things?  Because our evolutionary gifts are large and flexible minds, an admirable ability to communicate in language, expression, and deed, and an affinity for each other:  we are social like few animals have ever been.  Because of these gifts, I can conceive of yesterday and contrast it with today; I can imagine different futures; and I can communicate my ideas with you, through this blog.  If you find those ideas have merit, then we can work together to change the environment to match our conception of it.  We can even, if we try, change our conceptions to match the environment.
And so we get to the nub of it:  the nature of cities.  Cities are ecological places, but have rarely been conceived in those terms, despite a history nearly 10,000 years in the making.  Perhaps this will be our 21st century contribution to the notion of urban life:  that cities are not only places of art, culture, communication, finance, business, science, religion, politics, and economy, but cities are also places for and from and of nature, cities of nature, nature with us in it.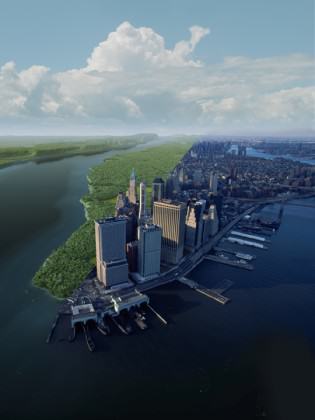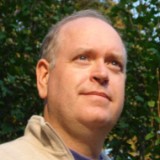 Eric Sanderson is a Senior Conservation Ecologist at the Wildlife Conservation Society, and the author of Mannahatta: A Natural History of New York City.