I started my research as a landscape architect and urban ecologist in St. Petersburg, Russia. My home town is one of the biggest European cities and it is famous for numerous historical landscapes. In that time (1990's) investigation of urban biotopes was a novelty. Passion for the history of landscape architecture resulted in my concentration on biodiversity of historical parks and gardens.
With a dramatic turn in my life I had a chance to research UK, US and then New Zealand urban flora and vegetation. One of the first striking surprises in the city of Christchurch, New Zealand, where I moved in 1997, was the similarity of urban floras. I could easily identify almost 90% of plant material! Urban landscapes, traditions and way of life in New Zealand were so similar to "motherland" England and to general Anglo-American culture. In this particular moment I felt myself a "global" person and started my research on unification of urban global landscapes and searching for alternative sustainable landscape design solutions. I saw as my goal to use knowledge of landscape ecology processes and match them with landscape design practice. Why the rest of the world so easily accepted British picturesque and gardenesque thinking even when this is not sustainable at all. How we landscape architects and environmentalists can convince ordinary citizens, as well as politicians and even our own professionals, to accept a new way of thinking — biodiversinesque — which gives a way and space to nature in our cities and not only "tidy" gardens with colourful flowers and lawns?
There are different definitions of globalization and its main manifestations. This phenomenon is always described as multifaceted and connected with market economics (economic globalization), political, cultural (worldwide homogenization of culture, export of western culture), ideological and even ecological and social globalization. The last aspect is referred to as consumerist culture – today's homogenized mode of life based on an individualistic approach.
I started to search for the roots of landscape globalization and found them in 19th century England. The most influential park styles and the major contributors to later global aesthetics, which started to reshape the physiognomy of cities and towns in 19th and 20th centuries, were Landscape or "natural style" (later known as the English landscape park style or sometimes called Picturesque) and Gardenesque style. The principal attributes of this "natural style" were irregularity, serpentine and meandering paths, "green openings like meadows", groves, forests and shrubberies of free configurations. Being born in Britain, this park movement reflected the features existing in natural ecosystems in Britain. Open grasslands (most of them were secondary, as a result of deforestation), broadleaved forests, groves and tree groups began to be the dominant feature of English parks. Flowering plants were only allowed if they grew naturally in the fields and woods.
The Gardenesque style was directly connected to the Industrial Revolution, geographical discoveries and the conquest of new lands by the British Empire. The main principle of this style was eclecticism: a mixture of formal elements (for example French parterres, topiaries and flowerbeds), picturesque imagery (winding path, groves and lawns) and even Chinese motifs. In planting design, Gardenesque introduced exoticism and the wide use of new plant species that were introduced from different parts of the world. Victorian gardens had always been based on Christian belief and philosophy. Man was nearer to God in the garden (a reference to Eden and the Gethsemane gardens in the Bible). For wealthy people gardening was "a source of agreeable domestic recreation" and for the poor it was "beneficial to physical, mental and spiritual well-being". The Victorian era was a triumph of art and horticultural skills over nature.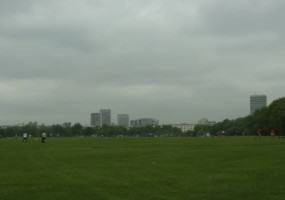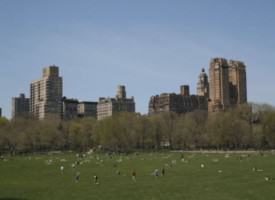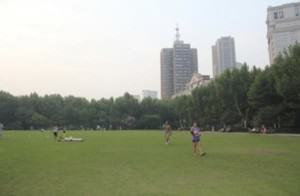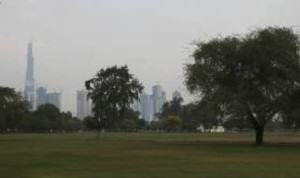 All evidence suggests that the British Empire presented not only a new "model" of a public park for the rest of Europe and colonial countries. Britain introduced a whole range of garden related attributes and plant material which later, in the 20th century, became symbols of the entire western civilization and an important feature of "global" landscapes. Among them are botanical gardens and public park layouts and principles, garden (flower) shows, popular gardening books and magazines and a "global pool" of exotic plants for temperate as well as tropical landscapes and commercial nurseries. Researching for years in different urban landscapes around the globe I argue that the main influential elements of picturesque-gardenesque landscapes, which were "accepted" for global landscapes, are lawn, flowerbed and rockery.
The history of forming the "global pool" of plant material started from the second part of the 19th century and went through several stages of introducing chosen plants from Asia, the Americas, Australia and tropical countries. With movement towards an "international market economy" the rich choice of original Victorian plant material was dramatically simplified and declined especially with the development of mass commercial nurseries. Many landscapes follow the typical slogan of a globalization era: to be "tidy", "pretty" and "colorful". For example, today the most common annual "global" flower bedding plants are: Begonia, Tagetes, Petunia, Salvia, Pelargonium, Viola, Coleus (Solenostemon) and Lobelia. I am sure that everyone can see these plants today in different cities from northern part of Russia to desert Dubai.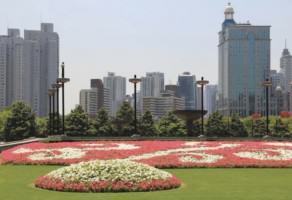 Interestingly enough, in tropical and subtropical countries the available plant material is also the result of English Victorian garden activity. The Industrial revolution, with its opportunities to build glasshouses together with the enthusiasm of colonial botanists, explorers and commercial plant hunters, resulted in the creation of the core of favorite tropical and subtropical plants, which were first collected and displayed in Kew Botanic Gardens (the Palm House). British glasshouses were responsible for creating the Western image of a modern "tropical paradise". The process of choosing the most "appropriate" beautiful and unusual tropical and subtropical plants in greenhouses started in Victorian England and ended in the crystallisation of the Western image of "tropical Eden" based on exotic plants from all over the world. Modern global tropical resorts, urban private gardens and public parks are all based on the same unified group of tropical and subtropical plants (mostly exotic to the local areas). I say to my landscape architecture students: "If you would like to work as a landscape architect in tropical countries it would be enough to know about 200 plants and you will be able to create private "tropical paradises". The most popular plants are: palms, bougainvillea, Chinese hibiscus, croton (Codiaeum variegatum), cordalyne (Coprdalyne spp.) south-east Asian orchids, African bird of paradise (Strelitzia), South American Plumeria and Australian Casuarina. Botanical Institutions all over the Victorian British Empire helped to epitomize the image of the "lost Eden".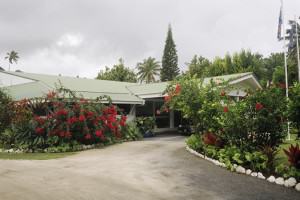 One of my favorite "justifications" of plant material unification is the comparative analysis of the plants offered for sale by nurseries in Seattle (USA), Christchurch (New Zealand), and St. Petersburg (Russia), which I did in 2007. It showed tremendous similarity of plant material, especially for conifers.
And now I think many of my landscape architecture colleagues would disagree with my next argument. Today big international architectural and landscape firms are playing an extremely important role in creating patterns of global landscape architecture and unification of urban landscapes. These firms create examples of "routine modernism" of skyscrapers – one of the most powerful symbols of success and prosperity of market economy in urban landscapes. The group of Anglo-American "signature" architects and landscape architects offer similar, "familiar", and comfortable landscapes with its buildings, picturesque-gardenesque public parks and "global" plants which can attract international investments to the new market economies in Russia, China and the United Arab Emirates. Paradoxically, the practice of modern landscape architecture is contributing to the ecological globalization and is linked to environmental problems such as climate change, water and air pollution, and the spread of invasive species. For example, our research on urban biotopes in different cities in the Northern and Southern hemispheres, particularly urban lawns, shows striking similarities in species composition and the structure of lawns. Today, the lawn is the main element of open space design in all types of green areas (up to 70%!). The "sacred" Western lawn is declared by many researches as the most ecologically extravagant element of our cities (because of high resource use, contribution to urban pollution and loss of biodiversity) and one of serious contributors to global climate change. For example, according to recent studies in the US, greenhouse gas emissions from fertilizer production, mowing, leaf blowing and other lawn management practices are four times greater than the amount of carbon stored by ornamental grass in parks.One of theemissions includes nitrous oxide (which is released from soil after fertilization), a greenhouse gas that is 300 times more powerful than carbon dioxide, the Earth's most problematic climate warmer.
Compared to countries with temperate climates, tropical and arid cities in Africa, India, South East Asia, Indonesia and the Middle East are behind in research and providing different design solutions on urban biodiversity at different landscape scales. Fast growing megapolises are catching up in acceptance of Anglo-American global landscape signatures and developing international modern "civilized" examples of public and private parks and gardens. Big international American and British landscape architecture firms have found a great new market in these countries and broadly advocate "global consumer culture". In this particular case, Western landscape architecture created "brands" such as lawns (symbol of "clean and green"), golf courses (symbol of western gentlemen "style" and prosperity), palms (very powerful symbol of Victorian exotism), and brightly colored plants (also powerful Victorian landscape symbol) as very modern and ideal combinations of nature and civilization and, ironically, advocated this vision as "sustainable". For example in the recently established professional landscape journal "Landscape", new "sustainable golf course development" is widely advertised. How can a golf course be sustainable in the desert? But funny enough, the lawn is seen as a very "sustainable" element in dry environment of Dubai because of its "green" image and exotic plants. It is declared to be very ecological because of its "cooling effect".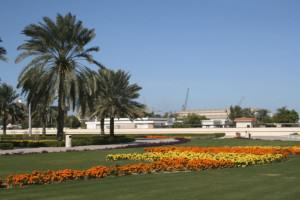 Among my dear Russian landscape architects colleagues, lawn, rockery and flowerbeds are the most important elements of design for private gardens. Newly rich Russians are catching up to have "Western paradise". Fortunately among progressive landscape designers there is a growing concern for unprecedented acceptance of western landscape consumerism and dramatic loss of local cultural traditions and suppressing native plant communities. The real essence of landscape and urban ecology as a science that works and respects natural processes is lost in the process of globalization and consumerization of landscape architecture.
This is why it is not a surprise that such cultural and ecological globalization has led to an identity crisis in modern cities and pushed designers to search for inspiration in indigenous landscapes and particularly in native flora. Today urban biodiversity is seen as an important tool for creating resilient and sustainable urban landscapes. The native component of biodiversity (native flora and fauna) began to be appreciated more and more as one of the most important tools for urban ecological and cultural identity. It is visible not only in the Southern Hemisphere, where there is a real problem with exotic species and their naturalization (in New Zealand for example there are 2,500 indigenous species of higher vascular plants, 2,500 completely naturalized non-native and 25,000 exotic species which are planted in various habitats) but in the Northern Hemisphere cities as well.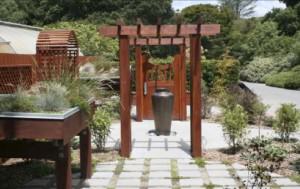 Today I see several approaches to design of urban biodiversity that are addressed by planners and designers in different scales across the landscape. I name just a few of them: "Go Wild", "Go Spontaneous", "Prairie Style", "Going Native", xeric landscapes, plant signature, "natural schemes" and pictorial meadow. They are using the models from nature (different ecosystems or their fragments) as an inspiration for planting design. These innovative concepts of "design with nature" are powerful visual tools for reinforcing urban biodiversity and make it more visible and recognizable for the general public as well. The most recent trends in landscape design are going even broader and include not only plants but insect and animal populations, for example bird, butterfly and lizard gardens in Switzerland.
In my opinion western countries can be champions for introducing the "right" ecological scenarios for developing countries in place of the current "global" pool of traditional western design and planting suggestions. Now it is time to create a new landscape architecture style which should be dominant over the 21st century –biodiversinesque style!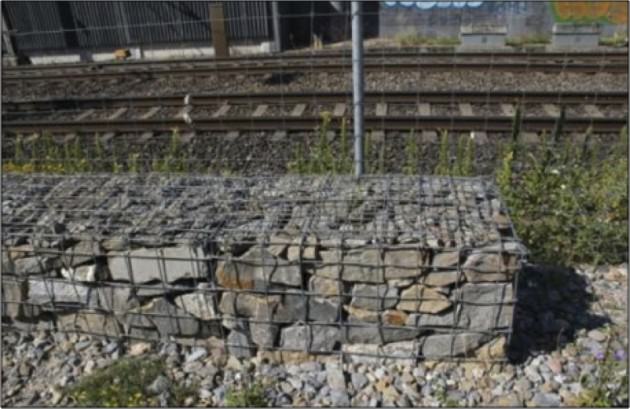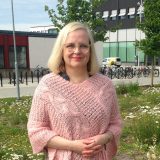 Maria is working on the investigation of different urban ecosystems and developing principles of ecological design. Her latest FORMAS project in Sweden was dedicated to the lawn as cultural and ecological phenomenon and symbol of globalization.