The Convention on Biological Diversity (CBD) currently has 193 Parties. It is indeed a challenge for each of the Parties, as a nation, to implement their commitments to an international convention like the CBD. How can each Party know how successful it has been in fulfilling its obligations to the CBD? In April 2002 at 6th Meeting of the Conference of the Parties (COP6) to the CBD, the Parties committed themselves to achieve a target of reducing significantly the rate of biodiversity loss at the global, regional and national level by 2010.
If we cannot measure quantitatively what biodiversity we have how can we manage and protect it? If we do not evaluate our biodiversity conservation efforts, how do we know that they are achieving what they were set to do? These were the questions that Singapore pondered over and we would like to share what we have done to help us meet our international commitments through local action.
In 2007, the National Parks Board (NParks) of Singapore reviewed the different indices pertaining to biodiversity conservation. At that time only indices on environmental sustainability and performance existed. Some of them include the 2005 Environmental Sustainability Index and 2007 Environmental Performance Index prepared by Yale Center for Environmental Law and Policy of Yale University, Center for International Earth Science Information Network of Columbia University in collaboration with the World Economic Forum and Joint Research Centre of the European Commission. The biodiversity component comprised only four indicators out of the total of 25 indicators. A number of countries were not included in this study due to the selection criteria.
The figures for environmental sustainability and performance looked grim for countries.
A landmark event occurred in 2008. UN-Habitat announced that the world's demographic patterns indicated that currently more people lived in cities than in rural area. This trend has shown no sign of reversing or easing in pace. Hence, it is inevitable that cities must play a pivotal role in biodiversity conservation. Doing a similar search for indices that evaluated biodiversity conservation at the city level drew a blank despite observations that cities are pro-active in the intensification of biodiversity efforts. It became increasingly obvious that the success of biodiversity conservation lies in efforts carried out by cities, local authorities and sub-national governments.
Networking among cities occurred as early as 2006 when the Global Partnership on Local and Sub-national Action for Biodiversity was initiated at the ICLEI General Assembly in Capetown, South Africa. The former mayor of Bonn, Barbara Dieckmann, hosted a Mayoral Conference in Bonn in 2008 at the Bonn UN Biodiversity Summit which resulted in the Bonn Declaration. The Global Partnership of Cities and Biodiversity finally took place at the IUCN World Conservation Congress in October 2008 at Barcelona, Spain. At COP10 in Nagoya, for the first time in the history of the CBD, the role of subnational governments, local authorities and cities was recognized when the Parties to the CBD supported the Plan of Action on Subnational Governments, Cities and other Local Authorities for Biodiversity as reflected in Decision X/22. It is significant that the City and Subnational Biodiversity Summit or Cities for Life, was held for the first time at the same location as COP11, a signal of the integral part that subnational governments will be contributing to the implementation of the objectives of the CBD.
I would like to focus on Singapore's contribution to the role that cities can play in biodiversity conservation.
Singapore, as a city-state, has to cater to many land-uses, such as defense, national security, water supply, etc., that many cities do not have to allocate land resources for. The constraint of space is further exacerbated by its size: 710 square kilometres. As an island, it does not have a hinterland to expand to. By virtue of its location in the tropics, Singapore has rich natural heritage of native flora and fauna species that inhabit this island along with 5.3 million humans.
We are in a unique situation in that Singapore is both a city as well as a nation, hence, a Party to the CBD. So how does Singapore, as a nation and a city, address these challenges?
Singapore as a Nation
As a nation and an obligation as a Party to the CBD, Singapore published its National Biodiversity Strategy and Action Plan: Conserving our Biodiversity (NBSAP) in September 2009. The principles that guide the implementation of Singapore's NBSAP are
(1) The biodiversity resources of Singapore are our heritage and should be conserved for future generations.
(2) Considerations on biodiversity and ecosystems are factored into the national planning process.
(3) A balanced view is adopted among national priorities and international and regional obligations.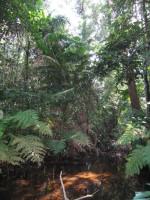 The goals mirror that of the CBD, i.e., conserve and enhance biodiversity at the genetic, species and ecosystem levels, ensure sustainable use of Singapore's biodiversity resources, and ensure fair and equitable sharing of benefits that result from the use of our genetic resources. To implement the NBSAP, we have adopted 5 strategies.
(1) To safeguard our biodiversity.
(2) To consider biodiversity issues in policy and decision-making.
(3) To improve knowledge of our biodiversity and the natural environment.
(4) To enhance education and public awareness.
(5) To strengthen partnerships with all stakeholders and promote international collaboration.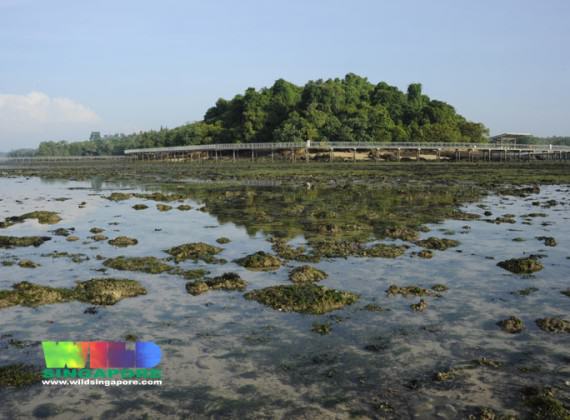 The success of the implementation of the NBSAP depends on the comprehensive participation of the public, private and people sectors. Some of the implementation activities for the above strategies are described below.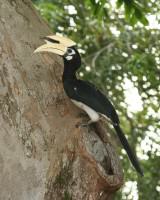 Safeguard our biodiversity
There is a hierarchy of conservation areas in Singapore including Nature Reserves, which are legally protected under the Parks and Trees Act, and Nature Areas, which are captured under the Special and Detailed Controls Plan administered by the Urban Redevelopment Authority. Several of our parks have native ecosystems and these act as conservation sites in addition to providing recreational ecosystem services.
Roads and park connectors form the major green backbone infrastructure. More and more of the roads and park connectors are planted with native species with multiple layers that emulate the tropical rainforest structure.
The breeding of the Oriental Pied Hornbill had not been recorded for over 50 years in Singapore. In the past 10 years, a few pairs started breeding. To facilitate its breeding, NParks with Nanyang Technological University and Wildlife Reserves of Singapore erected nest boxes. There are now more than 100 hornbills in Singapore.
Consider biodiversity issues in policy and decision-making
In a city context, it is not possible to legally protect all the biodiversity areas. Hence, it is important that biodiversity considerations be incorporated into the development planning process. The implementation of an integrated coastal and marine environmental management plan is an example of how biodiversity can be mainstreamed and applied cross-sectorally.
Improve knowledge of our biodiversity and the natural environment
More than ten native ecosystems, both terrestrial and marine, can be found in Singapore. More than 52 native mammal species, 364 bird species, 60 orthopteran species, 301 butterfly species, etc. have been recorded in Singapore. The marine biodiversity is also interesting. Singapore has more than 50 species of intertidal anemone species, which is a number greater than the north-eastern Pacific coast from Victoria, British Columbia, to Santa Barbara, California. There are 255 species of hard coral species inhabiting Singapore's waters, which amount to about 32% of the total hard coral species found worldwide, i.e., 800 species.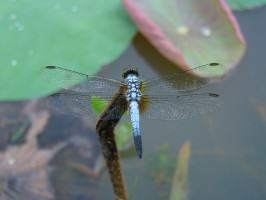 Knowing what we have and where they are found helps us to make better-informed decisions and to better manage our biodiversity. NParks is in the midst of carrying a Comprehensive Marine Biodiversity Survey in partnership with the National University of Singapore, several non-governmental organisations (NGOs) and over 400 volunteers. We are still finding new species, new records and re-discoveries.
The biodiversity discovery journey never ends – not even in a city.
Enhance education and public awareness
The biodiversity conservation community in Singapore is as diverse as its biodiversity, comprising schools, NGOs, commercial companies, volunteers, government departments, etc. The Ministry of Education has incorporated biodiversity into its school curricula. When commercial companies donate to biodiversity conservation, their employees also participate as volunteers.
Strengthen partnerships with all stakeholders and promote international collaboration
Earlier on, I mentioned how NParks found a paucity of indices for biodiversity at the city level. To address this lack of an evaluation tool for biodiversity conservation efforts for cities, Singapore suggested the development of an assessment tool with the Secretariat of the CBD (SCBD) and proposed it at COP 9 in Bonn in 2008. An international partnership led by SCBD with the Global Partnership on Subnational Governments and Local Authorities on Biodiversity was formed to develop a self-assessment tool known as the City Biodiversity Index or Singapore Index on Cities' Biodiversity. The draft User's Manual for the City Biodiversity can be found on the CBD website. The final version of the Index and the User's Manual will be ready by 31 December 2012. To date, over 70 cities have applied the Singapore Index. It would be great if more cities join in this initiative and share their experiences.
Singapore as a City
Singapore embarked on its Garden City programme in June 1964. It formed the blue-print of the greening of Singapore. Singapore celebrates the 50th Garden City Anniversary next year. In the course of 50 years, Singapore has matured from a Garden City to a City in a Garden; where stepping out of any building should make one feel that you are in a garden. This is a story to be told another day.
Lena Chan
Singapore