A review of Refuge in Refuse: Homesteading Art and Culture, an exhibition curated by Robin Lasser, Danielle Siembieda, and Barbara Boissevain at SOMArts, San Francisco, USA.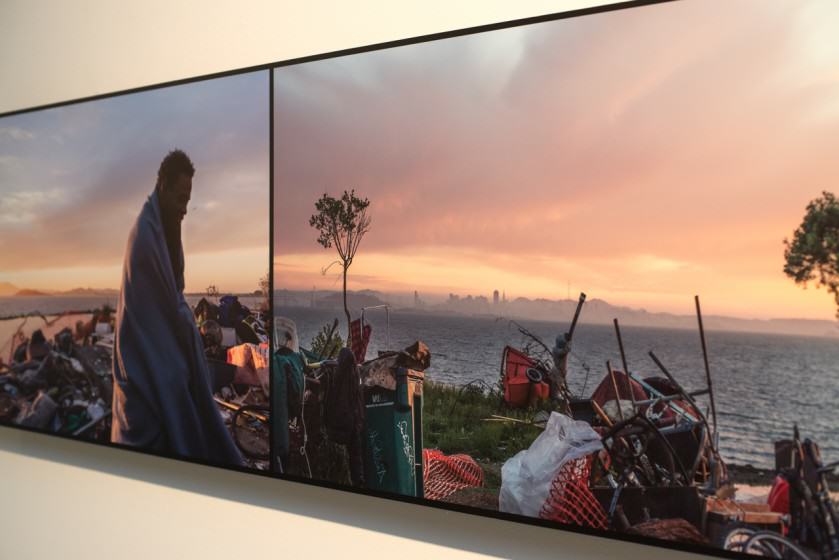 For such a far-reaching social and ecological exposition, Refuge in Refuse: Homesteading Art and Culture centers on a surprisingly small piece of man-made land known as the Albany Bulb. A decommissioned construction landfill, the "Bulb", as it is affectionately known, pokes out into the San Francisco Bay like, well, a bulb…or a mushroom with a long neck (see below).
The residents of the Bulb themselves built their homes on top of decades of industrial garbage.
An unofficial community created by those without community, this thickly layered pile of refuse on top of the bay was home to a salmagundi of unsanctioned homes, gardens, and artworks for decades from the latter half of the 1980's until their eventual eviction in 2014.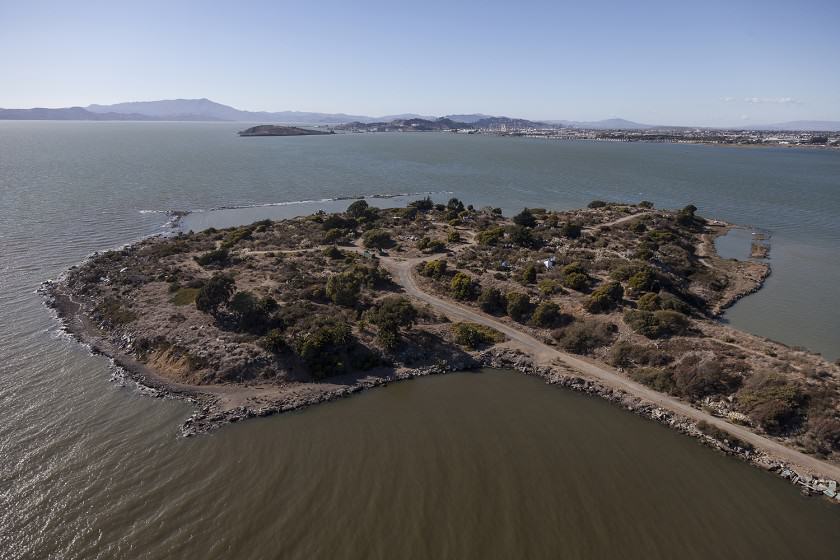 To some, it was an example of a kind of unstructured harmony between individuals and a tract of land, both of which had been cast from society. To others, it was a literal hell on earth of anarchy, drugs, and social misfits.
The reality, as this ambitious interdisciplinary exhibition explores–looking at everything from homeless housing to an invasive tree species–is both in between and to each extreme.
The show highlights works from dozens of professional artists, urban planners, landscape architects, activists, academics, and university students. Robin Lasser, Professor of Art at San Jose State University and the show's lead artist, says of the exhibition's curators "we did not so much 'curate' the artworks, as connect and gather vantage points from those who had a stake in the Bulb."
To that end, the exhibition included much collaboration and even several works of art from former Albany Bulb residents, the last of whom were–in a melancholic twist–evicted from the land before the exhibition opening as the city of Albany prepared to convert the former landfill into an "officially sanctioned" public recreational space to be managed by the state of California. This transitional process is now well underway, so the exhibition also acts, in some respects, as an archive.
From practical solutions for the homeless to expressive works of sculpture, the array of pieces in the exhibition is a bit bewildering at first. Yet as one moves through the SOMArts gallery, past a ramshackle home made from trash; pieces of art constructed from landfill gems; striking images of landfill tenants; and historical surveys of the land, nature and human occupation, one begins to put together a sense of what this land was.
A home, a gallery, an accidental nature reserve, the Bulb is conveyed here as a place where people with little traction in the social system in which they lived could try–and in many cases succeeded–to produce an alternative way of living.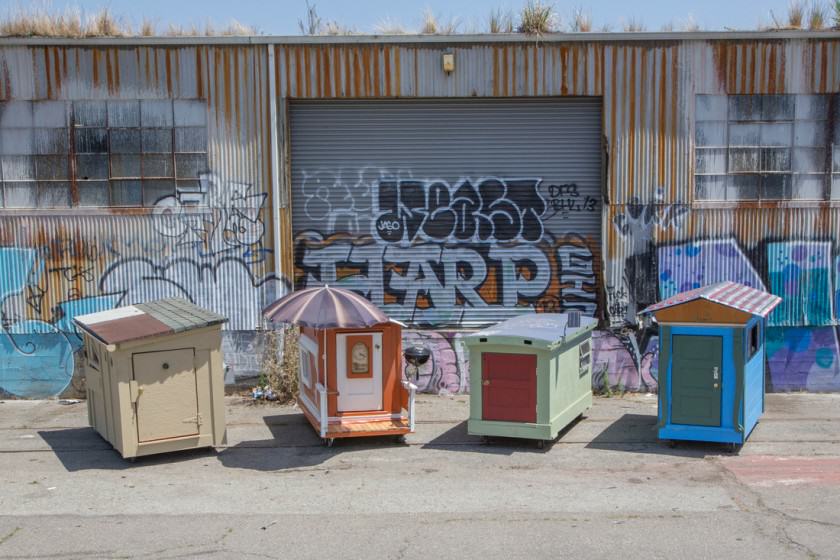 On the practical side are pieces such as Greg Kloehn's "Mobile Homeless Homes." As resident of Oakland, California, Kloenh writes that he was "impressed by the structures in the homeless encampments…" A sculptor by trade, he decided to attempt making a home from illegally dumped garbage, which he then gave to a homeless couple. His curious experiment has since turned into a small production line, with Kloenh having donated twenty such homes to date. The process by which these homes are built and freely given echoes the fortitude, ingenuity, and at times amazingly supportive community of Albany Bulb residents.
The residents of the Bulb themselves built their homes on top of decades of industrial garbage: telephone poles, wires, lead paint, engines and oil, and, reportedly, the entirety of Richmond City Hall when it was torn down to build a rapid transit line.
Such stories are explored through a short video documentary by Robin Lasser. The documentary gives an honest and explicit picture of the push and tug relationship between the city, the environment, and the residents themselves. Lasser's compelling visual narrative is complimented here by the thoughtful and poignant commentary of well-known lawyer, artist, and activist Osha Neuman. Neuman, a friend and consultant to many of those at the Bulb, talks of the land from a point of view which intertwines social justice and the arts.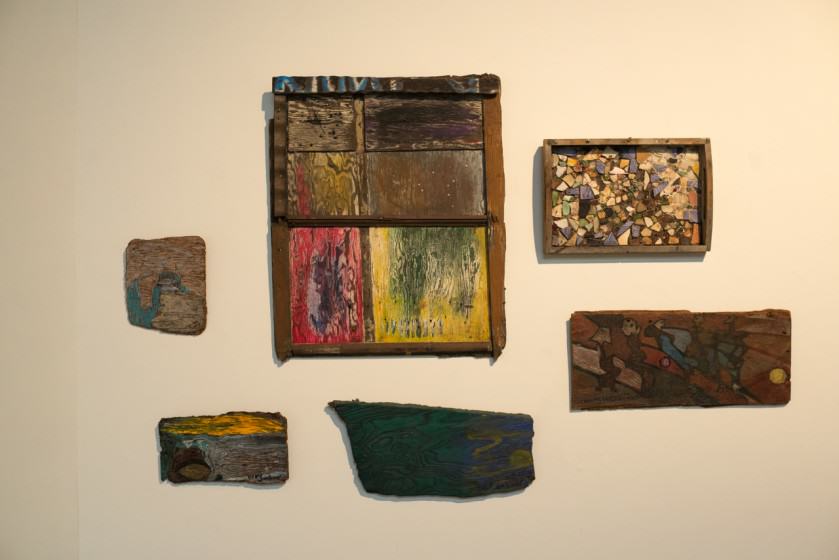 More than a home for social outcasts and artists, Albany Bulb is also "an impressive urban forest that emerged on its own following the closure of the landfill in 1983", quips another of the installations in the exhibition. This one, titled Albany Bulb Atlas, is a project from the Global Urban Humanities initiative at U.C. Berkeley, part of an ongoing project directed by Susan Moffatt which looks at the intertwining of the lives of people and trees at Albany Bulb.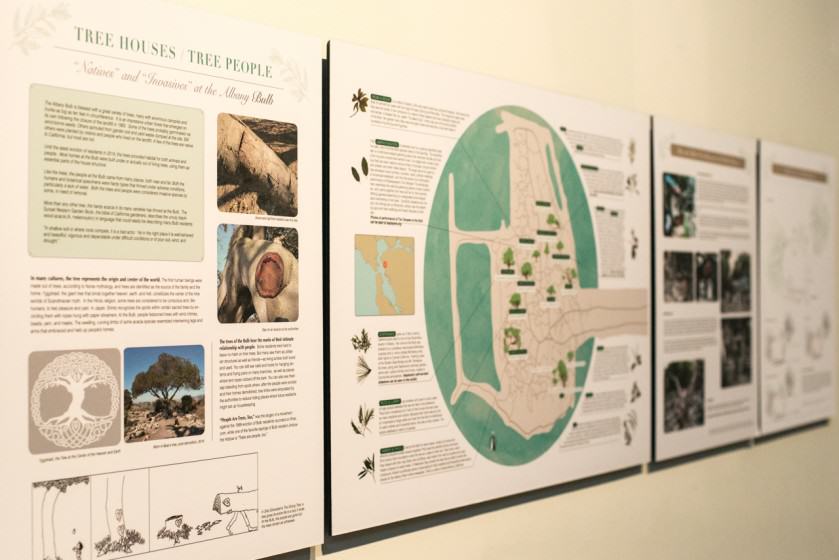 Drawing comparisons between the environment and those who inhabit it, the work whimsically notes that the tree which thrived here most, the black wood acacia, mirrored the characteristics of the Bulb's human inhabitants. "In shallow soil or where roots compete, it is a bad actor. Yet in the right place it is well-behaved and beautiful, vigorous and dependable under difficult conditions or of poor soil, wind, and drought."
The UC Berkeley urban humanities piece is not simply a study or appraisal of landscape transformation, or a cataloging of the natural environment, or even a vision for the future of the land. Rather, it is an effort to build a seamless, almost non-disciplinary review of interactions between people and place.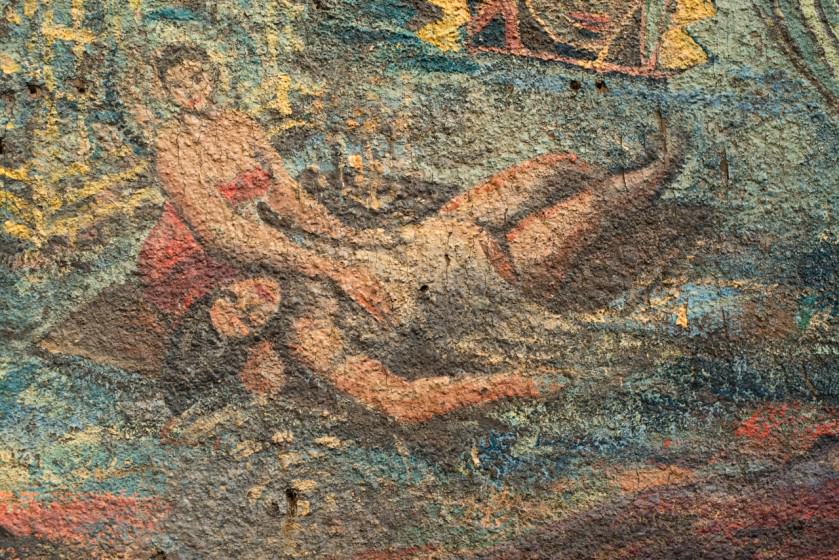 That sentiment is a good appraisal of what the Refuge in Refuse exhibition does as a whole. It gives an impression that the land as it had been stewarded over the past few decades, with minimal intervention, minimal infrastructure, and yet maximum tenacity and creativity, was brought to a far more natural state than could have been achieved otherwise.
"You see how nature can take over and restore what we have destroyed", says Neumann of the Bulb's environment.
Although 'more natural' is likely a true statement in this case, the debate over whether this state is better or worse than any other is not necessarily an assertion which this exhibition pushes explicitly. More of a strength than a fault, such broad reach allows freedom for the various parts of the show to independently poke and prod at both sides of the issue.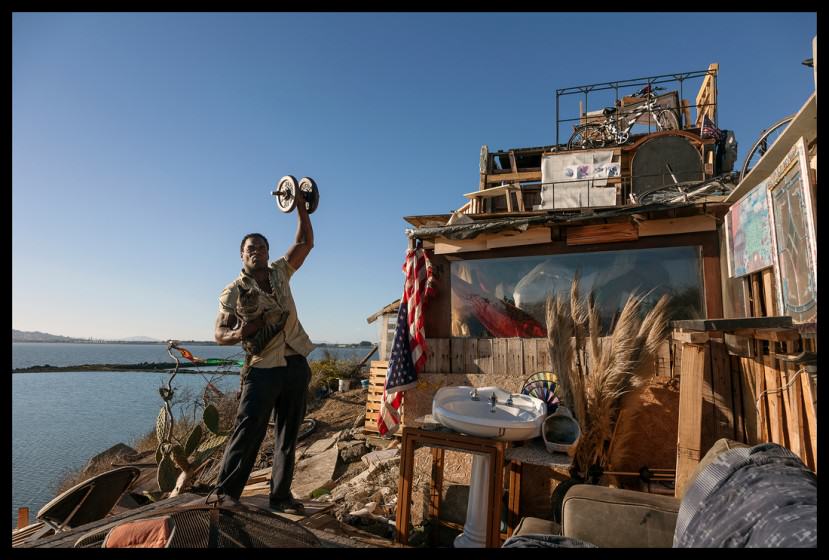 More than a display of artworks, the Refuge in Refuse exhibition, which moves to UC Berkeley this fall through the Global Urban Humanities initiative, is a place to study and know the story of the Bulb.
Through its diversity of views into how people, nature, and the built environment coalesce, this  substantial show serves as a reference point for alternative socio-ecological possibilities, not just in a landfill on the San Francisco Bay, but any place in the world where social and ecological well being are prone to clash with contemporary agendas.
More about the exhibition
Refuge in Refuse website: http://refugeinrefuse.weebly.com
SOMArts exhibition page: http://www.somarts.org/refugeinrefuse/
Atlas of the Albany Bulb:  http://www.albanybulbatlas.org/
Patrick Lydon
San Jose & Seoul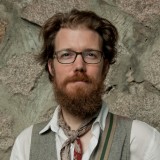 Patrick M. Lydon is an American ecological writer and artist based in Korea whose seeks to re-connect cities and their inhabitants with nature. He writes The Possible City series, is co-founder of City as Nature (Daejeon). He is an Arts Editor here at The Nature of Cities.