A review of Arboreal Architecture: A Visual History of Trees, an exhibition on view at the Cantor Arts Center, Stanford University, now through July 20, 2015.
The Cantor Arts Center at Stanford is a beacon for global arts and culture in Silicon Valley—it opened its doors in 1894, nearly a century before Silicon Valley was a thing. On this most recent visit, I was pleased to see that the Cantor was also making some effort to be a beacon for our relationship with nature.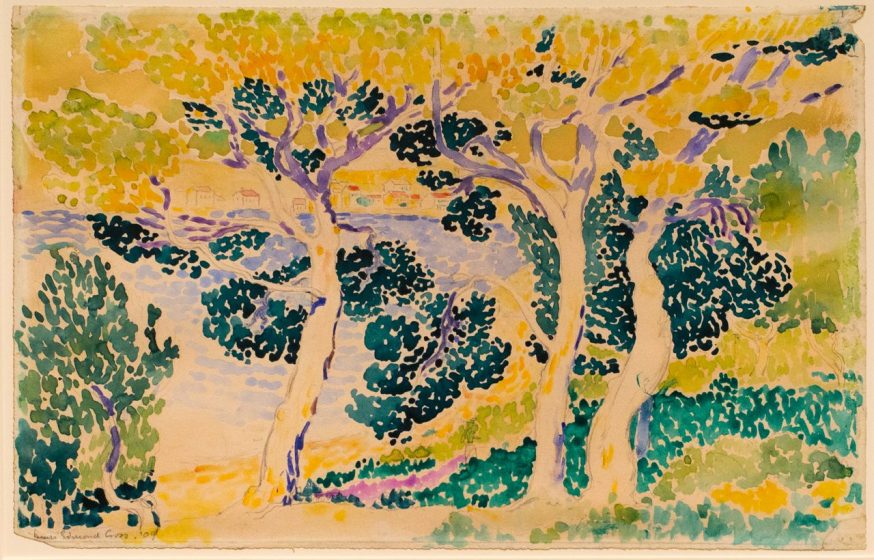 The Arboreal Architecture exhibition takes place in a space that is only slightly larger than the museum's coatroom, yet the show truly speaks volumes beyond its size. Inside the Lynn Krywick Gibbons Gallery space, you feel as though you've just stumbled into a hidden treasure trove.
The show's curator, George Philip LeBourdais, has shoehorned a global collection of artworks from the Cantor Center's collection into the room. Spanning about 1,500 years, the collection is impressive not only for the time it covers, but because all of the works concern the trees and our ever changing cultural relationships with them.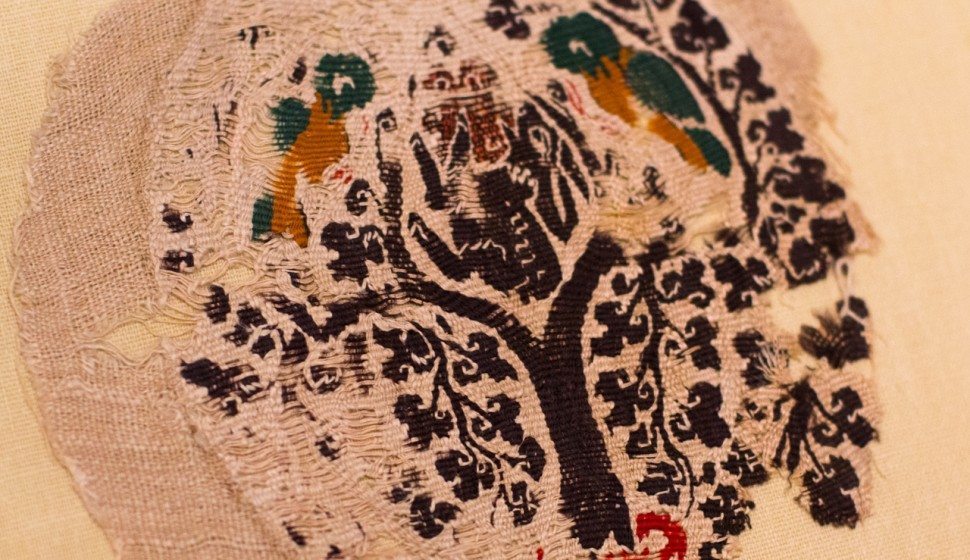 There have been societies in every corner of the globe at just about every time in history who had some form of a "tree of life" motif integrated into their culture. For ancient Egyptians, however, not only was the tree a symbol of life, death, and regeneration, it was a symbol of the very beginning of everything, of the universe and life itself.
Such deep connection to the tree is reflected in one of the oldest works in this exhibition, a 6th century "Tree of Life" woven in Egypt from wool and linen fabrics. It is a testament to the quality of ancient Egyptian craft that such a piece even exists today, yet the cultural story it tells is even more impressive and still broadly relevant. Seeing the tree as a source of life is a well-appreciated message with which to begin this exhibition, and one which is explored well throughout, both in physical and spiritual realms.
Moving forward in time, two works both dating from the 16th century hang across the room from each other, offering a powerful historical comparison of trees in Eastern and Western cultures.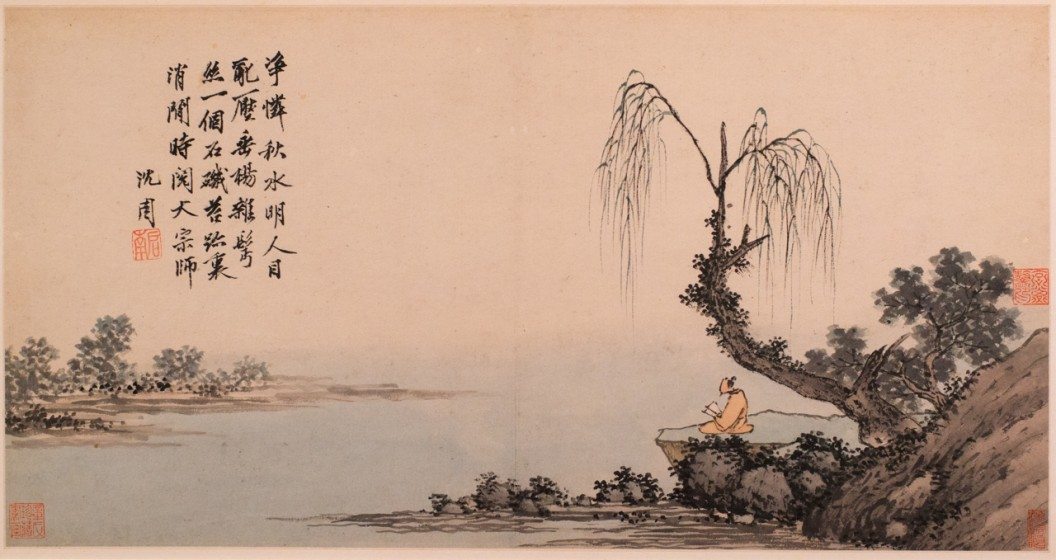 From China, a delicate landscape painting by Shen Zhou depicts a riparian scene of a man sitting calmly under a tree. There is an appreciation in the work of the tree as a partner. Visually, the tree pushes out the side of a hill and then gently bends upwards to stand watch over the waters as if man and tree are taking in the same view together. Though not explicitly, the work reminds us of the tree's deep historical ties to ideas of wisdom and enlightenment in many Eastern cultures.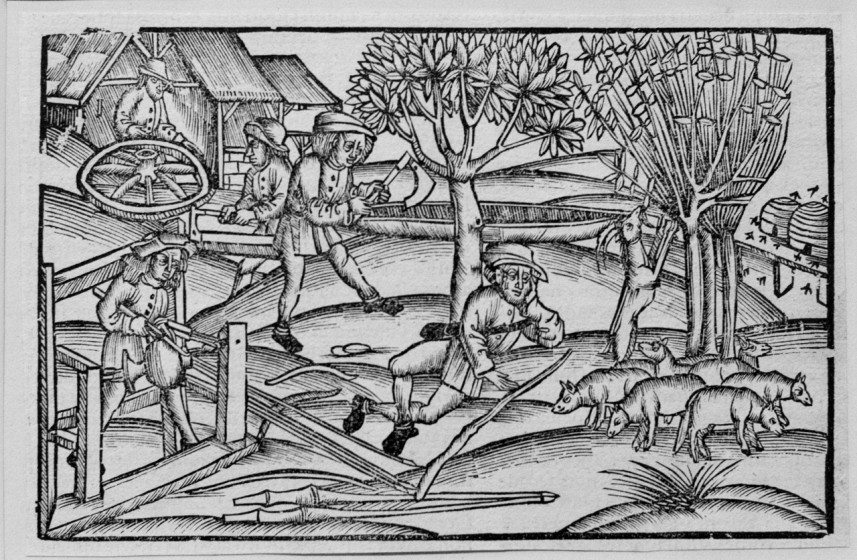 Across from this work is a view of the tree from the same period, yet through the lens of what was a vastly different culture. The detailed woodcut print by German artist Johan Gruninger depicts a scene of grumpy-faced rural wood workers and is thoroughly utilitarian both in process and subject. The print is reflective of a culture in the midst of the Renaissance, a time in which radically new ways of thinking of self in relation to nature were being brought forward and, along with them, radically new ways of making and doing. Though the industrial revolution was still a few centuries off at this point, you could say that this is the time where the seeds of the current way of life in the Western world were planted.
Whether it was intended or not, the placement of Gruninger's piece across from the Zhou painting offers a profound juxtaposition, not only of Eastern and Western artwork, but of differing relationships to nature during the 16th century in these two places.
Standing back to admire the collection as a whole, I was curious about LeBourdais' attempt to arrange the works in this show by way of 'branches' and a 'tree map'. He splits the show into three distinct sections and visually connects the works with wall graphics, noting this as a depiction of the "tree-like structures of knowledge that help us make sense of the world".
Of course, we are in the middle of Silicon Valley, where spreadsheets and data driven visuals are a language of their own. Yet in so many ways, the trees in these artworks and their simple arrangements speak so much to the viewer — and, indeed, to each other — that they might do just fine without the help of neatly organized categories and connections. This is a small misgiving, of course.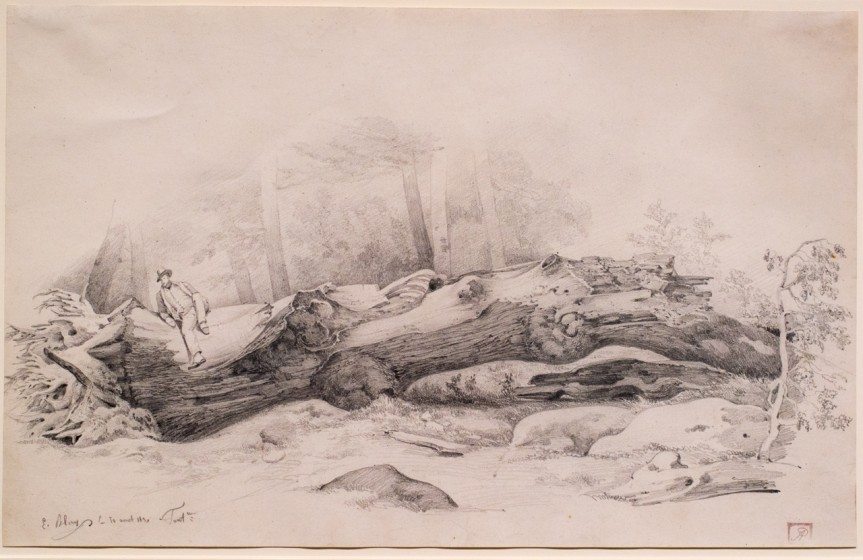 The Arboreal Architecture exhibition offers a deep and powerful display of cultural relationships to trees over such a great cultural timespan that it's impossible not to be affected by it. The works speak of trees in city and countryside, of trees in in ritual and for utility, and, perhaps most importantly, of trees as part of us and, ultimately, as works of art themselves.
Several days after seeing the show, while sitting under a California Oak, I caught myself laughing that this was certainly a tree and moment worthy of a painting. I realize now in closing this review that the Arboreal exhibition is important not only for its depth and scope in looking at historical cultural ties to the tree, but also for the opportunity it gives each of us to discover something new between ourselves and the humble tree. The works reverberate with the energy of man and nature, and if the enduring relevance of these artworks is any indication, this process of discovery can be an amazingly fruitful and never ending one for humanity.
A treasure trove, indeed.
Patrick Lydon
San Jose & Seoul
Further Reading:
Stanford art history scholar explores nature and culture in frost and forests –
http://news.stanford.edu/news/2015/april/trees-cantor-exhibit-041415.html
Cantor Arts Center –
http://museum.stanford.edu/
George Philip LeBourdais –
https://art.stanford.edu/people/george-philip-lebourdais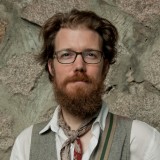 Patrick M. Lydon is an American ecological writer and artist based in Korea whose seeks to re-connect cities and their inhabitants with nature. He writes The Possible City series, is co-founder of City as Nature (Daejeon). He is an Arts Editor here at The Nature of Cities.