Just before 10 am one Sunday this June, 300 people prepared for a boat ride on the River Spree, lining up in a park next to the longest surviving stretch of the Berlin Wall. The boat was a cheerful blue and yellow passenger vessel, mostly used for river tourist excursions and dinner cruises. But this group differed from the usual crowd of visitors from across Germany, Europe, and further beyond. Instead, local nature enthusiasts, families, and curious Berliners prepared to board the ship, ready for commentary on the river's unique urban ecosystems.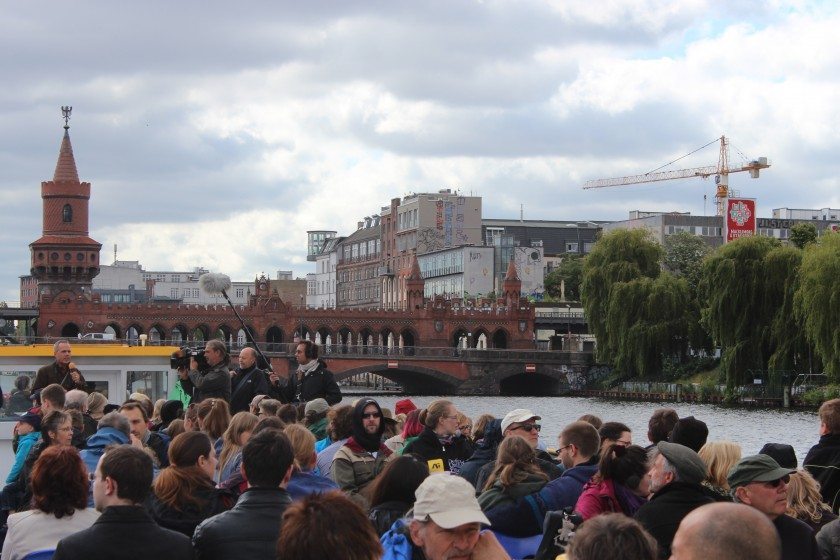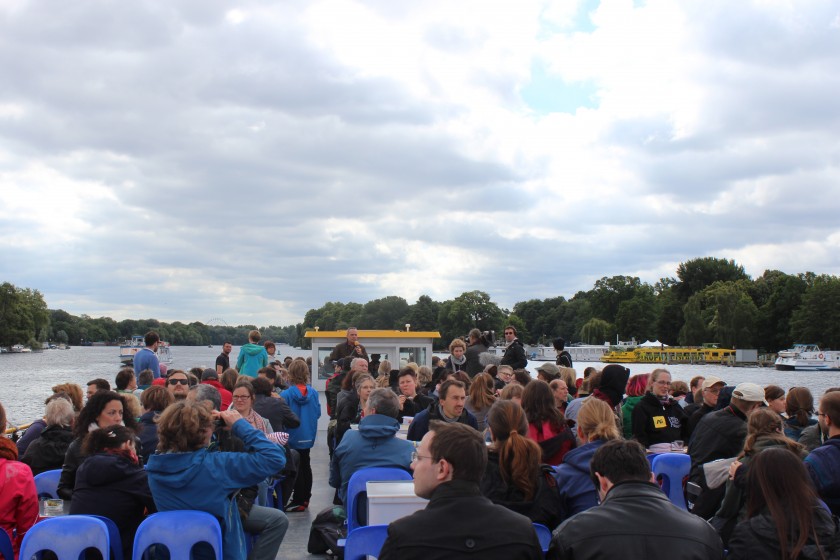 Over 90 minutes, the boat passed the heart of gritty Friedrichshain and the media headquarters of the Urban Spree redevelopment and cruised to the east, towards the waterfront green spaces of Treptower Park. Some participants brought binoculars and observation gear, while others simply relaxed with a coffee or lager. Landscape planner and ecologist Derk Ehlert narrated the tour, pointing out wildlife and describing the various species' habitats, food sources and migration patterns within Berlin's parks and waterways. Ehlert estimates that there are roughly 20,000 plant and animal species in Berlin, which he considers the greenest city in Europe.
During this particular weekend, such a convening was not unusual: over 26 hours, an estimated 25,000 people explored the city's forests, riverfront, lakes, gardens and landscapes through the Langer Tag der Stadtnatur, or the Long Day of Urban Nature. Although cities are increasingly celebrating urban biodiversity, Berlin's event is perhaps the largest regular citywide celebration in the world and will mark its tenth anniversary next year. The event includes contributions by dozens of local partners and sponsors and is a great model for other cities hoping to better engage their citizens in matters of urban ecology.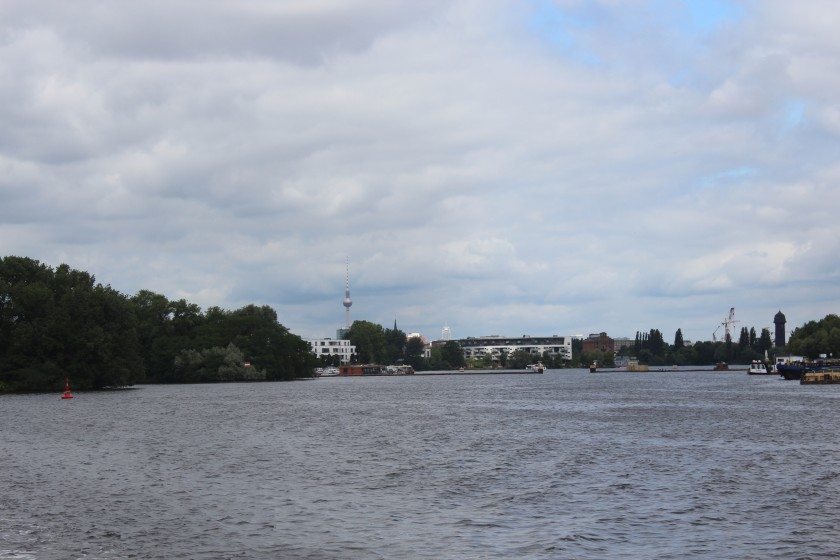 Wolfgang Bussman, the director for the Langer Tag der Stadtnatur has explained: "our main goal is to make nature in our immediate neighborhoods visible and to provide visitors with unique experiences which show how important conservation in the city is."
This year, events began in the afternoon of Saturday, June 20th, with late-night activities such as night climbs and forest walks running until 1am on Sunday. Sunday, June 21st then saw a full schedule of walks, boat rides, bus tours, bike tours, lectures, and other happenings at sites ranging from the riverfront to private gardens to nature reserves. Events were nearly free: a 7-euro full-weekend ticket covered some basic event costs, but mostly existed in order to allow organizers to track participant numbers, organize reservations, and coordinate corporate block bookings.
In total, the Langer Tag der Stadtnatur included over 500 events at about 150 sites across the city, including hubs in the city's center, north, south, east, and west. The city center's largest hub was an urban garden sponsored by a housing association near the central crossroads of Alexanderplatz. Initially set up as a short-term project, the garden recently became a permanent space for the housing association residents. Event hubs elsewhere in the city this year included the Grunewald, Berlin's famous urban forest; Tempelhofer Feld, the historic airport recently reclaimed as a park; the Natur-Park Südgelände in Schöneberg, and Britzer Garten in the southern district of Neukölln.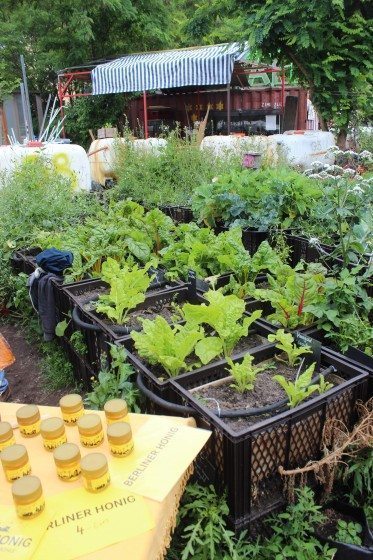 The first Langer Tag der Stadtnatur was held in 2007 and included about 350 events that attracted 10,000 visitors. Over the years, the program has steadily grown, with different focuses each year depending on the interests in the city at the time. Urban gardening and beekeeping, for example, have been prominent themes recently. Partnerships also emerge in different years depending on major urban initiatives or events; for example, organizers anticipate collaborating with Berlin's upcoming IGA (Internationale Gartenaustellung, or International Gardening Exhibition) in 2017.
The Stiftung Naturschutz Berlin (or, the Berlin Nature Conservation Foundation) is the main coordinator for the event, partnering with the Berlin Senatsverwaltung for Stadtenwicklung und Umwelt (Senate Department for Urban Development and the Environment), which is a primary funder. Corporate and public sector partners also contribute funding, while local NGOs, community organizations, and individuals organize and host specific events across the city. The Stiftung coordinates this citywide participation, arranging a few signature events and managing the website, printed program materials, online reservation system, and marketing. Stiftung Naturschutz Berlin staffer Wieke Mikette explained that "we try to have all the main characters in Berlin participating, ranging from the relevant organizations to private persons hosting events in their gardens." The partnership aspect of the program is seen as one of the most successful elements, both in creating a full calendar of events and in engaging a wide range of stakeholders.
The program also aims to engage with decision-makers, to help them recognize the urban nature present in Berlin. This year, several neighborhood bus tours included the heads of Berlin's local district administrations (the Bezirksbürgermeister) seeing their own districts, along with constituents and other event participants. National politicians also participated in the riverfront ecological tours and other events. The Stiftung hoped "that [the politicians participating] could see how important [urban ecology] is and how green the city is," explained Mikette, who added that most other participants were regular Berliners, including "people coming from the north, from the south, from the east, from the west. They are really from Berlin. It is a Berlin event."
The event has now grown and expanded across Germany, with 11 other cities hosting similar weekends, including Hamburg and Bremen. In Berlin, the weekend is also reminiscent of other opportunities for marathon-style urban immersion, such as the Long Night of Museums and the Long Night of Science. In fact, the Naturschutz Stiftung first looked to these events as models when piloting the Langer Tag der Stadtnatur.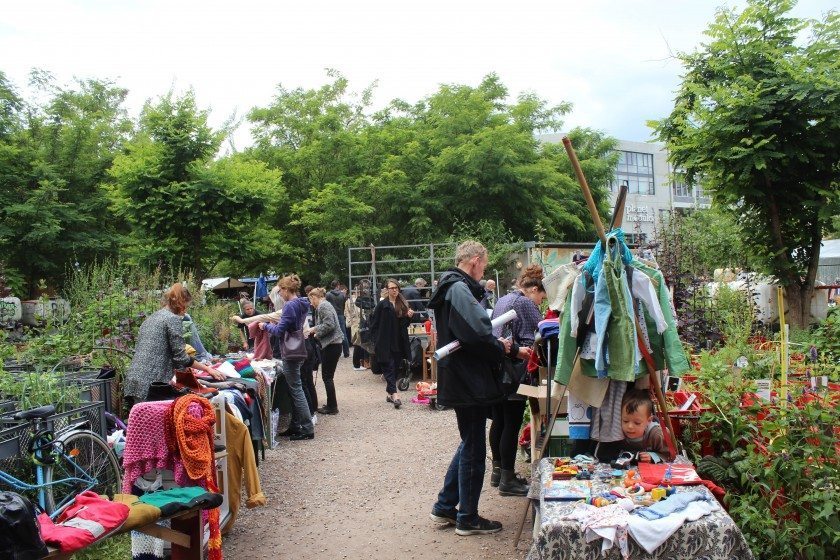 Internationally, many other cities host citywide celebrations around built environment themes, but very few introduce urban nature to a mass audience the way that the Langer Tag currently does. Some address architectural topics, such as London's Open House, which in 2014 opened 850 architectural sites to over 250,000 people. About twenty other cities internationally now also host Open Houses, including New York, Buenos Aires, Rome, Tel Aviv, Melbourne and Chicago. Similarly, Jane's Walk is a festival of citizen-led neighborhood walking tours, held simultaneously in cities around the world. Either of these festivals may contain tours or open houses relevant to ecological issues, but urban ecology is not necessarily at the forefront of discussions.
As another alternative to the Langer Tag model, Bioblitzes celebrate the abilities of citizen scientists and invite community members to consider the ecological diversity of their cities. Short-term events in which scientists and community members seek to identify as many species as possible, Bioblitzes offer a comparable "festival" atmosphere and can be held at a site, neighbourhood, or on a citywide scale. Although the concept of a Bioblitz was pioneered in the U.S., it is currently particularly well developed in the UK. Bristol's Natural History Consortium runs a national Bioblitz Network and London's Museum of Natural History recently released a full Guide to Running a Bioblitz within its citizen science division.
The Melbourne Bioblitz is one particularly remarkable example due to its citywide scale, longer duration, and contribution to the city's planning policies. Held over two weeks in October and November 2014, the project invited citizens to participate in data collection for the city's first-ever Urban Ecology Strategy. Over 700 people participated at sites across the city, providing 300 sightings and photographs, which have since been mapped by the City of Melbourne. The Bioblitz included extensive online engagement opportunities alongside the 52 in-person events, which occurred in disparate locations and at different times of day to accommodate both human participants' schedules and the wildlife's likely patterns. In some ways, the event was akin to a citywide charrette for ecological planning, with citizens supporting the scientists and planning professionals in a rapid-fire period of on-site analysis.
Unsurprisingly, urban Bioblitzes are more frequently organized on a smaller scale, focused on single sites or areas of biological interest. For example, the 2015 Auckland Bioblitz invited citizen scientists to participate in the development of a Biodiversity Strategy for the Pourewa Reserve and Kepa Bush over a 2-day period. Like the Bioblitz in Melbourne, the event served a dual purpose: it sought both to create an educational opportunity for participants and to gather data to inform a plan for the site's preservation as a reserve. Tasks for citizens ranged from freshwater fish counting to insect sweeping, plant identification, and moss identification, all of which contributed to the long-term plan for the site's use as a reserve.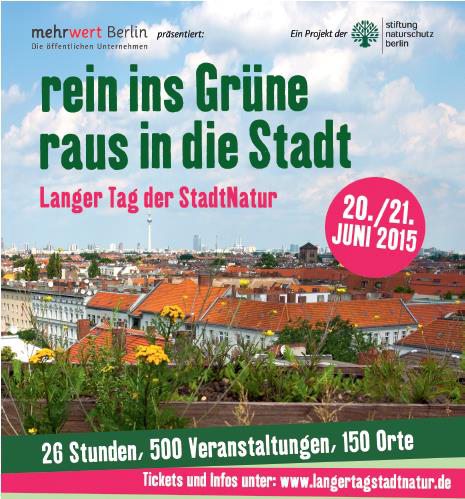 The organizational approach for Auckland's Bioblitz differed radically from the Melbourne or Berlin model in that it focused on a single natural area with unique biodiversity or a particular need for a survey as opposed to encouraging participants to explore and reflect on nature in the city at large. Many other events worldwide have followed this model, such as the National Geographic 2007 Bioblitz in Washington's Rock Creek Park or the 2015 bioblitz in Hawaii's Volcanoes National Park. Numerous British cities also hosted small-scale Bioblitzes in 2015, as well as national themed Bioblitzes, such as the Garden Bioblitz, which invited people across the UK to tally the species in their home garden and then upload the information to a national database.
Finally, Los Angeles offers a fourth model for engaging citizens in local urban ecology: a purely educational event, hubbed at a single civic institution. The city recently piloted its Urban Nature Fest, hosted at the Natural History Museum and described as the city's "first ever festival for metropolitan nature lovers." Activities largely took place on site, including garden tours, performances, readings, and presentations, many of which sought to increase the public's exposure to the museum's scientific research. Forty different local environmental organizations participated, as did entertainers such as the Santa Monica Mountain Rangers Band.
As urban ecology plays an increasingly prominent role in local planning, will other cities take the initiative to launch events such as these? Local advocacy organizations such as San Francisco's Nature in the City, museums such as New York's Museum of Natural History, and academic centers such as Yale's Urban Ecology and Design Laboratory would be well placed to spearhead efforts in their own cities. Berlin and Melbourne's examples show that the most effective events involve partners across a metropolitan area, including both organizations and individuals. The contrast between the Berlin, Melbourne, and local bioblitz models also shows that the events can be effective as either citywide festivals or single-site immersion opportunities, with or without a substantial citizen scientist element.
Whether attending much of the Langer Tag, or environmental events at other points during the year, Berliners are lucky to have such a green city and such a chance to explore it. Cities across Germany have already followed suit, and perhaps the model will soon spread further afield.
Katharine Burgess
Berlin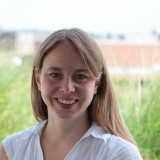 An urban planner and researcher, Katharine Burgess is the Director of the Urban Resilience program at the Urban Land Institute. Over the past twelve years, Burgess has worked in urban planning strategy, community engagement and design research in the private and not-for-profit sectors, including work in the U.S., U.K., and Germany.