Governance, despite its own hopes for a universality of exclusion, is for the inducted, for those who know how to articulate interests disinterestedly, those who vote and know why they vote (not because someone is black or female but because he or she is smart), who have opinions and want to be taken seriously by serious people. In the mean time, policy must still pursue the quotidian sphere of open secret plans. Policy posits curriculum against study, child development against play, human capital against work. It posits having a voice against hearing voices, networked friending against contractual friendship. Policy posits the public sphere, or the counter public sphere, or the black public sphere, against the illegal occupation of the illegitimately privatized.
—Stephano Harney and Fred Moten, the Undercommons, Fugitive Planning and Black Study
0. I understand fully the role of planner and their potential to offer more to the city than ever before. The situation at the level of the city and state is such that insider information, a history of connections within the system and traditional "good old boy" engagements work somewhat effectively at shaping the city and are perceived as a status quo that can't be changed. In many of our cities, the opportunity for certain kinds of ascension into leadership works to create a caste system of entitlement and apathy. Art adds the potential for a critique from within, a critique that exists as a para-institutional engagement harnessing similar power structures and potentially even mimicking structures in order to advance the possibilities that exist for our city's futures.
There will be no great future city without hacking the systems of power.
1. A just city requires counter-balance. It requires clear knowing of how governance works with an understanding that power corrupts and power constantly needs to be checked by other powers (people power, political power, ethical persuasion, public outcry). A just city requires that those who do not understand their power and feel cheated out of the right to publicly demonstrate their power are given channels and platforms by which to engage. The constant non-engagement between classes, races, political camps and social structures and the intentional separations that happen in micro-units of cities—and, in some cases, whole cities—will not only work against the possibility of a just city, it will signify the concretization unjust, uneven, unethical city.
2. The possibility that artists would contribute in the substantial transformation of major cities throughout the world is not radical news. What feels radical is the level at which artists rarely benefit from their side.
3. The possibility of the city as form becomes more feasible when the artist has a sense of the possibility of direct engagement with the real. I sense of the value of other forms of production in addition the forms that exist in museums, art forums, galleries and homes. The artists would have a chance to deeply embed him- or herself in the complex politics of a place, the near impossible capacity to reconcile social expectant from social engagements. The city waits with neutral need for its ramparts to be tended, nurtured and altogether revisited.
4. Never plan alone. Plans require idea engagement, public and inner-circle critique, and a way of ensuring that great ideas are great for as many as possible and tailored for communities that want and need planning. Plans grow out of a need to get things done. Getting things done requires lots of permission. Plans are ways of sharing ideas so that there's consensus and sometimes rebuttal, but at least there's awareness and hopefully, permission. Even though there are lots of ideas that seem perfect to me for projects that I want to do, I've found that the most successful ones are those that are inclusive of other values, opinions and leadership.
5. There was an abandoned building in the city about to be demolished. I, along with 17 developers, looked at the building over 20 years, none of us willing to invest in black space. None of us were willing to imagine new futures for the South Side, or able to imagine making an investment that might not yield a return. We weren't willing to believe in a place that seemed not to believe in itself, or risk other people's cash on a dream. We could not consider the possibility that this abandoned building might be the crucial link to the growth and redevelopment of a seemingly infertile land. In a way, the challenge was not the challenge of the building, it was a challenge of seeing—of imagination—on the ocular prescription one has. These days, I don't see as well as I used to. I've learned that the blur sometimes makes things more beautiful; it may possibly even bring other things into greater focus. The impossibility of seeing is one of the major challenges of the built world.
6. This moment is ripe for new ways of imagining the form, the materials through which we address the form and the situations through which the form is conceived, exhibited, made visible and legible. The moment is ripe to new ways of imagining who participates in the inception of the form. The city is form and raw material and the location of possibility and the consciousness of our age. The city needs sculpture and praxis; it needs wedging and heat. The city is in the difficult position of no longer knowing itself or its virtues. It has suitors who are not fashioning futures, but instead fashioning wealth generation. If the sculptor is absent from this work, what we will have instead of the beautiful is the most efficient, the cheapest and most extravagant, ideas generated by those who pay not those who feel. The sculptor and the policy expert and the planner together make great cities. They share agency and resource, and stand strong together with ideology and a willingness to have sympathy for the vocations. When our administrations realize the potency of artistic and policy based collaborations, truly transformative works will happen: works that go far beyond mural making and public art programs; the type of work that might allow for innovations in professional bureaucracy.
7. At my undergraduate university, the School of Architecture was on the 5th floor, the Planning Program on the 3rd floor, and the Arts Programming in the basement. We all used to joke that our placement was an announcement of caste, of where we stood in the world; a hierarchy had been made clear. As a result of the professionalization of our creative selves, we were never able to really see how we were all cut from similar cloth, and that if we were to share the same libraries, skill sets, rigor, and lunch rooms, that we could in fact explode any one of the vocations we had set ourselves to do.
8. There should be more female and queer leadership in the just city.  We need leadership that has the potential to ask new questions of the status quo and demand a more complicated set of determinations and willingness to invest in non-hierarchal structures. Leadership that also expects more from the men we work for. By challenging their assumptions and biases, we make room for an open critique of systems of power and pathways for understanding sharing, empathy, public participation and inclusion alongside land use futures, zoning policy and fiscal allocations.
9. There will be no great future city without hacking the systems of power. Policy is simply a way of ensuring legal process around things that matter. Sometimes our ideas need to push the policy envelope a little. I always imagine that this is part of what policy should do: it should capture the needs of communities that change. Policy, like communities, has to be dynamic if it is to capture that possibility of a just city. It has to keep looking for the nuance with the systems of governance to make our cities work better.
Theaster Gates
Chicago
The Just City Essays is a joint project of The J. Max Bond Center, Next City and The Nature of Cities. © 2015 All rights are reserved.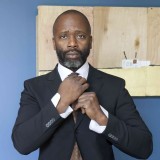 Theaster Gates exhibits widely, including group shows such as the Whitney Biennial, New York; dOCUMENTA (13), Kassel; 'The Spirit of Utopia' at Whitechapel, London; and Studio Museum's 'When Stars Collide' in New York. Solo exhibitions include 'To Speculate Darkly: Theaster Gates and Dave, the Slave Potter' at Milwaukee Art Museum; Seattle Art Museum; MCA Chicago; and 'The Black Monastic' residency at Museu Serralves, Porto.