Podcast: Play in new window | Download
Also available at iTunes.
Story notes: I am Jenn Baljko, and my partner Lluís and I started walking from Bangkok, Thailand, back home to Barcelona, Catalonia. Along the 12,000km journey, we'll explore the idea of just and green cities, occasionally posting our perspectives here on The Nature of Cities—photos, podcasts, and essays on what we find in different corners of the world.
We'll see an enormous range of cities and towns over the next three years: big populations and small, thriving and struggling, hardened and lushly green. In this Pod- and Video-cast we start out trip with a few reflections on Bangkok.
For about about this series, click here.
This episode was produced by:
Jennifer Baljko and David Maddox
Barcelona and New York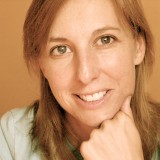 Jennifer Baljko is an avid traveler, longtime walker and a lifetime learner. She's a city dweller who recently became a tree hugger (literally, she throws her arms around trees and hugs them), but feels at home almost anywhere.