It's a sunny morning and I leave the house, walking towards the gate of our subdivision. It's just a few meters, downhill, around that pechay plantation, then uphill, typical of the sloping contour of Marikina Valley.
The street may be the most important public space because of the way it should be shared.
In the two minutes and few meters, I see almost no one. Perhaps just Mr. Pechay, or so I call him, who's busy tilling the soil or slaving over his watering cans and new seeds to keep the largest greenspace we have, green. He rarely talks, but will drop by the house during Christmas to sell his overly large upo and ask for a fifty-peso bill. Past his tree, I see closed, locked gates and wide walls.
Treading up the path, I see cars, parked on either side of the street or taking up my space on the sidewalk, so I have to tiptoe around whatever shadow I can to avoid the glaring heat of the sun. A child screams, then laughs somewhere inside the cream-colored house, and a dog barks from the white gate across. Even with all these voices, it's sad because there's no one to say hello to.
A few seconds more and I exit our subdivision gate. But before I do, I anticipate a different sight compared to the bland, boring, unfriendly walls and quiet, lonely road. I enter what is called a thriving street. It is aptly called Panorama.
I first wave to Mr. Bananas, whose meter-long stall is just outside the gate. He smiles and waves back, and as always, says, "Ang sipag magtrabaho a! (You work so hard!)" I nod and take note that I have to buy some saba on the way home tonight. Almost simultaneously, Mr. Foochow grins from across the street, perhaps wondering if I'd be too lazy to cook dinner later and order his Chinese fried chicken and classic bihon. Starting downhill again, I look to my right. Mrs. Rice nods at me, but as always, is busy asking how many kilos of Malagkit or Sinandomeng Mrs. Three-Blocks-Away would need. I pass the first FX terminal, and ask old Mr. Yosi if the driver would make the long route or take the short route. As always, he replies with the long route. I know that all too well; I just ask the question to stir conversation into the old man's life. I avoid the gaping, hazardous hole on the pavement, making yet another mental note to call City Engineering, then walk some more to avoid Mr./Ms. Fantastically Fabulous, who keeps telling me he's/she's just more beautiful than I am. I continue a little bit faster (because the slope gets steeper) and ask Mr. Fruitstand how sales have been this morning. "Laging maganda, (always beautiful)" he replies with a wink. I turn right and make eye contact with Mr. Barker. He raises his pointing finger, and I make the same gesture to reserve a passenger seat. I leave Panorama and embark on a silent journey with a heading towards Cubao. Or, as silent as the FX FM radio allows it, anyway.
Panorama Street is an example of what urbanists like to call a thriving street or a vibrant part of the community. It isn't perfect because it still has zooming jeepneys and too many trikes, like any other Philippine street, but it has familiar faces, each with a role to play. As opposed to mere space, it becomes a place which has meaning to the people who use it, who take part in it, who take center stage in its story. It is vibrant not just because of this chitchat, but because of the many small businesses it has and the way people have relationships. I take comfort in knowing that I can trust these not-really-strangers, who anticipate the people who pass by and look out for everyone's well-being. I love that even if the smallest conversations with some of the vendors repetitively adhere to a template, they establish a connection between real people. Most importantly for me, and I guess everyone else who lives in the southeastern outskirts of this highly urbanized city, Panorama is known to be a final stop on the commute from other places in the metro area. It's what Filipinos call dulo when we use public transport. For me, Panorama is home.
A thriving place or a busy street is something urban planners stand for. It's something that we champion in design and in planning for better communities. The street is meant to be used by everyone. That's why it is called a public space. The street is, perhaps, the most important public space, because of the way it should be shared. It embodies equity among the people. It's simply saying that while I take one point of view in this story, it's not just mine that matters. We could take Mr. Pechay's or Mrs. Rice's story, or perhaps that of an unnamed supporting character who was passing in the background of what I saw. It wasn't just my route or my character that meant something here; it's everybody else's. It's all of ours.
I would never have known what Panorama was like before. I would never have been able to tell this story, because I wouldn't have known anyone from it, or whatever it is that they did. Even if I had already lived for a decade in our current home, the majority of those years were spent inside the bubble of a car. And all the while, I believed that vehicle-bound experience to be normal. Mostly because of convenience and partly because of ignorance, I traveled through mere spaces, not places, and I saw more traffic lights than people's faces.
Then I came to realize that cars fit perfectly in gated communities. The solitude is built exactly for someone who prefers to ride alone in the car, where there are no people, just roads; no connections, no relationships, just yourself and the wheel, shut out from the cool breeze and in sight of tinted greeneries.
I've stopped using a private car (or limited it the most I can) because I prefer to be at one with my community. While I consider the tremendous smoke-belching in this country as a curse to my lungs, there is still the privilege of knowing that I've played a part in lessening traffic congestion, reducing car emissions, and contributing to the income—no matter how small—of the local drivers. Most importantly, I've learned to replicate Panorama wherever I go. I now see familiar faces in the security guards or streetsweepers in other places, and it's not a sea of blank stares anymore. Places mean more to me now than they did before. Memories are made with every step taken, and memories come flooding back with a few steps more.
You know when I miss riding in a private car? It's when I leave Panorama, in the few meters that lead back to my house, because there's no other way to go home. I miss the car because it makes me feel safe from the dark, and all the high walls that surround me. The juxtaposition of a lively street and a gated community suddenly becomes so striking.
Come to think of it, I only walk those meters when daylight can provide me safety. There have been a few times I've been forced to sprint home, strongly wishing the house with a chihuahua would open a night barbecue or that Inday from the bougainvillea canopy house would suddenly take a nighttime stroll. It would brighten the way home. But they don't, and I don't think they ever will. This leaves me with the option of riding the trike. The drivers at our terminal are very friendly, thank God for them, and sometimes they even say, "Good night."
Ragene Palma
Marikina City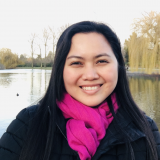 Ragene Palma is a Filipino urbanist currently studying International Planning at the University of Westminster, London, as a Chevening scholar. Follow her work at littlemissurbanite.com.