A review of Hidden Waters of New York City: A History and Guide to 101 Forgotten Lakes, Ponds, Creeks, and Streams in the Five Boroughs. By Sergey Kadinsky. Countryman Press, Woodstock, VT. ISBN: 9781581573558. 336 pages. Buy the book.
There is something about a stream that just won't let go of the imagination. People somehow accept other aspects of the environmental destruction required to make cities. Most folks don't recall the legions of forests and acres of meadows that have been bulldozed for townhouses or that the soil must be encased in asphalt to make it easier for cars and bikes. Urbanites might find it sad, but understandable, that trillions of former wildlife inhabitants—birds, bees, bears, beetles, bobcats—have been swept from the cityscape to make room for people and our pet animals instead. But everyone wants to know, once they start to think about it: what happened to the streams?
A remarkable number of streams and stream fragments still exist in New York City, and Kadinsky tries to find every one of them.
Sergey Kadinsky's new book provides 101 answers to that question for the five boroughs of New York City. For the 8.6 million citizens and the 50 million visitors to the city each year, Kadinsky's book is your best guide to the lost and underappreciated hydrological features of New York City—not only streams, but also ponds, lakes, creeks, and the occasional spring. His is the modern incarnation of the same spirit that drove James Reuel Smith, a former merchant in lower Manhattan, to buy a bicycle and an early camera, and ride around snapping pictures and penning nostalgic accounts, which resulted in
Springs and Wells of Manhattan and the Bronx
from 1916 (later republished by the New-York Historical Society in 1938). Kadinsky trades Smith's bicycle for the subway and buses, but their impetus is the same.
Smith and Kadinsky are not alone in being drawn to running water. Paul Talling's Lost Rivers of London, Joel Pomerantz's Kickstarter-funded maps of the streams and springs of San Francisco, Mary Miss's artful explication of the White River in Indianapolis, Jessica Hall's creek freak investigations in Los Angeles, Steve Duncan's fearless expeditions into the sewers, Robin Grossinger and Erin Beller's detailed studies of the streams of Silicon Valley (formerly "The Valley of Heart's Delight") and our own work on the Welikia Project in New York, testify to the same obsession. Maybe e.e. cummings said it best, writing in his Greenwich Village apartment not far from the former shores of Minetta Water in Manhattan: "For whatever we lose (like a you or a me), / It's always ourselves we find in the sea."
A remarkable number of streams and stream fragments still exist in New York City, and Kadinsky tries to find every one of them. His book is divided by borough, with convenient finding aids on the page edges. Place names are written in bold text to catch the eye, and numerous figures of historic maps and images (unfortunately all in gray scale and rather small) provide context. After giving a brief historical walking tour of each stream or pond, their descriptions end with directions, places to see, and recommendations to learn more. At the end of the volume, Kadinsky includes a bibliography organized by borough and waterway, including valuable references to long-lost newspaper accounts and historical volumes.
Kadinsky's descriptions of waters invoke the flow of time. Gabler's Creek in Douglaston, for example, reminds us not only of the fight to preserve the narrow ravine of Udall's Cove Park Preserve in the 1970s, but also the construction of Overbrook Street in the 1930s, and the Battle of Madnan's Neck in the 1650s, which drove the last Native Americans from their homely abodes along Great Neck Bay. In the Bronx, Rattlesnake Brook still rambles down through Seton Falls Park, over an eighteenth century diversionary waterfall, and through a nineteenth century ice pond, once used for winter skating and summer cooling, before slipping into an underground pipe, to emerge down by Co-op City and slip silently, and mostly unnoticed, into Long Island Sound.
Perusing Hidden Waters is fun for both the armchair historian and the modern urban eco-adventurer. Without sermonizing, there is a distinct historical rhythm to these accounts. Most begin with a colonial description of a typically beautiful, formerly long-lasting, watery feature of the environment, many of which formed during the last Ice Age—that has been co-opted for industrial purposes. Nineteenth century New Yorkers largely regarded waterways as places to get power, launch vessels, and/or dispose of sewage and garbage. Once these ponds, streams, and other waters were fouled, the city government and private actors, on the hunt for more land to develop, filled and paved them, a process that played itself out in fits and starts from the late 19th century through most of the 20th century. The natural waters we have left now are largely the result of neglect—so little time, so many streams to fill—until the environmental movement of the late 20th century finally created the legal and regulatory tools to stop their destruction.
And now it's the 21st century's turn to do something for the wet nature of the city. Kadinsky's day job is with the New York City Department of Parks and Recreation, which has its own natural resources group, and is engaged in a large number of stream, pond, and wetland restoration projects across the five boroughs. The city even has a wetlands strategy. Contemporary New Yorkers are perhaps more willing than our peers in the past to see nature as part of the infrastructure of the city. Climate change is part of that: green, wet places help cool the city and, at the shore's edge, may contribute to blunting the adverse effects of wave energy and storm surge. Returning precipitation and snowmelt to the ground also has an effect on water quality. The city has only so much room for water treatment plants and infrastructure; the soil is an efficient sop that keeps water out of the treatment system; and water in the ground will help fill ponds and make streams perennial again. For a city that drinks more than a billion gallons per day, returning a modicum to nature seems like the least that we can do.
One of us (Sanderson) remembers giving a historical walking tour and stopping at the intersection of Maiden Lane and Pearl Street in downtown Manhattan, only a few blocks from Wall Street, in the shadows of skyscrapers, to describe the stream that once flowed there. Maiden Lane got its name from the Dutch washing women who used to leave the palisades of New Amsterdam to do their laundry along the "Maagde Paetje" or Virgin's Path. In the old sources, the stream is invariably described as sparkling over a bottom of smooth pebbles. As I was describing this on a dank, unpebbled street corner at the height of rush hour, one of the guests on the tour abruptly interrupted, and asked, in a rather loud voice: "where has the stream gone now?" I pointed to the manhole cover in the middle of the street and the storm drain at her feet. For most of the city, gutters are our streams, and the water isn't hidden when it rains; rather, it pours out in fast, furious floods and swirls down into dark places not to be seen again. I told the ensemble about all the ways that we can bring streams back, by daylighting them, revegetating them, or, at the very least, in our mind's eye, re-imagining them. The woman looked less than convinced. But at least someone wanted to know and was ready to shout into the cacophony: what happened to the streams?

Eric W. Sanderson and Christopher Spagnoli
New York City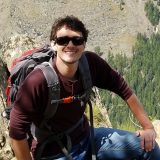 Christopher Spagnoli Program Assistant at Wildlife Conservation Society's Conservation Innovation program. Since 2014 he has worked on the development of the Welikia Project and Visionmaker.nyc.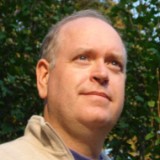 Eric Sanderson is a Senior Conservation Ecologist at the Wildlife Conservation Society, and the author of Mannahatta: A Natural History of New York City.