Ding, ding, ding. Ding, ding, ding. Honk, honk. Hoooonk. Honk, honk. Toot, toot, toot, ding, ding, ding. Honk, honk, honk.
This is the sound of Dhaka. All. Day. Long. There are only a few hours before dawn when there is quieter hum of traffic. But for the rest of the day, it's a constant, maddening pummeling to eardrums and interrupts every single thought.
How will this city absorb this rapid growth and become a livable place for the millions already there and the millions that keep coming?
In a matter of a few days, Bangladesh's capital, a heaving, hot mess of humanity, has become my least favorite place on Earth. It's the most difficult city I have ever stepped foot in (although Lluís reminds me that I also have little love for Manila and Lima). I'm here because we need to get two necessary stamps in our passports: our Bangladesh extension visa and our visa for India.
But getting anywhere in the city is an exhausting expedition. True to the spirit of our trip, we walk everywhere, not only because we like walking cities, but because in a place like this traffic-logged megacity, it's faster to walk than to take a bicycle rickshaw, a motorized tuk-tuk (known here as CNGs because they run on compressed natural gas), a bus, a taxi, a moto, or any other wheeled form of transportation.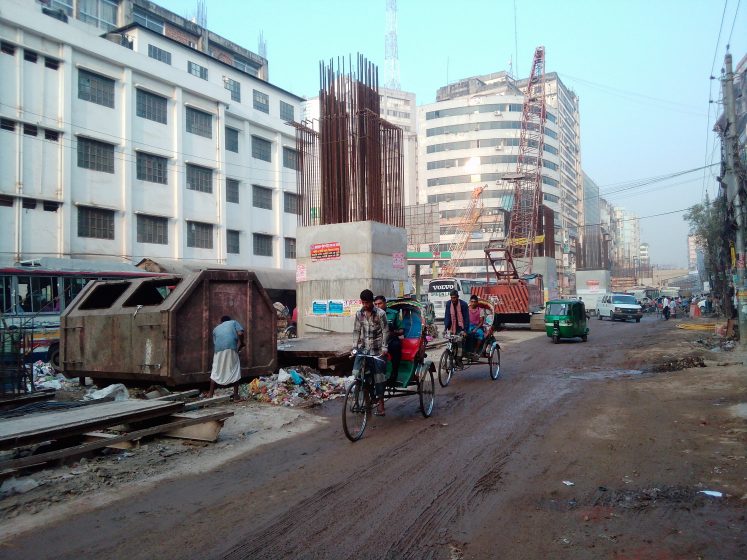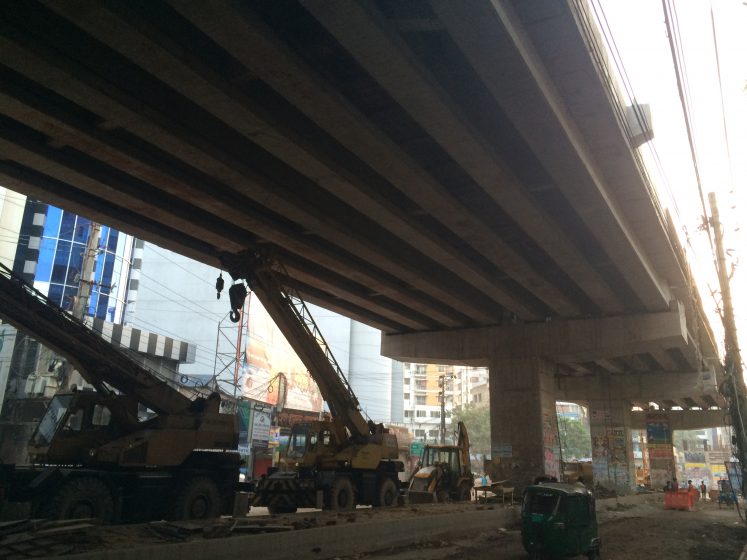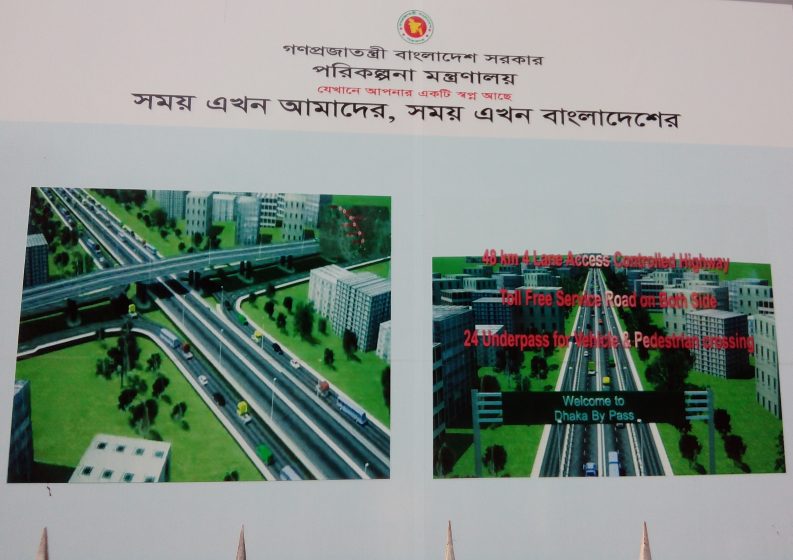 We maneuver around people, makeshift tea stalls, people sleeping on used rice bags under a blanket, vendors hawking everything from coconuts to longyis (the sheets of cloth men typically wear here) and (ironically) bottles of shoe shine, and piles of trash with black birds pecking each other for scraps. We watch people with amputated legs roll themselves sideways along the street not knowing how to help them; we avoid eye contact with an old woman, her spine bent down 90 degrees, begging for a few takas, and we circumnavigate the teenagers who are checking Facebook on their phones while milling around near a shop making fresh roti. We skip over chasms in the sidewalk, and dance around webs of wire and electric cables.
Our most bold move comes when we step off the curb, follow the courageous handful of folks in front of us, and squeeze through vehicular chaos, hoping not to catch the end of the stick the traffic cop swings at the back of a bus to get it to move out of the intersection. We do what locals do—with a confident sense of bravado, we hold our hands out and command the drivers to stop, or at least convince them that we, too, need a sliver of space to pass.
I recently read this New York Times article about the traffic in Dhaka, and couldn't stop shaking my head in agreement.
Where to go from here?
Dhaka's the worst, but all of Bangladesh's cities that we walked through—Chittagong, Comilla, Jessore—have the same problems to some extent, none of which will be easy to fix as more and more people migrate to these densely populated urban centers.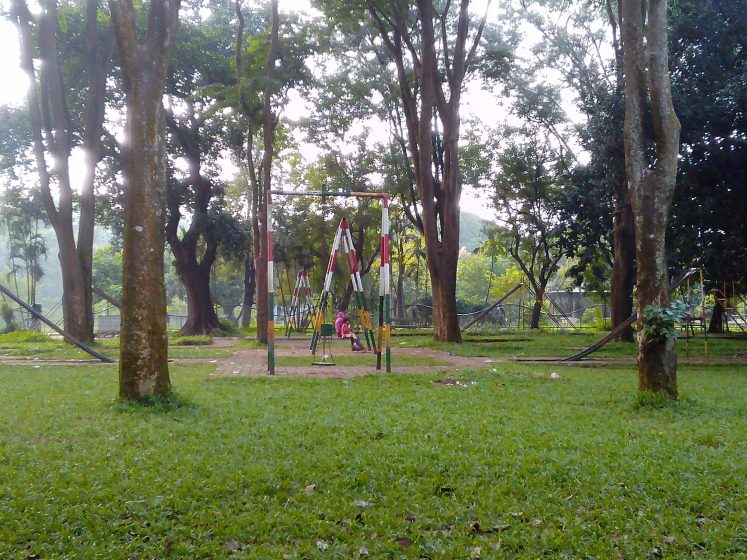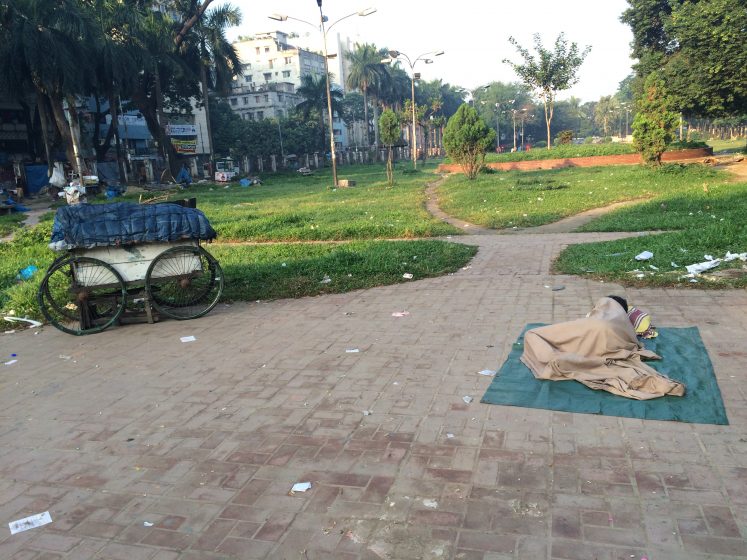 Dhaka is already one of the most densely populated places on the planet, passing even Mumbai, according to this Prothom Alo article. Referring to data from the Bangladesh Bureau of Statistics and the United Nations Population Fund, the article states that Dhaka has the 11th highest population among cities in the world, with 43,500 people living in every square kilometer.
And, it's only going to intensify. The metropolitan area is home to more than 17 million people, and by 2025 that number could pass 20 million, according to this report from The Independent. Some 300,000 to 400,000 new people migrate to Dhaka every year, the report notes, quoting the World Bank.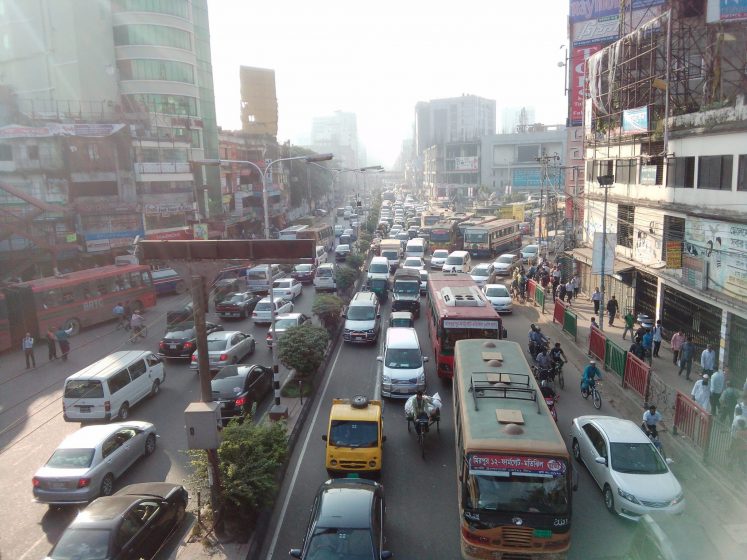 Creating a sustainable future
Dhaka's city officials, urban planners, engineers, architects, businesses and residents have a massive task ahead of them. How will this city absorb this rapid growth and become a livable place for the millions already there and the millions that keep coming?
There are so many places to put the development focus, resources, money, and energy. I don't envy those charged with the job ahead.
Improving the city's infrastructure would be an obvious starting point. There is an evident lack of infrastructure ranging from sufficient and adequate housing, to trash picking and disposal to, yes, having enough roads and sidewalks to handle exponential growth.
There are small signs of those things happening. We see a few of them walking around the city—there are a few new high-rise buildings going up, and a four-kilometer flyover road that should alleviate some of the ground traffic.
But doing more than that is a costly ambition, requiring funds that Bangladesh doesn't have.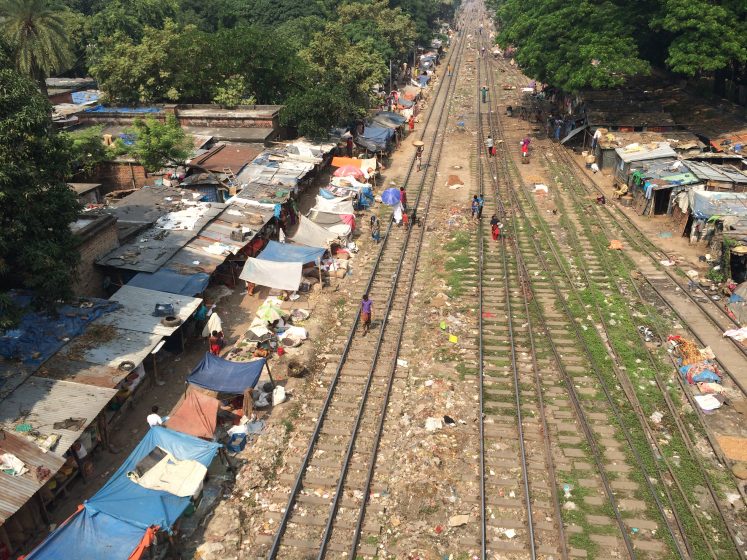 As I sip my sweet milk tea on a hard bench at a small corner tea stall, watching daredevil CNG drivers fight for every centimeter of road, I mull over other options that wouldn't cost much in comparison, but could make the city a bit easier to live in.
How about organizing communities to pick up trash in the handful of parks we walked by?
How about limiting how much sidewalk space street vendors can use?
How about creating and enforcing a licensing system for the number of CNGs, rickshaws, and buses that circulate the city?
How about not allowing buses to hog up interactions and mill about while touts scour for new passengers?
How about enacting and enforcing a no-honking, no-bell-ringing rule to eliminate the sheer amount of noise pollution being created every second?
Ding, ding, ding. Ding, ding, ding. Honk, honk. Hoooonk. Honk, honk.
My string of thoughts is interrupted. I thank the tea man, and boldly step off the curb into the chaos of one of the world's most populated places. I hold up my hand to stop traffic, and keep walking onward.
Jenn Baljko
See more about the trip here.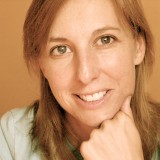 Jennifer Baljko is an avid traveler, longtime walker and a lifetime learner. She's a city dweller who recently became a tree hugger (literally, she throws her arms around trees and hugs them), but feels at home almost anywhere.