This is part of the TNOC poetry and fiction series "The City We're In".

Lea el poema en español, su idioma original.
Lisez le poème en français.
2046, year of our lady The Fog
Poems by Claudia Luna Fuentes
Translation from Spanish by Gerardo Mendoza Garza
• Fog
It is said that fog is a very low cloud, which is made of tiny drops of water that never stop falling. It is said that fog in order to be fog, must be so thick that it obstructs the vision; that if you look ahead, it is possible to see no more than one kilometer. All that is true, but we say that Fog is the will of Water, the Water that walks standing behind a veil. We say the Fog is our Lady and it is sacred.

• The devotees of the Fog
In the fifth season of the year the city is inhabited by fog
It is when the molecules in their compassion
          kiss the sick gardens
          cool faces of smoldering lovers

Only when there is fog
the streets become empty
and there's some fear
the golden dragon comes
and behind
the devotees of the fog advance

In this city
where sour agreements bind the water
          in polished containers of greed
you and I are going to meet them
          we deliver supplies and metals

the devotees bring in their gaze the horizon of the desert
that as wild and free paradise
it's waiting for us

• Brief testimonies of souls
It was a time of Water subdued
          of Water in concrete cavities
          Water guarded by militia
                    that embroidered with rifles a black limit

of Water that only went to the throat
          of whom their kindness paid
it was a time
of corrupted rivers
          by cultivated greed
          between men of science and miserable strains

As well
it was a time not narrated
of those who fight for a drink

of ours
          fallen to the edge of firearms
          brief testimonies of souls
          who finally bathed in the Water
          and dyed it red

          they
          the dejected
          have become our most sacred offerings

• Clouded their eyes with so much peace
And we shape many temples
spaces safe from review
sites where even
when the military enter
divine buildings they found
emblems of great beauty
          because we consider Our Lady
          in the category of supreme deity
while looking
with an open mouth they fell on their knees
clouded their eyes with so much peace
in that state they retreated

Thus
safe were our inventions
with its circuits encrypted in the manner of divine symbols
          safe our studies
          in golden iconography on the wall
          with rosaries of formulas
          that are certainly the way to make Her come

No one but us would ever understand
how science and devotion were one thing
that they are
Night and day
we beseeched to Her all together
with prayers of prototypes
calligraphy
and brains in acceleration

• May everything be confusing
We have arrived here
to hunt a dawn with humidity at ninety or one hundred percent

we want everything to be confusing before our eyes

We beseech
to discover healthy Fog for our children

We implore
not to see beyond a thousand meters

and birds alight on the mist catcher
this manifestation fills us with fervor

• Notes of converts on exceptional days
You must first understand that spirit and matter are vapors
united to Her very fine veil
trust She will come soon
and these months
are the stairs of her steps

if you want to fill in your mouth with Her name
your prayer should be like the noise of the leaves
your song like the wind sifted by a grave rock
you must become love
because Our Lady is love
falling without distinction on every living thing

Meanwhile She returns
sitting on the side of the dam
you must let your singing be heard by the snipers
and hope for one of them
to bend before your gaze
and deliver his canteen
because today is the strongest sunny month
and there's thirst in our children

Can the water of your body
converse with the water that you contemplate?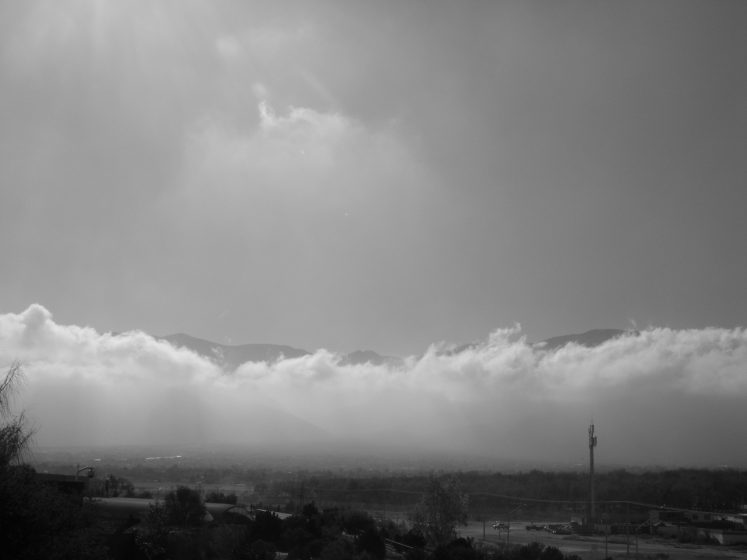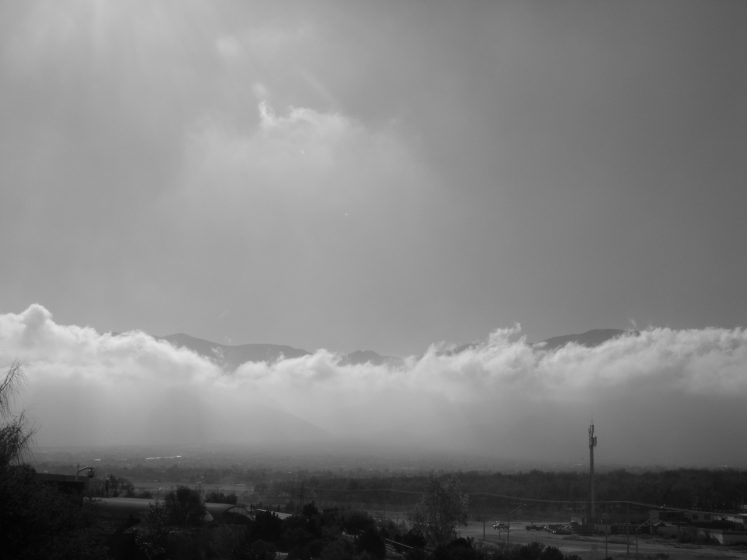 _____________________________________________
2046, año de Nuestra Señora la Niebla
Poemas de Claudia Luna Fuentes

• Niebla
Se dice que la niebla es una nube muy baja, que está conformada por diminutas gotas de agua que no terminan de caer. Se dice que la niebla para ser niebla, debe ser tan espesa que obstruya la visión; que al frente, sólo sea posible ver no más de un kilómetro. Todo esto es cierto, pero nosotros decimos que la Niebla es la voluntad del Agua, el Agua que camina de pie tras un velo. Nosotros decimos que la Niebla es Nuestra Señora y es sagrada.

• Los devotos de la niebla
En la quinta estación del año la ciudad es habitada por la niebla
es cuando las moléculas en su compasión
          besan jardines enfermos
           refrescan rostros de amantes que arden

Solo cuando hay niebla
las calles se quedan vacías
y hay cierto miedo
el dragón de oro viene
y detrás
avanzan los devotos de la niebla

En esta ciudad
donde agrios acuerdos aprisionan agua
          en pulidos envases de avaricia
tú y yo vamos a su encuentro
          les entregamos provisiones y metales

los devotos traen en su mirada el horizonte del desierto
que como paraiso salvaje y libre
nos espera

• Breves testimonios de almas
Era el tiempo del Agua sometida
          del Agua en cavidades de concreto
          Agua custodiada por milicia
                    que bordaba con fusiles un negro límite

del Agua que solo iba a la garganta
          de quien pagaba sus bondades
era el tiempo
de ríos corrompidos
          por avaricia cultivada
          entre hombres de ciencia y estirpes miserables

También
era el tiempo no narrado
de quienes luchamos por un trago

de los nuestros
          caídos al filo de armas de fuego
          breves testimonios de almas
          que finalmente se bañaron en el Agua
          y la tiñeron de rojo

          ellos
          los abatidos
          se han vuelto nuestras más sagradas ofrendas

• Nublados sus ojos con tanta paz

Y dimos forma a muchos templos
espacios a salvo de la revisión
sitios en los que incluso
al entrar los militares
edificaciones divinas encontraban
emblemas de gran belleza
          pues consideramos a Nuestra Señora
          en la categoría de suprema deidad
al mirar
con boca abierta caían ellos de rodillas
nublados sus ojos con tanta paz
en ese estado se retiraban

De esta forma
a salvo estaban nuestros inventos
con sus circuitos cifrados a la manera de símbolos divinos
          a salvo nuestros estudios
          en iconografía dorada sobre la pared
          con rosarios de fórmulas
          que ciertamente son la vía para hacerla a Ella venir

Nadie fuera de nosotros entendería jamás
cómo ciencia y devoción eran una cosa
que lo son

Noche y día
rogábamos a Ella todos juntos
con rezos de prototipos
caligrafía
y cerebros en aceleración

• Que todo sea confuso

Hemos llegado aquí
a cazar un amanecer con humedad al noventa o al cien por ciento

Buscamos que todo sea confuso ante nuestros ojos

Rogamos
descubrir Niebla saludable para nuestros hijos

Imploramos
no ver más allá de los mil metros

y aves se posan en el atrapaniebla

esta manifestación nos llena de fervor

• Apuntes de conversos sobre días excepcionales
Debes entender primero que espíritu y materia son vapores
unidos a Su velo finísimo
confiar que Ella pronto viene
y estos meses
son los peldaños de sus pasos

si quieres llenarte la boca con Su nombre
tu oración debe ser como el ruido de las hojas
tu canto como el viento tamizado por una roca grave
debes volverte amor
que amor es Nuestra Señora
cayendo sin distinción sobre todo ser viviente

Y en lo que Ella vuelve
sentada tú a un lado de la represa
debes dejar oír tu canto por los francotiradores
esperemos que alguno
se doblegue ante tu mirada
y entregue su cantimplora
que hoy es el mes de sol más fuerte
y hay sed en nuestros niños

¿Puede el agua de tu cuerpo
conversar con el Agua que contemplas?


_____________________________________________
2046, année de Notre Dame la Brume
Poèmes écrits par Claudia Luna Fuentes
Traduits de l'espagnol par Joel García Govea et Carmen Bouyer
• La Brume
On dit que la brume est un nuage bas, formé de fines gouttelettes d'eau qui ne tombent pas sur terre. Aussi, on dit que la brume pour qu'elle soit appelée brume, doit être tellement dense qu'elle obstrue la vision ; qu'à l'horizontale il soit impossible de voir au-delà d'un kilomètre. Tout cela est vrai, mais nous disons que la brume est la volonté de l'Eau, L'Eau qui marche derrière un voile. Nous disons que la Brume est Notre Dame, et qu'elle est sacrée.

• Les dévots de la Brume
Pendant la cinquième saison de l'année la ville est habitée par la brume
c'est alors qu'en sa compassion les molécules
          embrasent les jardins malades
          rafraîchissent les visages des amants qui brûlent

Seulement lorsqu'il a de la brume
les rues se trouvent vides
et une certaine peur est là
le dragon d'or vient
et derrière lui
avancent les dévots de la brume

Dans cette ville
où d'aigres agréments emprisonnent l'eau
          dans des contenants polis d'avarice
toi et moi, allons à leur rencontre
          nous leur donnons des provisions et des métaux

les dévots portent dans leur regard l'horizon du désert
qui, comme un paradis sauvage et libre,
nous attend

• Brefs testaments des âmes

C'était le temps de l'Eau soumise
          de l'Eau dans des cavités de béton
          de l'Eau gardée par la milice
                     qui brode avec ses fusils une limite noire

de l'Eau allant seulement jusqu'à la gorge
          de celui qui payait ses bontés
c'était le temps
des fleuves corrompus
par l'avarice cultivé
entre hommes de science et lignées misérables

Aussi
c'était le temps non narré
de ceux qui luttent pour une gorgée

des nôtres
          tombés au bord des armes à feu
          brefs testaments des âmes
          qui en dernier lieu se sont baignées dans l'Eau
          et l'ont teinté de rouge

          eux
          les abattus
          sont devenus nos offrandes les plus sacrées

• Les yeux assombris par tant de paix

Et nous avons donné forme à de nombreux temples
espaces protégés de la révision
des endroits dans lesquels
les militaires en y entrant
rencontrèrent des édifices divins
des emblèmes de grande beauté
          car nous plaçons Notre Dame
          dans la catégorie de divinité suprême
en la regardant
la bouche bée, ils tombaient à genoux
les yeux assombris par tant de paix
dans cet état ils se retirèrent

De cette manière
nos inventions étaient sauvées
avec leurs circuits cryptés à la manière de symboles divins
          nous sauvions nos études
          iconographie dorée sur le mur
          en chapelets de formules
          qui certainement sont la voie pour La faire venir

Personne, autre que nous, ne comprendra jamais
que la science et la dévotion soit une seule chose
et elles le sont

Nuit et jour
nous La supplions tous ensemble
avec des prières de prototypes
calligraphie
et des cerveaux en accélération

• Que tout soit confus
Nous sommes arrivés ici
Pour chasser l'aube avec une humidité à quatre-vingt ou cent pour-cent

Nous cherchons à ce que tout soit confus devant nos yeux

Nous priions
découvrir de la Brume saine pour nos enfants

Nous implorons
de ne pas voir au-delà des mil mètres

et des oiseaux se posent sur le capteur de brume
cette manifestation nous remplit de ferveur

• Notes de convertis sur des jours exceptionnels

Tu dois comprendre d'abord que l'esprit et la matière sont des vapeurs
attachés à Son voile infiniment délicat
sois confiant qu'Elle arrivera bientôt
et ces mois-ci
sont les échelons de ses pas

si tu désires remplir ta bouche de Son nom
ta prière doit être comme le bruit des feuilles
ton chant comme le vent tamisé par une grande roche
tu dois devenir amour
car Notre Dame est amour
tombant sans distinction sur tous les êtres vivants

et pendant qu'Elle revient
assis toi à côté du barrage
tu dois laisser les francs-tireurs entendre ton chant
espérons que l'un d'entre eux
s'incline devant ton regard
et qu'il rende sa gourde
puisque nous sommes désormais au mois du soleil le plus fort
et que la soif étreint nos enfants

L'Eau de ton corps
peut-elle converser avec l'Eau que tu observes ?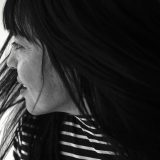 Claudia's poems and visual works are inspired by the nearby nature (forest and desert). Recent works deal with the relationship between people and water, and the interaction of the social, ethical, and spiritual.