There's something intrinsically delightful about watching a 70-something-year-old grandmother riding free and easily in a wide, dedicated bike lane on her old-fashioned, big-wheeled bicycle, her woven basket spilling over with fresh baked bread.
Walking may be my main form of transportation these days, but I often daydream about wheels…bicycle wheels…and the way they move people through urban and rural spaces.
Most of our 14,000-kilometer journey to date is speckled with memories of two-wheeled riders, and my longing to join them in their pedaling outings.
I have frequent flashbacks of the group of smiling Burmese school girls with crisply ironed white shirts and long green skirts cycling unperturbed in the narrow shoulder of a busy truck road. I wince when I remember the Bangladesh and Indian men laboriously squeezing their heavy-loaded bicycles and tuk-tuks through small gaps between the throngs of people, cars, buses and cows. I imagine future adventures when I talk with long-distance cyclists about the gear in their panniers and the ups and downs (both on the physical terrain and their emotional state of mind) of riding on the barren stretches of the old Silk Road in Central Asia. Along Turkey's Black Sea coast, I sigh with relief when we finally find sidewalks and bike lanes, and we can step off the asphalt into safer, more human-friendly zones.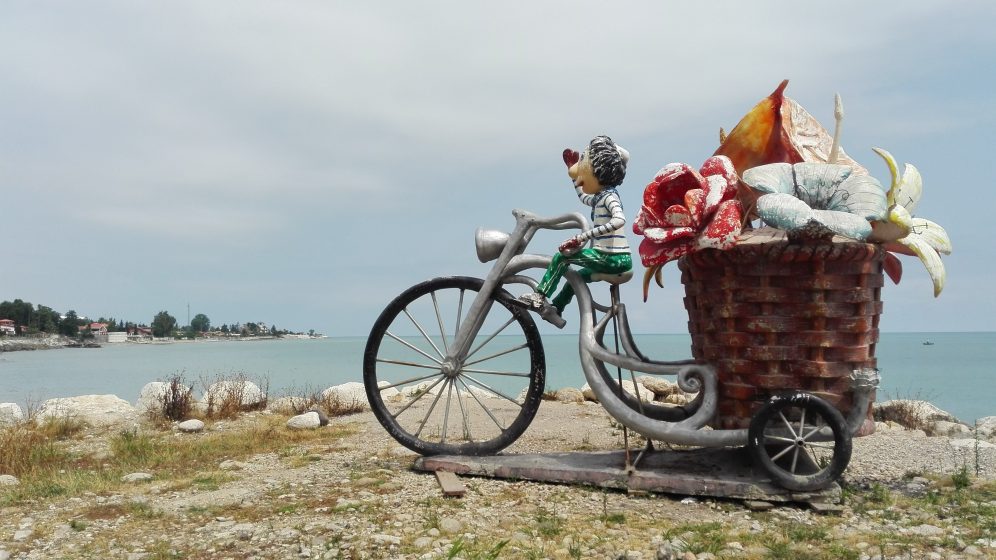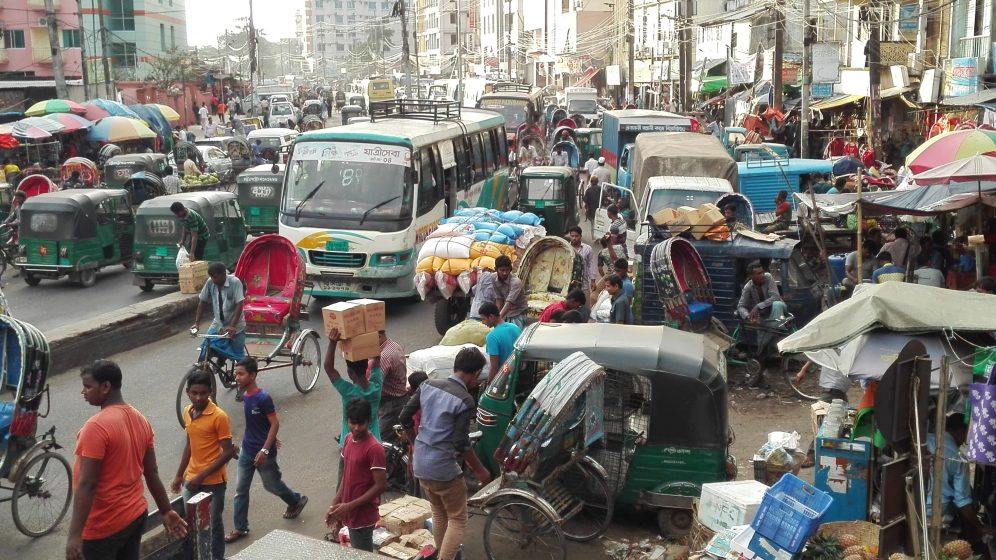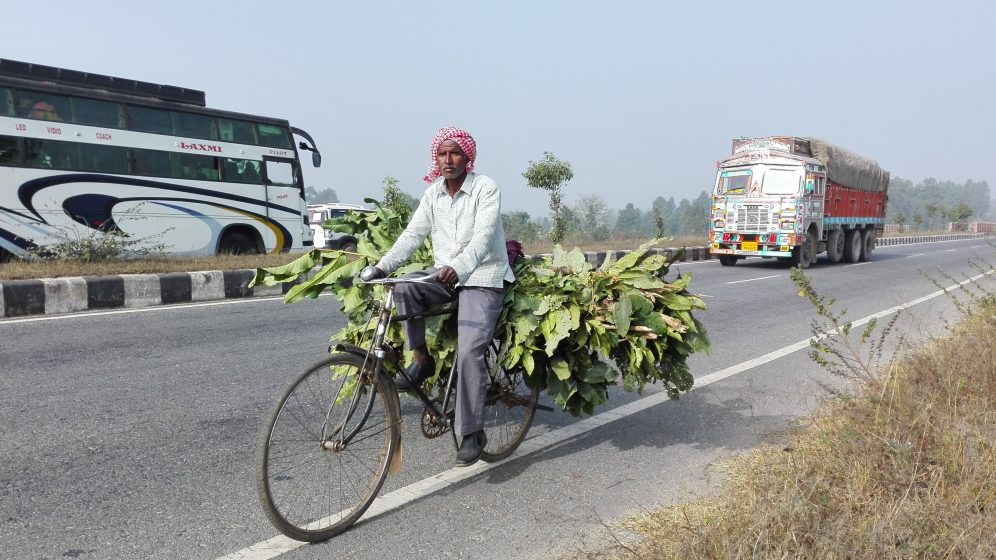 Like in other places, the Italian scene of a happy, waving cyclists and senior citizens doing things they have done their whole lives, like riding to the market, sparks a chain of walking reflections that loop around each other.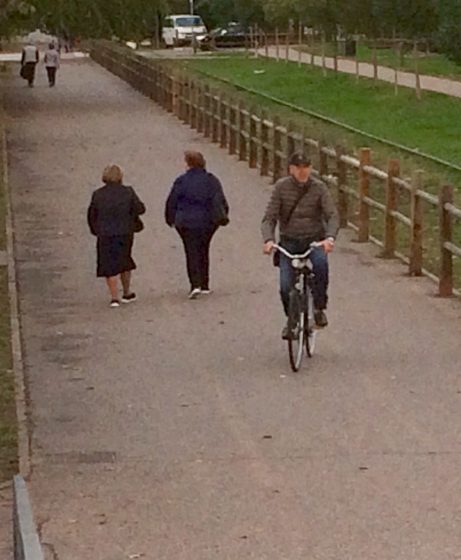 "How fun is it to ride a bike to the market! These people are so lucky to have such a nice network of bike lanes through their town. It's such a joy to walk in a place that makes room for walkers, runners and cyclists! Oh, the bike lane ends here, at the edge of town. Uf! That's too bad. Now we have to go back to the almost non-existent shoulder with cars nearly touching our elbows," I think. "It's too bad the local governments don't link their cycling routes, and create more inter-town bicycle lanes. What if I want to go to the other town's market? I would have to brave the road without a shoulder and with trucks and vans. Really, life doesn't stop at your own city's border. It's great that these small towns have invested in these bike lanes (some of which look pretty new judging by the painted white lines and smooth surfaces), but why don't town officials think this all the way through and work with surrounding communities to share the costs and rewards of expanding their bike networks? What if every town everywhere in the world set aside some money every year to develop and increase walking and cycling lanes so people everywhere can enjoy seeing their slice of the globe by the power of their own feet? Now, that would be a movement I could support! It won't happen. People will say there is not enough money to do it. But, if it happened little by little…"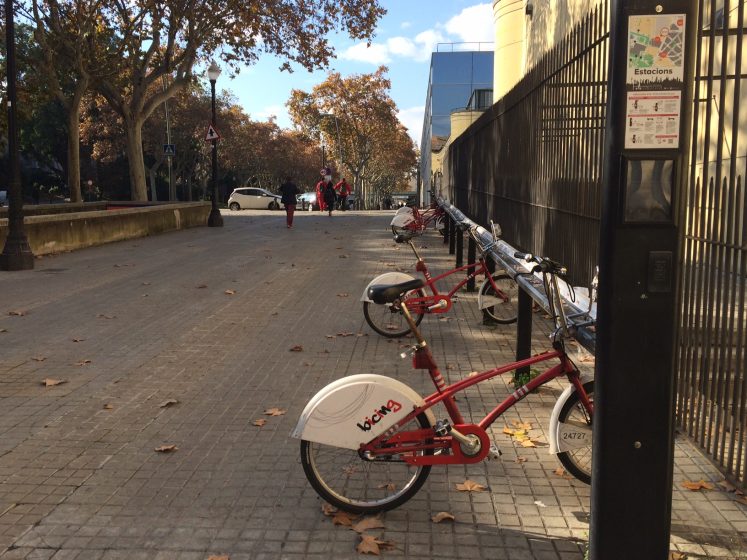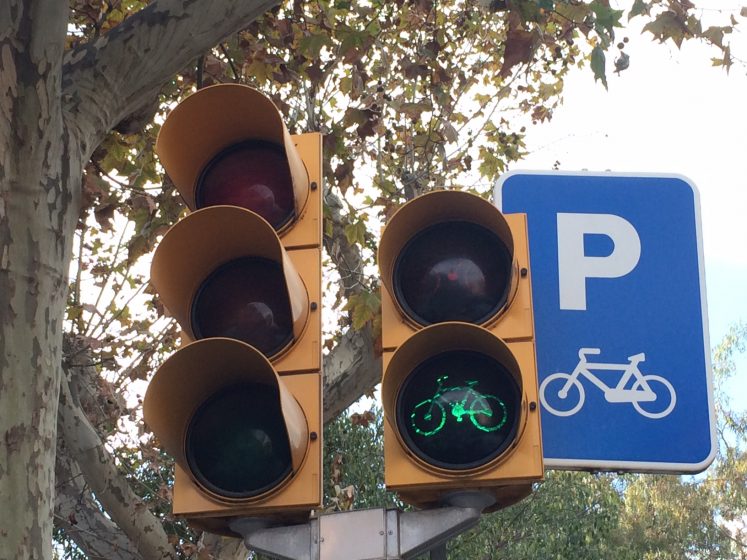 I drop my head, shut down my string of thoughts, and focus on the oncoming traffic. Italian drivers, like drivers in other countries, give me strange looks. They sort of expect cyclists to be there; Italy has a large cycling community, and it's common to see cycling groups out for morning or late-day rides. Long-distance walkers, however, are an uncommon lot.
Reflecting on other cycling moments
In the quieter walking moments, my thoughts return to the luxury of having wheels…bicycle wheels… and other cities where bicycles are now part of the fabric of everyday life, and part of my view of urban life.
I've been lucky enough to call places like San Francisco, Munich and Barcelona home for a while. For better or worse, by experiential default, they are the cities I use to compare and measure every other cities' effort to do anything, including developing sustainable alternatives to car traffic while also promoting citizen well-being.
When I lived in San Francisco in the late 1990s and early 2000s, I was surprised by the Critical Mass rides in which hundreds of cyclists would pedal around the city on the last Friday of every month. I remember (not always fondly) having to sometimes change my car route to skirt around the blockages the cyclists would cause in the downtown area. Today, wiser to world's ways, I regret not having joined them when I lived there. The Critical Mass folks caused a shift in the way San Francisco and the Bay Area, hubs for all sorts of athletic endeavors, had to think about bicycle usage, rider and driver safety, and traffic on city blocks.
In 2008, Munich blew me away with its volume of day-to-day bicycle commuting. I used to stand on a corner on Ludwigstraße, one of the city's main streets, and marvel at the polite order in which cyclists queued up at the streetlight. My jaw dropped when I saw bicycle police give tickets to cyclists going in the opposite way of the designated flow of bicycle traffic. Munich people take their cycling habits and rules pretty seriously, so seriously that I felt I couldn't possibly learn or understand proper bicycle etiquette in the short year I had an address there.
As I was remembering Munich, an email popped into my inbox, and the link pointed to a report about an increase in global bicycle and run activity and commuting. Strava, a social fitness network primarily used to track cycling and running via GPS data, reported in November 2018 that "Cyclists covered more than 5.2 billion miles in 2018 — far enough to get from Earth to Pluto. Runners covered 944.8 million total miles with an average distance of 5.1 miles per run." Additionally, compared to 2017 levels around the world, run commuting grew 70% and bike commuting grew 42%; in the United States, Strava's users uploaded more than 11 million bike commutes (a year-over-year increase of 30.8%), and 3.6 million run commutes (a 56.8% increase from the previous year), according to the company.
These kinds of data points give me pause. How are cities managing this increased bicycle and foot traffic? Putting in bike lanes and allotting safe places where people can pedal and go by foot are obvious first steps. But, to create something sustainable, long-lasting, and accessible-to-all, city officials need to have a bigger vision. They also need to willing to make important economic, political and popular tradeoffs, such as foregoing building an extra car lane or eliminating auto parking spots in favor of widening the existing bike lane in a crowded neighborhood.
Back home, I've seen first-hand how Barcelona's overall bike demand and, specifically, its bike-sharing program, Bicing, have evolved in about a decade.
Although it started with a meager 15 stations, 200 bicycles and a few bike lanes, Bicing got 30,000 subscribers in its first two months, according to a Treehugger article. When I checked the Bicing website recently, the numbers, as of September 2018, have climbed to 105,545 users, 420 stations and 6,000 bikes in circulation. What's interesting, too, is the perception of the many more bicycle shops that have popped up in different neighborhoods the last decade; they obviously are catering to the increasing number of people who prefer to have their own bicycles and to the many tourists who now use rented bicycles to visit the city.
To their credit, Barcelona's city government noticed this pent-up demand, and in 2015, launched the "Bicycle Strategy for Barcelona", a measure aimed at "encouraging more bicycle use as a habitual mode of urban transport." The strategy's core mission is a noble one: Expand and improve the cycling infrastructure; improve signage to guarantee safer journeys, and take actions to ensure harmonious co-existence with other people using the public highway, both pedestrians and other road vehicles, according to the website.
But it's not just words on paper. There appears to be a commitment to make this happen. "Barcelona City Council aims to provide 308 kilometers of cycle lanes by 2018, which would mean an increase of 165% on the figure quoted in the 2015 Strategic Bicycle Measure (a network of 116 kilometers). This means that by 2018, 95% of the city's population would have a cycle lane within 300 meters of their home," I read on the city's website.
Think about that­–95% of Barcelona's estimated 1.7 million residents will be within 300 meters of a bike lane! That's, basically, a bike lane within one Manhattan city block from nearly everyone's front door.
I can't help but to be curious about how many new bike lanes will crisscross my old neighborhood when I get back to Barcelona. And, I'm already thinking about the bike I'm going to a buy and use to rediscover my own city…it will probably be a foldable one that fits under my desk.
For now, though, we'll press on without wheels (sigh!). Hopefully, cyclists won't mind if we share their lanes. They are gems we are always grateful to find. I would love to hear about other cities' bicycle strategies and their plans to expand and manage bike usage within their cities and surrounding areas. Tell me what you've heard or know in the comments' section.
Jennifer Baljko
Bangkok to Barcelona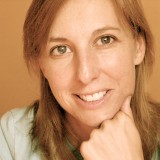 Jennifer Baljko is an avid traveler, longtime walker and a lifetime learner. She's a city dweller who recently became a tree hugger (literally, she throws her arms around trees and hugs them), but feels at home almost anywhere.