The integration of habitat restoration components into traditional shoreline engineering designs is the biggest lesson learned from the Toronto and Region remedial action plan for other areas.
As Toronto grew into Canada's largest city and a world leader in business, finance, technology, entertainment, and culture, there were unintended consequences such as water pollution and loss of habitat. Today, Toronto and Region are a leader in environmental cleanup and reconnecting people to their waterfront as a part of a city where humans can flourish as part of nature's beauty and diversity.
It was an early spring day and we were standing on a human-made peninsula called the Leslie Street Spit that extends five kilometers into Lake Ontario. The air temperatures were still biting cold, reflecting the long time it takes Lake Ontario to warm up.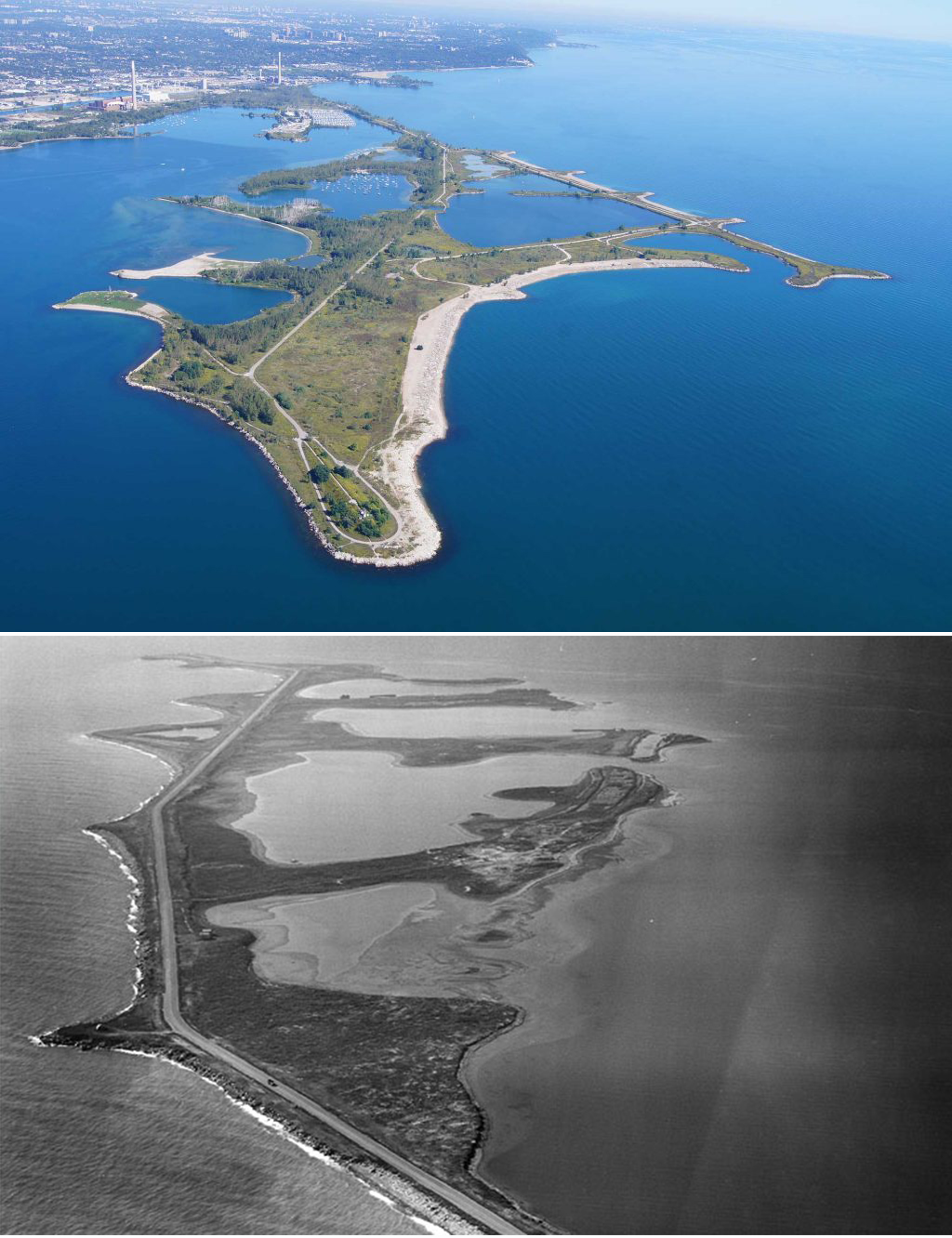 All of us participating in the Leslie Street Spit tour were thinking how nice it would be to cut the tour short and get out of the cold, with the exception of our tour guide. He was a large and striking figure who could have easily been mistaken for a professional American football player. But what was most memorable was his knowledge of the region and science, and his passion to restore habitats. His passion and enthusiasm were so contagious that by the end of our site visit, despite the biting cold temperatures, all of us were inspired that urban habitat restoration was possible if you had the proper knowledge and the right players involved who have a clear understanding of potential natural resource outcomes and benefits. The tour guide's name was Gord MacPherson and he spent his early years camping, fishing, trapping, and hunting throughout Ontario. His love for the outdoors led to a 37-year career with the Toronto and Region Conservation Authority where he has championed cleanup and restoration as part of an effort to create a new waterfront porch for both wildlife and people. MacPherson understands clearly that habitat restoration is about people management and that he and his partners are playing a critical role in city building.
Pollution
As Toronto and Region grew and became more urbanized, environmental pollution increased. There is probably no better example of historical water pollution in the Toronto region than the Don River. The Don River is a 38km river that stretches from its headwaters on the Oak Ridges Moraine to the Keating Channel where it empties into Lake Ontario. At one time the mouth of the river had one of the largest marshes in all of Lake Ontario. Over time the Don River was straightened for convenience, channelized, paved and built over, and befouled with all kinds of municipal and industrial waste and land runoff to the point that it twice caught on fire. Heavy oil pollution was the cause of a river fire in 1931 that destroyed a bridge crossing the Don River at Keating Street. In 1943, severe oil pollution was the cause of a river fire fronting the British American Oil Company's property. To no one's surprise, on July 30, 1958 the Toronto Globe and Mail editorialized that the Don has "waters heavily polluted and laden with scum, its banks littered with all varieties of filth, and the whole sending up foul odors."
Little wonder that in the fall of 1969, Pollution Probe organized a funeral for the Don River, symbolizing its death. On that November day, a couple of hundred mourners paraded a casket from the University of Toronto campus to the banks of the banks of the river. The cortege included a hearse, a band playing a dirge, a weeping widow in black, and a top-hatted student portraying a greedy capitalist.
Clearly, for many decades environmental protection was not a priority. Commerce and industry were the priorities and pollution was just considered part of the cost of doing business. By 1985, Toronto was suffering from extensive impacts of several centuries of agricultural land use, industrialization, and extensive urbanization, including poor water quality, contaminated sediments, contaminants in fish, loss of wildlife habitat and populations, and beaches that were often closed due to high levels of bacteria.
Harbour cleanup
As citizens awoke to visible damage and invisible dangers of polluted water and toxic residues, stifling local economies and degrading quality of life for all living near these waters, they began to speak out. It was in 1985 that the International Joint Commission identified Toronto and Region as one of 42 pollution hot spots called "Areas of Concern" where water quality and other ecosystem functions were badly impaired and Environment Canada and the Ontario Ministry of the Environment committed to developing and implementing a remedial action plan to clean up the harbor and restore all impaired beneficial uses using an ecosystem approach. An ecosystem approach accounts for the interrelationships among land, air, water, and all living things, including humans, and involves all user groups in comprehensive management. Think of an ecosystem approach as a more holistic way of undertaking integrated planning, research, and management of specific places like Toronto. If there was an ecosystem approach to drivers' training for four students, the driver training car would have four steering wheels to show how all need to work together.
Identifying Toronto and Region as a Great Lakes Area of Concern elevated the priority for cleanup within the federal and provincial governments and provided laser-like focus to stakeholders and partners to work together to restore health of their ecosystem and its beneficial uses. A unique partnership of federal, provincial, and local stakeholders first came together to develop the remedial action plan and create the framework and conditions for all stakeholder groups to help implement it.
Early efforts focused on preventing pollution through regulations and voluntary initiatives. Since 2003, the City of Toronto has spent $485 million to control stormwater pollution and reduce basement flooding risks, and projects to spend $2.8 billion in 2016-2025 on additional stormwater projects. The Don River and Central Waterfront Project is particularly noteworthy and will capture and treat stormwater discharges and address discharges from combined storm and sanitary sewer outfalls to the Lower Don River, Taylor-Massey Creek, and Toronto's Inner Harbour—a $2 billion investment over the next 25 years.
More than $80 million has been spent on habitat rehabilitation since 1987. In the last 10 years alone, over 823 ha of habitat and 57 km of shoreline were created or restored in the AOC. At the helm, every step of the way, has been Gord MacPherson collecting data, performing assessments, designing projects with partners, overcoming obstacles, helping secure funding, overseeing construction, and measuring effectiveness. The federal government and Toronto are now creating Canada's first national urban park: Rouge National Urban Park. Rouge Park is rich in natural, cultural, and agricultural features, including 1,700 species of plants and animals, and some of the rarest and best remaining wetlands, forests, and agricultural lands in the region. Once fully established, it will be 101 km2 in size—nearly 30 times the size of Central Park in New York. Federal investment in Rouge Park will be $100 million. In 2017, federal, provincial, and municipal governments announced $1.25 billion to construct a new naturalized Don River mouth through the Port Lands, creating a new urban island neighborhood called Villiers Island. Continuous and vigorous oversight is needed to maintain these ecosystem gains and ensure long-term sustainability.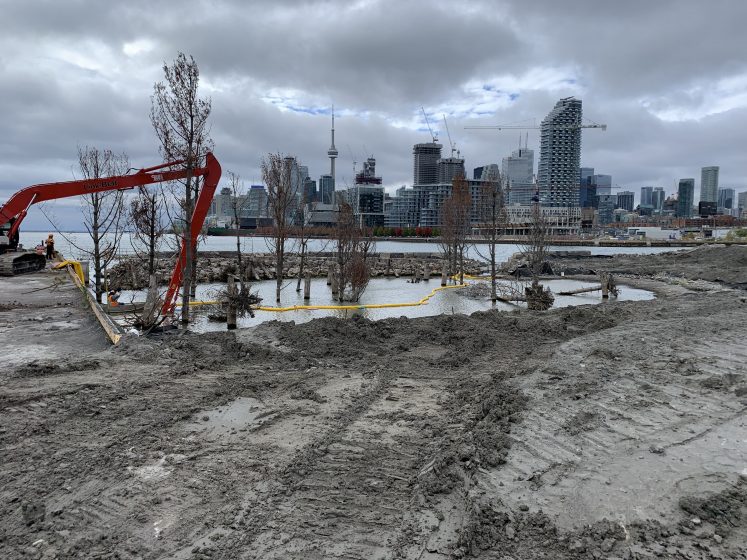 Cleanup leads to reconnecting people to the waterfront that leads to waterfront revitalization
Toronto Waterfront Revitalization Corporation (now called Waterfront Toronto) was established in 2001 by the federal and provincial governments and the City of Toronto to redefine its waterfront as a public asset for everyone. Working with public and private partners, Waterfront Toronto creates complete neighborhoods anchored by parks and public spaces, and diverse, sustainable, mixed-use communities that offer a high quality-of-life for residents and visitors alike. Waterfront Toronto has worked with MacPherson and the remedial action plan team to restore over 26 ha of wetland and aquatic habitats and 6.4 km of shoreline habitat in prominent locations like Tommy Thompson Park, Toronto Island, Port Union, Mimico Waterfront Park, and others.
As part of an effort to measure economic effectiveness, Waterfront Toronto commissioned studies of the economic benefits stimulated by its waterfront investments. Between 2001 and March of 2017 a total of $1.6 billion was invested in waterfront redevelopment to establish unique gathering places that foster a sense of authentic human attachment.
Economists have estimated that this $1.6 billion investment, adjusted for inflation, will: generate approximately 14,100 full-time years of employment, of which approximately 88.5% were in the City of Toronto; stimulate $4.1 billion in total economic output to the Canadian economy (the majority in Toronto); and generate total government revenues of approximately $848 million. Although Toronto Waterfront's expenditures are significant, they are relatively small compared to the recurring benefits, like permanent jobs, property taxes, income taxes, and tourism spending that occur with continued development of new office, residential, retail/service, cultural, and entertainment uses along the waterfront which would not occur without the initial Waterfront Toronto investments.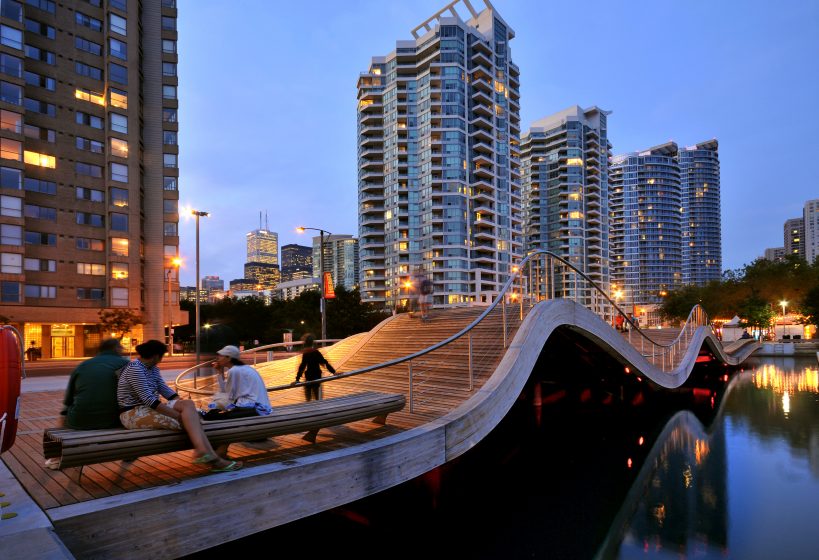 While these impacts relate to Waterfront Toronto's direct spending on planning and infrastructure, economists have also quantified benefits accruing to private- and public-sector real estate projects both on lands controlled by Waterfront Toronto and other privately-owned land on the waterfront. For example, the combined development on East Bayfront and West Don lands, and the adjoining neighborhoods, will generate nearly 207,900 years of employment, add $13.8 billion to the Canadian economy, and provide $7.5 billion in tax revenues to the three levels of government.
The next challenge
MacPherson believes that the biggest challenge facing the Toronto and Region RAP is how to fight public apathy surrounding the environment. Public concern has now shifted to the climate change crisis, but the concern has not yet become a catalyst for local solutions. Torontonians need to think globally but act locally. MacPherson feels that people now need to channel their concern for climate change into concrete actions that both demonstrate adaptation to climate change and achieve huge conservation benefits, like restoring wetlands, building green infrastructure, naturalizing shorelines, planting trees, and more.
MacPherson's advice for the next generation of people who care about Toronto Harbour and the Great Lakes is simple: Be Bold! He is adamant that right now the environmental movement, the Great Lakes, and the planet need bold leaders. Improving habitat is a simple and effective method of engaging the public and educating them on the economic, social, and environmental benefits of looking after our communities as our home. MacPherson has always been struck at how the need to improve our environment is universally accepted, how restoration can be easily explained, and how involvement in restoration can foster a stewardship ethic and lead to advocacy. "We need to be bold and aggressively show the significance, importance, and function of restoring our waterfront to a greater percentage of the population," notes MacPherson.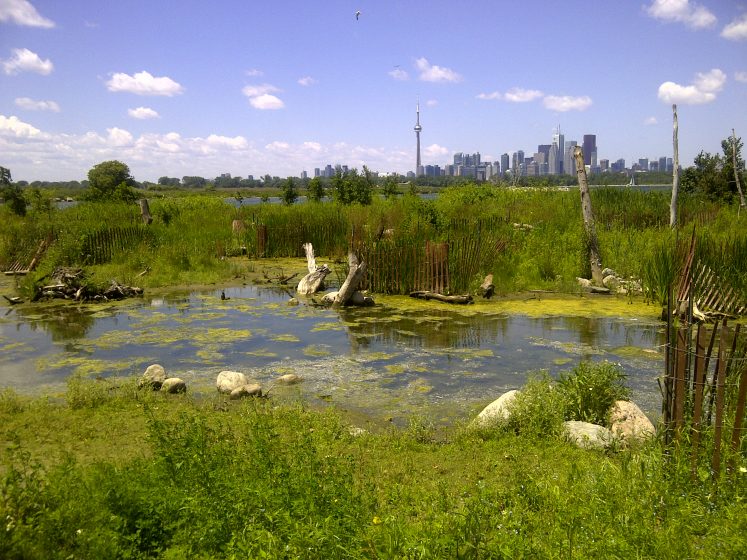 MacPherson feels that the integration of habitat restoration components into traditional shoreline engineering designs is the biggest lesson learned from the Toronto and Region remedial action plan for other areas. These ecological concepts are universal and are the cornerstone of Toronto and Region Conservation Authority's habitat restoration projects and have application and benefits throughout the Great lakes and beyond.
Clearly, Toronto has become a North American leader in harbor cleanup, revitalizing its waterfront and reaping economic benefits, and creating waterfront destination of choice that is accessible and welcoming to all. For more information on other Great Lakes case studies about how cleanup leads to reconnecting people to waterways that leads to community and economic revitalization, and how to sustain momentum for restoration over many decades, visit: http://iaglr.org/aocdocs/GreatLakesRevival-2019.pdf.
John Hartig
Windsor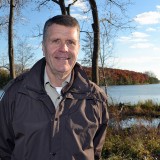 Dr. John Hartig is a Visiting Scholar at the Great Lakes Institute for Environmental Research at the University of Windsor where he is undertaking interdisciplinary research on the cleanup, restoration, and revitalization of the most polluted areas of the Great Lakes.