A positive outcome of being online is the ability to invite environmental activists and leaders from BIPOC-led organizations into our 'Zoom' classes from all over the world. The Leadership and Reform class recently investigated environmental problem-solving strategies with doctoral students from the University of Rwanda in a lively exchange of culture and effort.
Our graduate students are figuring out how to best "immerse" themselves in city spaces while staying safe during the pandemic. Students find creative ways to both learn and practice while masked and distanced from community members. A positive outcome of being online is the ability to invite environmental activists and social justice leaders from BIPOC-led organizations into our Zoom classes from all over the world for professional development and antiracist training.
What a different world we live in. About a year ago, I posted in The Nature of Cities about our thriving Master's program at Antioch University Seattle. The Urban Environmental Education M.A.Ed. program continues to attract a highly diverse group of students who want to study antiracist environmental leadership in urban places.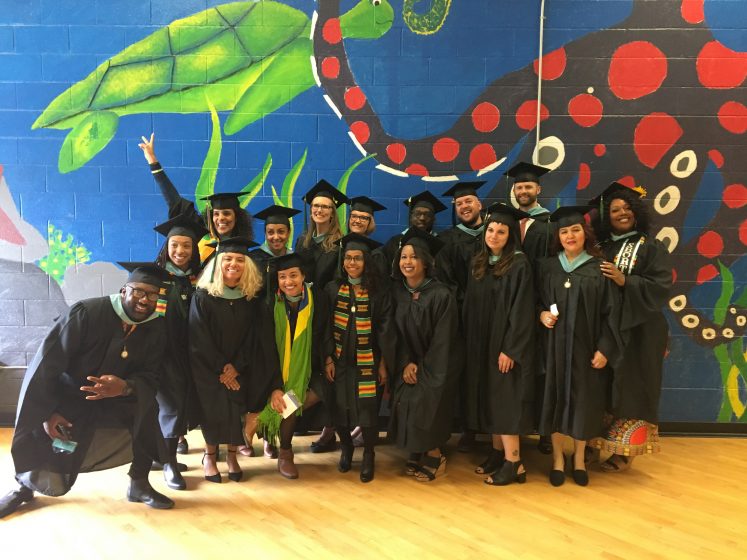 At this point in the year, the students are usually out on the streets identifying the 'big ideas' that determine how a city runs. They would be standing on street corners asking hard questions about the motivations that shape neighborhoods, prompt civic engagement and lead to environmental investigations with a lens on power, money and privilege. Our students are challenged to quickly immerse themselves in communities by walking through, showing up and talking with residents. They learn techniques that open up the heart of urban communities in order to understand, first-hand, the impacts of environmental problems. "Nothing About Us Without Us is For Us" (African proverb) adorns the t-shirt given to each student upon graduation. The 15-month academic experience reflects this sentiment throughout. We pride ourselves on pioneering pedagogy shaped by an ethic of listening from the ground up and actively unpacking the influences of race, equity and justice on policy, regulations and growth.
In the past, spending time with community leaders in their homes, on the street and the workplace, allowed the students to gather stories and observe the realities of environmental inequities. Now, because of the COVID-19 pandemic, we are online or masked-up and keeping our distance while trying to make the same inroads into building relationships based on trust and presence. Our students are actively figuring out how to best 'immerse' themselves while staying safe as they navigate participatory action research and find creative ways to both learn and practice in this new and unsettling world.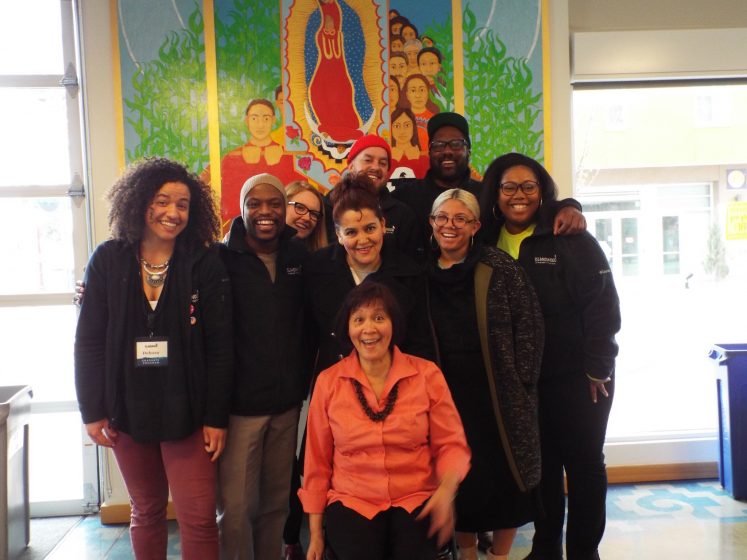 Each closely-knit student cohort is as diverse as any urban community. 75% of our faculty are BIPOC (Black, Indigenous, People of Color) practitioners/professionals. 60% of our students identify as BIPOC. Using the rich diversity of perspectives and life experiences present in each student cohort, we aim to cultivate authentic and visceral skills in antiracist leadership. Our courses dive deeply into how race, inequity and social justice impact communities and influence policies on pollution, displacement, access to healthy food, waste management, lack of green space, and the impacts of climate change. For many of our students, our courses are the first experience in a classroom with a majority of people of color. For most of our students, the Urban Environmental Education (UEE) program is their first academic experience with mostly BIPOC instructors. All students are deeply moved by the revelations of how racism, inequity, prejudice and justice have impacted the lives of their colleagues. That growing awareness leads to unpacking the ways that we are governed, how policies are created and how decisions that shape our society are made…it is not easy to realize and demands careful planning on the part of our faculty.
The UEE faculty have rapidly adjusted pedagogical approaches online in order to build a professional learning community that supports antiracist environmental leadership. In the past, faculty have depended on experiential sessions that allow close encounters among students, safely dropping their guard in order to build the trust necessary for honest sharing and supportive camaraderie. In this article, I will talk about some of the methods our faculty have created to overcome this weird reality of 'screen education'. We have found that melding art and storytelling into our 'Zoom' classrooms helps build those bridges among the students and enrich the community of learners. These experiences translate directly into community engagement outside of the classroom and into the organizations where students are placed in practicum situations.
The evolution of a safe space is important for the success of antiracist approaches to learning. We begin in the summer with three face-to-face intensives that meet every day over a span of three weeks. This year we were relegated to virtually gathering on screen. The new students first introduced themselves using 'spoken word' poems. The prompts for this activity are: I Am From and If My Voice is Heard. The poems lead to much talking among the group in 'virtual breakout rooms', sharing roots and family histories, divides and unity, stepping through doorways so often closed, and setting the stage for interactive community engagement. Some examples:
I am from the Caribbean.
I am from sea gates through which people from all over the world transit in and out, through and past.
I am from the movement of that transience holding on to opposing spaces, native, immigrant, enslaved, my ancestors' wildest dream of liberation.
I am from the urban and the wild, they have shaped me.
If I am heard, white people will wake up to new ways of knowing. They'll see what my ancestors always saw, that there's enough on this planet for everyone. That the contradictions all add up to truth.
If I'm heard, white environmentalists will see that there's beauty in the struggle of liberation work. Joy in the discomfort of having to share and connections to self in our connections to the other.
I am from generations of African Americans who migrated from the South.
I am from black people who settled in a racially Red-lined District.
If my Voice is heard cities will implement liberal policies with action that can be easily measured by all.
If my Voice is heard cities will devote resources to BIPOC urban liberation.
I am from desert where the heat meets your face and makes you glow.
I am from people who moved north and…
I am from the fields with those who tirelessly grow food for town.
I am from sacrifices that made me resourceful
If I am heard we will all act with compassion.
If I am heard we will all be called to action.
Each student then creates a Sense of Place map to share with the cohort members. The resulting 'maps' are powerful examples of connection, experience, values, and perspective. Art enables student expression to soar into places that might not be reached with formal papers. The exhibitions provide the venue to share multiple dimensions of one's connection to the biosphere, to each other, to land and history, to culture, race and politics. The maps serve as provocative expressions of value and intention expanding the sense of what connects all of us to ecosystems, environmental issues and the tumultuous issues of race, culture and justice. We learn about each other without judgment using art to exhibit the places that have defined us and laid the roots of our journey here.
"The sense of place map is a rite of passage that links ecological identity to life cycle development. What are the feelings, events, and choices that characterize how you see yourself in the biosphere through different periods of your life, through various dwellings and travels in time and space. How will you communicate and illustrate the places where you've been, where you live now, and where you see yourself in the future?" Mitchell Thomashow, Ecological Identity, MIT Press, 1995.
The unique culture-building among the students is enhanced by a Migration Map (Thomashow, To Know the World, MIT Press, 2020). Migration is raised as a seminal feature of environmental change. Each student creates and shares a chart of their own family's history of migration. One student may talk about a farming heritage that has rooted family to a particular place for generations while another may talk about spending a childhood moving up the coast of California from Mexico picking fruit, yet another may have fled political terrorism and come to the U.S. for asylum. Intentional relocation, unresolvable displacement, purposeful migration…all of the students have an experience of moving, uprooting, leaving family, establishing a new sense of place. This activity reveals how common the experience of migration is to humankind. How humans and animals are often on the move to escape drought, ecosystem changes and climate impacts. The study of migration is linked to the dynamics of climate change, power dynamics, health concerns and political upheaval and all are related to environmental integrity. Students engage with each other easily using these prompts as facilitation.
The summer intensives serve to build a strong and open community of learners ready to tackle hard questions, complex issues, and the difficult acknowledgment of systemic racism in organizational structures. Over the 15 months, courses that cover Race, Diversity, Equity and Environment advance into Multicultural Environmental Leadership courses. This critical thread is one of three that serve to integrate environmental leadership with social justice. Students open up by exploring personal identity, historical perspectives, and the patterns of multicultural dynamics in organizations. This thread of outcomes culminates in exposure to strategies that change exclusionary tactics into strategies for inclusion in organizational hierarchies and practices.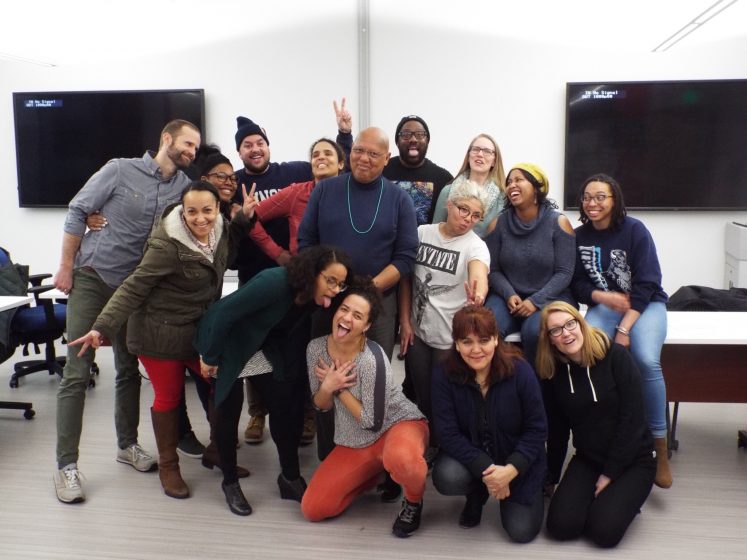 The Participatory Action Research thread of the program explores inclusive and exclusive multicultural practices on the ground by placing students in community-based organizations for 30 weeks of direct observation, deep interaction and investigation into antiracist dynamics, policies and practices. UEE is committed to increasing BIPOC pathways into environmental leadership. To do that means dropping the veil on the dynamics of systemic racism, especially in organizational structures. Our graduates are prepared to help guide organizations in their quest to include multicultural perspectives in decision-making, programming, and action through their research. And, now, with this new challenge of taking a highly experiential learning process to a 'screen', we are experimenting with pedagogical methods that translate on-the-ground experiences into Zoom events! Faculty work together throughout the year in normal times to share instructional experiential techniques. Now they are actively experimenting together to translate their unique pedagogy into online approaches. I believe that we all are working to make education accessible, provocative, and inspiring in this new world of ours!
A positive outcome of being online is the ability to invite environmental activists and leaders from BIPOC-led organizations into our 'Zoom' classes from all over the world. The Leadership and Reform class recently investigated environmental problem-solving strategies with doctoral students from the University of Rwanda in a lively exchange of culture and effort. This year, UEE will partner with a BIPOC-led organization in Oakland, CA to learn how they have Increased BIPOC pathways into environmental leadership. Youth Outside actively works to change the nature, missions, and practices that have excluded people of color from environmental leadership. They will bring to light alternative strategies to a more honest reckoning with the institutional barriers to recruitment, retention, and promotion for young BIPOC leaders.
Now that UEE is online, we are inviting aspiring BIPOC leaders AND leaders from mostly White-run environmental organizations to participate in antiracist professional development with us. Courses like "Race, Equity and Environment" and "Multicultural Environmental Leadership" can be taken as "Try Us On" opportunities. We work together to deconstruct systemic racism and its impact on the lives of all. Identifying and undoing the legacy of racism within the environmental field is central to our educational model. Part of antiracist work is acknowledging our role in a white supremacist system. From that point, we uncover the intersectionality of social justice and environmental issues. With intentionality, an antiracist narrative emerges where policies, organizational behavior, governance, ways of knowing are investigated for their racist outcomes and we begin to identify ways of working together that are egalitarian, just, and emancipatory.
"Compassion is not a relationship between the healer and the wounded. It is a relationship between equals. Only when we know our own darkness well can we be present with the darkness of others. Compassion becomes real when we recognize our shared humanity." Pema Chodron
UEE extends an invitation to those who can't put their life on hold in order to commit to an "on-site" academic program in Seattle. We all have to be creative in finding ways to increase the number of BIPOC professionals in the field while dealing with the realities of COVID-19, economic strain, and social justice. Please check out our program here: https://www.antioch.edu/seattle/degrees-programs/education-degrees/masters-in-education-ma-ed/urban-environmental-education/
And here: https://www.youtube.com/watch?v=jnVqqewc5v4
Cindy Thomashow
Seattle