Having begun to appreciate the benefits of putting green infrastructure onto buildings, architects, engineers, horticulturalists, and others have developed techniques to make it real.
Most of the inhabitable regions of the Earth were originally covered by forests, grasslands, and wetlands. These carbon-grabbing, biodiverse, spongy landscapes have been largely replaced by agriculture and urban development, which is drier, belches carbon, is erosive of soils, and which has lost most of its wildlife. Indeed, biodiversity declines continue
apace
. Cities and buildings, in particular, are designed and maintained in ways where vegetation is omitted, removed, or simplified so that the benefits of having vegetation close by are limited or lost. Concrete, glass, and other impervious surfaces that
shed water
,
kill migrating birds
, and exacerbate the
urban heat island effect
have been the essence of architecture for decades now.
There is now a huge and growing body of evidence that green infrastructure or green-blue infrastructure (soil, vegetation, and water) that provides the setting for our cities, provides us with a range of benefits (also described as ecosystem services), including reduction in flooding, purification of air and water, summer shade and cooling, better health and wellbeing, places to relax and mingle, as well as food and habitat for wildlife.
Having begun to appreciate the benefits of putting green infrastructure onto buildings, architects, engineers, horticulturalists, and others have developed techniques to do this. The conventional building is a polyhedron, often a cuboid, which has horizontal and vertical surfaces to keep out the weather. Relatively lightweight coverings of vegetation can be placed onto the horizontal surfaces (extensive green roofs) and vertical surfaces (green walls). Where there is strength in the roof structure, more substantial gardens can be created on roofs of course, although roof gardens have a long history.
Roofs (flat and occasionally sloping roofs) have been successfully greened, led by pioneers in Germany who have produced relatively lightweight extensive green roof systems. The first guidance was published in Germany in 1982 as the extensive green roof market took hold. Although these systems play a useful role in reducing the runoff of rainfall, cooling the building beneath in summer, and providing some space for nature, there are often limitations. Planting can be low-diversity (for example, consider the pre-grown sedum mats that dominate the market) and shallow — growing media can dry out rapidly during dry periods. An improvement over sedum mats is an extensive green roof with an adequate depth of purpose-made substrate, planted or seeded with drought-tolerant wildflowers, an approach pioneered in Switzerland. This approach has inspired others: see, for example, the image which shows the biodiverse extensive green roof, designed by the Green Infrastructure Consultancy for the David Attenborough Building in Cambridge.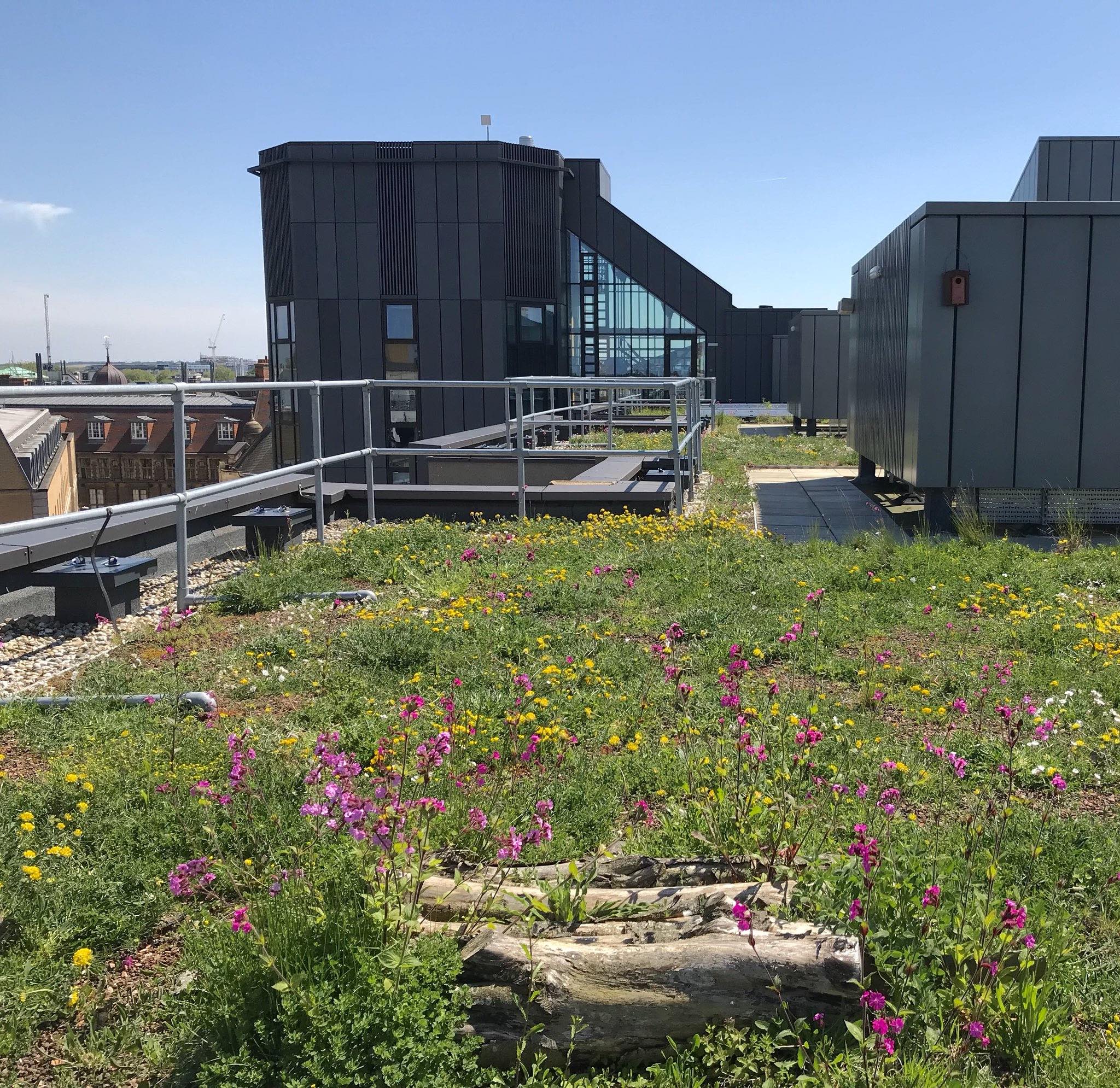 The vertical surfaces of our polyhedron can also be vegetated. The predominance of glass limits this, although there are ways of combining windows and vegetated trellises, which can provide summer shade with deciduous plants that can allow winter sun to stream towards grateful occupants. The traditional way of vegetating a wall is to grow climbing plants against it. This has worked well for centuries, however, people now tend to favour training plants against wire or mesh, so that plants are kept a few centimetres away from the wall itself. This also has the advantage of creating an insulating air gap that might provide space for nesting birds or roosting bats.
Vegetating walls with a wide range of plants, including many species that would ordinarily not occur on a wall, is now much easier with the range of irrigated plastic modules, fabric pockets, and metal cassettes available. These products contain compost, substrate, or in some cases stone wool. The range of species used is being expanded all the time and irrigation systems can be monitored and controlled remotely. The challenge with these installations is maintenance, which can require specialist equipment, technicians, and is costly in comparison with the maintenance required for green roofs, for example. Neglect or sudden failure of planting quickly becomes evident and will test the commitment of the owner if there are unexpected additional expenses associated with a need for re-planting.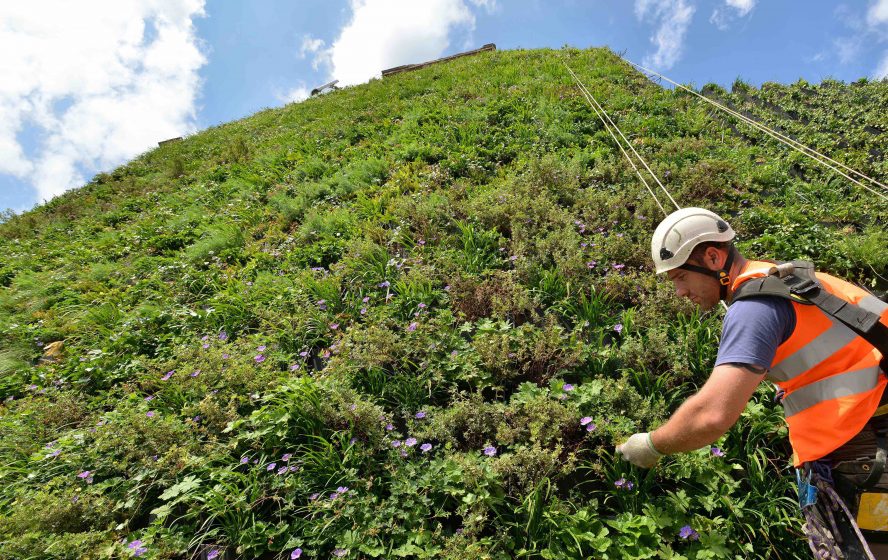 In recent years, then, it has been demonstrated that conventional buildings can be designed to have green roofs or green walls, or many existing buildings can be retrofitted with these features; however, what happens when the architect embraces the idea of vegetating the building before it is conceived? No longer are there the constraints of the requirement to install a relatively thin surface layer of vegetation, as is usual on the conventional building. Now, energised by the thought of new possibilities, the architect can maximise space for plants and can ensure that there will be structure that supports the desired vegetation, which might include larger plants, including trees. There can be more soil, which means, potentially, all of the rain that falls onto a building can be absorbed. More soil also means a wider range of planting and even more evaporative cooling. Buildings may even be in a position to sequester carbon as the vegetation and soil mature. Easy access for both the users of the building as well as maintenance staff can be planned into the design.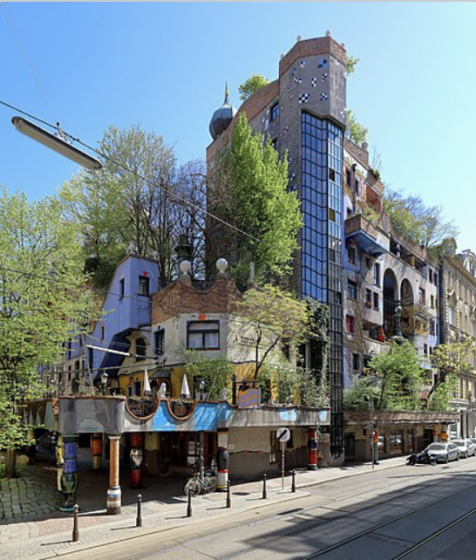 We can get an idea of what these more heavily vegetated buildings could look like by looking at the work of pioneers. Hundertwasser, for example, the Austrian artist and architect, promoted the planting of urban trees in the 1970s and began to put trees onto buildings in the 1980s, including a district heating plant (Spittelau, Vienna) and residential buildings (for example, the Waldspirale, Darmstadt). Knowing from the beginning that trees and shrubs are to be included on a building changes the building form and structure. There must be space for the growing trees and sufficient strength in the structure to take their weight.
Stefano Boeri and his team, including horticulturalist Laura Gatti, continue to embrace the possibilities presented with heavily-vegetated architecture. Boeri is said to have been inspired by the 1957 novel Il barone rampante, by Italo Calvino, about a boy who decides to spend his life living in a tree. Whatever the inspiration, the opening of the twin towers of Bosco Verticale in Milan in 2014 has changed our perception about what is possible with urban greening and in particular the greening of buildings. Boeri has been busy during the ensuing period, with similar projects in Cairo,Huanggang, and Tirana, amongst other places.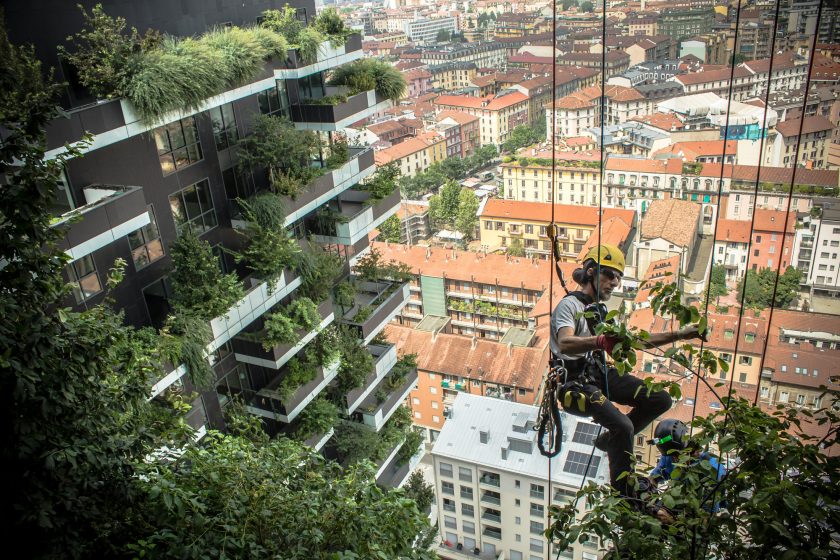 Critics of the Bosco Verticale have noted that the towers house private apartments and that greening on that scale would not be feasible for housing for rent. However, inspired by what has been achieved by Boeri and informed by the evidence of how biophilic design boosts wellbeing, other architects are now looking at what could be achieved for the everyman or woman. An example of this is the Biophilic Living project in Swansea, Wales, by architect Powell Dobsonand developer Hacer, which will include apartments operated by a housing association. This is an example of which I have had personal experience, having advised on how to create green roofs and green walls, however, I have read of dozens of similar proposals around the world where architects are becoming aware of the benefits of urban greening and how it can benefit both people and nature.
The biophilic design agenda is also bringing changes to the interior of buildings. Of course, there is nothing new in interior planting, however, there is a new enthusiasm for it. Decorative house plants have been enjoyed for centuries and were taken from the jungles of Asia and South America to be cultivated on an industrial scale decades ago. Now, people are increasingly aware of how interior planting can lift our mood, lower our blood pressure, and filter the air. Also, interior green walls and the availability of indoor trees is making people think about how interior spaces can be designed to show off planting and help it thrive. Interior green walls can be several storeys tall, bringing a lobby to life. Having trees indoors might require higher ceilings and a different approach to letting in natural light, though.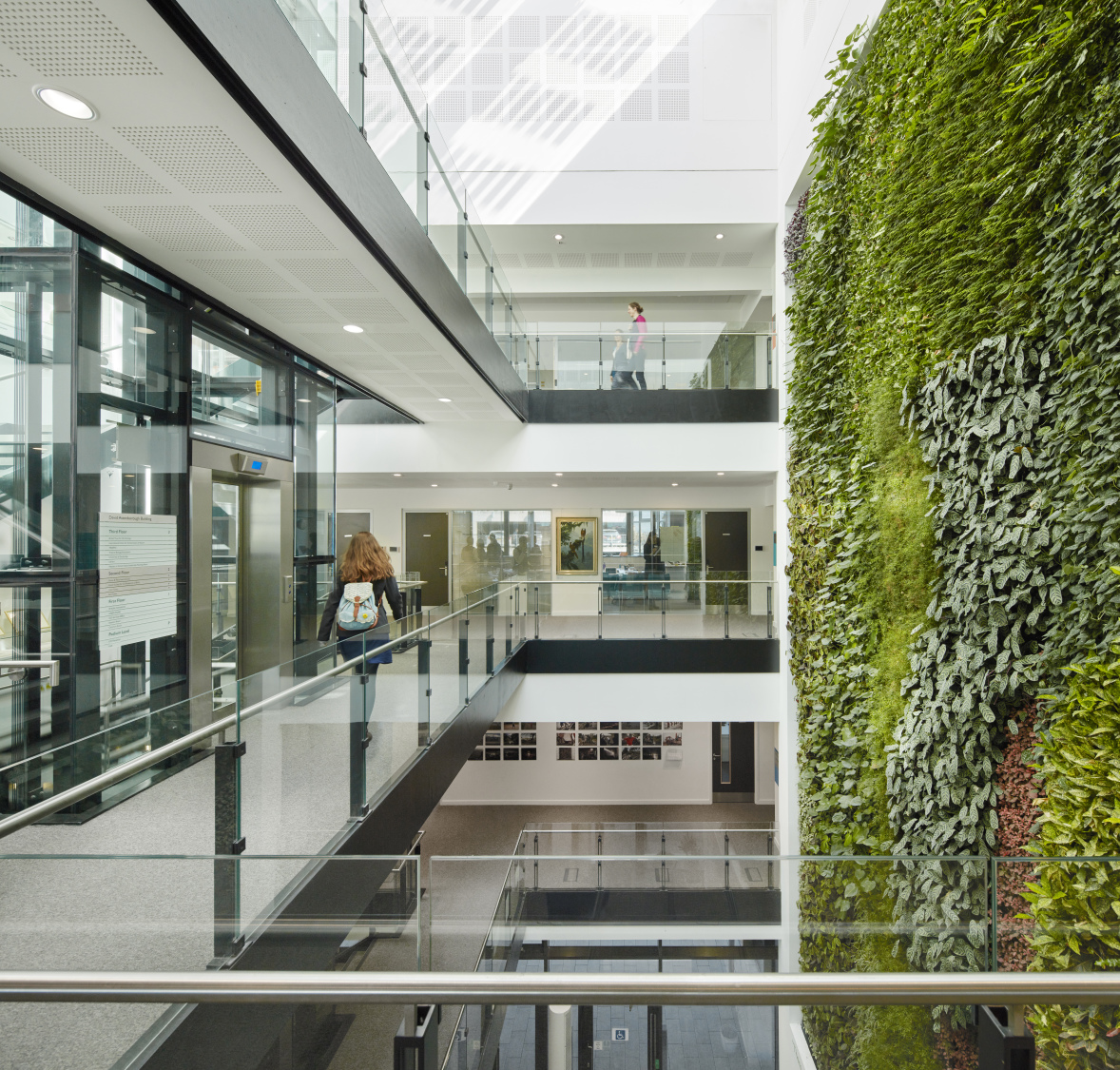 So, what does all this mean for the future of architecture? Climate change, bringing more summer heat, and more intense rainfall will ensure that the soil and vegetation on buildings will make more sense to more people. The opportunities to create accessible greenspace on buildings means that we will see more roof gardens and vegetated terraces. Roofs may no longer be a secret space leftover where mechanical and electrical equipment can be located without question. Heating, ventilation, and air conditioning engineers will have to miniaturise their equipment and take account of the cooling and purification capabilities of plants.
We will see deeper soils on buildings with more trees and shrubs, however, there will still be a role for wall greening technologies and relatively lightweight low-maintenance green roofs, especially on upper levels of buildings (where these green roofs will be increasingly combined with photovoltaic panels – the so-called biosolar roofs).
As well as "open to the sky" greening, buildings will increasingly include "open to the air" greening, where planting is over-sailed by structure, meaning that it will require irrigation, and, in some cases, supplementary lighting, but will bring planting under and through buildings. This "open to the air" planting will appear to merge with interior planting in many situations.
Looking further into the future, it seems possible that parts of the structure of buildings will be alive. For example, trees can be trained to form frames and can be made to grow together through a process of inosculation. The Baubotanik team in Stuttgart, led by Ferdinand Ludwig, is already looking at this, envisioning building structures that are alive and which absorb carbon. As more and more suitable species are found, this concept is likely to gain momentum. Another area of research is looking at structural materials (usually concrete) that absorb water and therefore provide a suitable surface for vegetation to colonise naturally. An example of this approach is the poikilohydric living walls being developed by Marco Cruz at the Bartlett, UCL. I predict that these avenues are only a beginning and that more and more techniques will be developed to complement more conventional ways of integrating vegetation into buildings with living structures.
In terms of maintenance, robots and drones will make access to high and otherwise dangerous-to-access vegetation on buildings much cheaper. People are already inspecting buildings with drone-mounted cameras, and pole and rope-climbing robots have been around for a decade or more. But, of course, more people will be involved in looking after the more easily accessible greenery on the buildings of the future, including both professionals as well the people living and working in them, who will gain a lot from the experience, which can be relaxing and therapeutic.
Gary Grant
London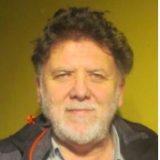 Gary Grant is a Chartered Environmentalist, Fellow of the Institute of Ecology and Environmental Management, Fellow of the Leeds Sustainability Institute, and Thesis Supervisor at the Bartlett Faculty of the Built Environment, University College London. He is Director of the Green Infrastructure Consultancy (http://greeninfrastructureconsultancy.com/).