Recognizing nature's inherent resilience and adapting that utility to mitigate coastal and riverine flooding, sea- level rise, and other climate-induced hazards are two different things.
Recently, New York State Governor Andrew Cuomo announced the launch of "Restore Mother Nature", an aggressive program for habitat restoration and flood reduction. "We must begin restoring the natural balance we disrupted," said the Governor. "Mother Nature had a plan, she had resiliency built in. We are the ones who destroyed it." His call is echoed in the latest effort of President Biden to funding nature-based approaches to coastal community and ecosystem resilience, who has pledged support for nature-based approaches through the National Coastal Resilience Fund and other measures.
These announcements are just the latest indication of the growing interest in the use of natural and nature-based features (NNBF) as alternatives to conventional (typically hardened shoreline) approaches to coastal erosion and flooding.
But recognizing nature's inherent resilience and adapting that utility to mitigate coastal and riverine flooding, sea-level rise, and other climate-induced hazards are two different things. The questions posed by local communities, landowners, funders, and regulators — Will my home be safer? Can we continue to enjoy the waterfront? Will this project help fish and other wildlife? — require a coherent framework and quantifiable information that can evaluate the relative performance of different interventions.
Over the last two years, the New York–New Jersey Harbor & Estuary Program has been working with a team of researchers led by the Science and Resiliency Institute at Jamaica Bay and funded by New York State to create a set of common metrics and monitoring protocols that will help provide this guidance. Our goal is to encourage others, in New York and elsewhere, to evaluate and share the performance of shoreline sites and build the community of practice of this growing but still a novel set of NNBF strategy and tactics.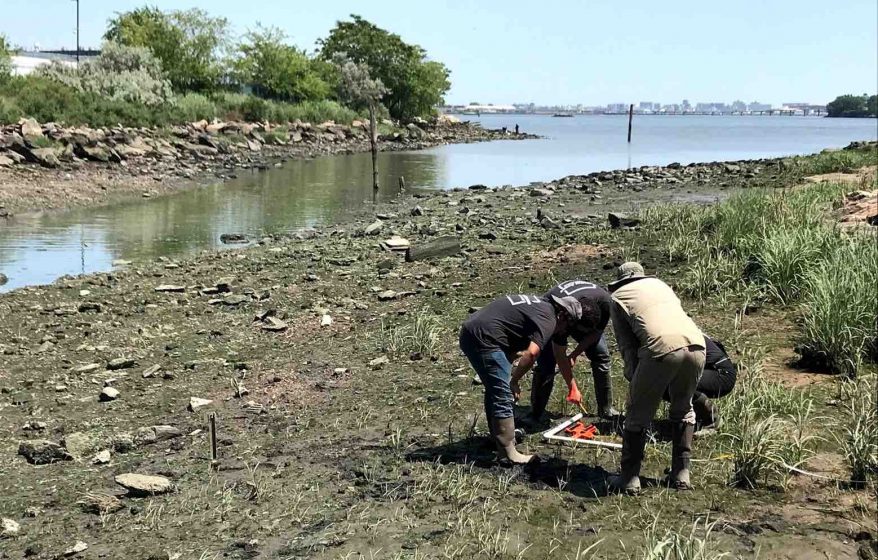 Why natural and nature-based resiliency?
Balancing competing values and uses of urban shorelines is a common need in cities around the world. It is no different in New York Harbor, where crowded urban and maritime uses, rich ecological resources, and increasing demand for public access make it imperative to stack functions across our 2500 km shoreline.
The need to squeeze as much utility as possible from the waterfront has been amplified by climate change. All across the estuary, communities and landowners are developing coastal resiliency plans and advancing capital projects to address sea-level rise and the growing risk of coastal flooding. With the states of New York and New Jersey anticipating an increase of one to two feet in the mean high tide by 2050, the risk of regular tidal and storm-based flooding will increase dramatically. For many of these stakeholders, the damage wrought by Hurricane Sandy in 2011 is a fresh memory.
These coastal resiliency projects present an opportunity to enhance the ecological performance of shorelines and shallow waters, a Target Ecosystem Characteristic (TEC) of the Hudson Raritan Estuary Comprehensive Restoration Plan. Shallow and shoreline habitat is defined as the near-shore waters of less than four meters, intertidal areas regularly inundated during high tides, and the riparian zones that experience occasional flooding. The estuary's massive tidal flux helps support high densities and a rich diversity of organisms along its shorelines, particularly when vegetated. Due to high densities of invertebrates like oysters, slower current velocities, and available refuge, this habitat supports resident populations of small fish, blue crabs, and other crustaceans, as well as provides a critical nursery for transient species. Larger fish, notably striped bass, enjoy adjacent deeper water habitat where they feed on invertebrates and small fishes carried outward by tidal currents.
Unfortunately, the ecological value of these areas for much of the area has been compromised, as they have been extensively modified for a variety of uses. Fill has replaced shoals and other shallow-water habitats. About 30% of the shoreline of the estuary, including marshes and tributaries up to the head of the tide, is hardened with bulkheads or engineered structures. For a meta-analysis of the impacts of shoreline hardening, see Gittman et al (2016).
These challenges have drawn the interest of ecologists, coastal engineers, and urban planners. There are a number of projects that have sought to enhance the ecology of urban shorelines while stabilizing the shoreline, reducing erosion, and/or preventing or mitigating flooding. In general, these projects have sought to do this by increasing the physical complexity of the site through stone or other breakwaters, adding texture and using materials that encourage colonization by bivalves, and providing additional intertidal habitat by creating beneficial shallow slopes and ledges, included planted wetlands. By offering new opportunities for estuary education and civic science programs, these projects can also improve the quality of public access and community engagement in management decisions. The best sites include accessible get-downs to the water and other educational infrastructure (including running water, shade, and adjacent wet labs and indoor classrooms). Notable examples in New York City include Hunters Point South Park, Brooklyn Bridge Park, Roberto Clemente State Park Tide Pools, and Randall's Island Park's Living Shoreline. A map of the estuary's shoreline and thumbnail description of some current shoreline projects is here.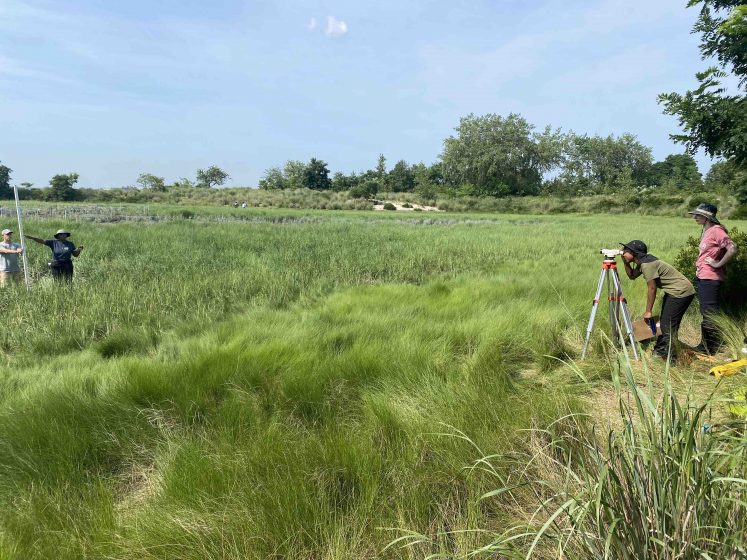 How does innovation become normal?
The advancement of such tactics and designs should be an important consideration for all proposed shoreline projects. Indeed, a number of local, national, and international guidance and planning documents have encouraged the use of NNBFs. For example, an assessment of how these projects could be deployed throughout the New York City waterfront is included in the Coastal Green Infrastructure Plan for NYC. At the federal level in the United States, see the United States Army Corps of Engineers Research Development Center. The European Union has offered a Research and Innovation policy agenda for Nature-Based Solutions. On a site/design project scale, the Waterfront Enhancement Design Guidelines, or WEDG, created by Waterfront Alliance, provides a certificate approach to encourage landowners, consultants, and community members.
Despite this growing interest and experimentation, widespread adoption of NNBFs remains limited. One clear reason is the relative lack of data on how such shoreline features actually perform over time, whether its ecological enhancement, social benefits, or, and perhaps especially, risk reduction. Absent of such data, not every decision-maker is willing to commit to such technology. This is true for the public or private landowner, their consulting engineers, permitting agency, or the surrounding community.
To help address this need, a number of partners worked with New York State to develop a coherent shoreline monitoring framework for shoreline features across New York State. Measuring Success – Monitoring Natural and Nature-based Shoreline Features in New York State is a two-year initiative, managed by the Science & Resilience Institute at Jamaica Bay and sponsored by the NYS Department of State (DOS), with funds from the National Oceanic and Atmospheric Administration (NOAA), and NYS Energy Research and Development Authority (NYSERDA). The final monitoring framework includes a matrix summarizing (1) performance parameters, (2) indicators for monitoring performance relative to those parameters, (3) monitoring protocols to collect data to track those indicators, and (4) a database structure to make data easily available for reports and trend analysis.
Several important considerations guided this work. To provide the best information, the framework is intended to be used for all shorelines, spanning from traditional hard engineered shorelines to natural wetlands, beaches, and rocky shorelines. This is critical to being able to gauge the effectiveness of greening gray infrastructure or installing breakwaters and sills to protect wetlands and other natural areas. The system seeks to monitor the full spectrum of values associated with the shoreline: risk reduction, structural integrity, ecological value, and social benefits. Given its purpose to encourage data collection across New York's diverse shoreline and accommodate the always limited amount of funding available for monitoring, the framework is flexible and scalable.
Perhaps most importantly, the project process was also intended to grow the network of shoreline managers, researchers, and other stakeholders interested in adopting and using the monitoring framework in the future. The protocols have been piloted in the field through several seasons, but the framework's success will only be evident with consistent use over time. Changing behavior requires data to support future decisions.
Can we adapt and thrive?
Our shorelines are, by nature, resilient, with plants and animals adapted to a dynamic environment. This dynamism has always dictated the terms of human efforts to control coastal erosion and flooding. Climate change is amplifying this reality, making the need to accommodate multiple values on our shoreline ever more challenging.
Indeed, as New Jersey's Chief Resilience Officer expressed at a recent conference on restoration and resilience "If the universe ever gave us a grace period to react to climate change, that period is over".
Addressing this imperative with works built on the hope of creating something better, rather than just fear of preventing disaster, is difficult. Only with confidence based on experimentation and shared experience can we move forward.
Rob Pirani
New York City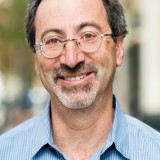 Robert Pirani is the program director for the New York­-New Jersey Harbor & Estuary Program at the Hudson River Foundation. HEP is a collaboration of government, scientists and the civic sector that helps protect and restore the harbor's waters and habitat.