Submissions open: December 14, 2020 – January 30, 2021
[but proposals will be evaluated starting 15 January, so best to get yours in early.]
Event dates: February 22-26, 2021
---
It is our pleasure to invite your submission for artistic contributions at The Nature of Cities Festival, a global virtual gathering of interdisciplinary thinkers and doers working toward greener cities for nature and all people.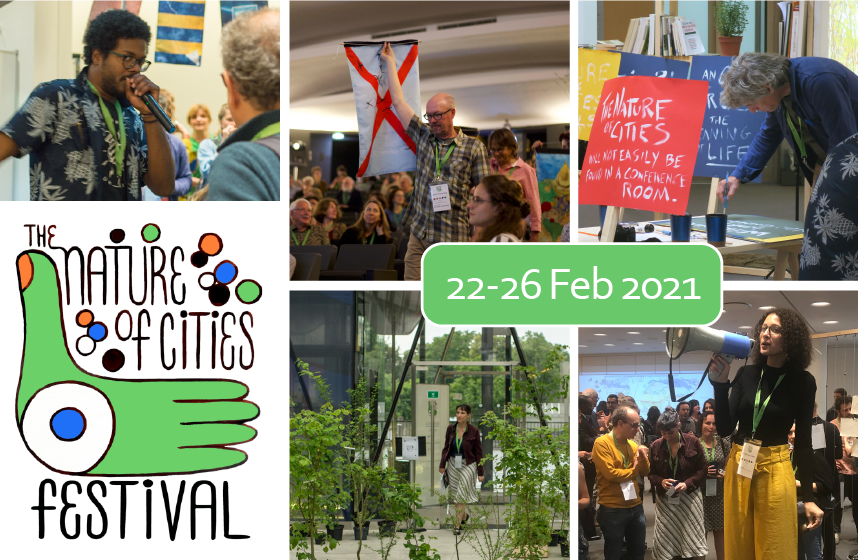 We will review submissions for artworks, performances, films, interventions, micro-talks, and practical workshops about cities and nature that resonate with the theme: radical imagination with nature and all people
We want to see your ideas for engaging participants in sensory experiences, as well as disturbing the habitual flow of traditional online convenings. Proposed works can address ideas such as social and environmental justice, multi-species / pluriverses, care or stewardship, the concept of reciprocity in cities and nature, or direct actions in the local landscape, considering how these actions/events/stories can be woven together in a more equitable, inclusive, global sense.
This is a largely volunteer-produced event with many possibilities for free entry. With the exception of a small stipend for live performances, the festival does not have financial means to support the creation of new content. As such, we encourage submission of pre-existing works, or existing collaborations.
Please join us, to help nurture relationships and ideas in this global festival!
There are two different strands below, please make sure to select the correct form, based on your proposed work, as follows:
Propose an Artwork or Happening
Accepted works in this category include:
Artworks
Exhibited in a virtual lobby (curators and institutional partners are welcome to apply)
— Visual art
— Text-based
Art Happening
Propose a 3-10 minute pre-recorded or live 'happening' including:
— Film + Moving Image (including documentary)
— Performances
— Interventions
Click below when you are ready to submit. You will be taken to the registration site.
Propose a Participatory Session
Accepted sessions in this category include:
Seed Session
For short presentations with workshop or participatory elements.
Virtual Field Trip
Pre-film a walking route, and guide session participants as you watch the walk together.
Other Session
There are many options to be involved in the festival. See the registration site (link below) for more.
Click below when you are ready to submit. You will be taken to the registration site.
Thank you for your artwork proposals! If you have questions or concerns prior to submitting your proposal, please send them to arts [at] thenatureofcities.com.
Yours in Art & Nature,
Patrick M. Lydon & Carmen Bouyer
Forum for Radical Imagination on Environmental Cultures
Arts Curators / The Nature of Cities Festival