Cheeky monkeys, vertical farms, climate change, and tree tribunals: the second anthology of very short fiction in The Stories of Nature of Cities series offers radical re-imaginings of city life. This year's volume is a collection of 49 stories from 20 countries that were inspired by the titular phrase, "City in a Wild Garden."
Available in physical or e-book.

Preface from City in a Wild Garden
(Jump to the Table of Contents.)
Something we often discuss at The Nature of Cities is the meaning of words—or specifically how what might seem to be common words with shared meanings are in fact open to vastly different meaning for different people. Many of the words we use when we talk about green cities—sustainability, resilience, justice, livability, biodiversity—are words that flourish in the realm of metaphor. In the minds of actual people though, the details of their meaning can be quite different. What does the word biodiversity mean? It might mean "plants and animals" to everyone, but in detail it may mean one thing to a scientist, something else to an architect, another thing to an artist, and that's before we even get to regular people on the street. Words such as "city," "garden," and "wild" are such words: they live beautifully in both metaphor and in rich detail—especially when you put them together. What is a garden? It depends on who you ask. What is wild? It might be exciting or fear-inducing. What is a city?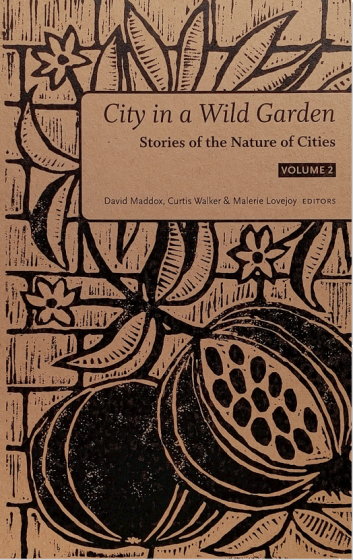 This richness of meaning is the essence of imagination, the beating heart of creativity.
We often talk about gardens in cities. But why should it be implied that the garden is the smaller of these entitles—that somehow the (or a) garden always fits inside the city? Why should we not contemplate the idea of a city in a garden? And does this garden have to be the manicured perfection of Versailles? Perhaps that garden is wild: unkempt, untamed, a place a possibility, unexpected, even dangerous?
This is our second volume of short fiction about current and future cities. We wanted to explore how to imagine cities. A Flash of Silver Green: Stories of the Nature of Cities, Vol. 1 was about cities in the future, in 2099. This volume has a different prompt. We asked authors to be inspired by an imagining, an evocative phrase: "City in a wild garden." Beyond this, the call was open to stories of 750 words or less, from anywhere.
As with our first volume, we were amazed by the diversity and number of submissions: we received over 1000 stories from 101 countries. Although many of them were wonderful, we awarded prizes to six stories and included these six and 43 more in this book: 49 stories from 20 countries. Indeed, one of our purposes with this collection is to see artistic imaginings of cities from global perspectives.
PUBLICATION STUDIO
is a publisher of original books distributed through a global network—a printer and binder able to make books one-at-a-time and a social gathering place for those interested in publishing. Publication Studio, founded in 2009, prints and binds books of works by artists and writers we admire.
The stories are arranged in three loosely thematic sections: Animal, Vegetable, Liminal. We say loosely because most of these stories concern, at one level or another, the boundary of transitional zones or states, so perhaps all could have fit into the section called Liminal. Animal, Vegetable, Liminal is a play on the title of an old parlor game, of course, and here it fits the creative breadth of the stories. There are stories people interacting or being inspired by animals to understand their own lives. There are stories of magical realism. There are stories about the frontiers between life and death. There are stories about infrastructure. All are rich and entertaining tales of how we might think of cities and the living beings that inhabit them.
As Kirby Manià writes in the book's introduction: "In the city, gardens can be a staging ground for … [a] fundamental reimagining of human-nature relationships. Our eyes must become attuned to the extraordinary beauty and rejuvenating splendour of nature's wildness. It is through the realm of art that we can safely play out the different possibilities of what sustainable urban futures can look like."
The opening of the winning story:
The Pomegranate Tree
by Ari Hanarvar, San Diego
"Why do they hate us?" I ask, the breeze stroking my tear-stained face.
"They don't even know us. How could they hate us?" Dad says, passing me his cigarette.
We have a secret tradition in which I finish off his cigarettes on the rare occasion he smokes. Never mind that I'm a nine-year-old girl in Pakistan. I take a few puffs and squash the butt on the edge of the fountain. We resume our walk around the willow trees and the rose bushes, holding hands.
"What is it like to lose your dad?" I ask. "It's really hard," he shakes his head.
I think of Leila. Earlier, my entire third-grade class had gone silent as she entered the room, her face showing long, angry scratches. Would I claw my own face if I lost someone? We're good friends, and I hate it that I wasn't there when she found out. It was even worse that I didn't know what to say. So I just sat there, staring at my notebook, the phantom mosquito sound of the drone buzzing in my ear. I had heard that sound yesterday. Before my mother yelled for us to go into the basement. Before the explosion. Before the stench of the smoke. Before Dad ran out of the house barefoot.
Leila's father was visiting his sick mother in Bajaur when a different drone got him last week. It also killed 41 kids at a school nearby. Even though by now we're used to going to funerals, it doesn't get easier.
Dad stops to touch a dewdrop resting on the petal of a pomegranate blossom. Last autumn, this once bountiful pomegranate tree didn't fruit at all. I overheard my Aunt Dunya say it's the toxic remnants from drone rockets that are poisoning the groundwater. Dad lifts his index finger gingerly, but the dewdrop bursts anyway.
"Dad, what're toxic remnants?"
"What makes the pomegranate tree shed blooms like tears. What sends away birds who refuse to watch the carnage," he says, his eyes scanning the clear blue of the empty sky.
…<continues>
Indeed, in this volume there are stories of transformation, loss, and despair, and also stories of great beauty and hope, with nature and people that emerge from trials, in which people and the wild have merged in fundamental ways—where one thing has become another to the benefit of many, where people are challenged and rise, where nature moved and adapts; people whose spirits and beating hearts are embedded in thriving nature.
Forty-nine stories from 20 countries are in this book, including the six that we judged to be "prize-winners," by authors from the United States, India, and Brazil. These winners are placed at the beginning of each of the book's three sections. The overall winning story—"The Pomegranate Tree" by Ari Honarvar, which contemplates the fate of ants at the feet of a young girl—leads the section called "Animal," followed by prize-winners "Monkey Business" by Rahul Kanvinde (2nd prize) and "Passing Season" by Fernanda Castro (3rdprize). The section "Vegetable" is filled with stories with plants at the center and begins with prize-winners "Plua Kora," by Jonathan Bronico (2nd prize) and "Pomegranate Heights," by Heidi Ball (3rd prize). Finally, the section "Liminal" is populated with people and places in transition, often towards and not away from nature. This section starts with "The City Incarnata," by CY Ballard (3rd prize).
A collection such as this is produced with a lot of help, and we first want to thank the sponsors of the project: The Nature of Cities, ArtsEverywhere.ca, the University of Mississippi, the University of Johannesburg, the University of California at Los Angeles (UCLA), and the New York Urban Field Station (a joint venture of New York City Parks and the U.S. Forest Service). At these institutions, we are especially grateful to Shawn van Sluys (Musagetes Foundation); Douglass Sullivan-González (University of Mississippi); Lesley Lokko (University of Johannesburg); Ursula Heise (UCLA); and Lindsay Campbell, Erika Svendsen, and Bram Gunther (New York Urban Field Station).
We are fundamentally indebted to the 100+ readers who helped us review the stories. These readers were from around the world, and we thank them. We could not have done this without them.
Many thanks to our executive committee, who read and discussed the final 150 stories and made the selections for this collection. Members of this committee, made up of writers, professors, artists, and scientists, were Paul Downton (Melbourne), Joe Gleason (Washington), Peter Head (London), Ursula Heise (Los Angeles), Kirby Manià (Vancouver), Diane Pataki (Salt Lake City), Claire Stanford (Los Angeles), Mary Hall Surface (Washington), Alice Towey (El Cerrito), Elizabeth Twist (Hamilton), Curtis Walker (Guelph), Patrick Lydon (Daejeon), and Dimitra Xidous (Dublin). We hope you enjoy these stories and that they inspire you to consider the future of the nature of cities.
David Maddox, New York
Curtis Walker, Guelph
Malerie Lovejoy, New York
October 2021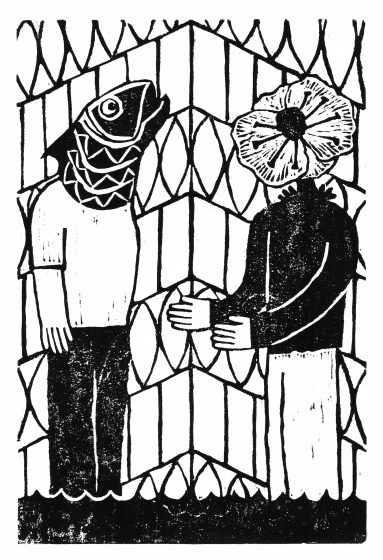 TABLE OF CONTENTS
Preface: City in a Wild Garden
David Maddox, Curtis Walker, Malerie Lovejoy
Introduction: The Wild Edges of Our Garden
Kirby Manià
SECTION ANIMAL
The Pomegranate Tree
Ari Honarvar
First place
A girl and her father take part in a tradition of smoking and walk through a garden.
Monkey Business
Rahul Kanvinde
Second place
Wadia leaves bananas around his office, slyly training a monkey to thwart his boss' business plans.
Passing Season Fernanda Castro Third place
Alzira and her granddaughter celebrate the migration of the birds in their adapted apartment.
Goats in Gotham Diane Koerner
The narrator steps off the subway four years into the future and learns the secret to saving herself and her environment.
Cockatoos Elizabeth Hay
The narrator observes the cockatoos in the park during protests in Hong Kong.
Mr. Coot Builds a Palace Alex Grehy
Mr. Coot scavenges for materials to rebuild his family nest for his wife.
Between the Cracks Kate Wing
Niall becomes fascinated with a new-found colony of ants in his garden.
Jai Boro and the Gili Island Prarthana Banikya
Meera hears a robin chirp and recalls a story her grandfather told her when she was young.
Daughter of Light and Green Egwuogu Osinachi
Aku returns from a day in her dabba form as a cheetah and rides back to her city with Dami.
The Painter and the Flatiron Andrew Dana Hudson
A painter opens the mind of the super of the Flatiron by painting renditions of the building's accessibility expanders.
The Humane Mousetrap Theo Gittens
The narrator and his brother become forgetful while trying to catch a pet mouse.
Welcome to the Wildlands! Bobby Rollins
The narrator attends the pre-opening of the Wildlands Resort and asks about the state of the land before the park was built.
SECTION VEGETABLE
Plua Koroa Jonathan Bronico Second place
Professor Jaime Robledo runs from police to bring his ill mother illegally cut plua koroa leaves.
Pomegranate Heights Heidi Ball Third place
The narrator sends a pomegranate from their harvest to their neighbor as a way to make an introduction.
The Hot Equations Kevin Sandefur
The crew of a spaceship repurposes the plants onboard to save their passengers from a depleting atmosphere.
Elbert Lofton, Dreamer Rev. Teirrah McNair
The narrator observes his cousin, Elbert Lofton, as he conducts secret business in his dad's shed.
Ori Dreams of a Tree A. J. Bermudez
Ori learns about trees and goes on a quest to plant one.
The Road to Marianella Simon Rowe
The narrator takes a bus trip to Ciudad Jardín to see Marianella.
The Biophage Guy Russell
The narrator attempts to escape into the biophage after learning acquaintances having been self-sustaining there for nearly a year.
Beginning With A Crack… Phyllis Lawrence
The narrator remembers the garden of a man named Mitchell from their former neighborhood.
Howard's Inheritance Kyle Tam
Jasper breaks into a government greenhouse to free the plants in inner-city London.
Who Will Know Alex Kadiri
The trees outside a family home tell the story of the father's death.
Life and Growth Holly Byrne
The narrator goes for a walk with Vee to a building filled with plants and moss.
The Living Album Gabriela Castro
The narrator becomes the youngest person to complete The Living Album of Forbidden Seeds.
Taming the Wild City Michael Hargreaves
James and his team clear vines on the side of a high-rise when tragedy strikes in the burning heat.
Essence of an Existence Roli Mahajan
The narrator returns to the city they grew up in after ten years with the hopes of revisiting their favorite tree in the park.
For Dirt is Mostly Mushrooms A.P. Hawkins
Ashe follows a trail of mushrooms out of her garden and discovers the little boy who stole them.
One Day in the Life of Jonny the Harvester Gelya Sidyganova
Jonny encounters a dancing birch tree during his lunch break one day.
Growing Hope Aida Bradauskaitė
The narrator goes to visit the new plant that has sprouted in their water-scarce city.
Mother Moon Jake Thompson
The narrator tells the story of the creation of the Moon's first city and the tragedy of the Moon Tree.
First Contact Resolution Jenni Juvonen
The trees of Berlin demand a meeting with the city council to discuss their poor living conditions.
SECTION LIMINAL
The City Incarnata CY Ballard Third place
Passiflora spreads herself throughout the city and collects the pollen of Incarnata.
People Gardens Torché Johnson
The narrator is transported to the Ryne River as they undergo the Blooming.
Skies Lianne Darby
Kernohan watches a light in the distance and hopes to find another person left in his city.
Dead Matter Jana Bianchi
Outsiders arrive in São Paulo and offer hope to the dying city.
The Roots of Sidewalks Mary McColley
A girl of the city meets a boy of the garden.
Fireflies and Butterflies Gitanjali Maria
Maman resists pressures to sell his family land despite the expansion of the new city.
Raison d'etre Ros Collins
Amélie finds someone sleeping in her garden and realizes it's a friend from her past.
Night Life Trevor C. Thompson
Ray has dinner with his grandma, a city councilwoman, and talks about the struggles of his job working with climate migrants.
Forging our Ocean Anastasia Kirchoff
Haleigh receives a coded message from her boyfriend after not seeing him at the university that day.
Steel City Joy Givens
Tallulah works her last shift as a water harvester before fleeing the Steel Tower.
Light Worries Giovanni Panerai
Jennifer and Matt brainstorm how to restock their ship's food supply with resources from their new planet's ecosystem.
Searching Remus Thirty
Eman travels to a subterranean city, looking for evidence of human life.
The Expulsion Mohamed Kossay Talmoudi
The narrator explores the Great Desert after their expulsion from the city.
Free Bird Abhishek Mukherjee
Shehnaz discovers her father in public with a stranger while she is exploring the city during the annual "airocalypse."
Grand Tide Day Michael J. Miller
Ronny leaves work on Grand Tide Day to travel back home and see his girlfriend Maria.
An Outing A.D. Ternum
Tom and his father leave an uncontaminated area after visiting the wild garden simulation room.
Reflections from St. Mary's Episcopal Cathedral, Edinburgh, 2292 Charlotte Luke
Edith rows to St. Mary's Cathedral and thinks about her husband and his passing.
A Different Lifestyle Debbie Gravett
Noah receives a visit from his parents in his treehome in Woodland City.