The Underground Sound Project is a collection of underground sound recordings made by artist Nikki Lindt over the course of the past year in the five boroughs of NYC and in rural Cherry Valley, NY. The recordings are made by placing microphones underground, underwater and even inside trees.
Done as part of residency at NYC Urban Field Station Residency. Made possible by the USDA Forest Service, NYC Parks and The Nature of Cities.
---
This is the Gallery Space's "front door" and we are asking for a voluntary donation to support this exhibit—a tip jar, or pay-what-you-will ticket.
During COVID-19, The Urban Ecological Arts Forum at The Nature of Cities is bringing to life virtual exhibition spaces, highlighting current exhibitions on urban ecological themes that would otherwise be impossible to experience due to the closure of cultural facilities. Your ticket purchase ensures that that this online forum can continue to bring ecological arts to the public. 100% of your donation goes to support the continuation of these exhibitions. You can see the show for free too; scroll down. But please consider a donation.
Donate: Buy a 'Virtual Ticket'
The Underground Sound Project
The Soundwalk is experienced along the trail in Prospect Park, NY. Along the path you will encounter features, such as a stream, old growth tree, soils, wildflowers, and many more. Via a sign with a QR code at designated locations along the walk, you will be able to experience the corresponding subsurface sounds. The soundwalk can also be experienced remotely with headphones.
Preview from Plants and Bodies of Water
Artist Bio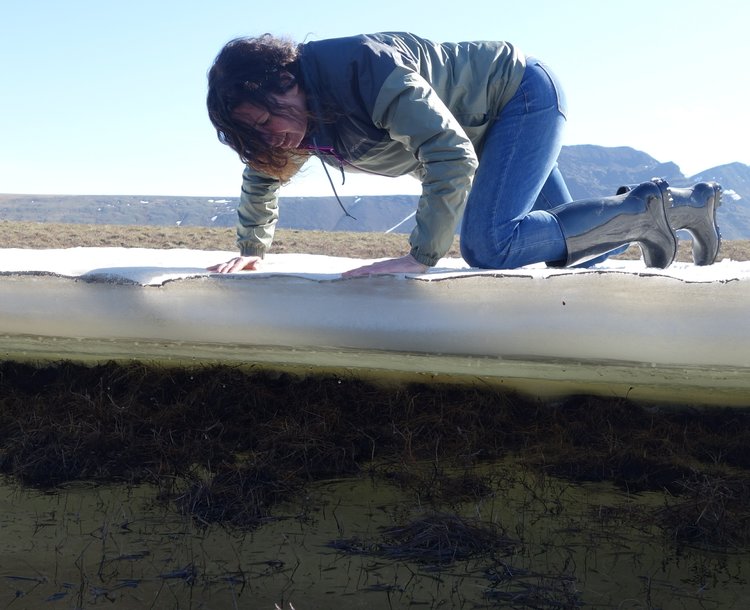 Nikki Lindt
Artist
lives in New York

Nikki Lindt is a New York City-based artist who grew up in the Netherlands and the United States. In her work, Lindt examines climate change, environmental stewardship and relationship to place. She works primarily in the mediums of painting, video and (underground) sound on longer term projects, often collaborating with scientists, philosophers, social scientists, sociologists and others. She has participated in residencies at many field stations including; the Toolik Field Station, Alaska (where she is project leader in an ongoing project), Abisko Scientific Research Station in Sweden (The Swedish Polar Research Secretariat), Hubbard Brook Experimental Forest, and the Urban Field Station in New York City.
Exhibition Credits
This exhibition was organized by NYC Urban Field Station, and adapted as virtual exhibition by the Forum for Radical Imagination on Environmental Cultures (FRIEC) at The Nature of Cities.
PRODUCTION
USDA Forest Service, NYC Urban Field Station
—
production for this exhibition:
Nikki Lindt, artist
Karen Tsugawa, TNOC web developer
support:
David Maddox, TNOC director