I have always thought – I am really lucky because I live in a city with rich biodiversity that still remains in patches spread in the hills and close to the ocean. In spite of other problems we have, being close to nature is a great asset that attracts countless visitors from all around the world, some of whom many end up deciding to stay in Rio de Janeiro.
I have had a long time dream of a green city beyond the protected areas that are close to affluent districts. In my dream, biodiversity is distributed in all neighborhoods and all residents have ecosystems services where they live, work and play. I envision planning and implementation of multi-functional green infrastructure that protects and connects a wide variety of ecosystem remnants in the massifs and in the lowlands, such as Atlantic rain forest, wetlands, mangroves and restinga (sandbanks ecosystem). The green infrastructure restores abiotic and biotic processes and flows at multiple scales, and is focused on the quality of people's lives. The architectural projects and traffic systems are truly "green" and integrated with the green infrastructure. And it is possible to heal the landscape to avoid the same mistakes made in the past.
In my dream, floods and landslides are minimized, waters are clean, tree canopy covers most of the urbanized areas, people enjoy staying outdoors riding bicycles and walking because the air is clean and the temperature is pleasant. The city is people friendly, and conserving and restoring biodiversity is a priority for decision-makers.
In my dream the economy creates jobs to research, develop and implement the green infrastructure that has six inter-related and inter-dependent systems: geologic, biologic, hydrologic, social, circulatory and metabolic (mainly energy and food production).
In the last decades, ecological restoration of urban native ecosystems and watersheds has been done in many places, e.g. Korea and Singapore. I envision Rio de Janeiro as a Latin American leader in urban ecology and landscape ecological planning, with our own know-how adapted to the Brazilian and Latin American contexts. Regarding the social system, we invest in human friendly places where local businesses bloom on green streets and close to squares and parks with high performance landscapes. Open spaces inspire people to appreciate art, local culture and history. Wherein clean mobility is planned and implemented in a systemic way, with pedestrian, bicycles and mass transit transportation taking priority over private cars. Clean and renewable energy (biomass, solar, wind, tidal) and food are produced on-site or at short distances – places with smaller ecological footprints that generate local income for all residents.
This broad view of the city is based on priority public and private investments in education, research and development, planning and implementation, capacity building and training, management and monitoring in all levels in a very democratic, open, participatory and accountable manner. Small businesses are a priority for the municipality, building a strong local really green economy.
In my vision, Rio de Janeiro is sustainable and resilient to face the challenges of the present and the future, mainly caused by the uncertainties of climate change, the finite natural resources and the global economic crisis. Our leaders have taken all the opportunities brought by the international sports events investment to plan, build and retrofit degraded areas in consonance with nature and the natural processes, because they understand that we live in a global system, where local decisions matter and give an enormous contribution to change the course of this dark scenario.
This isn't just my dream
This dream is shared by a group of idealist volunteers that founded the non-profit organization INVERDE in January 2009. We were inspired by Jack Ahern's lecture about green infrastructure on 9 December 2008, which I had organized with my dream in mind. He challenged the audience to present a green infrastructure plan during the IFLA (International Federation of Landscape Architects) World Congress that would take place in Rio, in September 2009. In early January 2009, this small group gathered with a common goal: contribute to rethinking the local urban development. Instead of car-based city expansion dominated by roads, impervious parking lots, gated communities with manicured "homogenized" gardens mainly with few exotic species, extensive lawns and palm trees; we envisioned green infrastructure focused on people in harmony with nature.
Then the dream became a team vision: the neighborhoods are pleasant, calm and human friendly, where kids can play safely; native biodiversity has regenerated in streets, yards, roofs, walls, squares and pocket parks, with bioclimatic buildings; people move around in safe mass transit modals, or walking and cycling in safe, comfortable and trees shaded sidewalks and bike lanes. Rio de Janeiro has become a "Celestial City", as Anne W. Spirn described in her seminal book, The Granite Garden.
What a dream!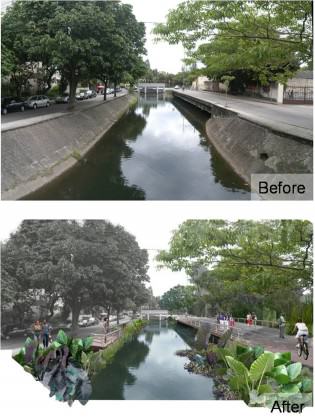 With this high spirit we started working on an ideal proposition to be presented during the IFLA Congress, the Rio+Verde (Greener Rio). We worked on a highly visible watershed that is a microcosm of what happens in other parts of the city, the Macacos' River catchment that drains to Lagoa Rodrigo de Freitas – a city post-card. After the IFLA Congress this proposal was presented in various national and international events, so we always believed that some decision-maker or developer would be inspired and would start an urban transformation, even in a very small scale to "learn by doing".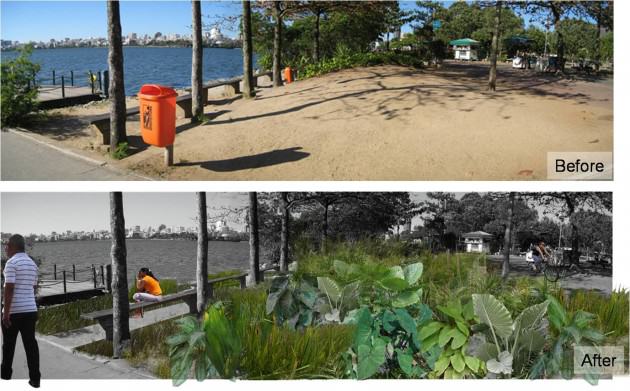 We strongly understand that a well planned and designed multifunctional green infrastructure, even at a local scale as a green street or a natural drainage system inside a residential-commercial complex, would give the needed visibility to start the shift toward the green paradigm.
Examples abound in the world: Portland, Seattle, Freiburg or Chang Won and Seoul (in South Korea) among so many others are mimicking nature in smaller scales and then expanding for larger areas. Some cities are becoming "Celestial"!! Learning with nature makes better cities, as McHarg already proposed in the late 1960's! We know now that people matter, and without the action of interdisciplinary teams and actual participation of committed residents and accountability, there is no chance to achieve sustainability or build urban resilience. In order for people to understand that they need nature to survive, they need to have direct contact with biodiversity, food and water sources. Biophilia must be cultivated, even on hourly basis, as Tim Beatley proposes in his post about the nature pyramid.
What now? Dream vs. reality
When Rio de Janeiro was chosen in 2009 to host the Olympic Games in 2016, we really started believing that our dreams would come true. Huge investments started flowing in. The city finally was at the spotlight! Not because of the "social" war (as it had been for decades), but because we would have a bright and rich ($$$) future. Could we have a better opportunity? This would be THE TIME!
Actually, to our disappointment the decision-makers had other plans in mind, nothing to do with biodiversity, wetlands, ecosystems services, and so on.
We had another flow of fresh air in our dreams when earlier this year the city of Rio de Janeiro was made a World Cultural Landscape Heritage by UNESCO. Then, we thought our dream would finally have a chance. Something innovative, with a 21st Century approach, would have to happen in the mentality of the decision makers and legislators. Instead of the isolated projects focused on the international events the city will host in the next years — FIFA World Cup in 2014, and the Olympic and Paralympic Games in 2016 — we would have an integrated, participative and accountable urban landscape planning. What a marvelous chance to protect and enhance the natural capital present in this wonderful geologic formation, covered by luxurious Atlantic rain forest and its surrounding lowlands.
What a dream!
Unfortunately, the first term of this administration is getting to its last year without any of those dreams even in the last places of their agenda.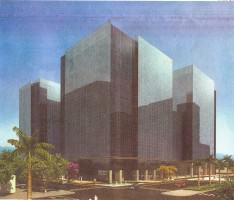 The second term election will start in January, and it seems that things are turning to an even grayer scenario, or a more greenwashed gray scenario. In the last four years, Rio has been preparing to look as many of the "Global Cities", with disconnected projects intended to appear "green" with certification that may apply to other latitudes, but which for a hot country should have been revised and adapted. Mirrored glass high rises (only some are LEED certified) are flourishing in the "revitalized" and flood- and sea level rise-prone lowlands regions with more roads being built without awareness about biodiversity, waters, soil or natural flows. The vulnerable areas where the natural wetlands are located are being filled-in for more construction.
Rivers are being channelized, eliminating even the narrow green margins that previous predatory urbanization had left (see my previous post). Hundreds of kilometers of unsuitable bike lanes are being "built" — or rather painted over narrow sidewalks, believe it or not. There is no bike lane integrated system planning. Many lanes simply end in the middle of a dense traffic road! Pedestrians are not a priority either.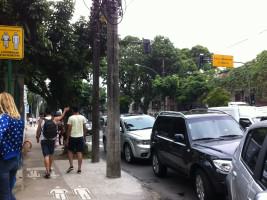 But there is more, much more. I will go over only at the last big discussion that is going on in the city: the Olympic golf course. It will be built in a legally protected restinga area that borders a coastal lagoon in the Jacarepaguá lowlands (Fig. 5). The protected area is an oasis of restinga native vegetation remnant, where lagoons and canals are neglected and heavily polluted by sewage, garbage and diffuse pollution. Native species will probably suffer even more with the "proper care" of the golf course turf and gardens.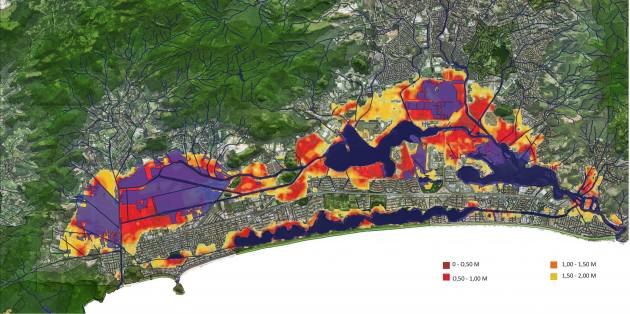 No wonder alligators (Caiman latirostris) "invade" swimming pools of wealthy gated communities that once were their habitats! Capybaras (Hidrochoerus hidrochoeris), another autochthonous mammal species can be seen wondering in streets and concreted channels, where their homes once were. Actually, we can see the native species resilience under such a great pressure.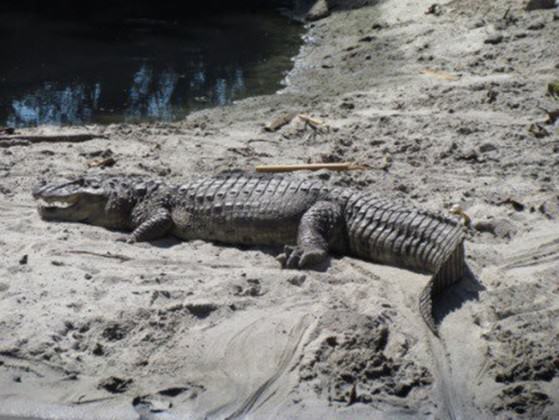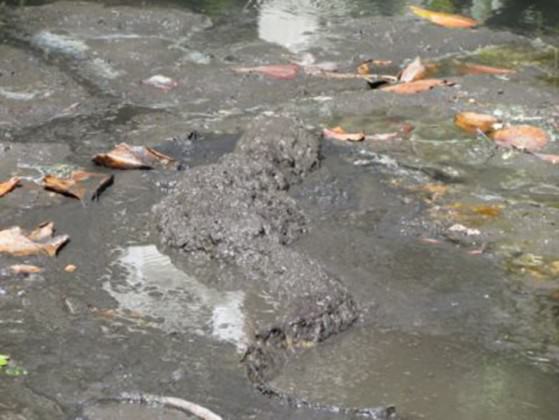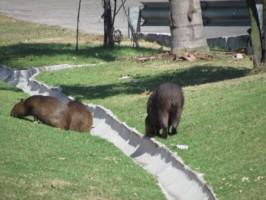 But "The Dream" goes on…
Participating in this collective blog is a great source of motivation to go on with my work to disseminate the role of biodiversity in cities, aiming to transform dreams into reality. Thomas Elmqvist, Kathryn Campbell and Oliver Hillel encourage change in their previous posts, in which they go over the Convention on Biological Diversity, the Stockholm Resilience Center, and the Cities and Biodiversity Outlook, among other current publications, events and movements to measure and make ecosystems services really valued and visible in different cities around the world. It is clear that there are so many opportunities for cities to redefine their roles, instead of being sinks of natural resources and sources of pollution, they can become providers of ecosystems services by protecting and enhancing native and non-invasive adapted biodiversity through nature-based solutions.
I agree with Russell Galt that there is a general lack of comprehension of why cities need biodiversity close to where people are. Russell argues that we need to work together, exchange knowledge, and he cites a series of organizations and publications that are helping to change urban disconnection with nature to enter another era. In Brazil, I believe we need to have more incentive to study and research urban ecology to orient our urban plans and projects. We need professionals trained to understand how our urban landscapes function with a systemic and resilient thinking. Brazilians need to enter the 21st Century and envision better cities in harmony with nature, like Curitiba has been doing in the past years. We must consider people, ecosystems and biodiversity as a priority when we talk about "green cities".
"Biodiversity is critical for urban quality of life", as Oliver states, and INVERDE is doing a myriad of actions to change minds and values. We are using all the instruments we have to try to introduce new (or maybe old) alternative nature-based solutions for problems created by the industrial urbanization of the 20th Century. We are building networks to disseminate our knowledge among practitioners, technical personnel of public departments in local, states and national levels through participation in different forums, lectures and writings. INVERDE maintains an active blog and uses social media that attracts visitors not only from Brazil, but from many countries around the world. The NGO now has a seat in the Rio de Janeiro Environmental City Council, participates in three technical chambers and coordinates the Environmental Monitoring Chamber with the cooperation of brave volunteers engaged in this cause.
As we strongly believe that education is a key for transformation, we continue to promote lectures, and round tables about green infrastructure and other themes related to urban sustainability and resilience building. In 2011 we started Green Infrastructure and Urban Ecology short courses. This has been an extremely gratifying experience because we have had a diversity of students from different ages, social and educational backgrounds. The last course ended 14 November 2012. It is quite innovative, once the topics are not offered in any other place in Rio de Janeiro. Our classes are made up of students from different districts of the city, the Metropolitan Region, and even from the cities in the hills that travel more than four hours to attend each class! Next year we will offer new courses on urban sustainable development, to complement the green infrastructure. We already have a waiting list for the next courses in 2013. It is really amazing that one applicant is from the Southern state of Santa Catarina! Our seeds are being further spread!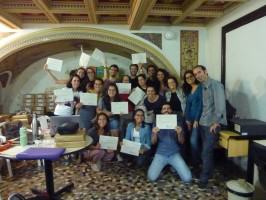 Three days after the Green Infrastructure and Urban Ecology course ended, I received an email from our student Ana Buarque Ferreira that made me believe that we will be able to realize our dreams in a near future. She says: "The course was excellent. […] Besides contributing for my capacity of critical analysis of the reality, the course is a factory of possible dreams. I would like to have a project like Seoul's (CheongGyeCheon) in Presidente Vargas Avenue (one of the main roads in the downtown area, with seven car and bus lanes in each side with a concreted drainage canal in the center, where there was once a mangrove)…"
(The full email text in Portuguese: "O curso foi ótimo, torço para conseguir fazer a parte dois. Além de contribuir para a contribuição critica, o curso eh uma fabrica de sonhos possíveis. Queria um projeto Seul na Presidente Vargas… " Ana Buarque Ferreira, November 16th 2012.)
In Brazil, stakeholders must urgently understand that urban biodiversity is a valuable natural capital, and it is vital to contribute to achieve our global goals to offer better quality of life to all people, and contribute to mitigation and adaptation of cities in the face the challenges of our present and common future. In Brazil there are a growing number of organizations focused on changing the current unsustainable urban situation. INVERDE's main contribution is to propose, raise awareness and educate about nature-based systemic urban interventions. We believe that it is possible to reconcile people and nature if we plan and design cities based on deep comprehension of urban social-ecological processes and inter-relations with active citizen participation. Rio de Janeiro is a national and international reference because of its wonderful natural landscape, and has all the possibilities to lead the paradigm shift.
Being in Rio is also a great opportunity for us, because we work in a city that has the potential to be a truly green city model, at all scales: regional, city, and neighborhood. We are in the spotlight now, and we hope we can also be a source of inspiration for more people in other places.
Cecilia Herzog
Rio de Janeiro, Brazil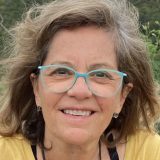 Cecilia Polacow Herzog is an urban landscape planner, retired professor at the Pontifical Catholic University of Rio de Janeiro. She is an activist, being one of the pioneers to advocate to apply science into real urban planning, projects, and interventions to increase biodiversity and ecosystem services in Brazilian cities.