While we are increasingly a planet of cities, we must not forget that we live and share space on the blue planet. We rarely put these two realms (or words) together, but we must begin to. By some estimates, two-thirds of our global population lies within 400 kilometers of a shoreline. As oceanographer and National Geographic Explorer, Sylvia Earle, wrote in her important book, The World is Blue, "Everyone, everywhere is inextricably connected to and utterly dependent upon the existence of the sea" (Earle, 2010).
There are dangers associated with rising sea levels, of course, presenting a need to grow and plan cities in ways that better respect these increasingly dynamic edges. But we are drawn to water, to the sights, sounds, smells of marine environments, and there is a deep biophilic impulse and need at work here that visiting the seashore starts to satisfy. There is at once calmness and intensity and a mysterious world just beyond our reach. Research by Michael DePledge and his team at Exeter University demonstrates what we have always known, which is that we enjoy visual and physical proximity to water and that these settings deliver immense emotional and therapeutic benefit (DePledge and Bird, 2009; Wheeler, et al 2012).
Our human fate here on the blue planet is, not surprisingly, intimately tied to ocean health. And oceans are suffering in many ways—acidification and other impacts of global warming, industrial over-harvesting of fish and seafood, the accumulation of the immense detritus and pollution of modern life, from plastics to chemicals to crude oil.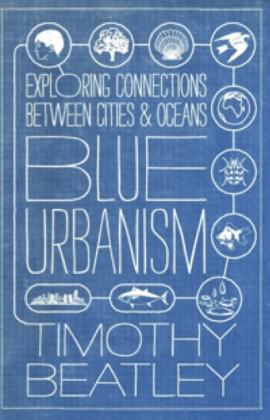 Is there a chance that growing cities can muster their wealth, creativity and political influence to come to the aid of oceans? The vision of Blue Urbanism (the subject of my new book) suggests yes! From the redesign of coastal edges and the promise of blue urban design, to new approaches of promoting sustainable, local seafood, to a variety of ways to build new emotional connections to the sea, there is much that cities can do.
At the heart of an urban-ocean agenda is the belief that cities, and the people who inhabit them, can and must exert the leadership needed to protect, conserve and care for the marine world. It is in our self-interest to do so, of course, but there is a broader ethical duty to the immense marine life found there and to all the life on the planet that depends on healthy oceans.
How then, and in what ways, can cities be profoundly ocean-friendly? What does a deep blue urbanism suggest about the ways in which we occupy space near oceans and the many different ways in which urban consumption and lifestyle impact the ocean world? Oceans, moreover, harbor immense amounts of biodiversity, and hold the promise of stoking our collective sense of wonder and enhancing in important ways the quality and meaning of our lives.
How to foster emotional bonds and connectedness between urbanites and oceans is a challenge. For many cities, from Seattle to San Francisco to Singapore, ocean nature is a big part of the nearby nature, and there are many wonderful opportunities to educate and also enhance quality of life and meaning in these cities. Whether through citizen science programs or public education efforts, there is much that can be done and is being done already. Beach Naturalists in Seattle are helping visitors learn about the marine organisms they see at low tide, amateur scuba divers are monitoring and helping to restore kelp forests off the coast of Los Angeles, and citizens along many coastlines are monitoring water quality through the Surfrider Foundation's Blue Water Task Force.

"Out of Sight, Out of Mind" might be one way to describe why we give less priority to oceans. We simply lack the daily imagination to fully appreciate the nature that lies beneath and around when we only have modest glimpses into the water world when a harbor seal or whale provides a glimpse of the mystery there.
One way ocean-friendly cities can help is by supporting research that uncovers and sheds new knowledge on and appreciation for the marine biodiversity and nature around it. Singapore, a Partner City in the Biophilic Cities Project, is the midst of a comprehensive marine biodiversity survey that has already resulted in identification of 14 species of marine life that are likely new to science. This marine inventory is wonderfully described by Lena Chan in a recent Nature of Cities post. Other cities have taken similar steps. Wellington, New Zealand, another partner city, sponsored the world's first Marine BioBlitz in 2007, which took place over the course of a month and also discovered new species.
New technologies make it possible for cities to participate directly in the collection of important ocean data. A company called Liquid Robotics now sells a kind of sea-faring surf board, called Wave Glider, which can be set off on months-long journeys. Propelled forward using the power of waves, the Glider collects a variety of data which could be sent back to and displayed in prominent places (such as city hall? elementary school classrooms?). Cities rarely see themselves as co-generators of knowledge, but could begin to, by helping to drive the push to wire, and better understand, the ocean realm in important ways.
Could coastal cities (especially) begin to understand that part of their mission is the advancement of knowledge about the marine realms on which they are perched? Similar to establishing the position of municipal archeologist (not uncommon these days), cities could expand their roles to include marine research and scientific data collection. Perhaps a "hard sell" to make in times of limited budgets, but I can imagine forward-looking cities investing in their own research vessel, ROV (or remotely-operated vehicle, essentially a tethered submersible), a smart buoy, or a Benthic Lander (that sits on the sea floor and collects sediment and other data).
There are other ways to foster ocean connections, for instance through art in the city. For several months, we had the pleasure of living in Fremantle, the port city in Western Australia. It is a city alive with the images and shapes and forms of the marine world, integrated into the design of buildings, bus stop waiting structures, even cemented into sidewalks. The floor of the city hall boasts a most impressive tile mosaic that features a stingray and hammerhead shark. It is possible also that we might be able to create creative real time visual and aural connections to underwater environments, such as the windows at the Ballard Locks in Seattle, which allow visitors to see migrating salmon, or the underwater dive-cam at a ship wreck near Albany, Western Australia, that provides a 24-hour window onto this world.
I like the idea of harnessing the power of our now-ubiquitous hand-held technology to foster new connections, such as through smartphone applications like Whale Alert and Shark Net. In the case of the latter, one can select and follow a specific tagged shark, monitoring their movements over time (the brainchild of Stanford marine biologist Barbara Block).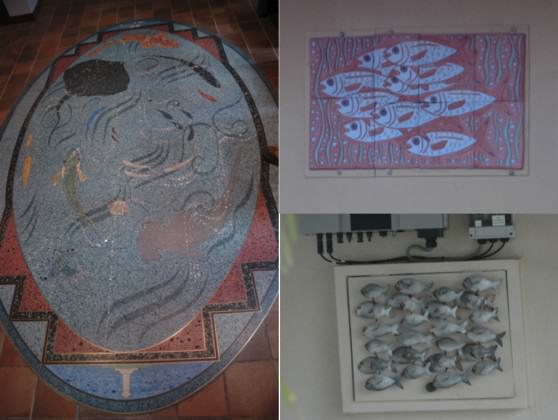 A major challenge, and a necessary step towards blue urbanism, is to re-define the spatial bounds and borders of cities. In many cases, city governments will have limited jurisdictional authority, with state and federal levels having the lion's share of control, for instance over establishing new marine parks and protected areas. Nevertheless, cities can again assume leadership and begin to re-define the spatial bounds of their planning, taking into account the immense natural majesty and marine biodiversity, often just a few meters away from shore's edge. Depicting this marine nature in some form on planning maps and diagrams would be a helpful step, as well as a variety of other steps that would acknowledge, celebrate and otherwise make visible this urban nature.
Fostering a pride of place about marine nature is an essential step. I had the chance to interview Brian Meux, Marine Program Manager for LA Waterkeeper. "My dream," he told me, "is that people here [in Los Angeles] are as proud of our kelp forests as Hawaiians are of their coral reefs." Pride about, indeed even basic knowledge of, the marine nature near to where many city residents live is limited and the chance to develop that pride of place has been limited as well.
Despite these limitations, there is immense ocean nature near many coastal cities. There are the near shore environments, and many biologically diverse and unique habitats are only a boat ride away. Along the mid-Atlantic US coast, for instance, there are a series of major submarine canyons, often taking the names of the nearest city. The Norfolk Canyon, for instance, is one of the largest—and about 60 miles offshore from Tidewater Virginia. Known to deep sea fishers, few residents of the city of Norfolk probably even know of its existence, nevertheless the nature it harbors (though there is some information on display at the Virginia Aquarium and Marine Science Center and a local brewing company O'Connor Brewing that produces a Norfolk Canyon Pale Ale!). This submarine canyon is home to a great quantity and diversity of organisms and habitats (from Blackbelly Rosefish to Bubblegum Coral to Bobtail Squid).
The spatial planning vision a city holds and promotes is important as well, and here there are a handful of cities beginning to extend their visions to include the aquatic and marine worlds. Wellington, New Zealand has had a Town Belt dating back to the founding of the city in the mid-1800's and in more recent years has developed an extensive network of greenbelts that surround this city. Impressively, the city has begun to expand this vision to include the Blue Belt, encompassing the harbor, and other offshore ocean habitats, as well as ocean-flowing creeks and streams, in this peninsular-shaped city. Precisely what the Blue Belt will mean in practice, what implications it will have for planning and what specific actions will flow from it are still a bit unclear. But as an expanded new vision of the nature and spatial planning boundaries of this city, it is quite powerful. The mayor of Wellington, Celia Wade-Brown, is herself a diver and so it is perhaps not a surprise that Wellington would be a pioneer in this approach.
In a film made as part of our Biophilic Cities Project, Mayor Wade-Brown speaks passionately about the importance of this connection to the ocean realm to Wellingtonians:
When I visited Wellington in August 2013, I had the chance to see firsthand the efforts in this city to educate about and foster connections with the ocean environment. On the south coast of the city sits the Taputeranga Marine Reserve, a 9 square kilometer protected area, only a short distance from the center of Wellington. A biologically rich area, its location includes overlap of three major currents. The diversity of life here is amazing, with some 400 different species of seaweed. There are many different ways to enjoy this nature, including through a "snorkel trail," where one might see starfish or limpets or anemone. Or, through "rock pooling," exploring the shallow and deep rock pools along the edge of the shore.
I had the chance to visit the City's Marine Education Centre located there, and to see the ways in which visiting children, many quite young, were enjoying the Centre's touch tanks. There were volunteers on hand to allay fears about touching things and to convey to kids some of the fascinating organisms they were seeing and experiencing. The overall feeling that day was one of elation and joy and you could see in the faces of these kids an innate glee and delight at experiencing a little part of the mysterious marine world in which their city and home were embedded. There has been a strong effort over the years to integrate the center and reserve into the education of Wellington children. Staff of the Education Centre regularly visit Wellington schools, as well as host visitors at the center.

What else could blue cities do?
Some ideas include:
— Speak out for ocean conservation and marine organisms and habitats; find ways to provide urban leadership for ocean conservation
— Cut greenhouse gas emissions and develop and implement an aggressive climate change action plan
— Reduce nonpoint and other pollutants and their impacts on coastal waters
— Sponsor research of the marine biodiversity and ecosystems, nearby and not-so-nearby
— Develop green ports and green port/marina facilities and practices
— Support and subsidize the development of Community Supported Fisheries (CSF's, that build connections between consumers and local fishermen) and closed-loop, aquaponic systems that have the potential to reduce some of the pressures on global fisheries
— Create and subsidize programs that make it easier and more affordable to sail, scuba dive, and otherwise enjoy the marine environment
— Teach students in schools about oceans, and help all citizens reach a minimum "oceans literacy"
— Work to understand the many ways that local consumption and lifestyle choices impact oceans and seek new ways to reduce these impacts;
One of my favorite ideas, though admittedly a bit unusual, is the notion of a city establishing one or more "ocean sister cities." It might be a seamount or canyon, or a coral reef community, but adopting and embracing one or more specific spots on the ocean, getting to know it intimately, visiting and studying it, if possible, might build bonds of caring and friendship, in ways similar to conventional sister cities.
There are many things that cities, both coastal and inland, can do to educate and raise awareness about the marine world, and to exert leadership on its behalf. These are but a few ideas.
What else could cities do to further deepen their commitments to the blue? What is your city already doing that makes it ocean-friendly?
Please let me know: [email protected], and visit blueurbanism.com.
Tim Beatley
Charlottesville
References
Beatley, Timothy, 2014. Blue Urbanism: Exploring Connections Between Cities and Oceans, Washington, DC: Island Press.
Earle, Sylvia. 2010. The World Is Blue: How Our Fate and the Ocean's Are One, Washington, DC: National Geographic.
DePledge, Michael and William Bird, 2009. "The Blue Gym: Health and Wellbeing From Our Coasts," Marine Pollution Bulletin, Vol 58, pp.947-948.
Wheeler, Benedict, et al, 2012. "Does Living By The Coast Improve Health and Wellbeing?" Health and Place, Vol 18, pp.1198-1201.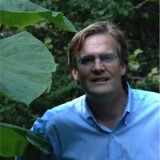 Tim Beatley is the Teresa Heinz Professor of Sustainable Communities, in the Department of Urban and Environmental Planning, at the University of Virginia, where he has taught for the last twenty-five years. He is the author or co-author of more than fifteen books, including Green Urbanism, Native to Nowhere, Ethical Land Use, and his most recent book, Biophilic Cities.