Podcast: Play in new window | Download
Also available at iTunes.
Story notes: Marianne Krasny and Keith Tidball of Cornell's Civic Ecology Lab convened a workshop in Annapolis Maryland, at the offices of The National Socio-Environmental Synthesis Center, or SESYNC. (I [David Maddox] facilitated.) The workshop was a gathering of 25 scholars and practitioners, come to talk about civic ecology.
But what is civic ecology? I asked each of the participants to give their short definition. This episode reveals their answers, and there is lots of nuance around some common themes. The work was supported in part by the U.S. Environmental Protection Agency and SESNYC. Special thanks to Jennifer Klein for directing the recordings.
You can also see a video version on youtube:

In order of appearance, the participants were:
Keith Tidball
Department of Natural Resources, Cornell University
http://dnr.cals.cornell.edu/people/keith-tidball
Keith Tidball wants you to get a land ethic fit for the 21st century. He studies how people and nature interact to make communities more resilient.
Zahra Golshani
Nature Cleaners, Iran
https://www.facebook.com/Nature.Cleaners.IR
Nature Cleaners strives to build community and a sense of environmentalism through voluntary trash collection in Iran.
Traci Sooter
Drury University, Springfield, Missouri
http://www.drury.edu/architecture/Traci-D-Sooter/
Traci Sooter uses her expertise as a green architecture to complete community-focused design projects with a focus on sustainability.
Rebecca Salminen Witt
The Greening of Detroit
http://www.greeningofdetroit.com
The Greening of Detroit is invested in providing a greener future for Detroit by "inspiring sustainable growth of a healthy urban community"
Erika Svendsen
U.S. Forest Service, Northern Research Station, New York
http://www.nrs.fs.fed.us
The Northern Research Station of the USFS works to understand forests in a human-disturbed landscape that includes NYC.
Jill Wrigley
Collins Avenue Streamside Community
Baltimore, Maryland
http://collinsavenuestreamside.org
The Collins Avenue Streamside Community is a collective of households attempting social & ecological reconciliation in their neighborhood.
Veronica Kyle
Faith in Place
http://www.faithinplace.org
Working with over 1,000 congregations of all faiths on issues of environmental stewardship. Based in Chicago.
Anniruddha Abhyankar
The Ugly Indian, Bangalore
http://www.theuglyindian.com
The Ugly Indian is a community movement generating voluntary cleanup drives across India in hopes of changing civic standards.
Marianne Krasny
Department of Natural Resources, Cornell University
http://dnr.cals.cornell.edu/people/marianne-krasny
Marianne Krasny wants to know how civic ecology practices affect individuals, communities, and the environment.
Dustin Alger
Higher Ground Sun Valley
http://www.highergroundsv.org
Higher Ground Sun Valley gives individuals with disabilities, especially veterans, the chance to experience the outdoors through recreation and therapy.
Anandi Premlall
Sustainable Queens, The Queensway
http://www.about.me/aapremlall
Sustainable Queens cultivates sustainable living, wellness, creativity, & empowerment through community gardens in underserved communities.
Laurel Kearns
Drew Theological School, Madison, New Jersey
http://users.drew.edu/lkearns/
Laurel Kearns trains religious leaders to understand the changing relationships between people and the environment.
Robert Hughes
Eastern Pennsylvania Coalition for Abandoned Mine Reclamation
http://epcamr.org/home/
EPCAMR is a coalition of individuals & organizations that supports abandoned mine reclamation for community use.
Rosalba Lopez Ramirez
Kelly Street Garden, New York
http://www.kellystgreen.com
A community garden in the South Bronx. Their mission? To grow food, grow community, grow wellness, and grow leaders.
Carrie Samis
Maryland Coastal Bays Program
http://www.mdcoastalbays.org/
MCBP's goal is to protect and conserve the watershed of Maryland's five coastal bays through research, education, outreach, and restoration.
Lance Gunderson
Department of Environmental Sciences, Emory University
http://envs.emory.edu/home/people/faculty/gunderson_lance.html
Lance Gunderson is an ecologist interested in how scientific understanding influences resource policy and management.
Kellen Marshall
Ecology and Evolutionary Biology Department, University of Illinois at Chicago
https://sites.google.com/site/kellenmarshallgillespie/
Kellen Marshall is a graduate student with interdisciplinary interests related to stresses on urban ecosystems.
Arjen Wals
Waginengen University, University of Gothenburg
https://www.wageningenur.nl/en/Persons/Arjen-Wals.htm
Arjen Wals studies how to better engage the public in academic research in order to strengthen society.
Carmen Sirianni
Brandeis University; Ash Institute for Democratic Governance and Innovation, Kennedy School of Government, Harvard University
http://www.brandeis.edu/facultyguide/person.html?emplid=6941dccea4920650a59484c9c213bef2598aa6b1
Carmen Sirianni focuses on democratic renewal in the contemporary U.S., especially as it pertains to the environment.
Caroline Lewis
The CLEO Institute
http://www.cleoinstitute.org/
The CLEO Institute is a non-profit dedicated to improving environmental education of the public as a means to support climate resilience.
Dennis Chestnut
Groundwork Anacostia River, Washington, D.C.
http://groundworkdc.org
GARDC's uses environmental restoration goals as a vehicle for community development in communities around the Anacostia River.
Louise Chawla
Environmental Design Program, University of Colorado, Boulder
http://www.colorado.edu/envd/people/faculty/louise-chawla
Louise Chawla is interested in integrating nature into our every day, particularly through the engagement of children and youth.
Rebecca Jordan
Departments of Human Ecology and Ecology, Evolution, and Natural Resources
Rutgers University, New Brunswick, New Jersey
http://www.rebeccajordan.org
A one-time evolutionary biologist of Lake Malawi's cichlid fish, Rebecca Jordan's current focus is on science education and citizen science.
Philip Silva
Treekit; Department of Natural Resources, Cornell University
http://treekit.org
Philip Silva studies how citizen science helps monitor urban forests. TreeKit makes tools for measuring, mapping, & managing street trees.
Karim-Aly Kassam
Environmental and Indigenous Studies, Cornell University
http://www2.dnr.cornell.edu/kassam/
Dr. Kassam's research interests are broad, but generally include ways of knowing as they relate to ecology.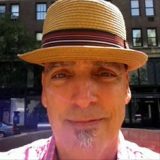 David loves urban spaces and nature. He loves creativity and collaboration. He loves theatre and music. In his life and work he has practiced in all of these as, in various moments, a scientist, an ecological practitioner, a playwright, a musician, an actor, and a theatre director.