Designing for resilience is a complex undertaking. As David Maddox states in The Nature of Cities Global Roundtable, "to design for resilience suggests we can identify it, plan for it" and that "It's a steep challenge, community by community".
Identifying, planning, and designing for location-specific resilience is just what a Midwestern team of students and faculty are attempting to do. Drury University and Crowder College have partnered together and been accepted to compete in the U. S. Department of Energy's Solar Decathlon. While the focus of this 20-team national competition is on solar energy, the Crowder-Drury team has chosen to add an additional layer of complexity to their competition house: disaster resilience.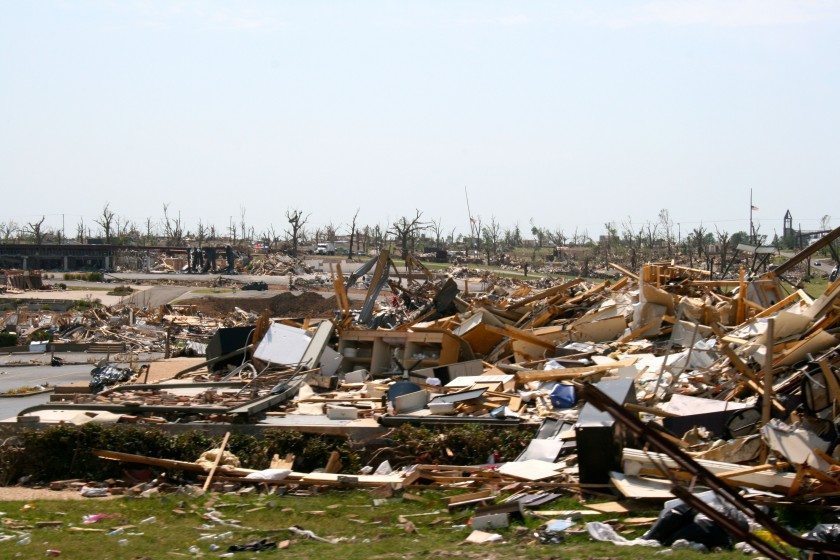 Drury University and Crowder College are located in the heart of tornado alley in Southwest Missouri and in proximity to Joplin, where in 2011 an EF5 tornado destroyed nearly 8,000 buildings and took 161 lives. As buildings gave way under wind speeds in excess of 200 mph, fragments of the structures became missiles directed at neighbors as the ¾ mile wide, multiple vortex storm moved along its 16 mile path. What was left were three million cubic yards of debris that took months to clear and to send to landfills.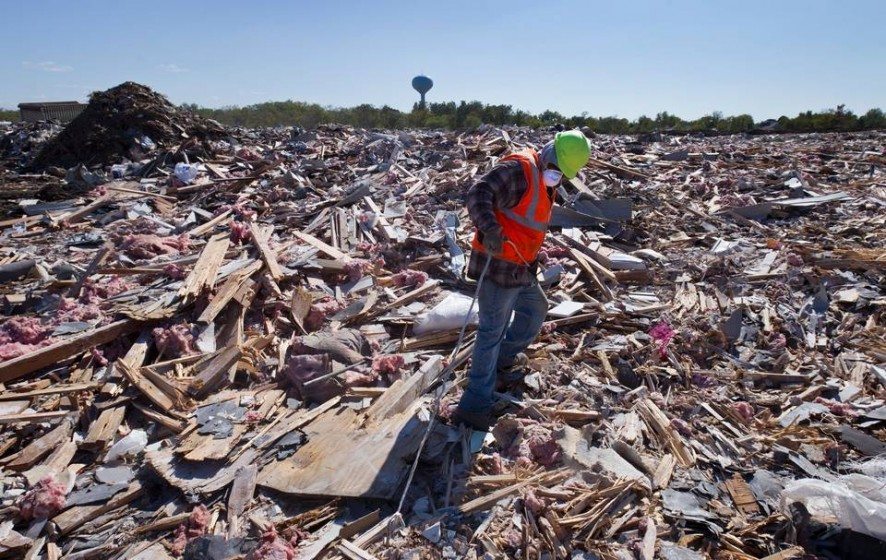 Storms of this nature have a destructive impact on individual lives, the emotional and economic well-being of a community, and the built environment. Additionally, a long-term environmental impact results from the millions of cubic yards of hazardous debris that is sent to landfills during the cleanup process.
The Crowder-Drury Solar Decathlon team believes that much of the structural devastation and loss of life in Joplin, as well as in many other tornado-hit cities, could be avoided if we designed buildings to resist the wind loads and impact of flying debris of such storms. Working out the design details of a solar powered, tornado-resistant home has been a rigorous academic and real-world challenge for the students on the team. To make the task even more challenging, for the competition, the home must be built at the home university; shipped to Irvine, CA; and reassembled to be ready for the October 8, 2015 start of the competition. Working out this logistical challenge and coupling it with our disaster resistance goal led students to discover two additional potential uses for the competition house: a disaster response command center and disaster relief housing.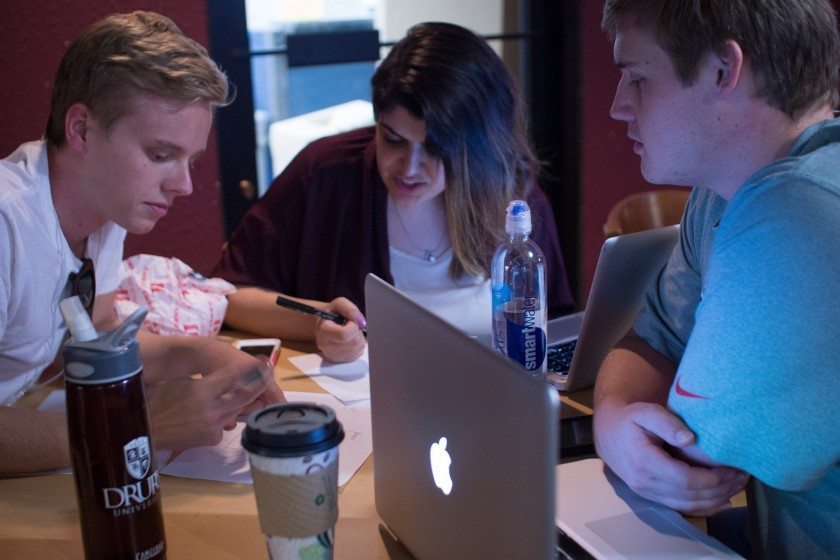 The concept for the competition house now includes all three potential uses and is called ShelteR³: a Solar Powered Home for Disaster Response, Recovery and Resistance. Team website: http://shelter.drury.edu/
The ShelteR³ concept: Respond, Recover, Resist
Disaster Response
Two pre-fabricated modules (living and kitchen/bath) are whisked via flatbed truck into a community that has been devastated by a natural disaster. The units are craned off the truck and attached together to form a disaster response command center or emergency relief housing.  Roof-mounted flat solar panels generate electricity. The home or command center is self-sufficient and able to function before power and water are restored. Innovative impact resistant cladding and structural details protect from future storms and lend a sense of safety and security.
Disaster Recovery
Eventually, the community begins to rebuild from disaster and the need for residential housing takes priority over disaster response. Our structure can be easily adapted to fit these evolving needs. A foundation is laid and the two modules are separated by twenty feet. The resulting space is covered with window walls on both ends to create a spacious living area between the bedrooms and kitchen and bath. Cabinetry, customized to the owner's needs, helps separate the living area from the bedrooms. Spacious decks extend the living space into the outdoors. Additional solar arrays are added on the roof for increased energy production. Using the ShelteR³ as the core of permanent housing could eliminate the need for temporary shelters typically delivered and used as disaster relief housing.
Disaster Resistance
The house need not be limited to post-disaster scenarios. In disaster-prone zones, the house offers a smart way to prepare for the possibility of storm winds and can be prefabricated or built on site. Structural sizing, spacing and connections as well as tension rods resist wind loads while redundant layers of impact resistant materials are the key to managing debris missiles.  A 90-second video on the team website explains the concept further.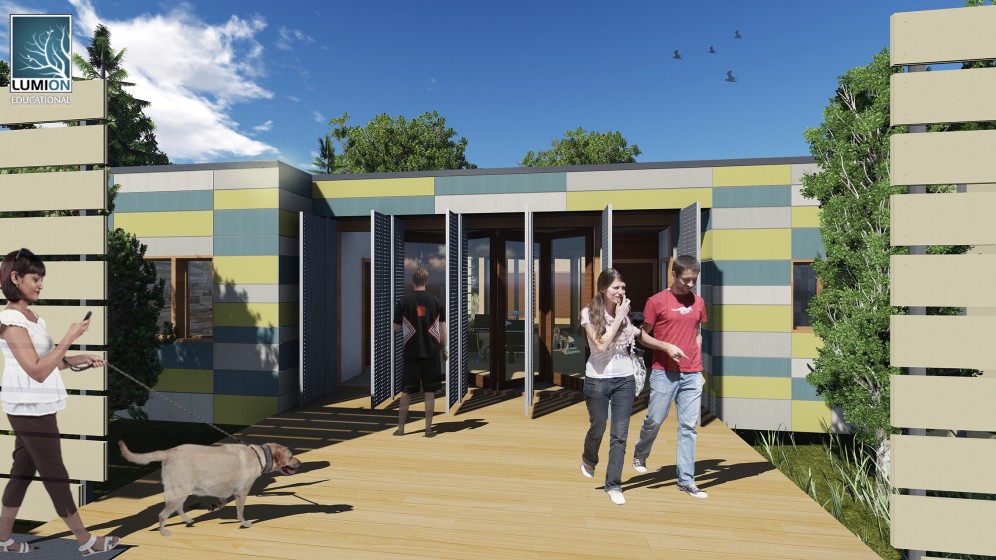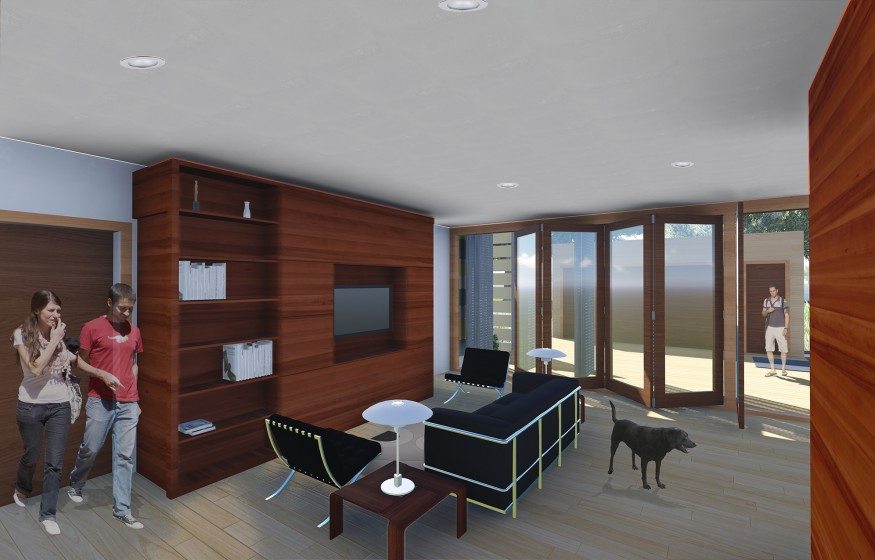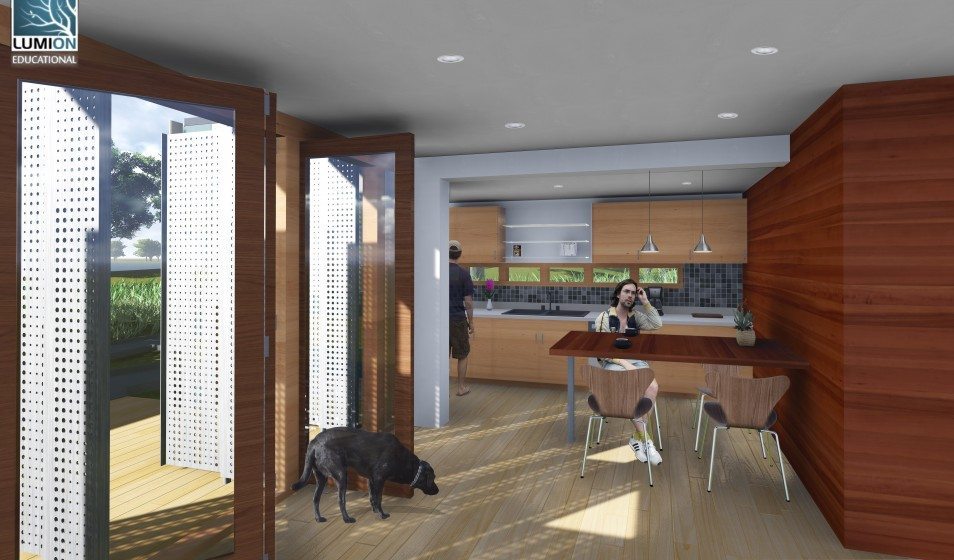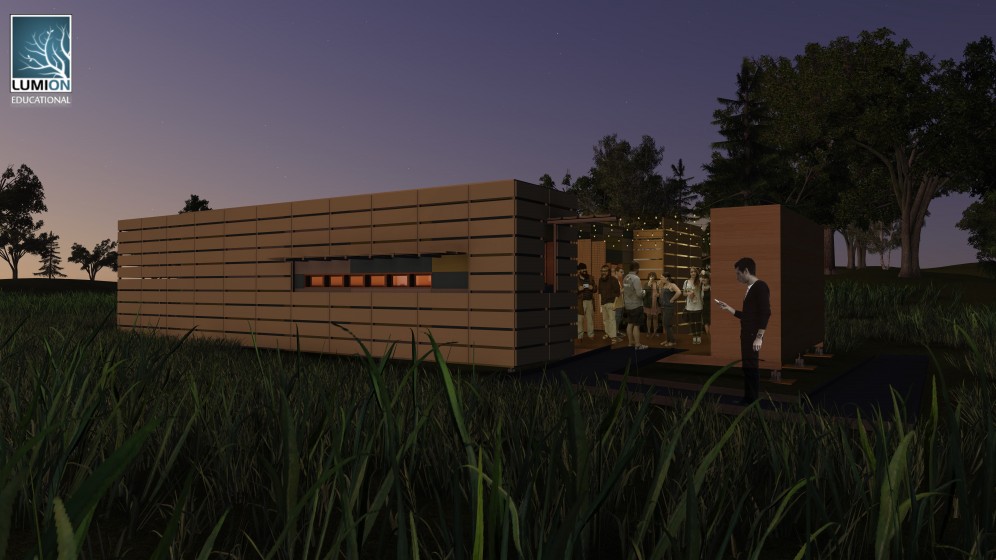 When designing to resist tornadic events there are several programmatic issues to consider and problems to resolve.
Programmatic issues:
Preservation of life
Preservation of structure
Little to no contribution to debris field
Problems to solve:
Preservation of structure vs. sacrificial portions of structure
Resisting Impact of flying debris during storm
Preservation of life, of paramount importance, is achieved through preservation of structure and resistance to impact. Little to no contribution to the debris field can be achieved through designs that eliminate sacrificial structural elements.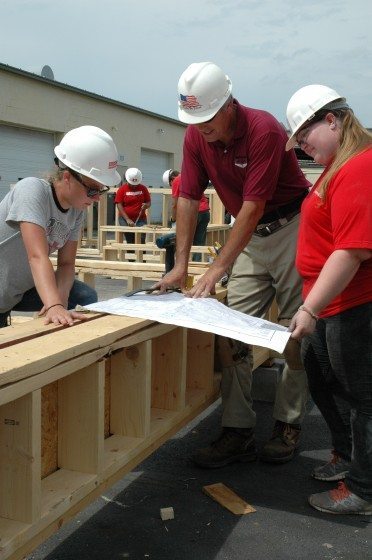 Many approaches to construction of a home arise after a storm. Some simply build using traditional construction methods and address future storms by placing a storm shelter in a room within the home, in the floor of the garage, or in the backyard of the home. In each of these applications, life may be preserved within one of these storm shelters if the family makes it to the shelter, but the rest of the home becomes sacrificial and is transformed by the storm into projectiles directed at the neighbors and beyond. Eventually, these sacrificial projectiles and debris field must make their way to a landfill. In Joplin, this added up to over 3 million cubic yards and months of effort and energy.
The Crowder-Drury team believes that redundant layers within the wall system can be key to withstanding a storm. Impact resistant Lexan over water repellent Zip Wall brand sheathing are finished by a Swiss Pearl fiber cement rain screen cladding, all of which create the protective enclosure. An enveloping fence of Kawneer's Reynobond impact resistant and air scrubbing panels are the first line of defense, while hurricane-rated windows and doors protect areas of natural light and passage throughout the house.
The structural system consists of traditional 2×6 wood stud framing wall placed in compression by steel tensile rods through a steel chassis. Students worked with structural engineer Q. Scott Ragan, who specializes in disaster forensics to design this resistant home. We chose wood framing because it is a typical material used for construction in the Midwest and we wanted the challenge of resolving tornado resistance with a commonly used building material.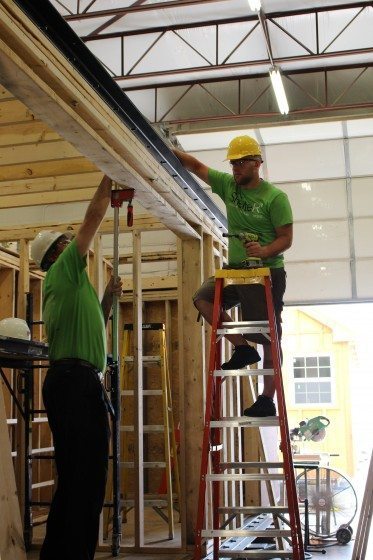 Thermal Mechanics Inc. provided the team with a high efficiency, affordable Daikin brand mini-split heating, cooling, and ventilation (HVAC) system for the home. This is a ductless system which means less material and labor for installation and less maintenance over the life of the home. The mini-split system requires a smaller heat pump than conventional systems, reducing the energy load on the solar panels.
At every turn the students have chosen readily available, affordable, and sustainable materials for ShelteR³ such as Patcraft carpet and resilient flooring. Their goal is to educate the public on choosing and living a sustainable lifestyle that considers energy, building materials, and resilience to our ever-increasing frequency of natural disasters.
Details continue to be refined as the team constructs the home this summer. Follow and engage with us on social media, or literally behind our Transland truck convoy as we head to the Solar Decathlon competition October 8th – 18th, 2015 at the Orange County Great Park in Irvine, California. Our student decathletes are excited to hear from you.
Facebook: https://www.facebook.com/drurycrowder2015
Twitter: @CrowderDrurySol
Instagram: https://instagram.com/crowderdrurysolar/
Youtube: https://www.youtube.com/channel/UC8dATiEWPrKVN8cJ_EgAZvA
Pinterest: https://www.pinterest.com/crowderdrury/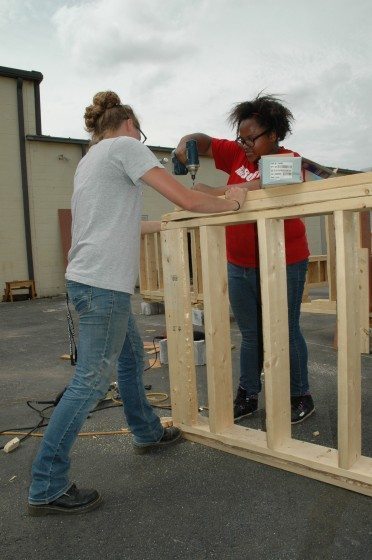 We can build better, preserve life, and protect our planet—we just have to work out the details. Our team, some witnesses to the Joplin tornado, have learned through the opportunity of Solar Decathlon and a thoughtful design process that designing for resilience is location specific but several principles can be applied across the globe.
1. Respond to location and the unique challenges it brings.
2. Rethink shelter. Approach the entire building as shelter and let no parts become sacrificial.
3. Better structural details. Use specific structural details in homes and buildings to resist the high winds and impact of tornados or hurricanes, or specific threat from other natural occurrences. Include mechanical fasteners at vulnerable connection locations specific to the potential threat at a level strong enough to resist the threat, not at minimum build code requirements.
4. Think about the many layers of threat of a disaster and protect against all aspects of a natural disaster, not just the primary focus. In the case of a tornado, for example it is not just the high winds that destroy, but the missiles created by the debris field as buildings fail and break apart.
Traci Sooter
Springfield
The U.S. Department of Energy Solar Decathlon challenges collegiate teams to design, build, and operate solar-powered houses that are cost-effective, energy-efficient, and attractive. The winner of the competition is the team that best blends affordability, consumer appeal, and design excellence with optimal energy production and maximum efficiency.
References & Further Reading
David Maddox, The Nature of Cities: http://www.thenatureofcities.com/2015/05/19/taking-resilience-out-of-the-realm-of-metaphor-how-do-you-measure-resilience-in-cities-how-would-you-know-if-your-city-or-your-community-was-resilient/
Fact Sheet – City of Joplin – May 22, 2011 EF5 Tornado; Lynn Iliff Onstot, Public Information Office; July 1, 2013
Crowder-Drury team concept; U.S. Department of Energy Solar Decathlon 2015; co-authored by student decathletes and faculty mentors, Drury University, 2015
U.S. Department of Energy Solar Decathlon 2015, http://www.solardecathlon.gov/; NREL is a national laboratory of the U.S. Department of Energy, Office of Energy Efficiency and Renewable Energy, operated by the Alliance for Sustainable Energy, LLC.
Resource for assessing your home or small business for risk: https://www.fema.gov/media-library/assets/documents/2009
Resource for the design and construction of a safe room: https://www.fema.gov/media-library/assets/documents/3140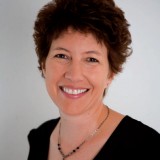 Traci Sooter, AIA, LEED AP is the Director of the Design-Build Program and a Professor in the Hammons School of Architecture at Drury University.