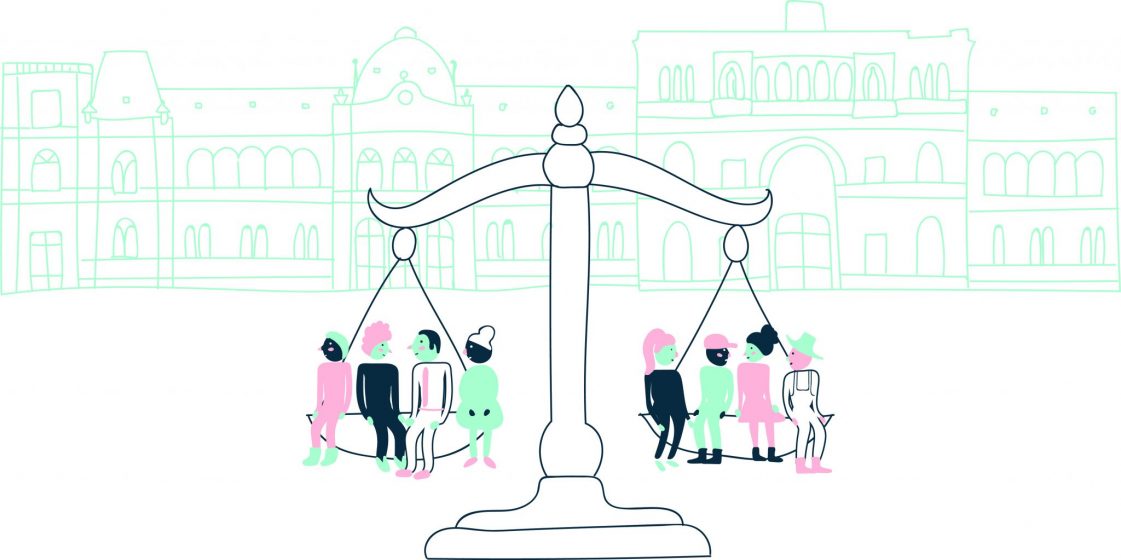 The purpose of this essay is to share some considerations about the meaning of "just City" from the perspective of a lawyer dedicated to the reform of justice administration and, in particular, to the design of systems that promote, encourage and facilitate the approach of justice for the people. This historically means not only a change in the rules and culture but also a change in the design of the spaces in which justice is administered.
A just city is only achieved when its inhabitants have a sense of belonging, respect for the rights of others and for the place in which they live.
It is also written from the perspective of a city dweller from Buenos Aires, a city in which more than 3 million people live, and where 1.2 million cars and 1.2 million people in public transportation arrive every day from the suburbs. Traffic and traffic violations are one of the most serious problems and affect our everyday life in a dramatic way.
The guiding principle of these reflections is that a just city is only achieved when its inhabitants have a sense of belonging, respect for the rights of others and for the place in which they live. In no other aspect is this clearer than in transit, in which the disregard for the laws brings enormous cost not only in human lives but also can easily become a very heavy burden in everyday life, in which aggression and lawbreakers are the norm. For example, in Argentina it can be said that traffic rules are not respected and more than 7,000 people die each year in traffic accidents, and more than 120,000 are injured in varying degrees. This is one of the highest rates of mortality from traffic accidents and is significantly higher when compared with the rates of other countries in relation to their population and number of cars.
When I think of a just city there are some general issues that arise and are central to its development. First, is the need for an equitable distribution of resources among all the people and neighborhoods, in accordance to fairness.  Fairness does not necessarily mean equal amounts of money everywhere but an adequate amount of resources to ensure that people from all parts of the city have the same opportunities to enjoy the benefits of community life, including access to education, health, safety, justice, etc.
On the other hand, is important to assure the participation of all inhabitants in the management and administration of the city. A just city always has different ways to encourage its citizens to participate in the discussion of the problems that affect them and in the process of decision-making. Therefore there are accessible public spaces designed to appeal to neighbors and to foster community life.
In particular, a just city is a city in which everyone respects the general rules of coexistence, where respect of others and the environment is a shared value. This means some basic things, like speed limits and throwing trash into trashcans and much more complicated matters.
What is important though is that people follow the rules of the city because they recognize the city and its rules as theirs. This is why is so important to have a system that allows people to move around in a friendly environment, otherwise we will have a dangerous, aggressive and corrupt city — corruption starts with small bribes to transit agents.
A just city is also a place where everybody lives safely and the rights of all are respected. That means that ensuring security should not come at the cost of disregarding privacy and intimacy. With accessible new monitoring technologies, the boundaries between privacy and security become complicated. While having a camera on the dashboard of every police vehicle seems like a good idea, the over-extension of surveillance should be at the center of the debate between politicians and inhabitants if we are going to build a just city. Sometimes better lights, more illumination, are all we need to make ours streets more secure and to invite people to walk around at night.
And a just city is conceived and designed for their people to have a simple, economic and fast access to the different areas of public administration. In particular, those responsible for the administration of justice: police, courts, prosecutors, defenders, prisons, etc. The design of each court, each police department and each place of incarceration deserves special attention to ensure that they serve their purpose. For example, the courts must allow the public to sit comfortably and see the way justice is done; the places of incarcerations must assure the dignity of the prisoners; the police departments needs places where victims of crimes can be properly heard, protected and assisted.
Very often judicial buildings are chosen and designed by lawyers formed in systems where justice is kept away from the people. Consequently the buildings are located and designed to meet the needs of those who administer justice and not to those who need justice. Often these buildings and offices are true labyrinths inaccessible for regular people. For example, in Buenos Aires, the Federal Building is far for everything and there is nothing around it — no place to meet people, to have a coffee, is dangerous at night, etc. Buenos Aries' Justice Palace is a complicated labyrinth were visitors routinely get lost. Only a few years ago an NGO won a case that ordered ramps be built for disabled people entering the building.
In a just city, justice is at the service of the people and with that purpose there is a network of public transportation that communicate all the public services with the different areas of the city, has understandable signs to facilitate the access to the different offices, and has systems that enable the access of people with different capacities. That is why is so important to decentralize the courts and the prosecutors' offices. Years ago I was in charge of a unit that lead programs in connecting the prosecutors with the community, in the reorganization of the Prosecutors Institution and in the launch of the first-ever decentralized prosecutors office in Buenos Aires. The main goal of all these projects was to strengthen the idea that justice is a public service and to work with people of other disciplines to design institutions that fulfill the needs of all.
And last but not least, a just city is a city that chooses to remember and share its history with the generations to come and exhibits its past in memory sites, in public places in which, at the same time, democratic values ​​and human rights are promoted. In Argentina there are many places where we can learn about what happened during the dictatorship that ruled my country from 1976 to 1983. Clandestine centers of detention where people was detained, tortured and killed are now museums or memorial sites that allow us to know what happened and to say that this will never happened again, never more.
Mirna D. Goransky
Buenos Aires
The Just City Essays is a joint project of The J. Max Bond Center, Next City and The Nature of Cities. © 2015 All rights are reserved.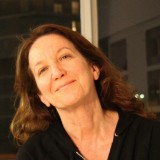 Mirna D. Goransky is an associate at the Carr Center for Human Rights Policy, Harvard Kennedy School and a consultant of the Cyrus R. Vance Center for International Justice, New York City Bar Association. She is Deputy General Prosecutor of the Office of the National Attorney General in Argentina (currently on leave).