In previous contributions to The Nature of Cities (for example, Das (2015); Tsur (2014)), some authors have reported successful experiences or projects of linear open spaces providing green access to more people across neighborhoods or adapting old infrastructure to modern needs.
Linear parks should balance environment, mobility, recreation, and security in order to produce more livable open spaces.
Linear parks are longitudinal areas, both green and grey, including greenways/corridors and urban edges; blue ways/waterfronts and transportation infrastructure frequently in re-used sites. Normally they have a minimum width of 25 meters, are of priority use for pedestrians and cyclists, with a spatial distribution marked by vegetation. They have an adequate infrastructure, both associated with recreation and resting areas. Although the idea of a "linear park" became popular in England from 1960, the design of this type of park is possibly older (Olmsted 1880, Emerald Necklace of Boston). Supported by the Beautiful City Movement (1890-1900), parkways and pedestrian walks were used in many cities to create relaxing, restful, and pleasant access points to recreation areas from the local street network. In Latin America, the Colombian Bogotá Park Way is a good example of a linear park that dates back to 1944.
Since the 1960s, linear parks have increased in popularity due to their multifunctionality and the decline of industrial-era infrastructure, which posed new design opportunities for linear parks (Kullmann 2011). In the last decade, they received a great deal of attention among city planners due to the scarcity of available space for the creation of larger parks in densely populated areas. They arose as an opportunity to revitalize interstitial edge-spaces in the post-industrial era as a recreational asset that takes advantage of remnant areas along waterways, coastal edges, riparian zones, abandoned railroads, etc. (HerránCuartas 2013, Sinha 2014). Many cities, such as Barcelona, Bogotá, Boston, Buenos Aires, Jerusalem, Medellín, New York, Palmira, Paris, Rosenheim, Stockholm, Toronto, and Uppsala included a number of green corridors in their strategic master plans as rapid and inexpensive ways to create green areas.
These parks became fashionable alongside higher concerns for space to do outdoor linear activities: walking, running, jogging, cycling, roller skating, etc. These daily, short- term recreation activities are performed in close proximity to people's homes and are frequently motivated by health concerns, such as obesity, diabetes, and heart disease.
Another reason for the growing popularity of linear parks is their ecological significance. From an environmental perspective, linear parks are seen as biological corridors with potential to harbor urban biodiversity, increasing connectivity among big parks or natural reserves.
Are linear parks such a panacea? A comparison of two Argentine and Colombian linear parks in Buenos Aires and in Palmira, which are very similar in their structural characteristics, shows strengths and threats. In our comparison, we relate performed uses to the facilities supplied and to the users' requirements of the multiple services provided.
In Buenos Aires, the linear park that we analyzed is 3.5 km long and connects two green urban parks of 70 ha and 5.9 ha. In Palmira, the park extends for 2.7 km starting at the Municipal Forest Park (16.5 ha) to the east. In both cities, the parks run through neighborhoods that are mostly quiet, leafy residential areas, while some parts contain commercial hubs. Both parks are crossed by a railway. We observed that the principle use in both parks was walking through them (30 percent of use in Buenos Aires and 37 percent in Palmira), followed by social interaction (23 percent) and physical activities (17 percent) in Buenos Aires. In Palmira, the next most common activities were sitting (20 percent) and selling products and services (13.5 percent).
As natural settings with good access to other locations, the parks invite people to walk; they are mainly used as routes to reach other destinations, such as shops, services, and bus stops. As they are well equipped with sport facilities, they are ideal places for recreation.
In both cases, users recognized that the parks gave a special identity to their neighborhoods through nature, the selling of traditional food and beverages in the city of Palmira, and through historical features in Buenos Aires.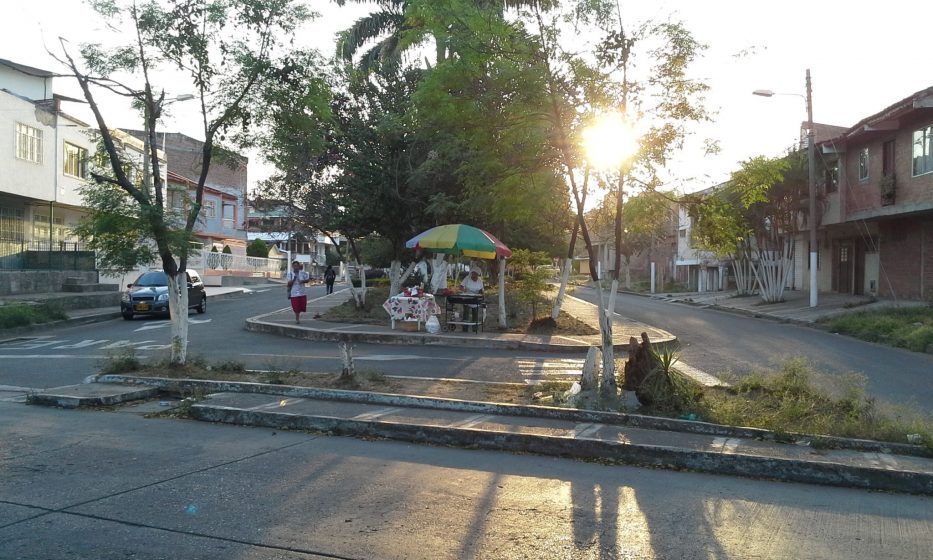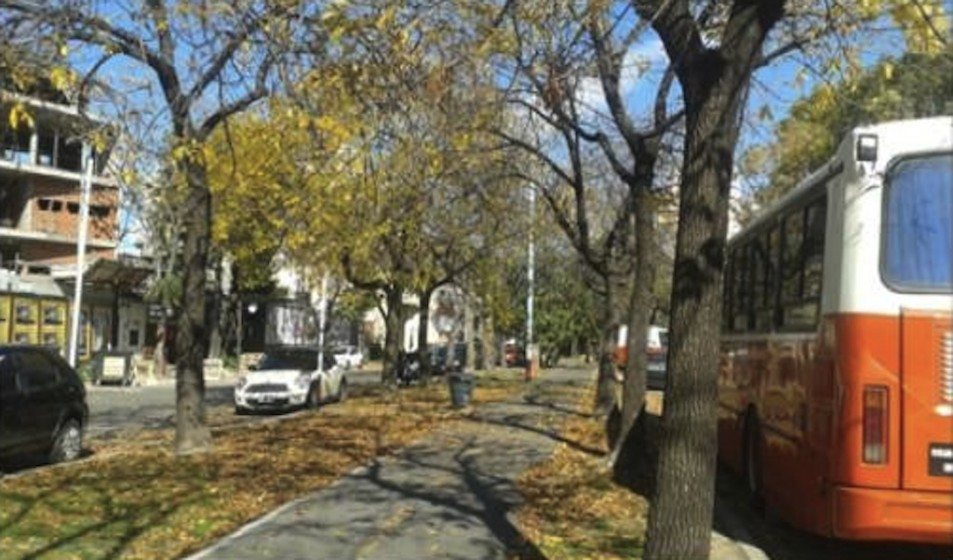 Image 2. Palmira (top) and Buenos Aires (bottom), linear parks provide multiple ecological, recreational, economic, and cultural / historic values. Photos by Claudia Vidal and Ana Faggi
In Palmira, the park is preferred for commuting as a cool and quiet space; in Buenos Aires, however, little environmental value was recognized. Environmental value scored last of all mentioned services and far from the value nature was given in Palmira. A greater sensitivity to nature in Palmira could be explained by its smaller stature as a city and by its agricultural tradition, through which people have more contact with rural environments. A previous study on environmental perception carried out in natural reserves in the Buenos Aires Metropolis showed that visitors linked their motivations of nature consumption more with well-being than with nature enjoyment.
Users mentioned insecurity as a threat in both linear parks, predominantly as a consequence of social changes and coinciding with an increase in fear among citizens as a result of robberies, drug consumption, and alcohol abuse. A similar result is noted by Herrán Cuartas (2013) and Ortiz Agudelo (2014) in linear parks in the city of Medellín, where the linear parks conceived by the city council as a method of environmental rehabilitation conveyed neighbors' feelings of fear and distrust driven by the solitude of the parks, the improvements they brought, or by new inhabitants who appeared in these new types of green spaces.
The perception of insecurity has escalated in Latin America in recent years, becoming the number one public concern in many countries. Crime and insecurity are greater than before, and higher than for other regions, as reported by the United Nations Development Programme (2014), 23.6 percent of Argentine and 25.8 percent of Colombian respondents have limited their visits to recreational areas for fear of becoming a crime victim. In this respect, linearity, which is recognized in literature as the strongest structural feature of linear parks, and which increases accessibility and commuting, may be a disadvantage rather than a benefit: it spreads the user's vulnerability as thieves can attack victims more easily and escape quickly afterwards.
In the face of such demands for security, the redirection towards preventive strategies—improving street lighting and infrastructure, as well as the presence of guards or police patrols—could have substantial effects on encouraging pedestrian circulation. Design, planning, and management of linear parks should therefore focus on finding a balance between the environment, mobility, recreation, and security in order to produce more livable open spaces.
Ana Faggi and Claudia Zuleyka Vidal
Buenos Aires and Cali
Das PK (2015). Let Streams of Linear Open Spaces Flow Across Urban Landscapes . The Nature of Cities (August 12.2015).
Herrán Cuartas C (2013). Los parques lineales como nuevas oportunidades de espacio público en Medellín. Universidad Pontificia Bolivariana, Medellín, CO.
Kullmann K (2011). Thin parks/thick edges: towards a linear park typology for (post)infrastructural sites. Journal of Landscape Architecture 6, 70–81.
Ortiz Agudelo PA (2014). Los parques lineales como estrategia de recuperación ambiental y mejoramiento urbanístico de las quebradas en la ciudad de Medellín: estudio de caso parque lineal La Presidenta y parque lineal La Ana Día. Universidad Nacional de Colombia Sede Medellín. See http://www.bdigital.unal.edu.co/12865/1/43221903.2014.pdf (accessed 04.11 14).
Sinha A (2014). Slow landscapes of elevated linear parks: Bloomingdale Trail in Chicago. Studies in the History of Gardens and Designed Landscape 34:113–122.
Tsur N. (2014).The Story of Jerusalem's Railway Park: Getting the City Back on Track, Economically, Environmentally and Socially .The Nature of Cities (August 18.2014
UNDP (2014).Citizen Security with Human Face.Evidence and Proposals for Latin America. Regional Human Development Report 2013, Panamá. http://hdr.undp.org/sites/default/files/citizen_security_with_a_human_face_-executivesummary.pdf (accessed 13.04 16).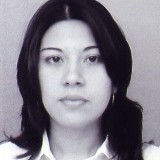 Claudia Zuleyka Vidal is an architect with many years' experience in a wide range of urban renewal design projects. At present, she is working on a variety of architecture projects in the city of Cali.
Ana Faggi graduated in agricultural engineering, and has a Ph.D. in Forest Science, she is currently Dean of the Engineer Faculty (Flores University, Argentina). Her main research interests are in Urban Ecology and Ecological Restoration.