Podcast: Play in new window | Download
Also available at iTunes.
Story Notes: Andy Hernandez walked into Washington Square Park on a sunny afternoon in 1981 with a cameraman, a boom box, and a mandate to make a music video for a medley of new songs by Kid Creole and the Coconuts, his downtown New York City band.
With the camera rolling, Hernandez danced through crowds of people packed into the ten-acre park, giving viewers an unplanned tour of one of the city's most celebrated—and, at times, contested—open spaces.
Not twenty-five years had passed since local activists fought a plan to cut a major roadway through the center of Washington Square in the heart of New York City's eccentric Greenwich Village. One of those activists was Jane Jacobs, a local journalist and stay-at-home mom with a keen eye for the complex rhythms of city life.
Shortly after the struggle to preserve Washington Square, Jacobs would go on to publish The Death and Life of Great American Cities, a critical look at the state of urban planning and design in the mid-20th century.
While it's true that Jacobs changed the way we think about cities, relatively little is ever said about her views on urban parks. In honor of the 100th anniversary of Jacobs' birth, we took a moment to revisit her views on "the uses of neighborhood parks" as she laid them out in The Death and Life of Great American Cities.
This podcast episode, produced by Philip Silva, catches up with Andy Hernandez (who goes by the stage name Coati Mundi) thirty-five years after his romp through Washington Square Park. We also invited two notable New Yorkers to reflect on the critique of urban park planning in Chapter Five of The Death and Life of Great American Cities: Mary Rowe, a Senior Fellow at Project for Public Spaces, and Adrian Benepe, the Commissioner for New York City Parks under former Mayor and open space enthusiast Michael Bloomberg, and current a Senior Vice President at the Trust for Public Land. Benepe and Rowe offer contrasting views of Jacobs' legacy as it relates to urban parks.
For more Jane Jacobs, see also this.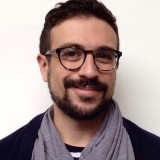 Philip's work focuses on informal adult learning and participatory action research in social-ecological systems. He is dedicated to exploring nature in all of its urban expressions.