A review of Vitamin N, by Richard Louv. 2016. ISBN:1616205784. Algonquin Books, Chapel Hill. 304 pages. Buy the book.
The fact that we have come to the point where we must be instructed on how to build a sandcastle is disconcerting, and something of which we need to sit up and take note.
Combating nature-deficit disorder—the new self-help fad, or something really useful?
When I stumbled on Richard Louv's book Vitamin N (2016 Algoquin Books) my initial reaction was one of shock. Have we really come to this, the point where we have to instruct people how to engage with nature? Is the ease of being in nature so lost to us that it has now become the realm of self-help books? Louv, a well-known figure in the United States as co-founder of the Children and Nature Network and author of several nature and children related books has recently published Vitamin N, lauded as "the essential guide to a nature-rich life: 500 ways to enrich your family's health and happiness".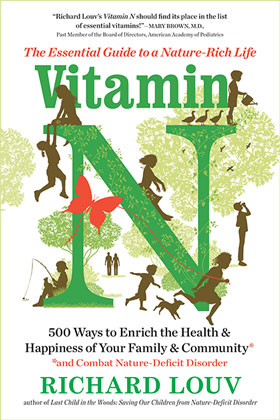 I must admit his work was relatively new to me, and I was immediately intrigued. The point of departure for Vitamin N is the familiar notion that we have become increasingly distanced from nature and are missing out on all the significant health and wellbeing benefits, and suffering from "nature-deficit disorder" (Tim Beatley has written on his work in TNOC before and for more on Louv's previous work, and on biophila more generally have a look at this article).
The great joy of popular writing such as Louv's is the freedom with which authors can peg their colors to the post and I envy his confident stand on the significant role of nature in growing healthier and better adjusted children and adults. This is something most of us know, but as scientists we are constantly looking for the numbers, the proof, and the validity and while the evidence is certainly there and growing, Louv does not waste his time in justifying his point of departure.
Don't get me wrong, a brief glance at some background on Louv suggests he has earned his stripes in the realm of matters urban and ecological. My point is simply that I find reading urban ecology in this popular genre disquieting for me. As an academic based at a university, and in the scientific discipline of ecology, I am generally bound to strictly evidence-based writing where we build on each other's work in tiny increments. Simultaneously I am always left with a good streak of jealousy too for the faith and ease of expression.
So, do we in fact need "Vitamin N" in our lives and on our bookshelves?
I found the book a delight. The range of advice and insights offered is extensive. Examples runs from the somewhat mundane, to the well-informed, and to the downright whacky. On the mundane side are things like "go fishing" and "build a fort" and I guess here one has to be sympathetic to his desire to reach as broad an audience as possible and I had to acknowledge and park my own nature privilege. I guess if one was truly new to nature, or perhaps to a place, these kinds of guidelines could instill just the kind of confidence needed to initiate an outdoor activity.
To this end Louv gives gentle assurance on what to watch out for and what is generally allowed. The book is richly rewarding in offering up well-informed and eclectic ideas, and I found these particularly rewarding. Louv draws on a wealth of personal experience, insight and knowledge for example invoking Sara St. Antoine's understanding of child"s play in "plot the escape of the dolls" in promoting standard play ideas out of doors. Another example is the "find your inner bloodhound" where Louv draws on research from the University of California, Berkeley, on human scent-tracking and suggests a related activity for children. Almost every idea or activity proposed includes suggested material for the interested reader to follow up.
The supporting bibliography is extensive. On the more whacky end of the spectrum is the story of the guy who weighted the cost of a truck load of dirt against the cost of another video game for his kids and went with the load of dirt. Another is the "create a sandcastle or village, and sand people, and then crown yourself. Naturally". We are taken from the mundane to the frivolous, and it is enchanting (subjects not included)!
Missed opportunities and knowledge gaps. Does this speak to the insta-everything generation?
The book takes a stab at the matter of engaging the technology-savvy, on-line kids of today in a chapter titled "High-Tech, High-Nature?". I feel for my generation (40+) here as I honestly think we do not "get it". When my 14 year old son explains something funny to me he has seen or read on the internet, a meme, or a comment from a prominent YouTuber, I am often left frankly bewildered. The suggestions offered here are laudable and range from the techno-visual to "sound catching".
I do not think however that it is enough, and it all feels too solitary. Where is the audience? Perhaps the message is simply that if we don't catch our youth and nature-infuse them before they become young teenagers it is simply too late (#simplytoolate). Making nature sexy to young adults is an ongoing concern of mine, and while the activities and suggestions here are great, I am not sure this is something that Louv resolves in his book. That said, throughout the text concerted effort is made to be inclusive, and in general it works. There is reference to the disabled, the young, the old, the new-to-nature, those with particular conditions, and direct engagement with different cultures. In addition to these overt references there are numerous points in the text where the "voices of others" are included with quotes from parents, caregivers, teachers and other members of society, all of which serve to set the reader at ease. It is a generosity on the part of the author too, to share the joy of making the point he sets out to, and it is well received.
How might this look in a Global South context?
The book is unapologetically situated in the Global North, with regular reference to North American and United Kingdom circumstances, species, clubs, resources and opportunities. I stumbled on one reference to South Africa and Australia, which notes the potential dangers of snake hunting in these countries.
I think an equivalent book speaking to the global South would look very different. In South Africa, my home, it would have to include attention to encountering and engaging with the homeless, concerns around water health, animal-related safety, a diversity of experience with nature among participating members often related to socio-economic circumstance, and watching out for edgy property owners who may be hostile to unexplained adventurers on their land. That said, these are just the kinds of things that keep many South African youth indoors and I think a book like Louv's Vitamin N is just as necessary here as elsewhere in the world.
Before I head out to rub my toes in the dirt, some final thoughts
Louv's Vitamin N certainly got me thinking. The fact that we have come to the point where we must be instructed on how to build a sandcastle is disconcerting, and something of which we need to sit up and take note. I enjoyed the book, and did feel it sought a breadth of engagement to be as inclusive as possible, or certainly as it set out to be.
It did however raised questions for me, like "Whose interests are not met in this book?", and "How do we really engage with these on-line beings that are the children of today?" I am not sure we have answers here, and while Louv's efforts are to be applauded, there is still certainly work to be done.
My final question to myself of course is, "How can I too write like this?" Louv achieves something akin to a friendly fireside chat. His information is substantive and eclectic making for interesting ideas, all presented in wonderfully succinct prose.
Pippin Anderson
Cape Town
To buy the book, click on the image below. Part of the proceeds return to TNOC.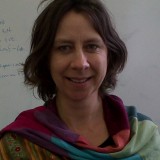 Pippin Anderson, a lecturer at the University of Cape Town, is an African urban ecologist who enjoys the untidiness of cities where society and nature must thrive together. FULL BIO