Swedish lawns inspired by Swedish nature. The goal is to create biodiverse, aesthetically pleasant, and economically effective urban plant communities based on the Swedish flora. Such biodiverse lawns can return wild nature to the urban neighborhoods.
The manual
Lawn Alternatives in Sweden
.
From Theory to Practice
shared the results of the transdisciplinary project "Lawn as ecological and cultural phenomenon: Searching for sustainable lawns in Sweden" (2013-2016, funded by FORMAS) and suggested practical implementation—guidelines for possible alternatives to existing contemporary lawns in Sweden. This essay excerpts some of the ideas in the manual.
Why should we care what is underfoot?
Most people associate lawns with everyday urban life. A green carpet is considered a compulsory element of all green areas. Lawns look very similar and can be found in all climatic zones. We think we know all about lawns, but in reality, studies on this subject are sporadic. The majority of the world's literature mostly concerns creating a perfect lawn. However, there is a growing interest in lawn as a global urban ecology phenomenon.
The first surprise while writing our manual was the lack of a decent definition of lawn. We need to fill this gap and define what is a lawn. We strongly emphasized its man-made nature, the dominance of certain selected grasses, the importance of management regimes and its role in fulfilling different human functions.
The LAWN project
Our manual can be seen as a classical example of applying results of a scientific project into landscape architecture practice. The LAWN project ran for several years and used a whole range of quantitative and qualitative methods. We used a transdisciplinary and a multiscale approach: from the large scale (estimating the total coverage of lawn as a land use type) through the medium neighbourhood level (providing typology, coverage of lawns, their functions, values and use in parks or backyards) to the fine level of the lawn itself, with emphasis on biotope characteristics such as biodiversity and carbon sequestration. We aimed to represent the geographical varieties in our case studies, researching lawns in Uppsala (upland of Sweden), Göteborg (west part), Malmö (south part), People's Home (Folkhem), and Million Programme typologies due to their domination in Swedish settlements. These housing types reflect a particularly Swedish style of development after the Second World War, allowing for the creation of the Swedish societal model emphasizing equality and public access.
Within each city, two types of lawns were identified for study: conventional lawns, and meadow-like lawns in multi-family residential housing areas (Figure 1). Golf courses were also included because of their very intensive use of resources. In the era of unification of urban environments, we definitely need to look at aspects of biodiversity (species diversity and composition of higher vascular plants, bees, butterflies and earthworms) and estimate environmental impacts of differently managed lawns. The interdisciplinary character of the project allowed us to model carbon sequestration and the balance between sequestration and emission of greenhouse gases (GHG). The energy use and emissions of GHG were assessed in a lifecycle perspective.
The results of our projects show that lawns have really conquered Sweden in the last 50 years and cover an area as big as Lake Mälaren (the third-largest freshwater lake in Sweden), or 0.6-0.9 percent of the whole country. The good news is that lawns have a positive carbon sequestration effect. However, this is "balanced" by the intensive management (mowing, irrigation and fertilisation—mostly in golf courses), which requires fossil fuel energy and labour costs and causes greenhouse gas emissions. Mowing is the main contributor to greenhouse gas emissions from most lawns.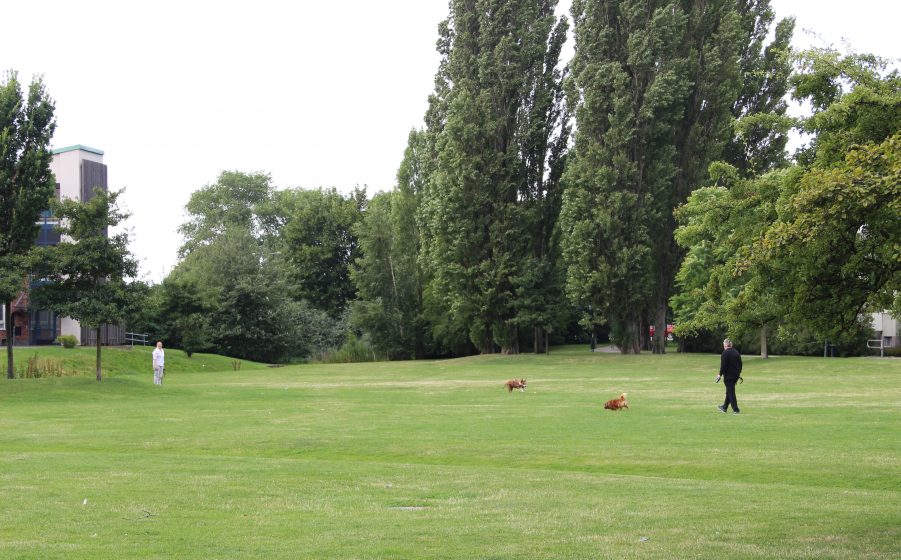 Knowing results which were received in the USA, UK, and New Zealand on the biodiversity of lawns, we were not really surprised by receiving the confirmation that conventional lawns have lower biodiversity compared to meadow like lawns.
Our social results also clearly indicate a common fact: lawns are particularly valued by urban dwellers as important places for different activities. People cannot imagine life without lawns (Figure 2).
However, people expressed concern about too many grassy areas, which are unused and look monotonous (Figure 3). People associate the modern way of life with a variety of outdoor spaces, which could provide them benefits for recreation and health. In many cases the residents and managers were quite receptive to suggested images of alternative lawns.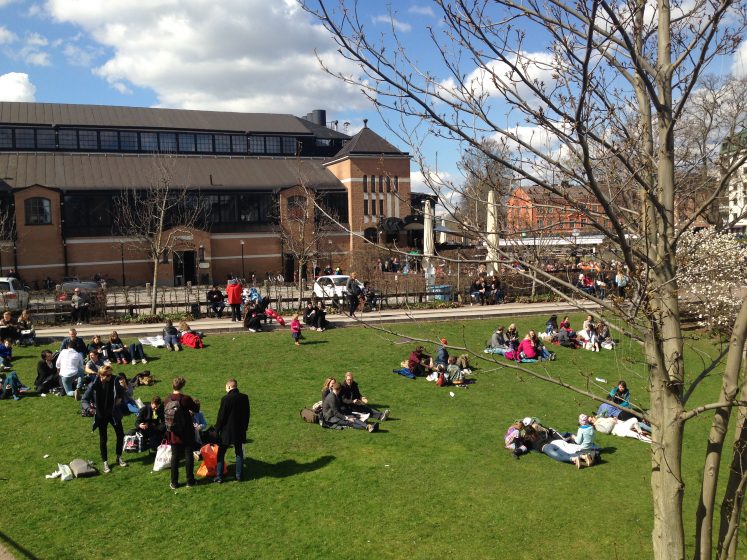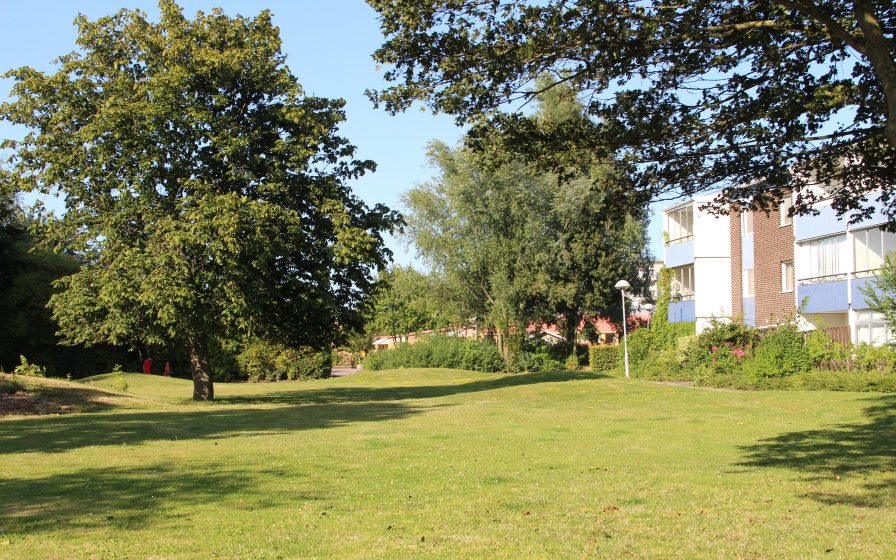 Results of the LAWN project provided a very good understanding of the situation with lawns in Sweden, and outlined possible pathways towards alternative solutions and their realization in real life.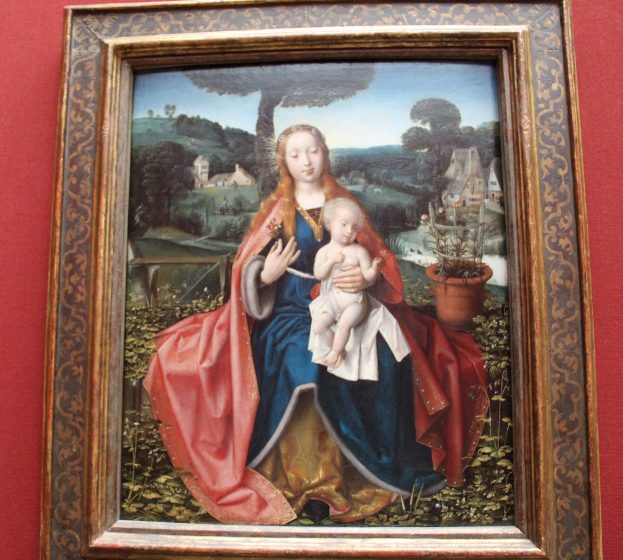 Two important sources for alternative solutions to conventional lawns were our studies related to the historical roots of lawns in Sweden and the etymological exploration of the Swedish word gräsmatta (lawn in Swedish), and related terms. Swedish lawns generally followed the European pathway of development, very similar to other countries—from small pieces of flowery rich meadows of medieval castles and monastic gardens, to grass parterres in formal Baroque gardens, to the extended grassy areas in English-type parks, to public gardens, and finally to modern urban landscapes (Figure 4). However, Sweden, due to it specific and long agricultural history of creating and using grasslands for stock grazing, has very good "prerequisites" for accepting lawns and turning this unique garden feature into a compulsory, prefabricated element of all urban green areas as a "Swedish model". The Swedish emphasis on developing a democratic and equal society even resulted in creating a special word for lawn in the middle of the 19th century—gräsmatta.
Analysis of Swedish municipal documents resulted in identifying different types of lawns and grass-dominated areas in Swedish cities, for example, conventional lawns, parade (ornamental) lawns and meadow-like lawns (high grass and meadows). Such critical analysis helped us to understand the current trends in management and maintenance of lawns in Sweden and choose potential case studies for alternative solutions.
Conventional lawns received special attention. This type of lawn is the most common in Sweden and withstands different recreational activities. Swedish managers even asked us for special research, which could help them in their everyday practice of handling environmental (shadow or draught) and recreational pressure in damaged grassed areas.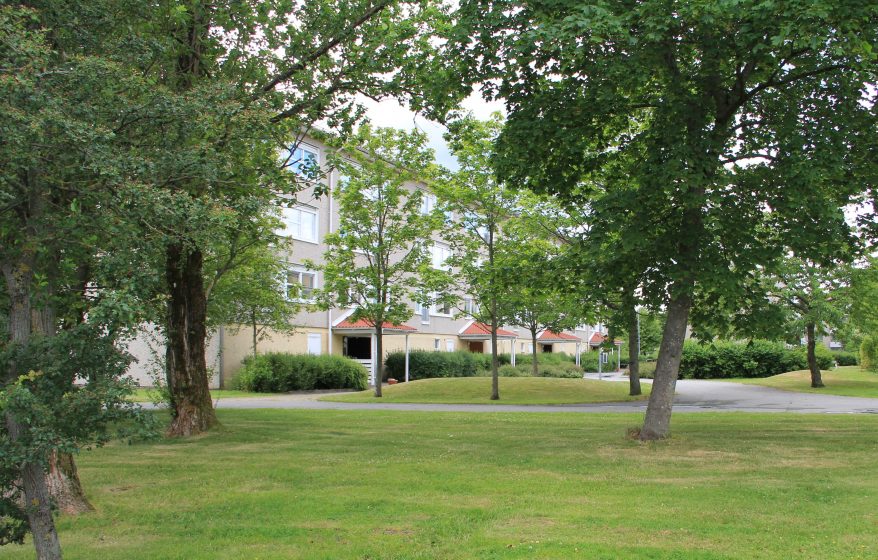 We conclude that today the conventional lawn practice is quite dominant, but that there is growing awareness among managers of the importance of introducing a more environmentally friendly maintenance regime and the necessity of reducing the costs of lawn maintenance. There are a small percentage of so called "high-grass lawns" or "meadow-like lawns". Such areas are located mostly on the outskirts of neighbourhoods or public parks.
Even though the main aim of this manual is to provide a guide for creating lawn alternatives, we would like to emphasize that it is not possible, nor is it necessary to completely replace conventional lawns. By suggesting alternatives to conventional lawns, we aim to increase awareness regarding the planning and design of green spaces, and to introduce a new paradigm for creating diverse and sustainable urban environments.
Lawn alternative case studies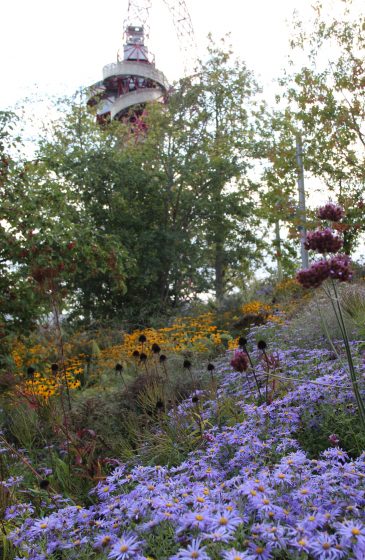 There are a number of lawn alternatives based on existing case studies from Europe, North America, and Sweden to be considered. English examples included creation of annual pictorial meadows (a mixture of native and exotic plants), native meadows (a perennial mix) and English naturalistic herbaceous plantings. The most famous examples of English alternative plantings can be found in London's Queen Elizabeth Olympic Park (Figure 6).
There is also the most recent alternative lawn approach in the UK—grass-free lawns, based on perennial, low growing herbaceous plants. The most recent approach developed in Germany—"Go spontaneous"—aims at increasing urban biodiversity and design with existing natural ruderal plant communities.
The Swedish-inspired approach
The Swedish approach for alternative lawns is based on respecting the country's rich garden and horticultural history. There is the unique Swedish company Pratensis, exclusively producing Swedish wildflower seeds, and for ten years developing experimental meadow sites. Veg Tech—another leading company in Scandinavia—specialises in growing native plants including prefabricated meadow mats.
Our vision for lawn alternatives for Sweden is inspired by Swedish nature. Our goal is to create biodiverse, aesthetically pleasant, and economically effective urban plant communities based on the Swedish flora. Such biodiverse lawns can return wild nature to the urban neighbourhoods. We recommended several types of lawn alternatives:
Grass-free/tapestry lawns created by sowing or pre-growing plug planting
Perennial meadows (created by sowing)
Prefabricated (ready) meadow mats
Our recommendations were based on the case studies from the Pratensis AB and our experimental plantings at SLU Ultuna Campus established in 2014-2017.
The most important conditions for establishing alternative lawns are sun-exposed sites with poor soils that drain well. Less fertile soils benefit most meadow wildflower species. Our practice clearly demonstrated that the most effective way of turning conventional lawn into meadow-like vegetation is the removal of existing turf and addition of new soil. Even this method requires a high initial financial input, but it guarantees the successful establishment of a meadow-like lawn. We provided detailed tips on sowing and planting practices. Special attention was given to maintenance tips such as mowing. For example, meadow-like lawns need mowing only once a year and tapestry lawns up to two-three times per year.
At Knowledge Park in Ultuna Campus (SLU, Uppsala) we established four types of lawn. A detailed list of plants (and planting plan), flowering calendar (what to expect from May to September), and information on establishing experience and the maintenance plan are available in the manual. Our alternative planting won the UK Green Flag Award of 2017.
Our Swedish tapestry/grass-free lawn was inspired by the European late medieval paintings and interpretation of informal 'flowery mead' or meadows of paradise, planted with a great variety of aromatic herbs and flowers. Our "wish list" is to enrich biodiversity and be in harmony with nature. This lawn consists of 30 herbaceous plants native to Sweden, which provide the effect of a low-growing flowering carpet that can be used for recreation and which will be cut only 2-3 times during the summer season (Figures 7 and 8).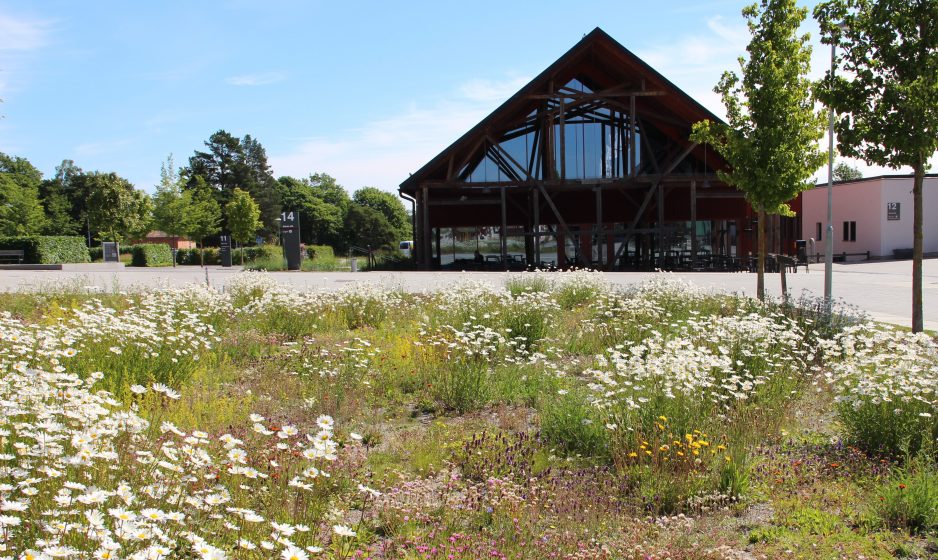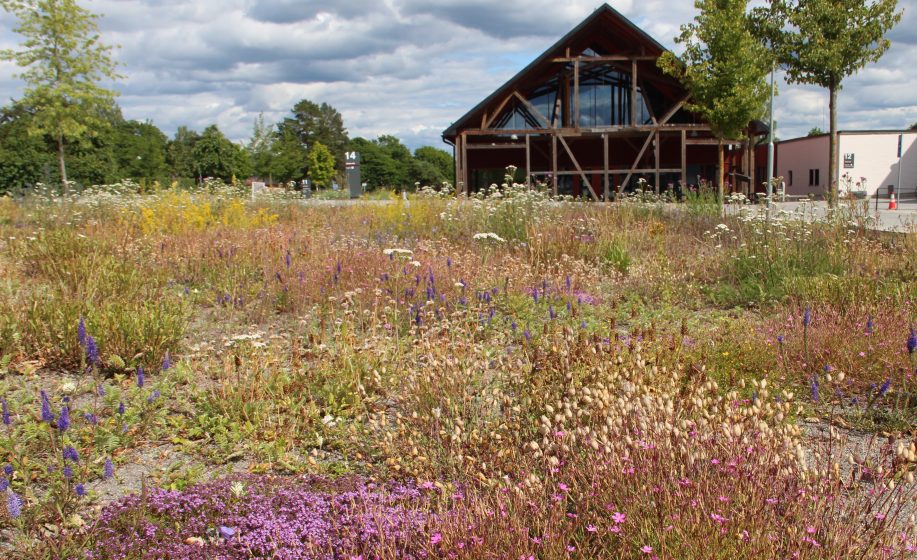 Our meadow-mat with picnic bench was made from prefabricated meadow-mat provided by Veg Tech, consisting of 16 native low-growing perennials and grasses. The popularity of such ready meadow-mats is increasing in Europe. The beauty of such mats is their durability and capacity to survive in quite harsh environments. That is why such mats can be seen today along the highways and roads.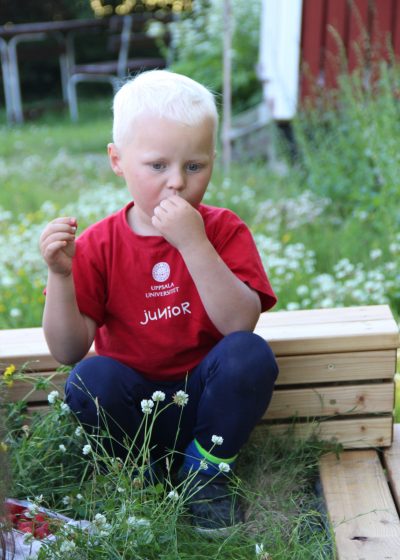 Taking into consideration the fact that visual simulation is one of the most effective tools for municipalities and the public to accept alternative thinking, we suggest redesigning some existing neighbourhoods in Gothenburg and Malmö through establishing different types of alternative lawns even in small public courtyards. A thorough inventory and site analyses were important prerequisites of proposed design solutions. Nice pictures before and after were an effective "trick" showing how we can turn a sterile monotonous green surface into a colourful and joyful natural landscape.
This book addressed the existing situation in Sweden (absolute dominance of short cut conventional lawns) and identified a new trend of moving away from the dense grass-dominated turf model towards more naturally looking grasslands where grasses and different herbaceous plants coexist and provide a whole range of ecosystem services.
The Lawn Alternatives in Sweden manual has an extended reference list and numerous original photos providing a visual tour on how to establish alternative lawns in Sweden.
Maria Ignatieva
Perth
This Manual is written by Maria Ignatieva with contributions from the LAWN project team: Thomas Kätterer, Marcus Hedblom, Jörgen Wissman, Karin Ahrné, Tuula Eriksson, Fredrik Eriksson, Pernilla Tidåker, Jan Bengtsson, Per Berg, Tom Eriksson and Håkan Marstorp and help from the stakeholders: Inge and Mat Runeson (Pratensis AB), Lina Pettersson (Veg Tech) and Maria Strandberg (STERF). Design proposals were developed by the SLU Master's students: Sara Andersson and Ulrika Bergbrant and John Lööf Green.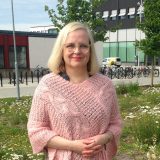 Maria is working on the investigation of different urban ecosystems and developing principles of ecological design. Her latest FORMAS project in Sweden was dedicated to the lawn as cultural and ecological phenomenon and symbol of globalization.