How can humanity live, together with this earth instead of against it? This question is at the core of what both City as Nature and FRIEC are doing.
Co-sponsored by
The Nature of Cities
and
FRIEC
, the inaugural
City as Nature Festival
took place from 11-22 October 2019 in Osaka, Japan. Featuring interactive, place-based art, workshops, concerts, walks, talks, and storytelling events, the festival aimed at cultivating our awareness of urban environmental landscapes.
The works and activities within the City as Nature Festival represent not only multiple disciplines and ways of seeing, but also nearly every living generation, with participants ranging in age from 5 to 89 years.
Speaking to themes of environmental justice, the voices of festival participants consider both human consequences and those of our non-human brothers and sisters—plant, animal, fungi, bacterial—with whom we share this precarious position, as living beings struggling to find our proper place within a living, rapidly changing, earth.
In doing so, thirty creative practitioners from seven countries and over eight-hundred festival attendees helped each other to uncover moments and places where humans and our cities are intertwined with the rest of nature.
Core Festival Exhibition
Water: Multi-Species Migration and Displacement
When we think of the roles that flags play in our culture, we most often think of their divisive roles. A national flag for instance, brings together people within borders, yet in doing so, it also requires the alienation of the people inside those borders, from those on the outside. Such flags create unity, yet also division. But what of the flags which unite us with each other and our environments, rather than divide us?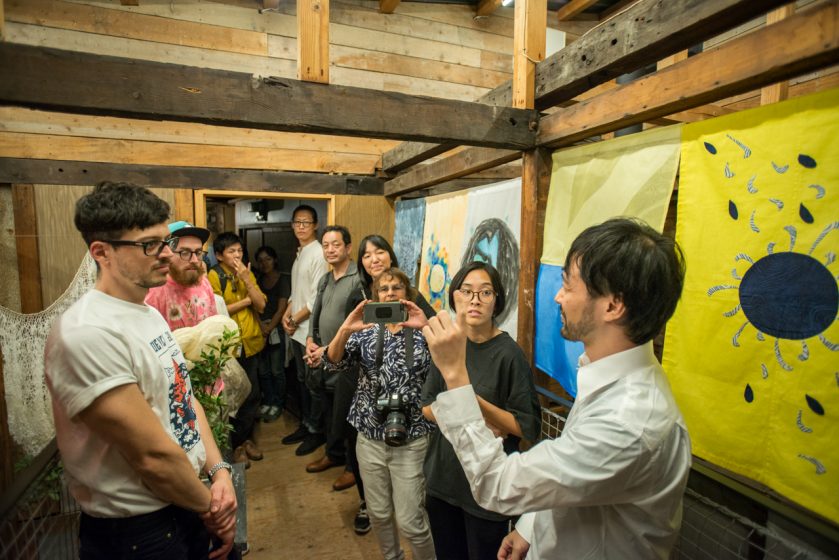 This question forms the nexus of the exhibition, Water: Multi-Species Migration and Displacement. The core exhibition of the City as Nature Festival in Osaka, this exhibition is based on the system of international maritime flags, and it enables us to take a different view of what flags might represent. The works give new life and meaning to a 150-year-old system of international maritime communication, creating, as artists Robin Lasser and Marguerite Perret state, a "new language" that like the ocean itself, is in a continual state of ebb, flow, and transformation.
Here, rather than symbols of division, flags start their life as symbols of unity, and of a common language across and through bodies of water. These symbols have been further transformed by artists into celebrations, messages, and inquiries at the crossroads of culture, creativity, and our living environment. Rather than tools to stake claim and build borders, the flags here offer us bridges between borders.
Indeed, the bridges created within this exhibition are many: bridges between countries, generations, social standing, and economic power, between disciplines, between jobs, between ways of living, and between political viewpoints. In this, they show the power of art to help cultivate social wellness between people of different backgrounds and cultures, connecting human concepts of place, power, and providence.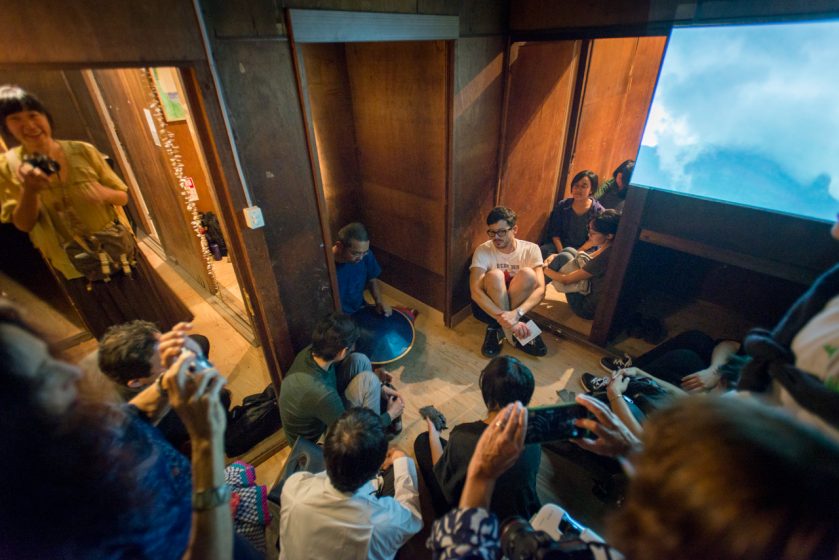 To mark the occasion of the exhibition's visit to Osaka, the curators invited a cast of nearly thirty creatives from seven different countries to contribute works of textile, sculpture, photography, drawing, installation, weaving, film, music, and performance. Further groups of volunteer teachers, community leaders and academics, helped connect the exhibition with the community by co-hosting various public events and workshops. These participants add their voices to an already impressive array of what is now more than 120 artworks from professional artists, students, and the general public, that comprise the Water: Multi Species Migration and Displacement project to date.
Art & Nature: Connecting neighborhoods, regions, and nations
Of the artworks displayed in Osaka, roughly half are produced by international artists, and the other half by artists living in the Kansai region where the exhibition is being held. Though these works vary widely in medium, they are all linked together, through a common goal of examining our relationships with water. Perhaps just as important, they are also linked through the geography and history of the very place where the exhibition is held, and its own relationship with water.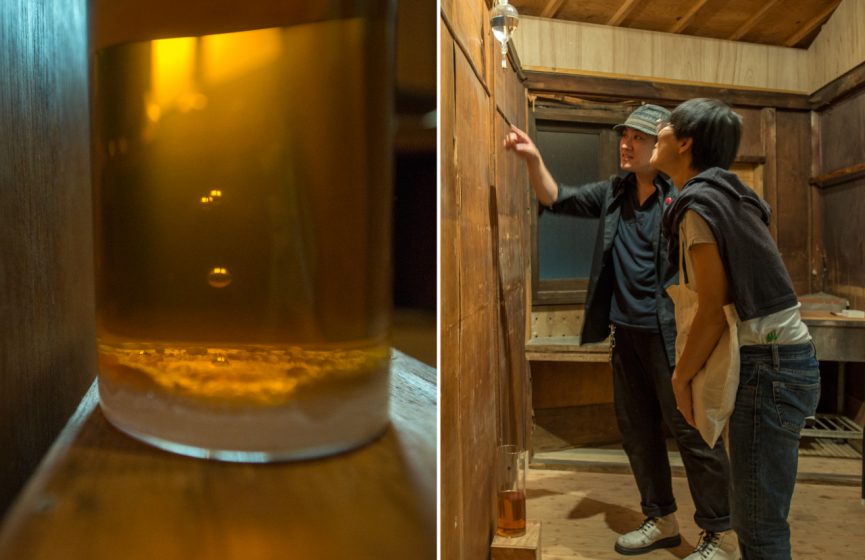 Today, the Osaka neighborhood called Kitakagaya hosts a combination of warehouses, factories, gardens, homes, small businesses, and artist studios at estuary's edge. Chidori Bunka, the main exhibition venue for this festival, was built and repaired, often in strange fashion, by the shipwrights who lived here over the course of several decades. Informally, their marks also make up part of the exhibition. A few centuries before the shipbuilding factories, this entire area was itself part of the ocean. This land today, still breathes with the sea.
The art here speaks to these local situations, and yet also to a larger global awareness and context. As this exhibition docks itself in Osaka, it enters a space and time where the urban landscape becomes part of the artwork, not only as a subject, but through engaging the eyes, ears, hands, and minds of local people—craftspeople, farmers, chefs, architects, children, parents, teachers, students from local high schools and universities, and various other practitioners—in dialogue, and in the act of producing new knowledge.
In doing so, they offer us clues to answer a critical question facing humanity: How can humanity live, together with this earth instead of against it? This question is at the core of what both City as Nature and FRIEC are doing.
As we have learned, the answers here—as any answer to such a question must be—are unique reflections of the diverse individuals asking the question. Their common ground is in acknowledging the need to form working relationships with their environments, and in this, each culture, each place, and each person must find their own ways. In this multitude voices, the participants each play a role in following the water's path, uncovering and sharing the wisdom it gives each of us along the way. Through the power of art and awareness, such community-engaged exhibitions fulfill an important role for the future of humanity, by helping urban dwellers investigate the collective and connected current of which they are a part.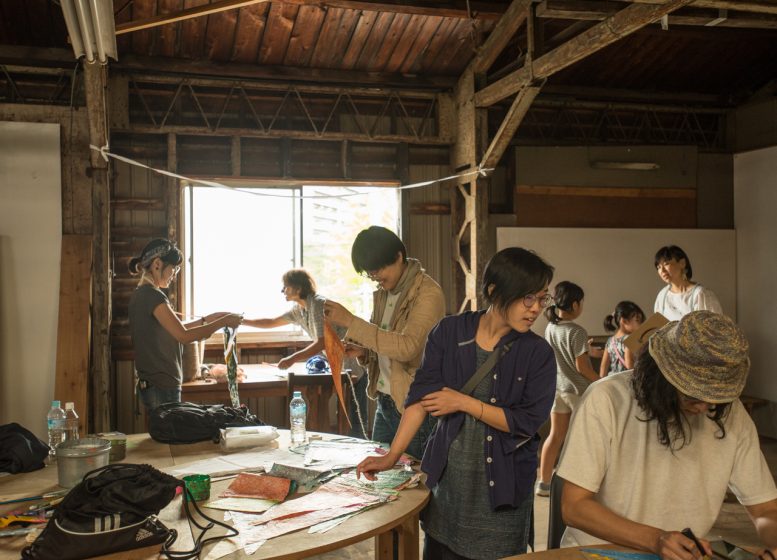 One might also view this exhibition as a river, one which flows and meanders its way through mountains, into low-lying valleys, wetlands, and further out to sea, along the way collecting and depositing—as rivers do—valuable nutrients. Each momentary pause offers a chance to deposit the treasures of person and culture from the last place, while collecting new treasures to bring where the currents take these works next.
Where will the currents take it next?
Patrick M. Lydon
Osaka
Banner image: Musician Miyu Hironaga (Osaka, Japan) performs Japanese water music during the festival opening ceremonies. Photo: Patrick M. Lydon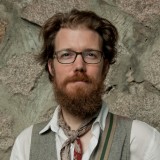 Patrick M. Lydon is an American ecological writer and artist based in Korea whose seeks to re-connect cities and their inhabitants with nature. He writes The Possible City series, is co-founder of City as Nature (Daejeon). He is an Arts Editor here at The Nature of Cities.