"Both [US political] parties agree: Trees are infrastructure. The bipartisan infrastructure deal moving through the Senate includes at least $5.75 billion for restoring, monitoring and researching forests, according to the legislative text and summary. Beyond money, the package also includes policies that could make it easier to prepare for wildfires. That's a significant slice of the deal's $46 billion resilience spending."Climatewire, 8/3/2021
The concept of green infrastructure has evolved from a novel buzzword into an umbrella term for the value that nature provides benefits to society. Can it be built into policy and law?
As someone who has followed US environmental policy since the early 1990s in my internship with the National Commission on the Environment, I was very pleased to see proposed US Federal investments in green infrastructure in the latest bipartisan infrastructure bill moving its way through the US Congress. Even with the topic of forest management policy being quite controversial, it is significant that these debates are happening in the context of a discussion on infrastructure.
The concept of green infrastructure has evolved from a novel buzzword into an umbrella term for the value that nature provides to society. Its first high-profile reference came in U.S. President Bill Clinton's Council on Sustainable Development and identified it as one of five strategic areas of sustainable community development. It became a recognized planning practice in the early 2000s, crystalized by the publication by my former colleagues, Mark Benedict and Ed McMahon, in 2006 entitled Green Infrastructure: Linking Landscapes and Communities.
While green infrastructure has many definitions and goals, it successfully encompasses an array of strategies intended to improve environmental and human health. The infrastructure bill complements green infrastructure investments such as the US Land and Water Conservation Fund (LWCF).
The infrastructure bill that is being finalized by the US Congress acknowledges that maintenance and management of green infrastructure are also important investments. While LWCF has funded over 45,000 conservation projects in every state and nearly every county in the United States, the infrastructure bill helps ensure that many of these investments are protected and enhanced. Here are some examples of the types of green infrastructure maintenance, management, and enhancement that are included:
Invests in erosion protection and burn rehabilitation in water supply watersheds
Authorizes preventative community wildlife defense grants
Allows pre-disaster mitigation grants to cover wildfire projects
Funds forest thinning, prescribed burns, and fire breaks
Permits conversions of decommissioned forest roads into forest management projects
Expands multi-agency drought and wildfire monitoring and forecasting
While the potential impacts of these investments are subject to debate, I am hopeful that this is just the down payment on US Federal green infrastructure investments over the next few years. The current infrastructure bill provides investments in landscape scale green infrastructure, but we also need investments in site scale green infrastructure where cities also can benefit.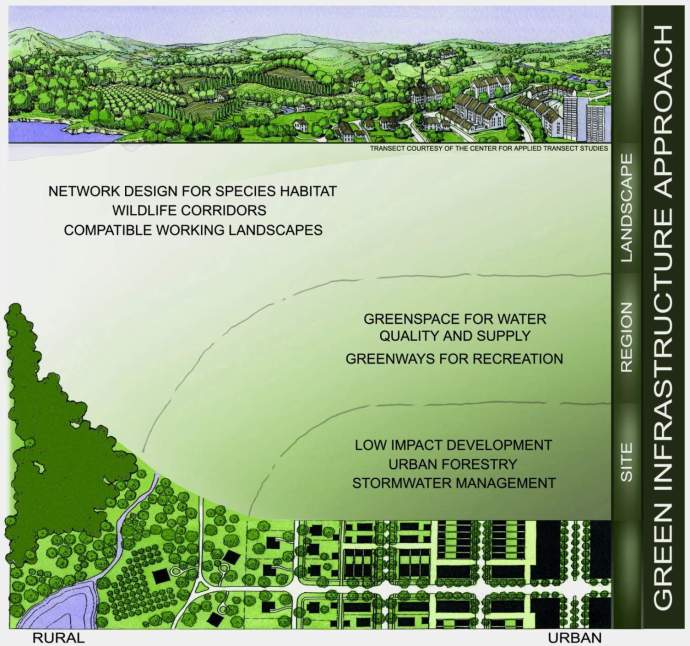 The Center for Neighborhood Technology and American Rivers, in their 2010 joint report define site scale green infrastructure as "a network of decentralized storm-water management practices, such as green roofs, trees, rain gardens, and permeable pavement, that can capture and infiltrate rain where it falls, thus reducing stormwater runoff and improving the health of surrounding water-ways." Investments in these solutions provide an array of air quality, water quality, urban heat island, and habitat benefits. Wouldn't it be wonderful for infrastructure funding to be available for plans like the Philadelphia Green City Clean Waters to complement the funding provided by rate payors as part of the City's consent decree?
In conclusion, as I advocated in my 2012 article on green infrastructure, everyone can play a part in maintaining, enhancing, and restoring green infrastructure—from city residents to developers to public agencies to large private landowners. Voluntary private land stewardship through LWCF will always be a key element, but complementary US Federal investments in site scale green infrastructure will ensure that the maintenance and enhancement of our city's green infrastructure can be done at scale.
Will Allen
Chapel Hill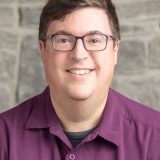 Will is the Senior Vice President of Strategic Giving & Conservation Services at The Conservation Fund in Chapel Hill, NC. At The Conservation Fund since 1994, he formerly served as the Fund's director strategic conservation planning and enterprise geospatial services and as an instructor for green infrastructure and conservation GIS training courses.