A key to the Urban Systems Community of Practice Ecosystem being explored is how to create and use structures that give the highest levels of participation, whatever the level within the system. For this, fractal systems were explored.
UrbanA, ECOLISE, and Communities for Future joined forces to lead an experimental seed session on the first day of the amazing The Nature of Cities Festival (with online discussions on the #TNOCFestival hashtag). About 25 people turned up from different corners of the planet, on Monday 22nd of February 2021, to explore the topic of "Translocal adventures in developing an Urban Systems Community of Practice". The event was hosted by Giorgia Silvestri & Duncan Crowley from UrbanA and Sara Silva from ECOLISE.
The Festival attempted to push boundaries to radically imagine our cities for the future; its stated aim was to explore how to build better cities for nature and all citizens. The virtual festival spanned 5 days with programming across all regional time zones and translations provided in multiple languages. Our event sought to build on the guiding philosophy of the moment in these strange times:
A lot of what we are trying to do with this event is experimental… Lots of people, time zones, languages, ways to interact. We might make some mistakes along the way. Please be patient.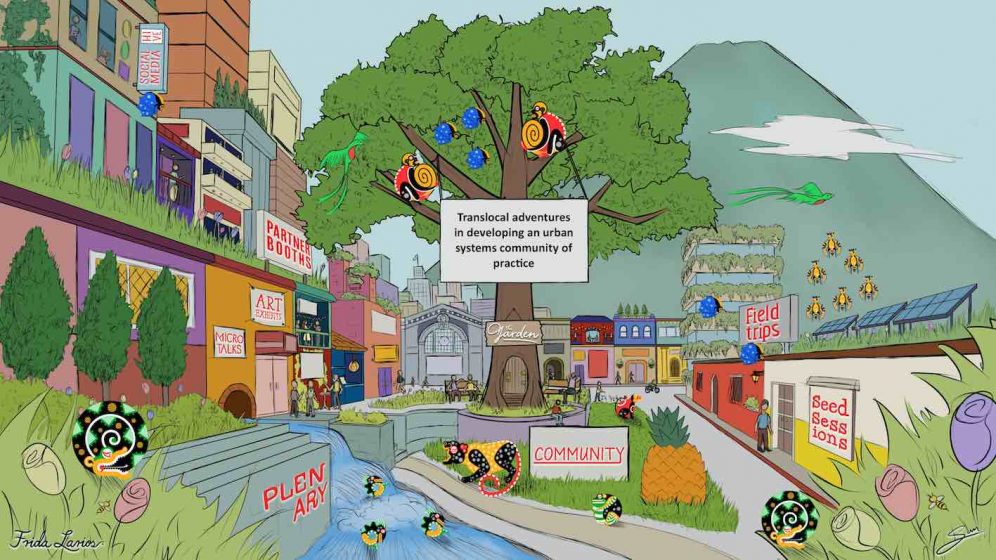 What was tried
ECOLISE is the "European Network for Community-Led Initiatives on Climate Change and Sustainability" and is the chief driver of these three interconnected projects. The overall aim of the work is to enable massive citizen-led system change to counter Climate Breakdown. The domain that this Urban Systems Community of Practice Ecosystem supports is nothing less than full eco-social just transition, to return the scope of human activity back within the limits of planet earth. Or to reconnect our ecological and economical worlds, as Satish Kumar so wonderfully put it some time back.
ECOLISE spent most of 2019 developing a new action platform, a rallying point for everyone and anyone to organise around, a toolkit of tricks to radically change our own backyards. Inspired by the wonderful Fridays for Future movement, they created Communities for Future and launched it last September.
The TNOC event was an experimental step, to try to move the process further down the road of change. It aimed to share the story so far, maximize guest participation, allow diverse discussions to develop, harvest insights from the group, and encourage wider participation in the CfF CoPs Ecosystem process after the event. The event's structure was based on UrbanA's "Community Conversation" (CoCo) format and was part of the 3rd stage development of the UrbanA Community of Practice (CoP). The structure of the 1.5-hour long event was divided into 3 distinct sections:
1st half-hour: General presentation + intro questions.
2nd half-hour: Breakout rooms + Listening Rooms. These happened at the same time.
3rd half-hour: Feedback, to hear back from the Breakout Rooms & Listening Rooms in Plenary. This was followed by open discussion.
A key to the Urban Systems Community of Practice Ecosystem being explored is how to create and use structures that give the highest levels of participation, whatever the level within the system. For this, fractal systems were explored. The introduction presentation briefly explored the use of city river basins, and mini basins, as fractal systems for the design of ecocities, nested local community assemblies, as An Ecobarrio for Curitiba? (2018) explored. (The recent Indigenous legal victory of the Māori tribe of Whanganui was also remembered; We are the river, the river is us) A recent academic publication from Jamila Haider was also looked at, to assist this idea of scales of activity: Rethinking resilience and development: A coevolutionary perspective.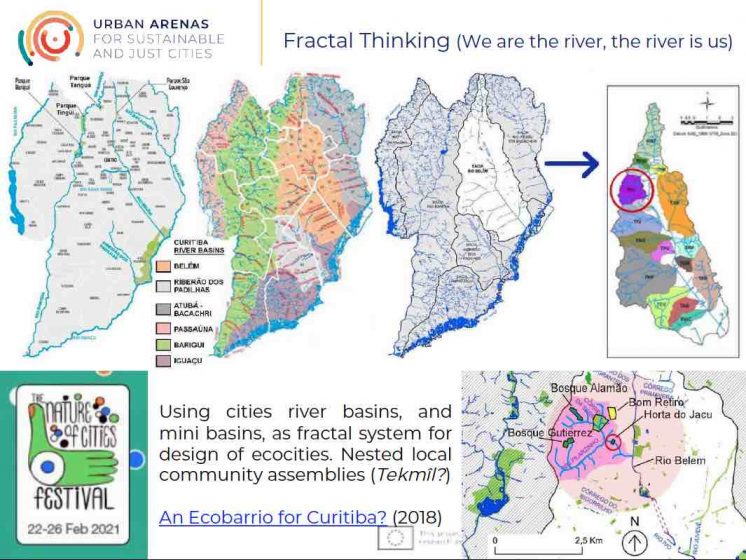 In the UrbanA section of the intro presentation, some space was given to outlining some of the theory behind this concept; Communities of Practice, or what in academic shorthand we refer to as CoPs. This included Margaret Wheatley's wonderful 2006 work on Emergence theory developing in three Stages to bring about system change:
Networks (Discovering Shared Meaning and Purpose)
Communities of Practice (Developing New Practices Together)
Systems of Influence (New Practices Become the Norm)
The method used normally in the UrbanA CoCos during the 2nd half-hour is a series of Breakout Rooms of about 4–10 people, to open up spaces for all voices, maximise discussion and enable a process to feed critical insights, questions, or relevant links to projects into a Harvest Document. These moments are normally not recorded, to maximize openness. Noticing in previous sessions that not everybody wanted to participate in such a fashion, or perhaps due to language difficulties, or that some people just preferred to listen to great stories about great projects, the UrbanA team began to add a simultaneous process during the 2nd section, the Listening Room. They never had more than one, and it was used to expand on the core presentation idea or explore a specific case study on the topic. The projects were presented in greater detail for 20 minutes, followed by a 10-minute Q&A session, with responses given to questions typed in the Zoom chat. These sections were recorded and shared later on the UrbanA blog.
In keeping with TNOC's experimental streak, for this session, newer dynamics were tested. Breakout Rooms and Listening Rooms were divided into 4 themes; following the design system developed by the Global Ecovillage Network (GEN); The 5 Dimensions of Sustainability which sees a system divided into 4 main dimensions: Social, Cultural, Ecology, Economy, with the extra dimension of Whole System or Integral Design, integrating all four dimensions into one. This structure forms the base of The Ecovillage Map of Regeneration and the Ecovillage Design Cards, which can be explored here.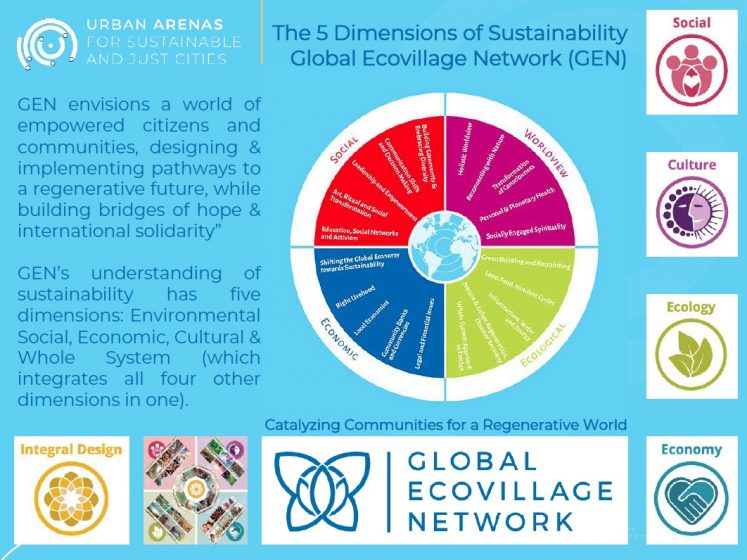 For the event, the structure of the event itself was the Integral Design, with the Breakout Rooms and Listening Rooms both divided into the 4 Dimensions.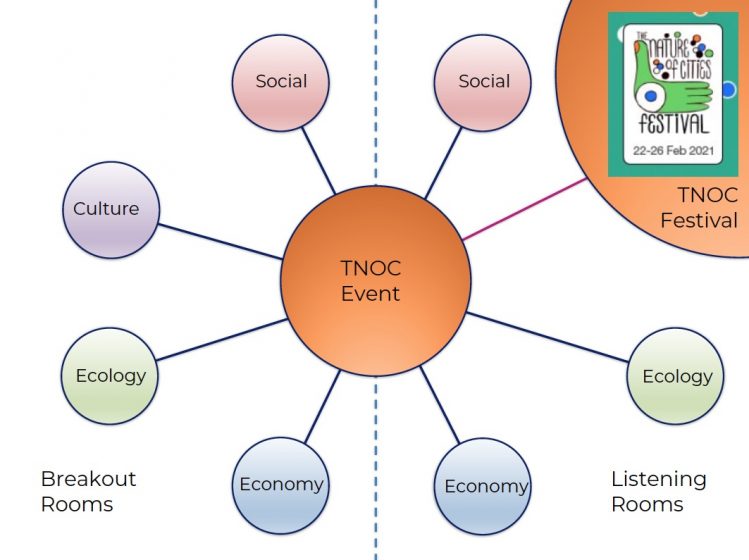 Furthermore, the Listening Rooms were scheduled to have three separate presentations from different projects underway in Lisbon: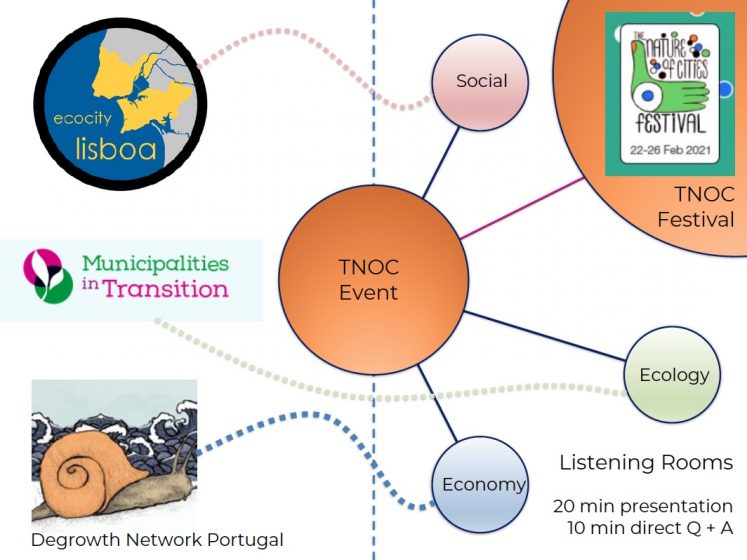 Lastly, to realise the event, a call-out went out to friends and colleagues for assistance, with not much time to organise and prepare before the event. This resulted in a group of 15 people joining forces from different countries, backgrounds, and communities or projects. Although the group had never worked together before, there was a willingness and excitement to try something new, plug into the experimental world of TNOC. Hopes were high.
How it went
There were good points and bad points. On the macro, outside level, it worked very well in pulling the somewhat disparate processes of UrbanA and Communities for Future closer together, enabling new working relationships to form. The group of 15 mostly found the experience enriching, the discussions stimulating, and enjoyed connecting into the TNOC festival.
It was an experiment, it worked pretty well. Some people had trouble finding their way to the exact Zoom link, maybe others couldn't find the event? The explanation of the Breakout rooms and instructions were not clear enough and much time was lost between sections 1 and 2 trying to transfer to this section. Also, due to numbers being less than hoped for, not all the rooms happened. We attempted to do three simultaneous listening rooms but, in the end, only the Ecology Listening Room happened with MiT. Three of the four Breakout Rooms happened, Social lost out. The Harvesting Document was filled out and interesting feedback was shared in the plenary, with viewpoints from Europe, Latin America, and Asia. The World map was filled in a bit, the general document for sharing of info, links, and projects was not used, so we don't have a good record of what sort of projects were represented from the experience. Perhaps we tried too much but, overall, we feel it was a success. Here are some of what was shared.
Giorgia welcomed the 25 people who turned up for the event and Duncan gave an overview of the event structure and housekeeping (screens on, locations, and projects in name). Duncan then gave the main presentation about ECOLISE, UrbanA, and Communities for Future, this finished with some slides at different scales from the CfF CoPs Ecosystem workspace on MIRO. From this, Sara took the reins and opened up the MIRO board, giving a guided tour walk-through, explaining the work done so far in this process and where we hope to go with it.
Here are the Harvest findings
From Social:
Discuss the question

How best can your community contribute to the Urban Systems Community of Practice?
New concept, hard to add things, seems unclear
How CoP look like? How to interact with other CoP in practice?
How to work with Miro? > can be applied to different scale
CoP: a community with shared interest go deeper in key topics (domain)
MiT have tutors and pioneers > learning together how to implement MiT better | events > facilitator for tools, virtual events, talks; circles of interactions
How to identify knowledge/skill gap (toolkit)? How it is organized esp. in conflict? How to apply in different contexts beyond Europe?
Ex: Sociocracy 3.0 method for governance and interaction with each other in communities with diversity, complexity, different world view. Need to create trust to use methodology, move forward despite conflicts
Ex: MiT toolkit to co-design in urban planning > worked with citizens, designers, politicians 
In relation to question:
Governance model is essential, brings security that people are being heard
What? Who? Why? Decentralized not managed by one group of people but facilitated 
Transparent collaboration and responsibilities
Sense of ownership is important
From Economy:
Discuss the question
How best can your community contribute to the Urban Systems Community of Practice?
Identifying needs and harvesting information about how these needs are being addressed and covered. Promoting self-responsibility. 
Need: Exchange of best practices of grassroots mobilization and public sector advocacy.
Public parks as places of education for sustainability and political expression. 
Places of demonstration of best practices that be upscaled.
Experience of structural constraints (dictatorship) of the market economy on transformative public policies.
Need: Combine bottom-up and top-down approach. 
Need: Advocacy for the taxation of externalities and the redistribution the income of that taxation directly to the people.
From Culture:
Discuss the question
How best can your community contribute to the Urban Systems Community of Practice?
Supporting cultural and sports events (e.g. Brazil – football, volleyball)
International cities (high migration %) are a place where many different cultures intersect
How to better accommodate intergenerational modes of living and sharing
How to reimagine study-work relationship (e.g. sem estudo sem trabalho)
Community-dancing (sport, exercise)
Food can open the gate to cultural knowledge and exchange
Natural and cultural sites
Edible or flower cities (e.g. vertical gardens as culture and colour)
Religion (shift towards eco-spirituality)
To finish up, people were thanked and everyone was invited to participate further in the Urban Systems Ecosystem and to help shape content in the Knowledge Commons of the various projects: ECOLISE, UrbanA, Communities for Future. For those that wish to, there is a chance to participate in a key project of the ECOLISE project: The Status Report. The 2019 Status Report PDF can be found online here.
Thanks to everybody who participated in this event.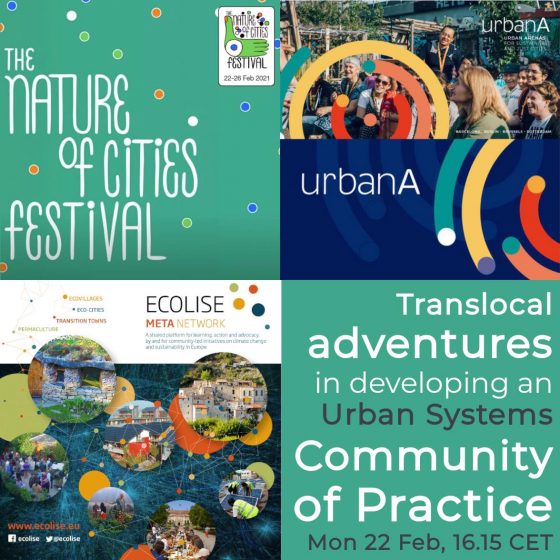 (Quick links: UrbanA event post — Communities for Future Forum — UrbanA blog post — Main presentation — Video — Harvest Document — Listening Room Presentations: — Municipalities in Transition Telheiras — Local energy transition Telheiras — Community-led Ecocity Transformation — Social Media: Twitter — Instagram — Facebook)
(Originally posted on "Communities for Future" Medium page, Feb 27 2021)
Duncan Crowley, Giorgia Silvestri, and Sara Silva
Lisbon, Rotterdam, and Lisbon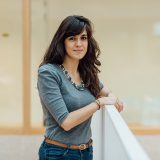 Giorgia completed with honors her Master degree in Environmental Science at Pisa University (Italy) and her bachelor studies at the Faculty of Mathematical, Physical and Natural Sciences at Florence University. Giorgia joined DRIFT in 2014, and she is currently working on various international research projects such as URBANA and TOMORROW.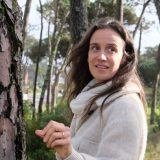 Sara is a landscape architect and a facilitator for sustainability in Portugal. She is the co-founder and coordinator of Cidade Mais, as well as a co-creator of the Awakened Life Project.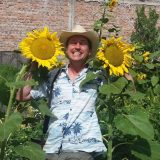 Duncan is an Irish architect and climate activist exploring community-led ecocities through action research in Dublin, Barcelona, Curitiba, and Lisbon. He works with the UrbanA project, ECOLISE (European Network for Community-Led Initiatives on Climate Change and Sustainability), and their Communities for Future action platform.