We need nature-based solutions to not be relegated to being a buzzword but be seen as a standard when it comes to planning cities. And we need applications in the Global South to be context specific, not a copy-paste of what is done in the Global North.
"Sewage water is a bonus for us."
This is what a farmer in the east Kolkata wetlands had to say about the traditional practice of farming using a mix of sewage and freshwater. The wetlands situated in peri-urban Kolkata, a metropolitan city in eastern India, have a fascinating history linked to the growth of the city. It is the story of the transformation of a miasmic swamp from a site of pestilence to a productive one—but a wetland whose benefits are in danger of being lost owing to urbanisation related land use changes. The question then is how can we have a broader vision for our cities that can incorporate urban ecosystems into urban policy and planning?
Nature-based solutions have become a popular concept in recent years. There is also increasing acceptance of nature-based solutions to address multiple urban sustainability challenges. But, while urbanisation in the coming decades is going to be concentrated in the Global South, nature-based solutions as a concept and in their application are more established in the Global North where much of the research has been focused. On the other hand, cities in the Global South, many of which have a scarcity of funds and capacity to invest in built infrastructure, have relied on services provided by urban ecosystems for millennia, without explicitly labelling them as nature-based solutions.
While nature-based solutions have the potential to address the urban sustainability challenges of the Global South, there are two main concerns. The first is how to incorporate urban ecosystems as nature-based solutions in urban planning when there is little recognition of their importance when it comes to addressing sustainability challenges. The second is how to ensure that nature-based solutions are not a copy-paste of what is done in the Global North but are context specific to cities in the Global South. We need "nature-based solutions" to not be relegated to being a buzzword but to be seen as a standard when it comes to planning cities.
What is required is an empirical documentation of existing urban ecosystems that already provide several ecosystem services and highlight their potential as emerging nature-based solutions in Global South cities. In this article, we look at a wetland situated in the peri-urban interface of a metropolitan city in urbanising India. We use this example to highlight how services historically provided by the wetland if viewed as emerging nature-based solutions can contribute to enhancing ecosystem services, provide a better understanding of trade-offs between ecosystem services and disservices and help address sustainability challenges in today's urban planning.
From pestilence to productive: History of the east Kolkata wetlands
The Kolkata Metropolitan Area situated in eastern India is a megacity with a population of 14.1 million and is a historical city. The Colonial origins of Kolkata (then known as Calcutta) date back to 1690 CE when Job Charnock set up the headquarters of the British East India Company in a cluster of villages on the east bank of the River Hooghly. The choice of location for what was to become the first British imperial capital was strategic from the perspective of fostering trade and ensuring safety against invasions. However, the location was seen as less than ideal by others owing to the "marsh and rank vegetation, producing constant and unwholesome exhalations"—the saltwater lakes to the city's east.
As the city expanded, and the population grew, the British were faced with the problems of sanitation and drainage. Originally the waste of the city was directed via canals into the River Hooghly to the west of the city. But, especially during rains, the inflow of water from the river caused flooding and led to sanitation, even epidemics, with high mortality rates. A main cause for the flooding identified in the early nineteenth century was that the drainage had been designed disregarding the topography of the city that had a natural slant towards the east into the saltwater lakes. To correct this, the British built a series of canals carrying stormwater and sewage water to the saltwater lakes that were completed by 1869 CE. Solid waste from the city was also transported eastwards in wagons and dumped in what came to be known as the Dhapa Square Mile. Initiated in the nineteenth century and continuing into the twentieth century, the practice of farming and fishing using a mix of diverted sewage and freshwater helped support the livelihoods of people and served as a food source. Thus, by India's Independence in 1947, the saltwater lakes began to provide two critical services for Kolkata—taking in and treating the waste of the city and generating food through fishing and farming.
Post-Independence, the development of Kolkata progressed rapidly. To accommodate the city's growth large areas of wetland were reclaimed to set up townships, such as Salt Lake City, and for the construction of roads. The wetlands that once extended across thousands of acres began to shrink and were in danger of being completely lost. The livelihoods of the fishers and farmers were also under threat. But thanks to the efforts of individuals like Dhrubajyoti Ghosh, a sanitation engineer with the Government of West Bengal, and orders of the judiciary, 125 square kilometers of the wetlands were demarcated as the East Kolkata Wetlands (EKW) and accorded protection. The EKW was also designated as a Ramsar site in 2002.
But today changes to the EKW, and areas of the wetlands beyond, have affected the multiple ecosystem services.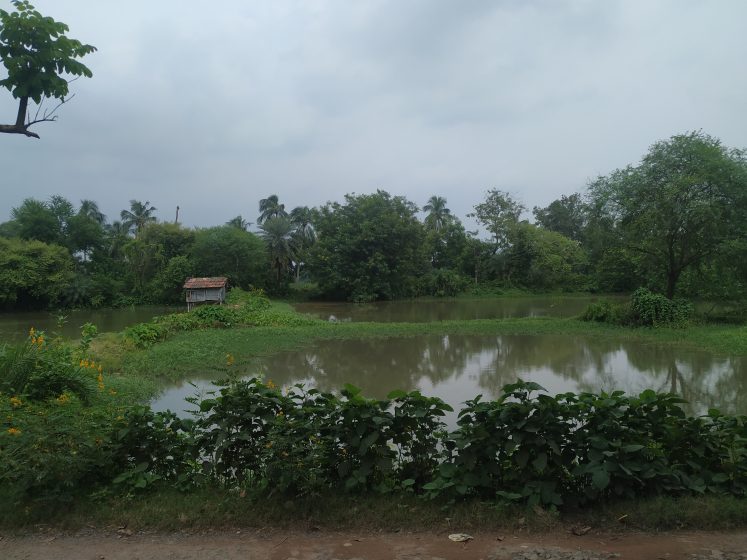 A return to pestilence? Ecosystem services and disservices of east Kolkata wetlands
Provisioning ecosystem services and disservices
Sewage-based farming and fishing, important sources of livelihood and food, have both seen varying impacts over the years. Both were done using knowledge transferred from earlier generations, and their skill in finding the optimal mix of freshwater and sewage water for high productivity.
In the case of farming rice and seasonal vegetables, freshwater was used during the monsoon, and sewage water in the drier summer months. This allowed farmers to grow a second crop, with a higher yield using sewage. Sewage-based fisheries were done in bheris (ponds of varying sizes), privately owned, leased, or belonging to a cooperative. In addition to maintaining a balance of sewage and freshwater, lime (material), husks of mustard, and oilcake made from Madhuca longifolia seeds were added to ensure optimal water quality and good fish production. It was important to keep a close eye on the fish to prevent the spread of disease. While the treated sewage water provided food, organic compost such as cow dung, and more recently food waste for hotels and meat shops was also added. Both farming and fishing thus required special skill and knowledge to be productive.
But today farmers and fishers face multiple challenges. One was the changed composition of sewage from organic to toxic. Effluents from industries located within the city, from a leather unit in the wetlands, and inorganic discharge from homes into the canals have made the sewage water more toxic. Decontaminating the sewage water meant higher production costs. Water scarcity of both freshwater (due to the scarcity of rainfall) and sewage water (because of the siltation of canals, and overgrowth of water hyacinth) were another issue. Canals were also deliberately blocked or diverted due to political interference, enabling the diversion of sewage water to specific locations, and supporting the reclamation of more land to buildings. If there is not enough sewage water, then the water needs to be supplemented with fertilisers for farming and fish food in the case of fishing, increasing cost. This has other adverse effects. As one of the farmers said,
"The soil has lost its fertility, maybe from overuse of fertilisers. No more can we see earthworms in the soil."
Fishing, and especially farming, was no longer as lucrative as it was even a few years ago.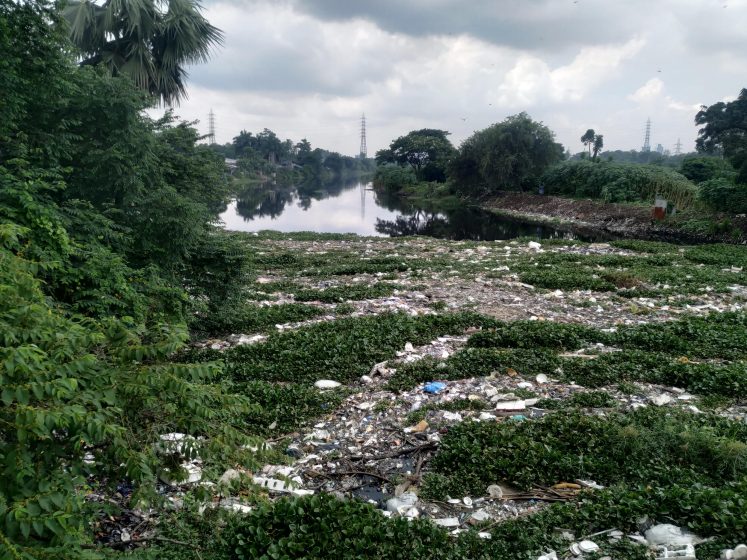 Cultural ecosystem services and disservices
The landscape with its mosaic of land and water provides multiple cultural services. It is a site for recreation—a favourite picnic spot for residents trying to get away from the hustle and bustle of the city. Fishing cooperatives also allowed visitors to spend the day with facilities for children's play areas. The scenic landscape is also a chosen place for shooting movies and television serials. But these activities have also increased littering, accumulation of garbage, and sometimes trouble from unruly and drunken visitors.
The wetlands are also home to the fishers and farmers, for whole pukurs (small ponds) are community spaces where old and young, both men and women, gather for conversation, sometimes talking for hours. While some ponds are used for bathing, others were considered sacred with a temple on its banks. During the monsoon, fishermen went to the Dargah (last resting place) of a local religious leader, Pir Mobarak Gazi at Ghutiari Shariff in the adjoining district. A saffron flag sprinkled with holy water was brought back from the Dargah, tied to a pole, and stuck in the mud, to safeguard the bheri.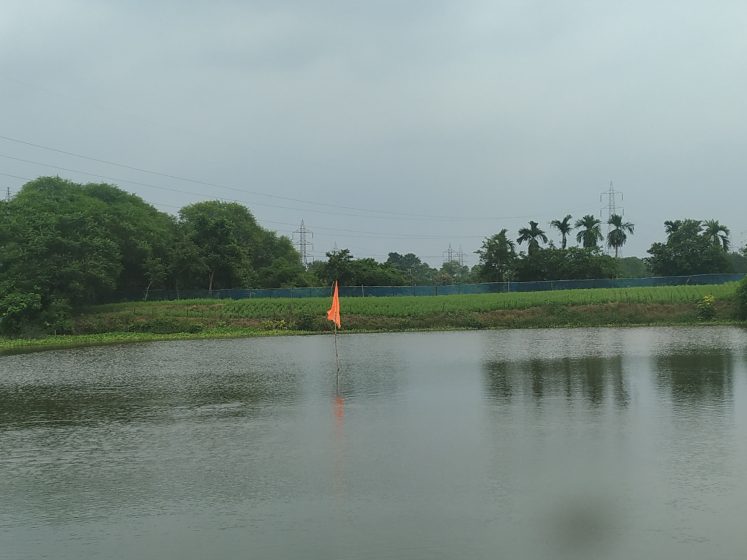 Regulating and supporting ecosystem services and disservices
The wetlands have been called the "kidneys of Kolkata" as they take in wastes from the city—a function that would otherwise have to be done by sewage treatment plants—that are used to grow food. The wetlands have enabled flood management and helped maintain water table levels in the region. They also act as carbon sinks, an important function in the era of climate-related impacts that we live in. The wetlands support biodiversity including several species of fish, birds, reptiles, amphibians, and mammals including the Bengal marsh mongoose (Herpestes palustris), an endemic species found nowhere else in the world.
However, the land use changes resulting in the conversion of the wetland, have affected many of these regulating and supporting services. Water levels in tube wells had fallen in villages, and temperatures had increased. According to an interviewee,
"Now it's impossible to work outside at noon because of the heat. Earlier I used to go to the farm in the afternoon but now I can go outside only after 4:00-4:30 pm."
Native species of fish have been replaced by exotic varieties introduced by fishermen. The population of jackals, crabs, turtles, and snakes seem to have reduced drastically over the last 7-8 years. The fragmenting of land and changes in the quality of sewage have all affected the diversity of birds and mammals.
Nature-based solutions is still an evolving idea in the Global South. At the same time, many urban ecosystems in the region have been providing multiple ecosystem services traditionally. The east Kolkata wetlands may never have been classified thus but should be seen as an emerging nature-based solution in the Global South. Framing it thus will enable us to recognise the multiple ecosystem services going beyond the more visible ones as a source of food and livelihood.
We are not suggesting that recognising the wetlands as a nature-based solution will provide a panacea for urban sustainability challenges as there are many limitations primarily around trade-offs and ecosystem disservices too that have to be considered. Perhaps the greatest challenge continues to be in building acceptance of nature-based solutions in urban planning and policy in the context of cities in the Global South. Nature-based solutions to be meaningful has to move away from being a buzzword to a standard for attaining sustainability goals of cities.
Seema Mundoli, Abhiri Sanfui, and Harini Nagendra
Bangalore, Mumbai, and Bangalore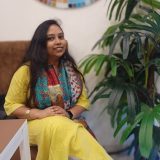 Abhiri Sanfui is a Ph.D. scholar in the Department of Humanities and Social Sciences of the Indian Instittue of Technology-Mumbai, India. She has done her Masters in English Literature from Jadavpur University. Her area of interest is Dalit Literature and Ecofeminism.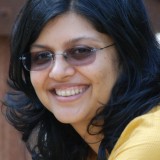 Harini Nagendra is a Professor of Sustainability at Azim Premji University, Bangalore, India. She uses social and ecological approaches to examine the factors shaping the sustainability of forests and cities in the south Asian context. Her books include "Cities and Canopies: Trees of Indian Cities" (with Seema Mundoli), and "The Bangalore Detectives Club" historical mystery series set in 1920s colonial India.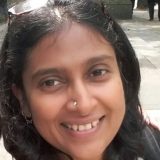 Seema Mundoli is an Assistant Professor at Azim Premji University, Bengaluru. Her recent co-authored books (with Harini Nagendra) include, "Cities and Canopies: Trees in Indian Cities" (Penguin India, 2019) and the illustrated children's book "So Many Leaves" (Pratham Books, 2020).