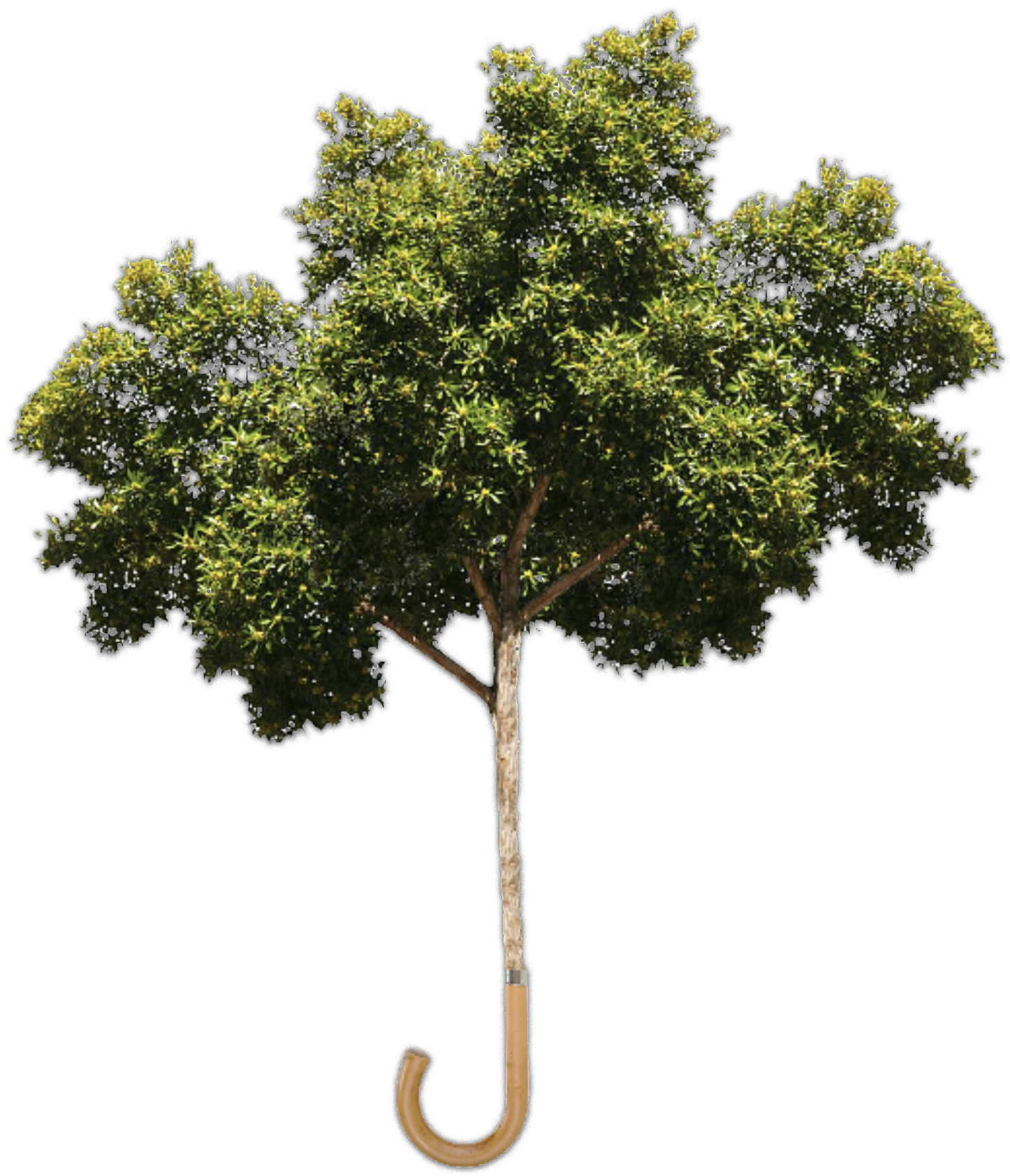 Shade in the City
Rising Heat Inequity in a Sunburnt Era
In a warming world, shade equity is an issue that disproportionately affects low-income and working-class communities, people of color, and communities in developing nations who are more likely to work outdoors, rely on public transportation, and live in denser neighborhoods with a lack of trees and shade. As the climate changes and heat waves become longer, more intense, and more frequent, what was once thought primarily as an aesthetic amenity is increasingly recognized as a way of protecting the public health and well-being of marginalized communities. Urban heat causes more deaths than all other weather-related causes combined in an average year, and yet providing shade can be simple and effective and can be done in many creative ways including tree planting, bus stop sheds, and awnings, to name a few.
Shade in LA
To tackle the issue of urban heat, a group of 18 artists and activists in Los Angeles' vibrant Highland Park neighborhood raised awareness of shade as an equity issue in an outdoor public art installation called Shade in LA | Rising Heat Inequity In A Sunburnt City. Organized by community-based arts organization Arroyo Arts Collective, the project invited emerging and established artists to use repurposed umbrellas as their canvas to explore the themes of shade, heat, nature, and climate change. Shade in LA was installed outside of the Avenue 50 Studio space in the spring of 2022, with each umbrella suspended high above visitors. The installation served two audiences: train passengers who got a glance of a colorful and visually impactful installation; and visitors and pedestrians who interacted with the umbrellas by walking or sitting under the installation.
A Virtual Exhibit of Shade
The 21 umbrellas from 18 artists in the original exhibit are reproduced here, for you to explore along with the artist statements. To these we invited 14 additional observers to "meditate" on the umbrellas or what the idea of "shade" brought to mind for them. As is our method here at TNOC, these 14 meditators are from diverse ways of knowing, including climate scientists, physicians, poets, and urban planners. They use the ideas expressed in the umbrellas as a starting point for reflections from the perspective of their own practice.
Explore the Umbrellas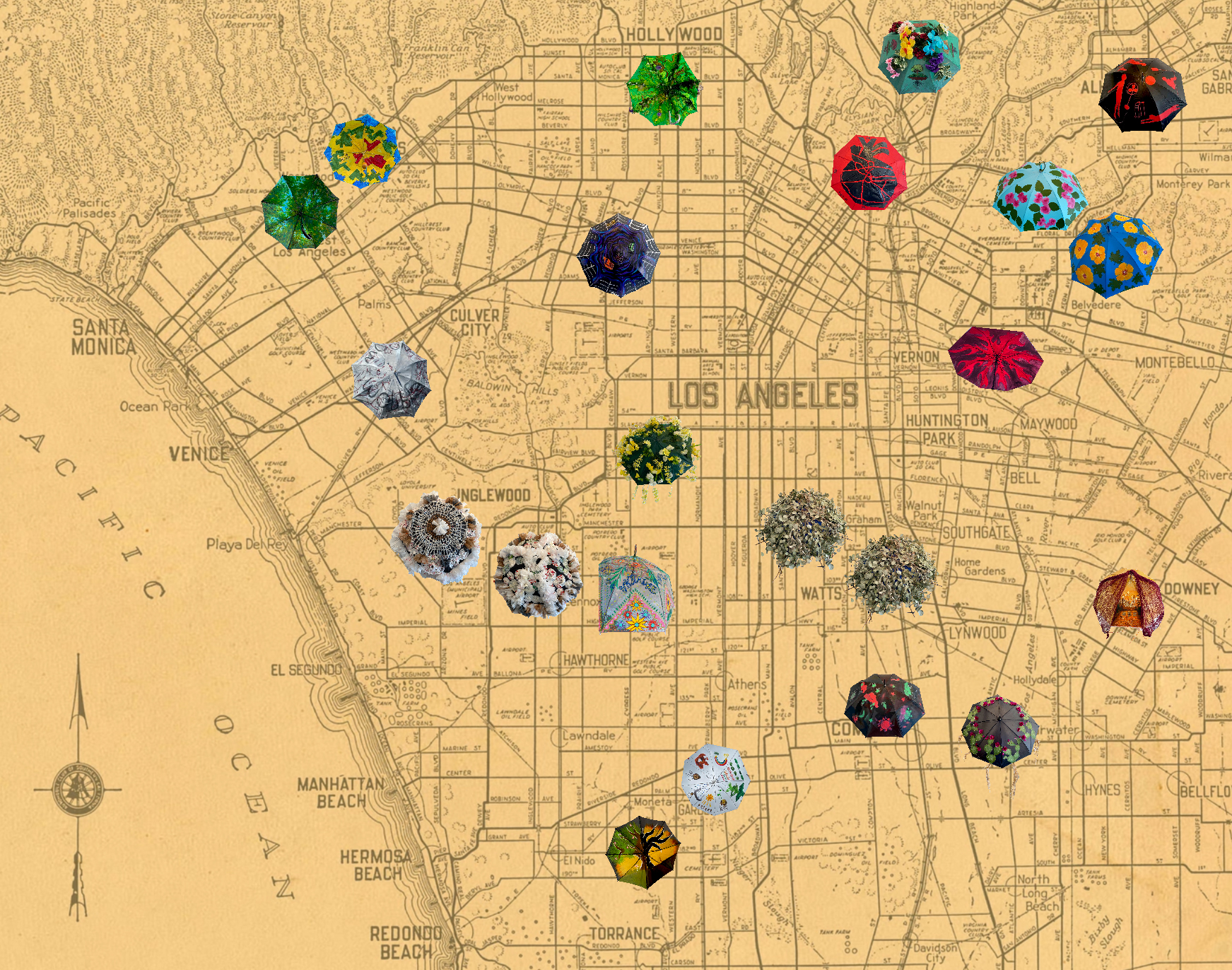 Video from Shade in LA
Images from the Exhibition
[foogallery id="48987″]
What does access to shade mean to you?
Visitors to the Shade in LA installation were invited to fill out a leaf and share what access to shade means to them. Here are some of the responses.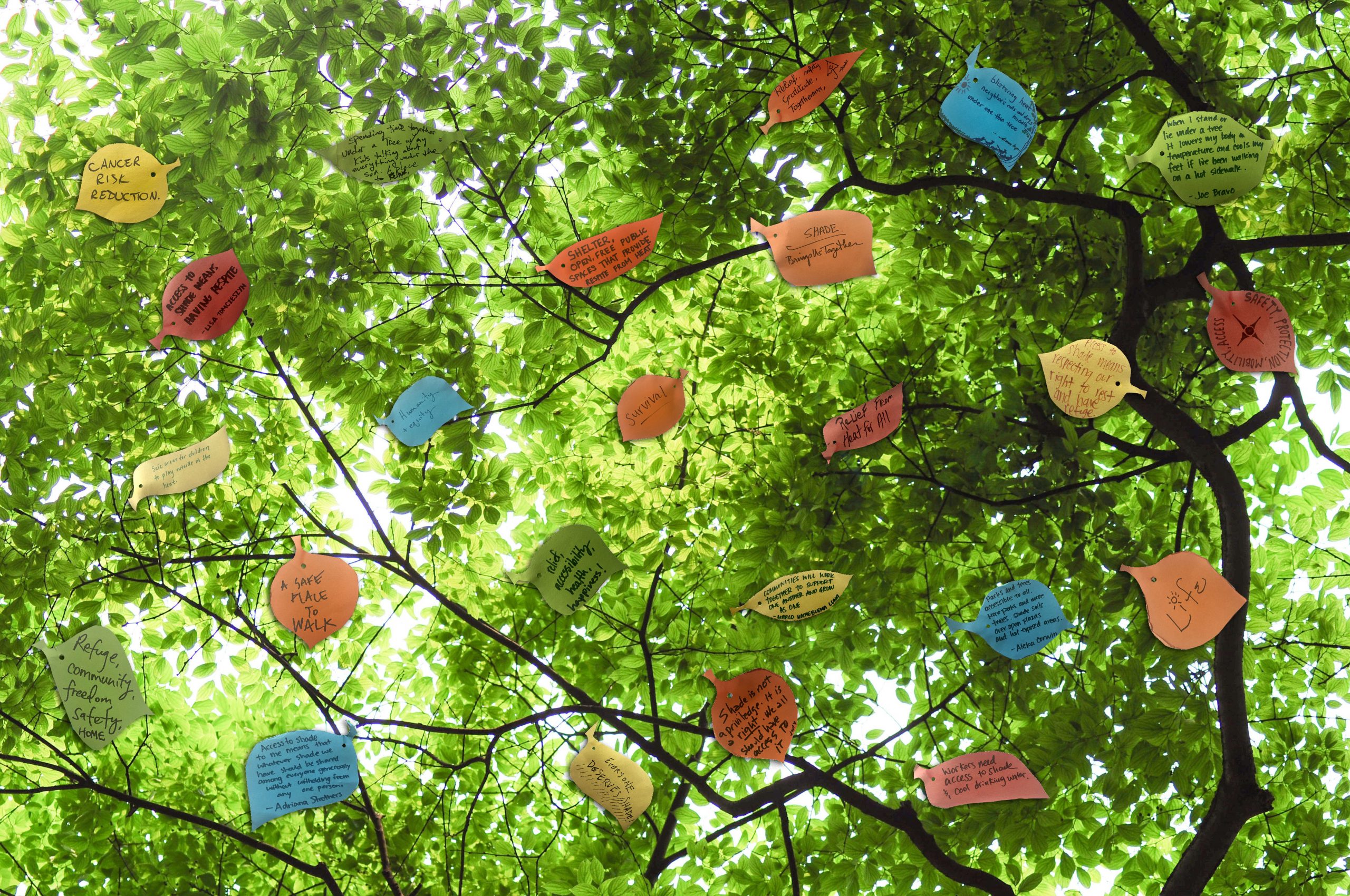 Exhibition Credits
The original in-person exhibition was organized by Arroyo Arts Collective, and adapted as virtual exhibition by the Forum for Radical Imagination on Environmental Cultures (FRIEC) at The Nature of Cities.
VIRTUAL ADAPTATION
Forum for Radical Imagination on Environmental Cultures
at The Nature of Cities
—
production for this exhibition:
Edith and Jolly de Guzman, curators
David Maddox, TNOC director
Karen Tsugawa, web developer
artists:
Chantée Benefield – chanteeb.com | IG: @artistchantyb
Joe Bravo – joebravo.art
Mary Cheung – notjusttheordinary.wixsite.com/marycheungartist | IG: @notjusttheordinary | FB: @marycheungartist
Aleka Corwin – alekacorwin.com | IG: @alekacorwin
Pascaline Doucin-Dahlke – pascalinedoucindahlke.com
dearantler – dearantler.com | IG: @dearantler
Angela Hernandez – IG: @smokeyz.art
Diana Kohne – dianakohne.com | IG: @dianakohne
Yvette Nicole Kolodji – IG: @ynk_arts | FB: YNK ARTS | Twitter: @ynk_arts
Marco Nochebuena Luna – IG: @nochebuenaluna
Gabriel Macias – IG: @benetts_art
Brianna Mitjans – IG: @briannamitjans
Rebecca Nabarrete – sensoryoverflow.com
Isabel Olvera – IG: @M.onkeydraws
Cat Chiu Phillips – catchiuphillips.com | IG: @catchiuphillips
Adriana Strothers – IG: @adriana.s.art
Lisa Tomczeszyn – lisatomczeszynart.com | IG: @yayadesignstudio + @tomgirl56 |
FB: Lisa Tomczeszyn
exhibition photograph credits:
Edith de Guzman
Rosamaria Marquez
Genaro Molina, Los Angeles Times
For inquiries about purchasing any of the artwork, please contact the artist directly.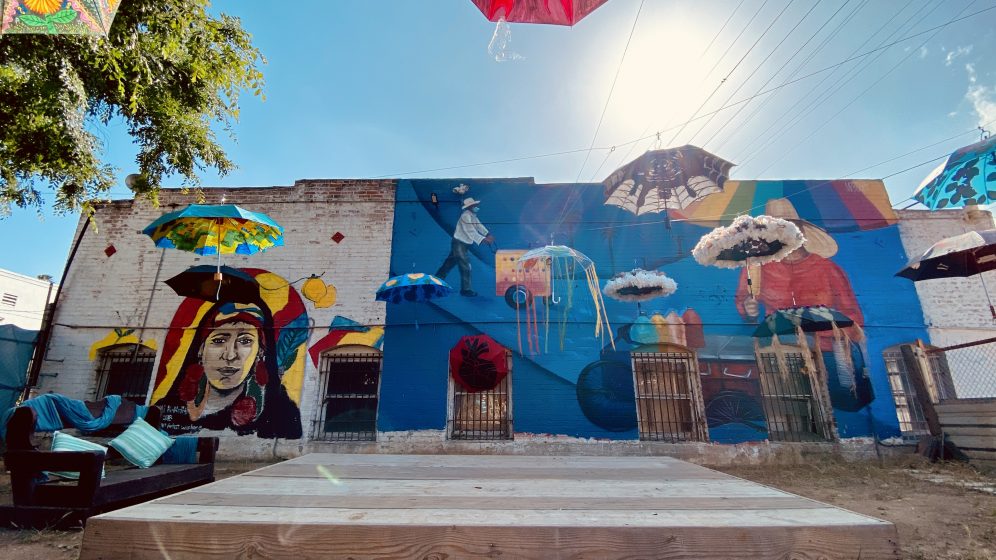 Shade in LA is made possible through the generous support of the Los Angeles Department of Cultural Affairs, the Los Angeles County Board of Supervisors through the Los Angeles County Arts Commission, and by the California Arts Council, a state agency.
Special thanks to Heather Hoggan of Arroyo Arts Collective, Kathy Gallegos of Avenue 50 Studio, Rosamaria Marquez of Rock Rose Gallery, Rachel O'Leary of City Plants, musical performances by Shoshana Ben-Horin and The Peanut Butter and Jellies, and installation assistance by Beau Matthews and Rodney Rodriguez.