A versão em Português segue imediatamente.
In my last TNOC article, I wrote about the city of Rio de Janeiro's rich biodiversity and the huge transformations that the city is going through, boosted by the international events that are already taking place here: 2013 FIFA Confederations Soccer Cup happened in June and the Pope will visit the city for the World Youth Day in July, when millions of young people are expected. In 2014 Brazil will host FIFA World Soccer Cup and in 2016 the Olympic Games will happen in Rio de Janeiro.
I have also talked about how the city is being "prepared"; how the urbanized areas are gray, expanding and destroying the last ecosystem remnants, cutting trees to give place to more concrete and asphalt. People are not participating in the decisions. Isolated local demonstrations against the eradication of green areas have happened during this period of time, but the results have been always the same: bulldozers reign.
We are living extremely intense and interesting days in Brazil, as in several other countries. People want to be heard and to be part of the game! In this historically peaceful country, suddenly masses gathered in the streets with more than 1 million citizens marching in one single day! And the protests continue.
Politicians are astonished. There are analysts of different fields of knowledge trying to understand what really is under those human surges in cities and towns all around the country. There are all kinds of requests: ethical behavior from our legislators, officeholders and all public representatives; full transparency and accountability of public investments and expenses; effective participation in the decisions, and so on.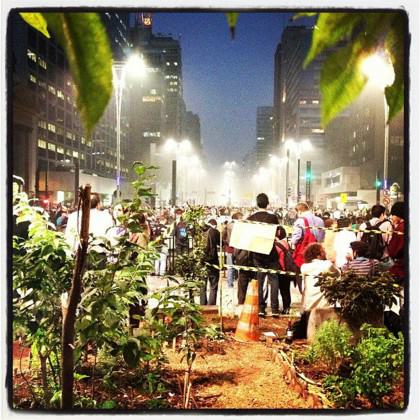 The problems are complex and quite intricate, but in my view, there is an important factor that is not being considered: people want to live in cities that are livable. Livable cities are those in which people matter and in which nature matters. During the last years I have seen how urban dwellers praise their trees and green areas, and how they are trying to protect them against creating cities "business as usual", based on car-centric transportation and sprawl. I love when I go to urban parks and they are packed with curious and happy families, with people of all ages enjoying trees, birds, monkeys, squirrels, and flowers… and life!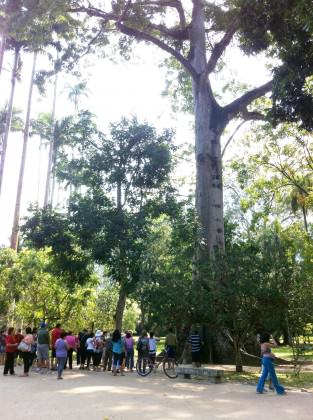 How can our decision makers destroy what make people happy? Ignorance, I guess. In my view, the only way is to teach and draw people out of the "videophilia" that infects "modern" life, to discover and enjoy biophilia. I believe the only way is through ecological literacy, as Tim Beatley, Richard Louv, Edward O. Wilson, Fritjof Capra and many others so eloquently write about. Unfortunately, Brazil is still out of all these exciting discussions. There are almost no publications in Portuguese, and most Brazilians don't read other languages.
My reflections are about how people need to understand ecology and the cycles of life, and have a systems thinking to not only love and praise nature, but really protect and invest in biodiversity, especially inside the cities—where most of us live! Our leaders should be ecologically educated so we can shift to a new paradigm focused on everyone's life, including ALL species!
I have been involved in many activities related to urban nature in the last 10 years because I was lucky to radically change the course of my life. In my first 50 years I was totally unaware of the web of life, but I loved nature! I went to business school because my father was an entrepreneur. It was the natural thing to do! Although I had thought about studying architecture twice… Buildings are not my main interest up to now, and there was no (and still there is not!) landscape architecture, nor formal education in urban ecology in this wonderful tropical country.
What made a difference? During a few years Fernando Chacel, who was a pioneer in ecological landscape planning and design in Brazil, coordinated a landscape architecture undergrad course at the Universidade Veiga de Almeida. I was fortunate to have studied with him. From then on, things suddenly started happening. I have been able to meet and learn with people from different places and fields. I became ecologically involved in life, in all species of life. Finally, I overcame my ecological ignorance.
It has been almost a personal mission to study, research and teach about landscape, natural processes and flows, and the interrelations of biodiversity and natural resources with people, culture and human activities.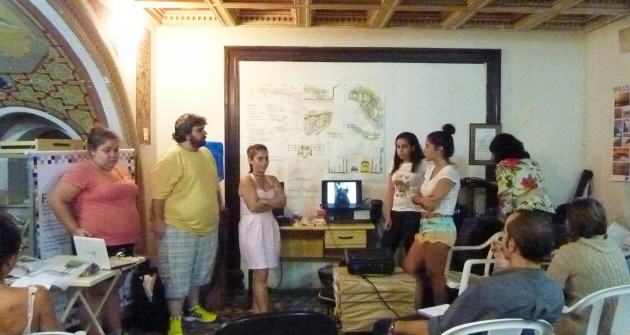 In the beginning of 2012, I decided to go further to try to transmit what I have learned, so I have started writing a book for Portuguese speakers aiming to contribute to fill the huge knowledge gap in a wider scale. The book "Cities for ALL: (re)learning to live with NATURE" (Cidades para TODOS: (re)aprendendo a conviver com a NATUREZA) was released in the World Environment Day, last June 5th. The response has been amazing!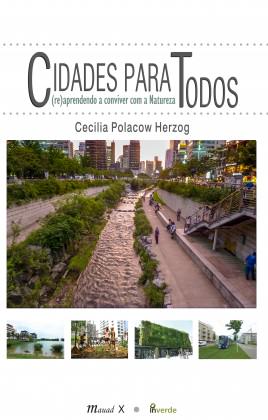 I have signed books in Rio and São Paulo, and I am giving lectures to different audiences. I have gone to the radio and TV programs and have written articles for newspapers and digital blogs. In just a few weeks, I have already met more lovely people from all social, educational and professional backgrounds that are sharing the same passion for life and all kinds of living organisms, and nature! They all feel the same amazement I feel, they become enthusiasts and they want to collaborate and volunteer in any way they can. It is so rewarding.
Finally, it is not all about the money! It is about getting together and sharing experiences, dreaming and working to transform what seems impossible: bringing people and native biodiversity to the forefront of urban discussions, planning and design.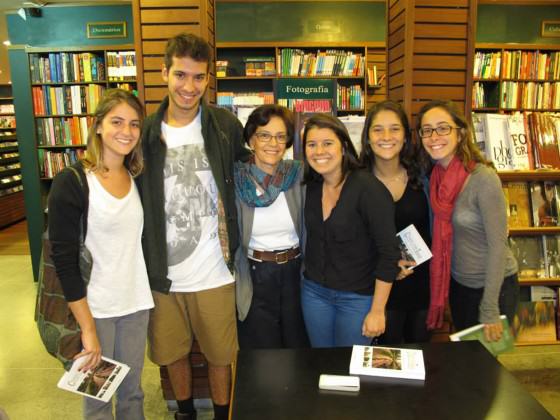 A new opportunity is opening: in June 24th UNDP launched the World Centre for Sustainable Development—"Rio +". It aims to change the way "we do things" in order to comply with our planetary boundaries. As our Minister of Environment Isabel Teixeira states:
"RIO+ will also be a relevant political space for the promotion of the dialogue with the society, opening doors for universities, private sector, governments and everybody interested in discussing and promoting sustainable development."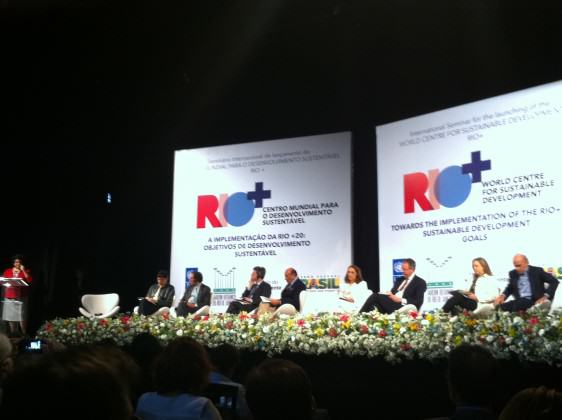 On the same day there was a seminar promoted by FBDS (Fundação Brasileira para o Desenvolvimento Sustentável—Brazilian Foundation for Sustainable Development) and the Sustainable Development Solutions Network led by Jeffrey Sachs, to launch the "Rio Sustainable Initiative". It seems to be a good occasion to introduce biodiversity and ecosystems services in the urban planning scenario to build a resilient and sustainable city.
Soon the publication "Cities and Biodiversity Outlook—Action and Policy" will be released in Portuguese, and hopefully it will be synergetic with our actions and dreams. Maybe we will be able to transform hearts and minds of more people and may influence the course of our cities towards a social-ecological outcome for ALL, (re)learning to live with NATURE.
Cecilia Herzog
Rio de Janeiro
É Hora de Tornar a Cidade Maravilhosa Realmente "Verde"!
Em meu último artigo, escrevi sobre a rica biodiversidade da cidade do Rio de Janeiro e as imensas transformações que vem sofrendo impulsionadas pelos eventos internacionais que já estão acontecendo: a Copa das Confederações da FIFA foi em junho e a visita do Papa, devido ao Dia Mundial da Juventude, será em julho – quando milhões de jovens estão sendo esperados. No ano que vem o Brasil irá sediar a Copa do Mundo e em 2016 os Jogos Olímpicos acontecerão no Rio de Janeiro.
Eu também falei sobre como a cidade está sendo "preparada"; como as áreas urbanizadas são cinza e estão se expandindo e destruindo os últimos remanescentes de ecossistemas nativos, cortando árvores para dar mais lugar para concreto e asfalto. As pessoas não estão participando de fato das decisões. Nesse período têm ocorrido demonstrações públicas isoladas de insatisfação contra a erradicação de áreas verdes, mas os resultados têm sido sempre o mesmo: motosserras e escavadeiras reinam.
Estamos vivendo dias extremamente intensos e interessantes no Brasil, como em inúmeros países. As pessoas querem ser ouvidas e participar do jogo! Nesse país historicamente pacífico, de repente as massas ganharam as ruas com mais de 1 milhão de cidadãos marchando em um único dia! E os protestos continuam.
Os políticos estão estonteados. Analistas de diferentes campos do conhecimento estão tentando compreender o que está por trás dessas hordas humanas nas cidades de todos os tamanhos ao redor do país. Há todo tipo de demanda: comportamento ético de nossos representantes nos poderes legislativo, executivo, judiciário e de membros do Poder Público; completa transparência e responsabilização nos gastos e prestação de contas com o dinheiro de nossos impostos; efetiva participação nas decisões e por aí vai.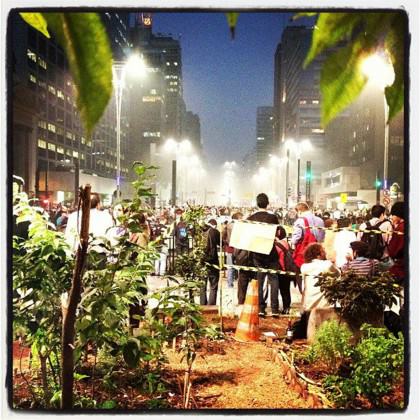 Os problemas são muito complexos e intrincados, mas sob a minha ótica, há um importante fator que não está sendo considerado: as pessoas querem viver em cidades com alta qualidade de vida, e nessas cidades pessoas e natureza importam. Durante os últimos anos tenho visto como os moradores da cidade valorizam as suas árvores e áreas verdes, e como eles estão tentando protegê-las contra a transformação das cidades "como sempre se fez", com base em transporte individual e na expansão urbana ilimitada. Eu adoro quando vou a parques e eles estão lotados de famílias felizes e interessadas na natureza, com gente de todas as idades apreciando árvores e pássaros e macacos e esquilos e flores… e vida!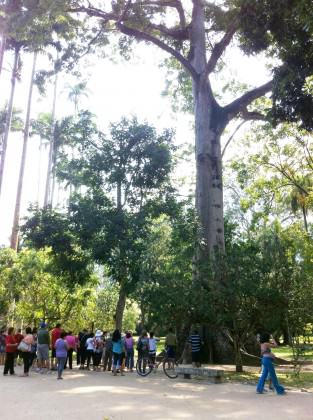 Como podem os nossos tomadores de decisões destruir o que faz as pessoas felizes? Ignorância, eu suponho. Em minha opinião, a única maneira é ensinar para tirar as pessoas da "videofilia" que contamina a vida moderna, de modo a que venham descobrir e apreciar a biofilia. Acredito que as pessoas precisam ter uma alfabetização ecológica, como Tim Beatley, Richard Louv, Edward O. Wilson, Fritjhof Capra e muitos outros escrevem a respeito eloquentemente. Infelizmente o Brasil ainda está fora dessas conversas estimulantes. Não há praticamente publicações em português sobre o tema, e os brasileiros raramente leem outras línguas.
Minhas reflexões são sobre como as pessoas precisam entender ecologia, os ciclos da vida e ter um pensamento sistêmico para não apenas amar e apreciar a natureza, mas realmente proteger e investir na biodiversidade, especialmente nas cidades – onde a maior parte de nós vive! Nossos líderes deveriam ser ecologicamente educados de modo que possam mudar para o novo paradigma focado na vida de cada um, incluindo TODAS as espécies!
Tenho estado envolvida em diversas atividades relacionadas com natureza urbana nos últimos 10 anos porque tive a sorte de mudar radicalmente o curso de minha vida.
Nos meus primeiros 50 anos de vida era totalmente desconectada da rede da vida, mas amava a natureza! Cursei administração de empresas porque meu pai era um empresário. Era a coisa natural a fazer! Embora tivesse pensado em estudar arquitetura duas vezes… Edifícios não são meu foco principal de interesse até agora, e não havia (e ainda não há!) curso superior de paisagismo, nem educação formal em ecologia urbana nesse maravilhoso país tropical.
O que fez diferença? Durante alguns anos Fernando Chacel, que foi um pioneiro em projeto e planejamento ecológico da paisagem no Brasil, coordenou um curso superior de paisagismo na Universidade Veiga de Almeida. Eu tive a sorte de ter estudado com ele e sua equipe. A partir de então as coisas começaram a acontecer rapidamente. Tive a oportunidade de conhecer e aprender com pessoas de diferentes lugares e campos do conhecimento. Eu me tornei ecologicamente envolvida com a vida, com todas as espécies de vida. Finalmente consegui ultrapassar minha ignorância ecológica.
Estudar, pesquisar e ensinar sobre paisagem, processos e fluxos naturais e suas inter-relações com a biodiversidade, os recursos naturais e as pessoas e suas atividades se tornou quase uma missão pessoal.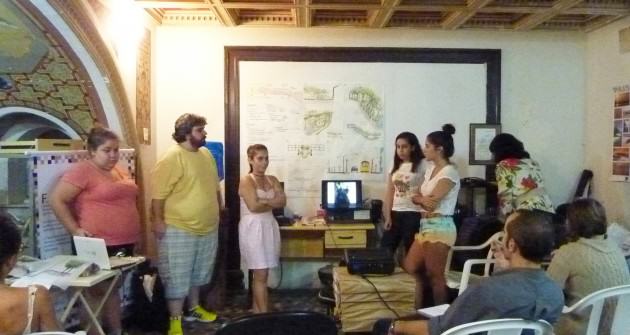 No começo de 2012, decidi ir além para tentar transmitir o que tinha aprendido. Então, comecei a escrever um livro destinado aos leitores de língua portuguesa objetivando contribuir para preencher a enorme defasagem de conhecimento em uma escala mais abrangente. Lancei o livro "Cidades para TODOS: (re)aprendendo a conviver com a NATUREZA" no Dia Mundial do Meio Ambiente, dia 5 de junho passado. A resposta tem sido impressionante!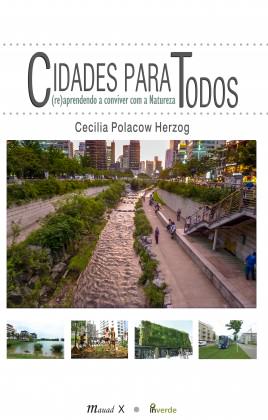 O livro foi lançado no Rio e São Paulo, e estou dando palestras para diferentes públicos. Já fui ao rádio e televisão, e tenho escrito e contribuído com artigos para jornais e blogs digitais. Em poucas semanas já encontrei pessoas adoráveis com diferentes formações e origens sociais que estão compartilhando a mesma paixão pela vida de todos os organismos vivos, e pela natureza! Todos sentem o mesmo deslumbramento que eu sinto, e estão se tornando entusiastas, querem colaborar, voluntariar de alguma maneira, qualquer maneira. É muito recompensador. Afinal, não é tudo apenas pelo dinheiro!! É sobre conviver e compartilhar experiências, sonhar e trabalhar para transformar o que parece impossível: trazer pessoas e biodiversidade nativa para a vanguarda das discussões, planejamento e projeto de nossas cidades.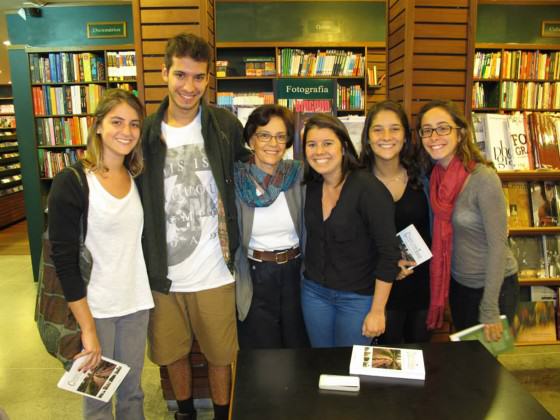 Uma nova oportunidade está se abrindo: dia 24 de junho foi lançado o "Rio+" – Centro Mundial de Desenvolvimento Sustentável pelo PNUD (Programa das Nações Unidas para o Desenvolvimento). Ele objetiva mudar a maneira como "fazemos as coisas" de modo a contemplar os limites planetários.  Como afirma a ministra do Meio Ambiente, Izabella Teixeira "O RIO+" será também um espaço político relevante para a promoção do diálogo com a sociedade, abrindo portas para universidades, setor privado, governos e todas as pessoas interessadas em discutir e promover o desenvolvimento sustentável".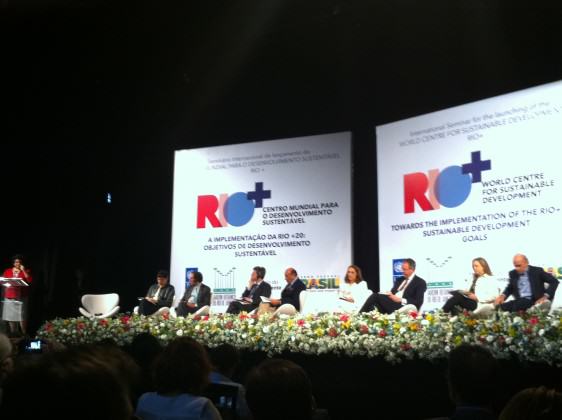 No mesmo dia teve lugar um seminário promovido pelo FBDS (Fundação Brasileira para o Desenvolvimento Sustentável presidido por Israel Klabin) e o Sustainable Development Solutions Network (Rede de Soluções para o Desenvolvimento Sustentável liderado pelo economista Jeffrey Sachs), para lançar a "Iniciativa Rio Sustentável". Parece uma excelente oportunidade para introduzir a biodiversidade e os serviços ecossistêmicos no planejamento de uma cidade resiliente e sustentável.
Em breve será lançada em português a publicação "Panorama das Cidades e Biodiversidade – Ações e Políticas"[1]. Acredito que terá sinergia com nossas ações e sonhos. Talvez sejamos capazes de transformar corações e mentes de mais pessoas e possamos influenciar o curso em direção de uma perspectiva socioecológica para TODOS, (re)aprendendo a conviver com a NATUREZA.
Cecilia Herzog
Rio de Janeiro
---
[1] Publicação da Convenção da Biodiversidade da ONU, Centro de Resiliência de Estocolmo, Universidade de Estocolmo e ICLEI – Governos Locais pela Sustentabilidade, traduzido pelo Ministério de Meio Ambiente do Brasil. Foi lançado em 2012 na COP11 em Hyderabad na Índia, e já está traduzido para vários idiomas.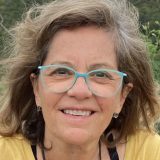 Cecilia Polacow Herzog is an urban landscape planner, retired professor at the Pontifical Catholic University of Rio de Janeiro. She is an activist, being one of the pioneers to advocate to apply science into real urban planning, projects, and interventions to increase biodiversity and ecosystem services in Brazilian cities.