We all know that nature in the urban environment can make our lives as city dwellers infinitely better, but can it create quality of life even for the displaced among us? Winter is here in the city of Detroit, Michigan. It's cold, and people all over this northern city are scurrying to find a warm place to spend the season. It seems that no matter what our circumstances, the nesting instinct survives in all of us.
With all of Detroit's vacant space, why couldn't a nomadic, tent-based lifestyle also be an option?
Of course, for some city dwellers, the question of where we will spend the cold winter months is more pressing, and more poignant, than it is for others. Each year at this time, those without homes in our city struggle to find a place to stay that is safe and warm and that affords them the shelter they need without sacrificing the freedom they desire. Last year, a community of homeless citizens established itself in the shelter of the forest on the western edge of The Greening of Detroit Park in honor of Elizabeth Gordon Sachs ("EGS Park"), a park that The Greening of Detroit has developed and maintained for nearly 20 years.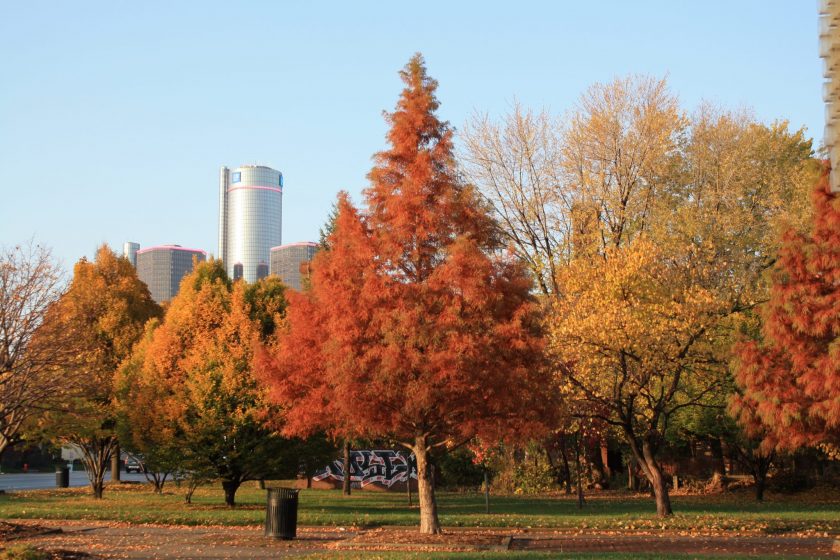 Displaced, or "homeless," people regularly spend time in EGS Park, a verdant three-acre parcel on the edge of Detroit's downtown, but most often they remain transient, enjoying the greenspace for a few long summer days before moving along. Last December, a real encampment built up over a few weeks, with a communal fire pit and an accumulation of tents, milk crates and shopping carts that created an air of permanence. Tent cities are a common component of the urban environment, and they are nothing new, even in a cold northern city like Detroit. But this one was particularly visible, located as it was in a well kept park nestled between two major thoroughfares right on the edge of downtown. It grew quickly and attracted lots of attention from supporters and detractors alike.
The Greening of Detroit is a non-profit devoted to sustainable growth of a healthy urban community through trees, green spaces, food, education, training and job opportunities. For 25 years the organization has worked to make Detroit a safe, healthy, clean and, most importantly, green place where all of its citizens can flourish. As the organization charged with maintaining EGS Park, The Greening quickly found itself in the midst of a controversy. The appearance of a tent city in a park where The Greening is responsible for long term development and maintenance, and where it has invested hundreds of thousands of dollars over the past 20 years, caused the organization to reconsider its work through the eyes of the park's new residents. Did The Greening's maintenance responsibility extend into the tent city? How should that responsibility be construed? Most interesting was the question of whether it was the organization's long term investment in this greenspace that made the camp so inviting.
All human beings have a desire to find community in the shelter of the natural environment. The tent city that grew up in the forest of a Detroit park, which became known as "Tinseltown," was a testament to the strength of this desire. Whether their choice of location was conscious or not, it is no coincidence that this community gathered and then bonded together in an area where The Greening of Detroit has planted over 200 trees and seeded a wildflower meadow. Trees and green space make us feel better. Research shows that we are healthier where trees are present, that those same trees provide a calming effect, and neighborhoods where trees provide a canopy are safer for the people who live there (see Green Cities: Good Health, Kathy Wolf). No doubt, the forest that The Greening of Detroit planted in EGS Park provided these benefits for the residents of Tinseltown in the same way that the 95,811 trees that it has planted across the city benefit all Detroiters.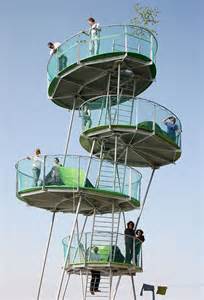 Still, trees cannot provide for all of the basic needs of a community. There are no sanitary facilities in the park and the only source of heat for this community was open flame, a genuine safety concern in a community where shelter is provided by tents. There are good reasons for Detroit's ordinances prohibiting tents and open flames in city parks. The park is a public place, meant for use and enjoyment by the public at large—an objective that is impaired by permanent residents as well as by the odds and ends that accumulate as a part of the existence of a community without formal support or storage. Before long, Detroit's Mayor decided that Tinseltown's time should come to an end. Its residents would be offered long-term housing, their accumulated belongings stored, and the space that the tent city occupied would be returned to parkland. In its role as caretaker of the park, The Greening aided the City in repairing the landscape where the tent city once stood. More importantly, in its role as caretaker of a healthy urban community, The Greening also supported Tinseltown's residents with workforce training and gardening supplies.
Detroit has many dedicated agencies providing support and care for our homeless citizens. But those services only help the people who elect to take advantage of them. The residents of Tinseltown said that they preferred the shelter that their tents provided; they were looking for something other than the services that they can find at our shelters, soup kitchens and warming centers. Their needs were more closely met by the green embrace of a young forest than they were by the confines of those other options.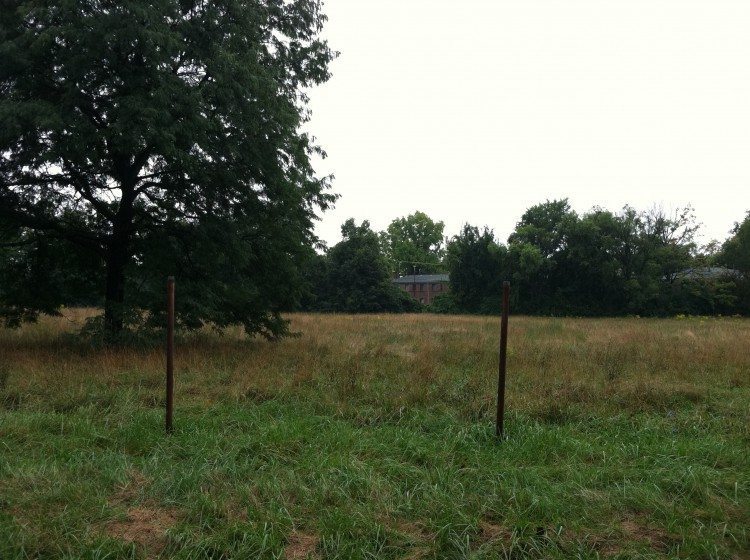 There are assets in Detroit that could be used to create alternatives for displaced citizens. In a city with abundant vacant space (an estimated 100,000 vacant lots comprising 20-30 square miles of empty space) and plans to plant more young forests, perhaps there is room for innovation in serving the needs of Detroit's displaced people. Detroit has plenty of vacant spaces that are not currently designated as public parks and which, as a result, are not encumbered by the ordinances that govern parks. If there are more citizens like the residents of Tinseltown who are determined to keep their community intact and in tents, it seems that we should be able to find a sliver of unloved land that they could adopt. In fact, redevelopment of neighborhoods with abundant vacant land is a high priority in Detroit and creative use of green space is a central component of the plans for redevelopment. Detroit has recently announced plans to undertake a massive expansion of its planting efforts in neighborhoods where vacant space dominates the landscape, with the express purpose of improving the quality of life for residents.
Consider this: Detroit could be a city where residents are able to choose a classic, walkable urban lifestyle, a spacious suburban lifestyle, or a bucolic rural lifestyle, all with an appropriate complement of natural assets and all within the 138 square mile confines of the city limits. With all of this vacant space, why couldn't a nomadic, tent-based lifestyle also be an option?
All over the world, people are opting to create high quality lifestyles by incorporating more of the outdoors into their living arrangements. In progressive cities across the United States, villages of tiny homes are popping up with houses so small that residents naturally take advantage of outside space to add to their living area. Sometimes tiny homes are simply an interesting housing option for those living off the grid. However, these tiny villages have also turned out to be a practical solution to the problem of homelessness. Inexpensive to construct, maintain and operate, tiny houses are manageable for people on a severely restricted income (note, not all who are homeless are also jobless) and with some subsidy can prove to be a good option for "housing-first" agencies, as well. Given that Detroit has so much former residential vacant space with the infrastructure to support habitation, this could be a viable alternative for housing displaced citizens in this city.
The eco-district concept is another idea that's taking off. An eco-district is a defined geographic area (often a single neighborhood) wherein stakeholders have agreed to advance sustainability district-wide through green building principles by installing blue and green infrastructure and by modifying individual behavior. While these districts require substantial planning and resources, they also attract residents who want to live lightly upon the ground. This lifestyle allows residents of eco-districts to take advantage of the same benefits that attracted the residents of Tinseltown to their spot beneath the trees of EGS Park. Urban camping is apparently a (still relatively minor) trend as well, and represents another innovative way that city citizens are incorporating the great outdoors into their urban lifestyles.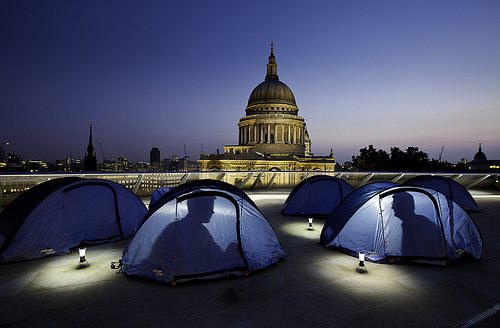 Of course, Detroit has another, more traditional, asset that should not be overlooked when considering solutions for homelessness. In a city that housed over two million residents at its population peak and currently houses less than seven hundred thousand, Detroit has lots of houses with no people in them and, at the same time, plenty of people with no houses to live in. In fact, there are thousands of vacant residential structures in Detroit right now. Accordingly, the opportunity to reduce homelessness using empty houses should not be dismissed out of hand, particularly as the City of Detroit is spending millions of dollars to knock down thousands of houses each year. Many of the houses on the demolition list are lone survivors in neighborhoods now dominated by newly created wildlands. It seems likely that a more permanent housing solution in one of these neighborhoods would be a welcome option to the folks who formed Tinseltown.
From Tinseltown's makeshift community to the eco-village residents who have worked so hard to plan and implement their neighborhood goals, there is a thread of commonality. All of these people have recognized that their lives in the city are better when they include nature in their midst. We have much to learn from the denizens of tent cities, tiny villages, eco-districts and urban campsites throughout the world. May each of these folks find a community that provides the support they need along with the clean, green environment that the members of the Tinseltown community found in The Greening of Detroit Park in honor of Elizabeth Gordon Sachs. We at The Greening of Detroit will keep working to create that kind of clean, green environment, so that all of us might experience the feelings of peace and safety that come with an urban landscape that is filled with trees.
Rebecca Salminen Witt
Detroit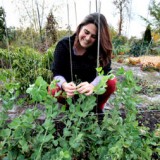 Rebecca is the President of The Greening of Detroit, a 25 year old non-profit environmental organization that works to secure the ecosystem of Detroit.