On the opening day, The Nature Conservancy invited politicians from Water, Urban Administration and Housing Construction divisions, press, and professionals across sectors of the city to bear witness to this innovative project. The green rooftop became not only a living space for nature, but also a living space for communities.
Shenzhen, a coastal city located in Southern China, exemplifies the idea of  rapid urbanization. In just 40 years, Shenzhen has transformed from a fishing village to a bustling megalopolis. Today, about 50% of Shenzhen's 13 million residents live in its urban villages. These urban villages are some of the few places left in the city that provide affordable housing. Urban villages used to be "real" villages, but rapid development has turned the farmland that once surrounded them into high rise buildings.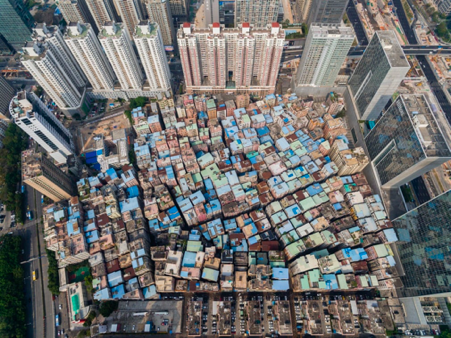 Urban villages are characterized by their dense living conditions, where resident buildings are built so close together that neighbors can shake hands with one another from their windows. Inside the villages, the streets are filled with markets, restaurants and shops, making people's lives convenient. However, very few green spaces, such as parks or gardens, exist inside the villages. Gangxia Village in Futian district is one of them, where the high density of built environment has replaced nearly all vegetation. Coupled with a limited underground sewage system, during the city's six months long wet season, urban villages like Gangxia are especially vulnerable to floods.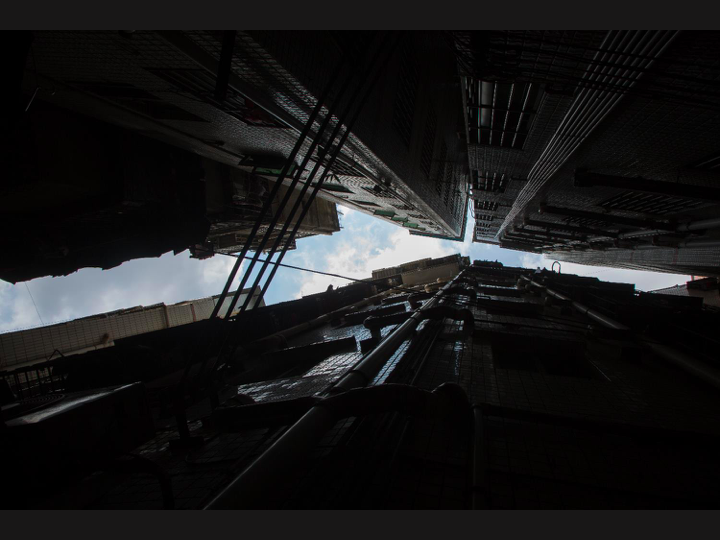 To address this problem, The Nature Conservancy (TNC), along with other key partners, launched an innovative pilot project— Green Cloud —on an old building in Gangxia village, transforming its rooftop into a "living sponge" space. The project utilizes three-dimensional light steel structures that are simple to construct and have the capacity to hold over 420 plant containers filled with plants mostly native to Southern China. The original concrete rooftop is transformed by vegetation, which is capable of absorbing and preserving rainwater, creating a nature-based stormwater management system for the residential building, achieving a 65% of run-off control rate. As a result, a living "green cloud" is formed on a rooftop of Gangxia village.
The Green Cloud Project became a prominent example of the "Sponge City" initiative, a Chinese national policy framework that focuses on sustainable urban stormwater management led by the Ministry of Housing and Urban-Rural Development. In 2016, Shenzhen became a pilot city of the "Sponge City initiative. Since then, TNC has been working with the local government to help urban communities in Shenzhen become more resilient to urban flooding through the utilization of green infrastructure.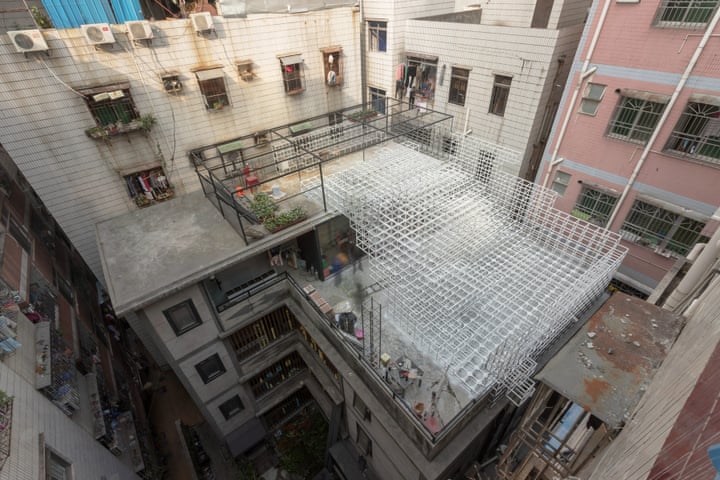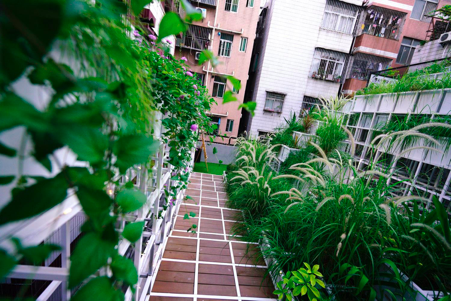 The green roof not only serves as a sponge for rainwater, but it is also a sponge for community engagement, education, and culture, even when things don't go as planned. During the first two weeks of construction, neighbors filed complaints as many thought the renovation taking place was illegal construction. Due to the housing shortage in urban villages, it was not uncommon for land owners to build additional floors to existing buildings.
After receiving complaints, local authorities arrived asking for an approval document in order to continue contrusction. However, the concept of a sponge roof was still so new that approval papers do not yet exist within current government agencies, and unfortunately, the construction of the green roof had to be temporarily shut down. To resolve the problem, TNC made various visits to local community centers, street government offices and bureaus to explain the project and its objectives in further detail. After many such meetings, TNC and its partners established a relationship of trust with the local stakeholders, and the project was given the green light for construction to resume. Realizing the importance of community and local support, TNC took the lead in engaging many university students, residents and youth volunteers in Shenzhen to come together and be a part of building the Green Cloud Project.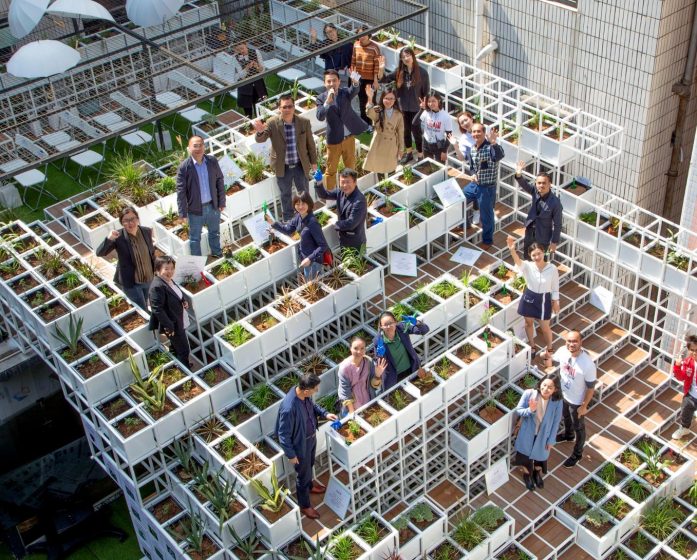 On the opening day, TNC invited politicians of Water, Urban Administration and Housing Construction divisions, press, and professionals from across different sectors of the city to bear witness to this innovative project. The green rooftop became not only a living space for nature, but also a living space for communities.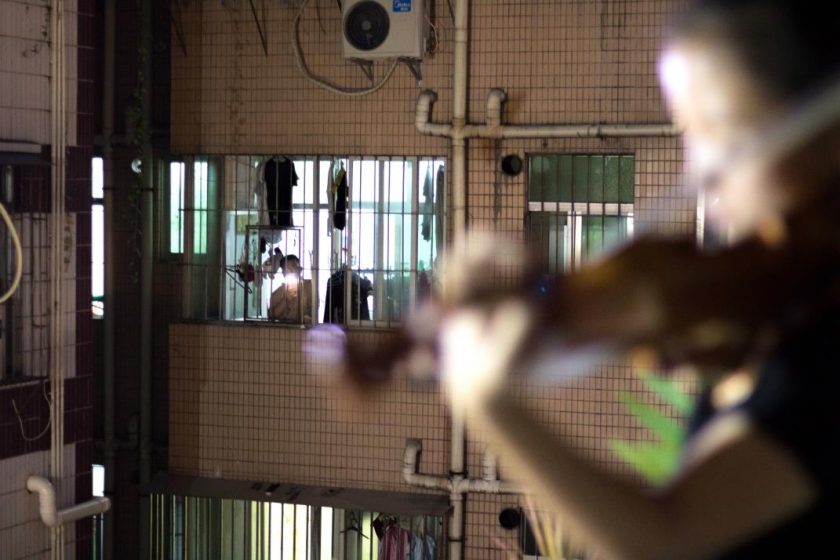 Even with just one rooftop, the possibilities for community-building are endless. One idea that was transformed into reality was a live musical concert on the green roof. With the support of a local youth education center, students volunteered to organize a concert for the residents of Gangxia village, many of whom may never have the means or time to attend a classical concert. So, one summer evening, a group of young musicians used the rooftop of an urban village as their stage and performed a classical music concert while sitting among native plants. The surrounding residents simply came to their windows to listen in, and the proximity between neighbors in this dense urban village suddenly became an advantage.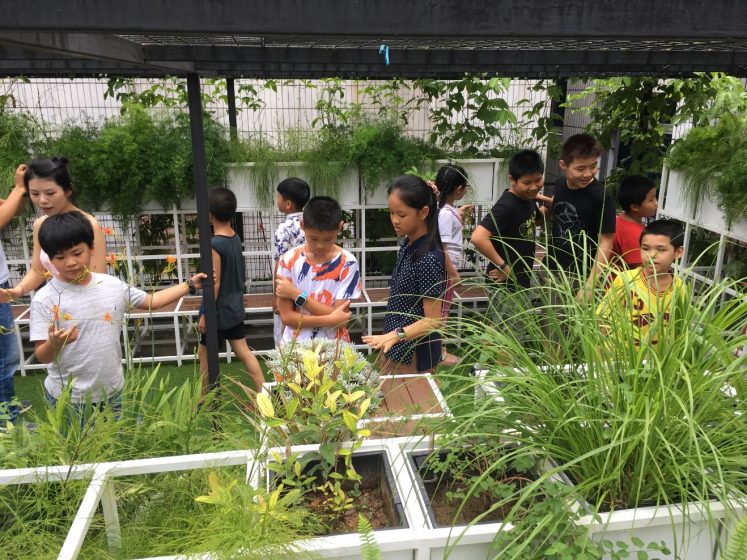 The Green Cloud Project has also had a positive impact on youth and their perception of nature. For the past two years, the green roof becomes an outdoor classroom for nature education every summer, where children take classes to learn about subjects such as biology, water and conservation. To provide urban youth with the opportunity to soak up knowledge while reconnecting with nature would be the project's ultimate long-term achievement.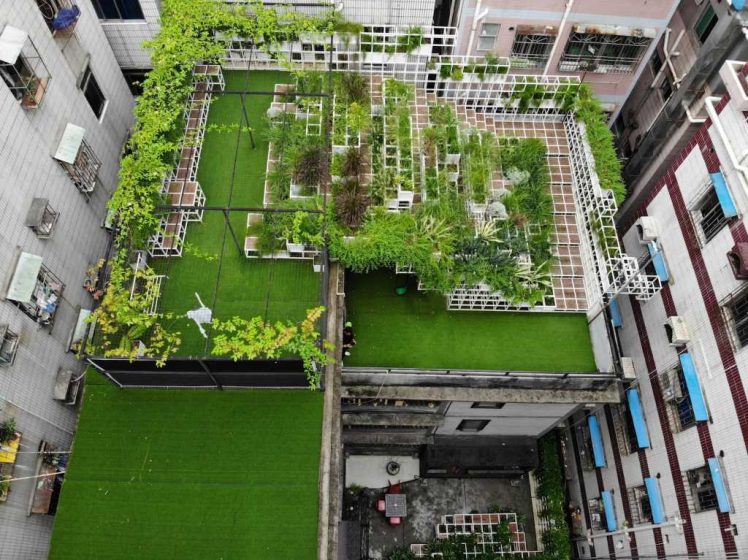 In 2019, the rooftop was incorporated into Shenzhen's Eco-Discovery Route by  CityPlus, an official guidance platform of Shenzhen municipality, as the only sustainable architecture featured in the guide. It is open to visits by the public twice a week. By recreating community spaces such as the Green Cloud project inside urban villages, TNC hopes that they can become "green sponges" for culture and community —— where relationships between neighbors are rebuilt and the sense of community is re-cultivated while enjoying nature. This project has demonstrated the multifaceted benefits that green infrastructure can provide in improving the urban environment and people's lives. In the future, TNC will continue to work towards building healthy cities through the integration of green infrastructure and community engagement.

Vivin Qiang, Fish Xin Yu
Shenzhen
* * *
深圳'城上绿云':用"海绵"屋顶打造城中村的绿水青山
作者:强雪儿,虞鑫
深圳

在开幕当天,大自然保护协会(TNC)邀请了深圳市水务、城管及住建等政府部门,本地媒体和跨界行业人士来一同见证这个新颖项目的历程。这座绿色屋顶不仅变成了一小片城市上空的自然栖息地,也提升了城中村社区的环境宜居性。
深圳位于中国南部沿海地区,毗邻香港,是中国高速发展城市的典范。在短短40年中,这里从默默无闻的小渔村变成了一座现代化大都市。而在深圳1300万常住人口中,近一半居住在城市中大大小小的"城中村"。这些城中村曾经是名副其实的村庄,但城市的高速发展使村边的农田逐渐被"吞噬",变成了摩天高楼。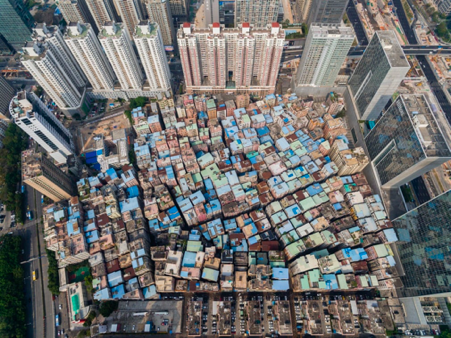 城中村最明显的特征,也许就是它居住空间的密集度。由于村内居民楼之间的距离近到邻居可以打开窗户互相握手,因此又被戏称为"握手楼"。步入城中村,马上会感觉到村内特有的一种都市生活气息,在街道上可以找到各式各样的小餐馆、商铺和菜市场,生活极为方便,唯独缺少如公园、花园一类的自然绿地。位于福田区CBD的岗厦村也如众多城中村一样,高密度的灰硬建筑取代了原先的田地绿野,地下排水设施能力十分有限,长达半年的雨季中,村内外都面临着内涝的威胁。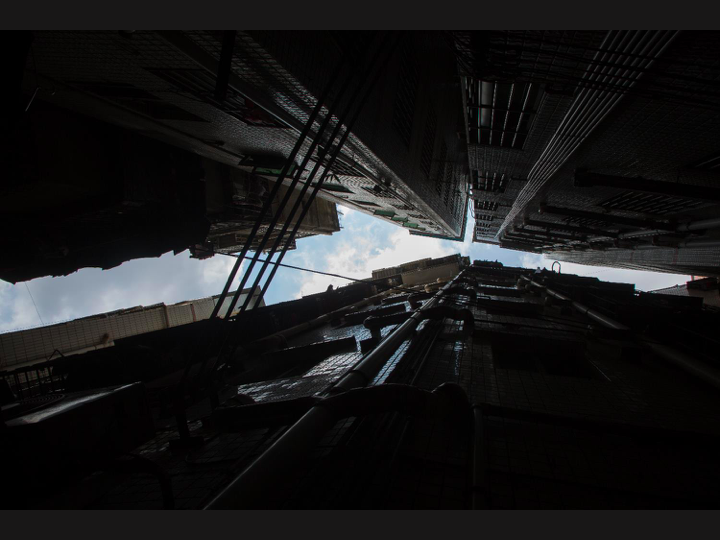 为了解决这个问题,大自然保护协会(TNC)联合多个合作伙伴在岗厦村的一栋老建筑上启动了一项颇具创新性的试点项目,旨在将该建筑的屋顶改造成一个"海绵"空间。名为"城上绿云",该项目采用结构简单的立体轻钢结构,配合屋顶的跃层空间以搭载420余个种植箱,选种了来自华南滨海地区的乡土植物。原本的水泥屋顶由此焕然一新,在美化环境的同时,这些植物与种植箱可以吸收并蓄存雨水,形成了一套遵循自然的雨水管理系统,让该建筑达到了65%的雨水径流控制率。从此,在岗厦村的屋顶上空,出现了一片有生命的"绿云"。
"城上绿云"成为了一个海绵城市建设改造的示范项目。海绵城市指的是以生态优先为原则的城市雨洪管理概念,并在中国由国家政策推动建设。2016年,深圳成为国家海绵城市建设试点城市,自此之后,TNC一直致力于协助当地政府部门,通过建设绿色基础设施提升深圳多个社区应对城市内涝等自然灾害时的韧性。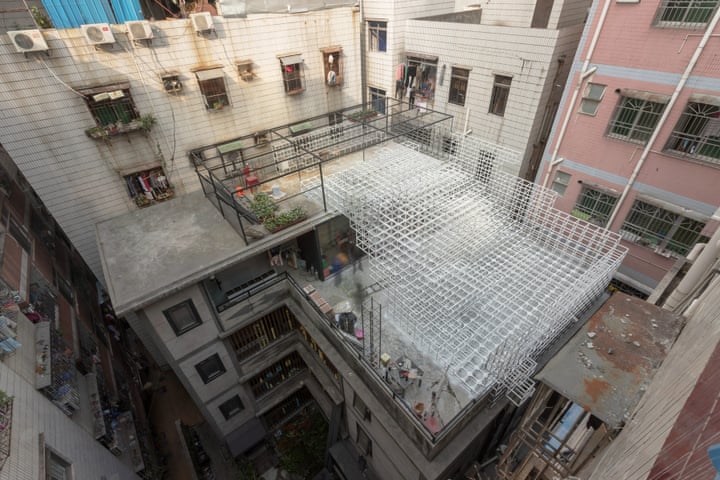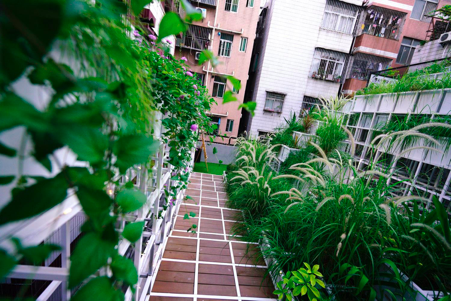 这座"海绵"屋顶不仅可以吸收雨水,同时也是承载社区参与,教育和文化的"柔性空间",尽管它的实践过程会在预料之外。在建设工程开始的两周内,项目受到了周边邻居的投诉,原因是很多居民将绿色屋顶的工程误认为是违法建设。由于城中村内住房紧缺,在居民楼屋顶上违法加盖楼层的事件很常见。收到投诉后,当地执法部门前来查看要求工作团队出示批文,否则不得开工。然而,一个"海绵"屋顶的批文申请尚不存在于任何现有的政府工作中,于是整项工程被迫停工。为了解决这个问题,TNC多次拜访了社区,街道办事处和不同的政府职能部门,耐心地解释项目的整体目标及屋顶改造的工程细节。经过多方的沟通,TNC及其合作伙伴与社区和当地执法部门逐渐建立了信任,最终在没有批文的情况下项目得以复工。这次经验使项目团队认识到当地社区成员支持的重要性,在之后的项目工作中,TNC牵头招募了深圳本地青年、大学生和居民成为志愿者,一同参与"城上绿云"绿色屋顶的建设。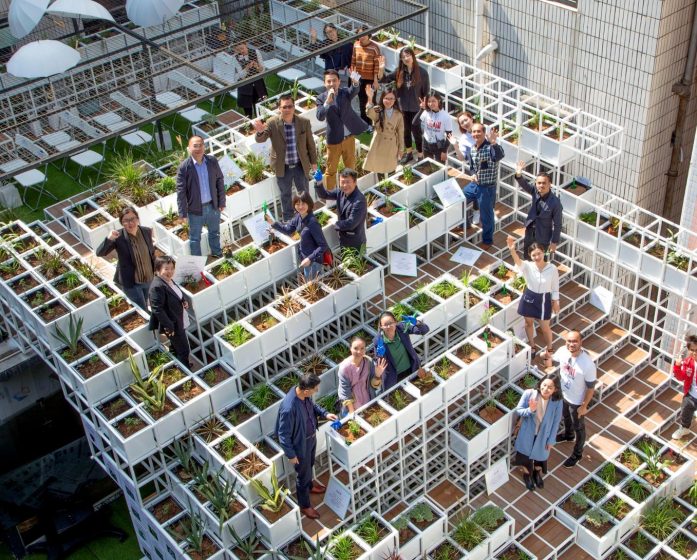 在开幕当天,大自然保护协会(TNC)邀请了深圳市水务、城管及住建等政府部门,本地媒体和跨界行业人士来一同见证这个新颖项目的历程。这座绿色屋顶不仅变成了一小片城市上空的自然栖息地,也提升了城中村社区的环境宜居性。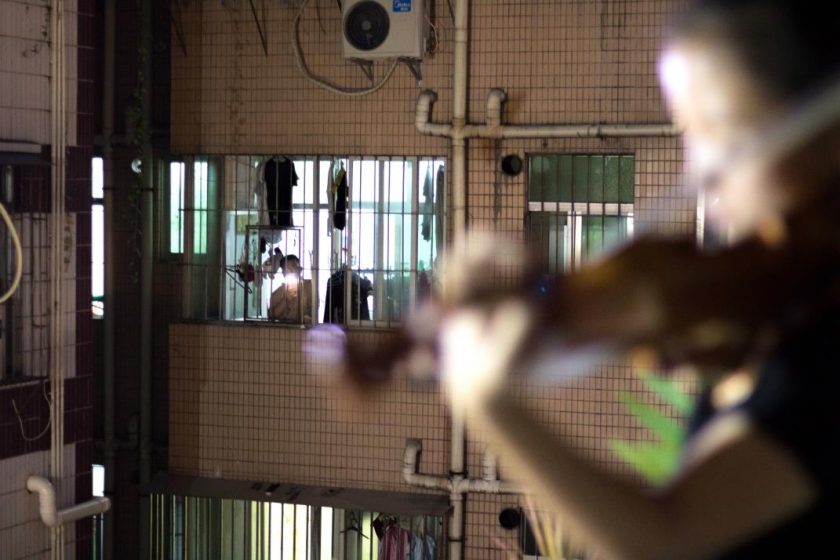 让人意想不到的是,绿色公共空间往往可以为社区生活提供众多可能性。愿意在地实践的TNC也尝试将这些突破性的新想法变成现实。通过深圳一所青少年艺术教育中心提供的支持,在一个夏季的夜晚,一群小小音乐家把城中村的屋顶作为他们的舞台,在植物丛林中,为岗厦村日益忙碌的居民举办了一场古典音乐会。住在周围的居民在他们的窗前便可以倾听到美妙的现场音乐演奏。那个瞬间,在这个人口密集的城中村内,邻里之间的距离变成了一种优势。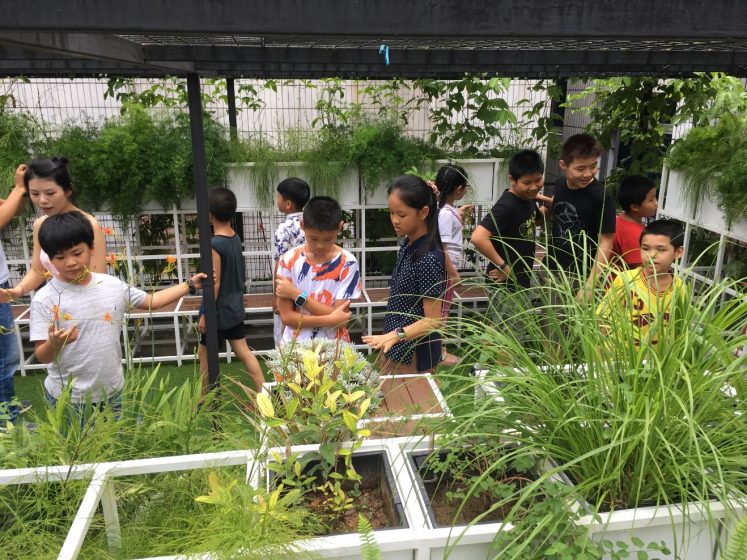 "城上绿云"计划也改变了社区内青少年对自然的态度。两年来,每逢夏天这座绿色屋顶摇身一变,成为一所城中村里的户外自然教室,为开展青少年环境教育课程提供空间。在这里,他们可以学习与生物、水和环境保护相关的课程。让城市内的青少年在学习知识的同时,重新建立与自然的联系可以说是这个项目最为长远的目标。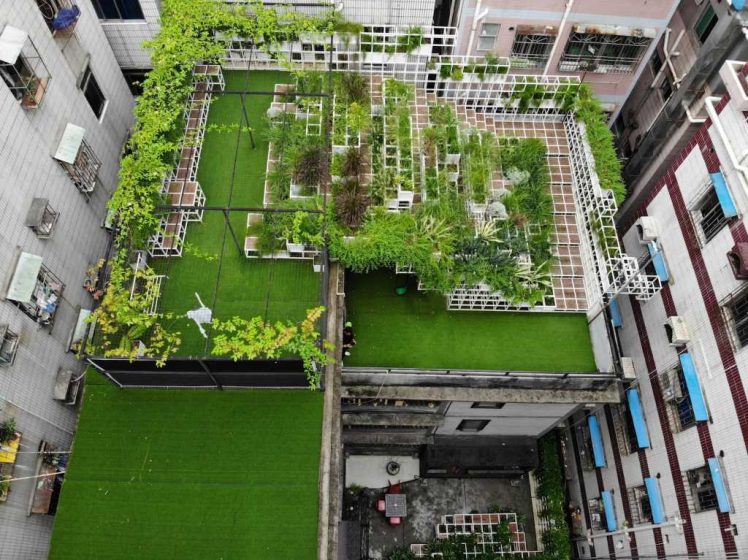 2019年,岗厦村的绿色屋顶被纳入"正深圳·生态路线",成为深圳官方的城市生态全域地图中唯一的海绵城市与绿色建筑推荐景点,并每周开放两次供公众参观。通过在城中村内重建社区空间,TNC希望出现更多类似"城上绿云"的项目成为文化和社区参与的城市"海绵"——通过绿色空间重建邻里之间的关系,提升居民社区意识和归属感,以及享受自然。该项目显现了绿色基础设施在改善城市环境和宜居性方面带来的多重效益。在未来,TNC将继续结合绿色空间与社区参与,推动建设亲自然城市。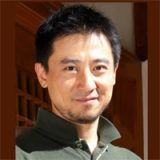 About the Writer:
Xin Yu
Xin Yu (aka Fish) is Shenzhen Conservation Director and Youth Engagement Director of The Nature Conservancy China Program. Since 2017, he has overseen TNC's first City project in Shenzhen, China, focusing on Sponge City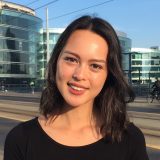 Vivin Qiang is an intern for The Nature Conservancy China Program in Shenzhen, where she works in the areas of communications and community engagement in urban conservation with a specific focus on the pilot Sponge City initiative launched in Shenzhen