The COVID-19 outbreak that began early in 2020 has been an accelerator of how outer public and private spaces are perceived and valued as places for shelter, amusement, and social gathering.
Urban public space has been a subject of rethinking for decades regarding its role as a catalyst for revitalization and as a promoter of social interaction. Thus, most cities have experienced substantial improvements which positioned them in a better ranking of liveable cities, since the type and quality of urban public space have also been associated with the quality of life.
Life quality constitutes a subjective state of comfort that a citizen has in relation to their experience of living and developing in the city. Safety, health, cultural activities, infrastructure, diversity of places, mobility, and citizen participation are some of the important issues that control it. It is clear that part of this satisfaction is linked to public space, which does not only depend on urban services and goods, but also involves factors related to social interaction and organization.
Urban greenspace has long been excellent as a fundamental component in the structuring of outdoor space for its contribution to well-being and mental health. This positioning gained strength in the era of Hygienism, long before the urban revitalization movements of recent decades were installed, focusing mainly on the functionality of public space.
The COVID-19 outbreak that began early in 2020 has been an accelerator of how outer public and private spaces are perceived and valued as places for shelter, amusement, and social gathering. Some previous TNOC essays and roundtables are worth reading again, as they bring an account of ideas to navigate the pandemic and rethink cities in the desired post-COVID era.
(https://www.thenatureofcities.com/2021/04/29/documenting-the-pandemic-year-reflecting-backward-looking-forward/
https://www.thenatureofcities.com/2021/08/25/innovations-from-the-post-covid-19-city-colab-challenge/)
To explore the importance that people gave urban green during the pandemic, Baillie (2020) analysed over 40 million posts published through the social network Twitter, finding two trending topics: "enjoying nature from home" and "outdoor exercise".
Globally, over the course of the COVID-19 outbreak, visits to parks and squares have increased, and new personal rituals and habits with their local environment developed in an effort to escape confinement. Parks, squares, and waterfronts became dance floors, gyms, and open-air halls to celebrate events. In other words, the pandemic strongly modified the relationship between neighbours and nearby green spaces (images below).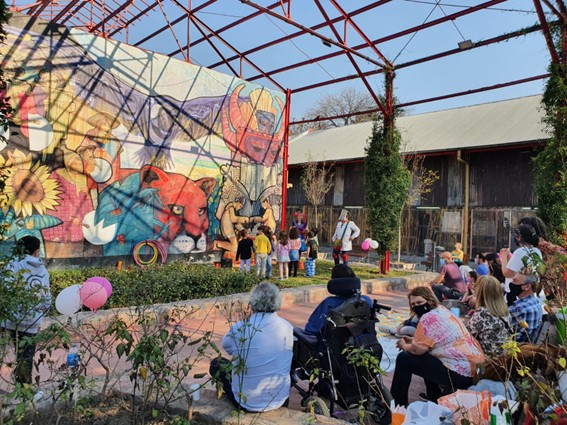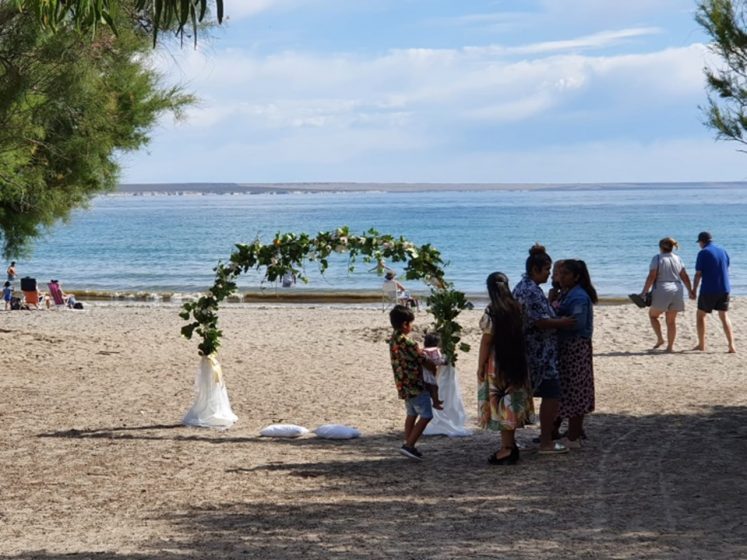 In Argentina, between March and July 2020, only health, security, and food supply workers, or those involved in human care tasks were allowed to leave their houses. The rest of the inhabitants could only move around a radius of up to 500m from their homes for their essential supplies. During the strict confinement period (image below), visits to green spaces decreased by about 87%. Then these restrictions were gradually relaxed, and, by October 2020, the practices of outdoor physical activities and social meetings were finally permitted first to be performed in open spaces. As this happened, people visiting green spaces increased, reaching a level 45% below the baseline pre-COVID. Highly populated districts with low green areas densities showed the highest mobility rates (Apple 2020).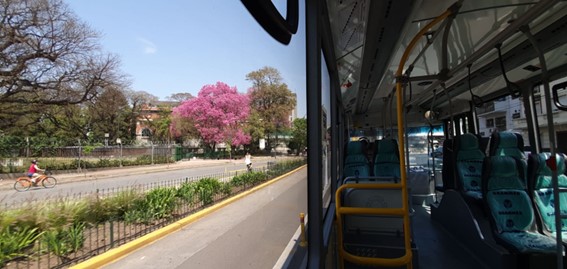 Green spaces became the meeting places in the first place. A recent publication comparing the perception of residents about the UG in Buenos Aires city pre, during, and post-pandemic, based on 1740 surveys and interviews (Marconi et al. 2022) gives interesting results. Respondents of diverse social and demographic profiles assigned similar meaning to UG when asked before and during the COVID-19 confinement. They recognize green areas as "places to be with nature". This opinion changed post-lockdown as UG spaces were considered "important places in the city".
This is striking, since in Buenos Aires the density of green areas per inhabitant is low (6.09 m2/person) and the spaces for the parks and squares were not planned in advance, parks being located in vacant lots. https://elgatoylacaja.com/pisar-el-cesped.
What other examples of change triggered by COVID-19 can be found in some cities in the south of Latin America?
As in other parts of the world, cities have reallocated road space from cars to provide more space for people to stay in bars and restaurants (image below), for bicycles and people to move safely, respecting physical distancing rules. One of the proposals that came with the pandemic is the slow streets, which remain closed to cars and are only accessible to pedestrians, bicycles, and roller skates.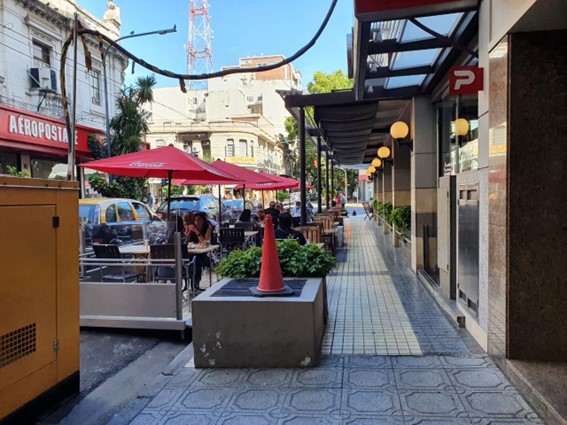 Consumption habits have changed significantly due to fear of contagion, which added to strict confinement measures, and increased the number of workers making home deliveries. A study carried out by the IDB Lab and Digital Future Society shows a home delivery increase of 81% between March and June 2020 in Latin America and the Caribbean. In the city of Montevideo, Uruguay, a multi-stakeholder project created a bicycle parking space as a secure rest-waiting area for those workers, in what was previously a car parking lot, with sanitizing devices and solar energy charging for cell phones.
The pandemic also changed the way we work. With the installation of remote working, the desire to live in a garden city where infrastructure, nature, and landscape merge was realized by many families. Thus, many families moved to localities that were previously only summer tourist destinations. An example is Pinamar, a seaside resort in the South Atlantic that combines sea with forest. With 55,000 inhabitants it had a demographic growth of 17.5% in the last 18 months. Despite the economic retraction that Argentina is experiencing, building construction in Pinamar has grown 225%, eight times higher than the country average with 25 % more shops open than in 2019.
The 2,500 families who moved in the last few months appreciate a city that strives for nature conservation and an adaptive management of the waterfront.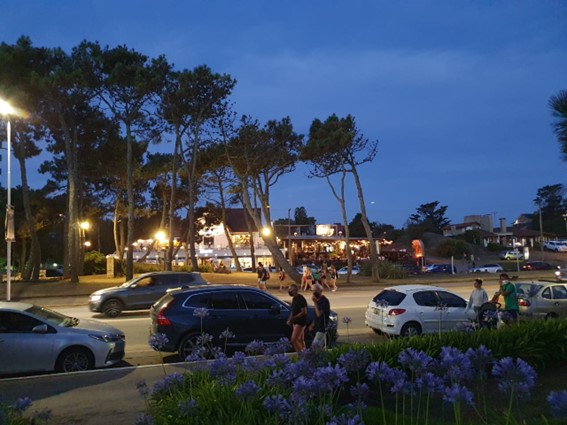 Paradoxically, in the last two years, not only the virus has been mutating, cities did too.
The pandemic made visible shortcomings in the planning of public space, including accessibility, flexibility, design, management, connectivity, and equitable urban distribution. The cities that are best positioned are those who reacted quickly by adopting a political agenda that brings together urban planning, community development, environmental rehabilitation, and public health.
In these two years, the Coronavirus has been a catalyst for the magnificent ideas that the Danish architect Jan Gehl (2010) has preached since his graduation in 1960: Cities for people, with the urgent need to increase more square meters for common interests. His ideas indicate the need to plan cities on a human scale, where to find people: friendly and safe streets to walk along and stop to see details and for social interaction. https://www.youtube.com/watch?v=KL_RYm8zs28.
Let us hope that this street's recognition as structuring channels in which social meaning, mobility, civic engagement, human health, and environmental integrity converge last forever, offering an encouraging future to our cities. If that were the case, the tragedy of the virus would not have been in vain.
References
Apple (2020) Informes de tendencias de movilidad. Retrieved January 8, 2021from https://COVID-1919.apple.com/mobility
Baillie R (2020) How social distancing has renewed our love for nature, and what it means for a sustainable future. Granite J 4(1):27–36
Gehl, Jan (2010) Cities for people. Washington, United States Island Press
Marconi P, Perelman P, Salgado V (2022) Green in times of COVID‑19: urban green space relevance during the COVID‑19 pandemic in Buenos Aires City Urban Ecosystems https://doi.org/10.1007/s11252-022-01204-z
Ana Faggi
Buenos Aires
Ana Faggi graduated in agricultural engineering, and has a Ph.D. in Forest Science, she is currently Dean of the Engineer Faculty (Flores University, Argentina). Her main research interests are in Urban Ecology and Ecological Restoration.