Em Português.
Urban food production is gaining momentum with launching of books, seminars and congresses, websites and social media. Some cities have programs to promote people-nature direct contact through vegetable gardens — common or in allotment gardens. Urban dwellers are becoming more and more engaged in cultivating and collaborating in common public spaces, transforming many underused lawns into productive landscapes.
I have been inspired by these issues and have been investigating and visiting many places in search of interesting examples.
Paris
Paris has been an exciting case not only because it is a large and complex metropolis, but because it also has an important role in people's imaginations, being one of the most visited cities in the world. Paris attracts visitors from everywhere looking for art, culture, fashion, architecture, and parks and gardens! Yes, Paris has numerous parks and gardens of all sizes, shapes, functionality and vegetative cover. They may be historic, recreational, ecological and are important part of the urban forest, like Bois de Boulogne and Bois de Vincennes.
I have gone to Paris very often for decades. In the last years I have seen a great transformation in how Parisians are dealing with urban nature and opening space for people, biodiversity and food production. It is happening not only in parks and gardens, but in streets, small lots, roofs, in public and private areas. Along the river Seine, in the summer streets are transformed as urban beaches. The city has promoted educational events in all spaces and scales, and my perception is that they are making a silent revolution in the way people value nature and have enhanced the day-to-day interrelation with the river, parks and the urban vegetable gardens.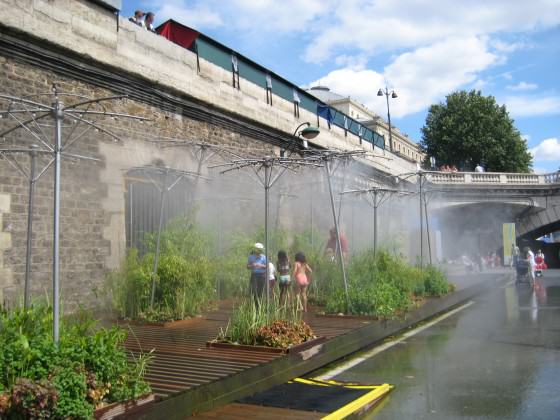 In recent years Gilles Clément, a landscape designer and writer, has done a terrific job in changing minds, both of decision-makers and regular people. He has designed and written about landscape and gardens, as the Tier Paysage (Third Landscape — the unmanaged derelict areas that abound in cities and house an expressive biodiversity); and the Jardins en Mouvement (Changing Gardens) — gardens where the designers and the caretakers work with nature so the vegetation can thrive with diversity in surprising ways; among other publications.
My friends Miguel, Pablo Georgieff and Nicolas Bonnenfant are architects and landscape architects working with communities to build gardens together (see the COLOCO website). They explore the urban biodiversity in many ways, sometimes in urban performances with public participation.
The square in front of the Hotel de Ville (City Hall) hosts different events all year long. In the summer I saw an installation of samples of regional ecosystems to educate people about the nature around them. Many new parks have been designed to recreate those ecosystems. For instance, Jardin d'Éole has beautiful small wetlands and sandy gardens where once there was a train track maneuver area.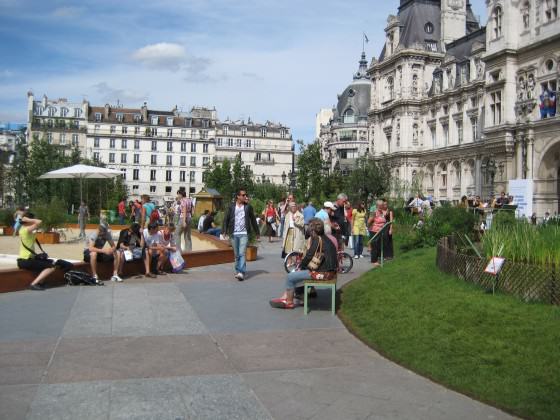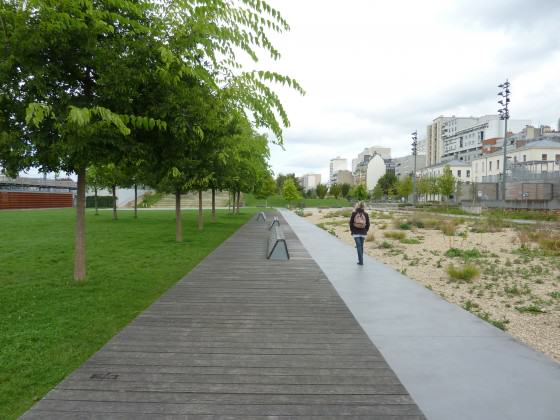 But what strikes me the most is the food planting that is being incorporated in parks and other public and private spaces. It is not a new concept, but today they are part of all the neighborhoods. The public program Jardins Familiaux et Collectifs (Family and Collective Gardens) is more than 100 years old and gives urbanites a chance to keep contact with soil, planting, digging and picking their own food or flowers. There is a long waiting list for a plot of land to explore your own garden, for food production or flowers.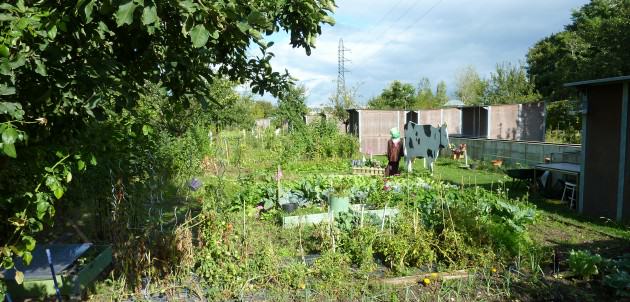 The city is developing a former industrial area in the northwestern 17eme Arondissement (17th district), Clichy-Batignolles. The strategy was to start with the new park Martin Luther-King. The park has achieved social and ecological goals, with spaces for a variety of activities, a built wetland and a productive garden, as part of the Jardin Partagé – Main Verte city program (Shared Garden – Green Hand ). This is an amazing way to give school kids the opportunity to cultivate food in public areas nearby. Each class has its own plot. The common vegetable garden has signs that show who is planting what.

The Main Verte is not only happening in new parks, it is also in Bercy Park, which is now some decades old (see the map with all locations here). Every year in September, the city promotes a weekend dedicated to the gardens, with an emphasis in food production: it is the "Fête des Jardins" (Gardens Party).

Berlin
There is a strong bottom-up movement looking "backwards" to reconnect people with nature in dense urban areas. I was in Berlin last July (2013), and visited two urban gardens that really impressed me: the Prinzessinnengarten at the Moritz Platz, and Tempelhof Park. Both are examples of active social engagement with ecological issues related to food and biodiversity. They are unique places, and have been developed by residents intending to conserve open areas from real estate development. The first is located in the heart of the city, in a former derelict space. An association named Nomadic Green was created and they rented the space from the city and have a restaurant, a café, and a small library. The planting is in portable containers — that's the origin of their name. In just few years the transformation of the place and people has been absolutely astonishing .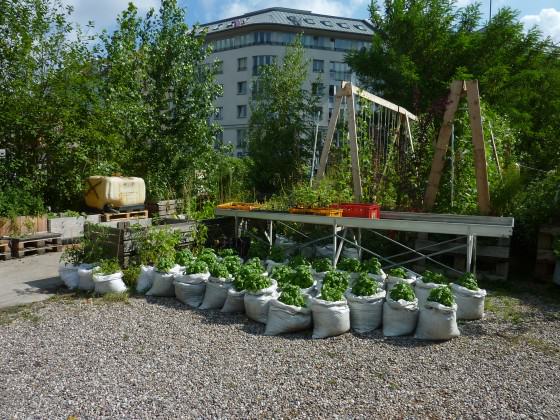 Tempelhof Park is a former airport that was converted in a public park in the South of Berlin. It is impressive in its size. People use and love it. Most remarkable to me is the area where the residents created vegetable gardens and "living rooms" in open air made of recycled material. It is a truly hospitable outdoor place. Even with a strong rain at the end of the day, it was pleasant being in a communal tent, with the sound of the water and wind, and nice conversation with interesting people.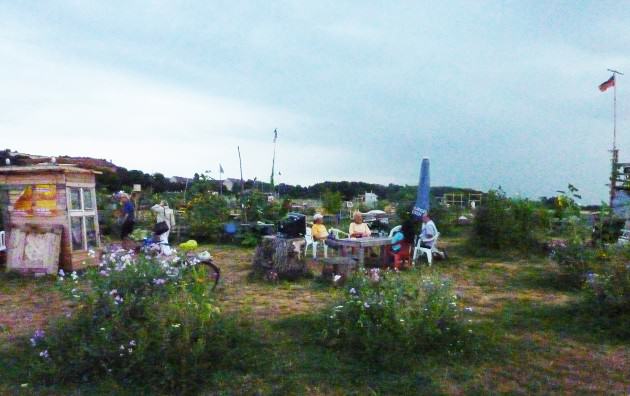 New York
Talking about large cities and food production, New York City is really impressive. There are numerous community gardens in all boroughs, such as the one in the West Side Community Garden. In the area of the New York University there are two examples of engagement with nature. At LaGuardia Corner Gardens, located next to the New York University, there are people that care for a community garden, working to keep it beautiful and with rich biodiversity. It is under threat, because the "NYU 2031" plan proposes building a new high rise on the site. The university itself has the NYU Urban Farm, and when I was there young students were concluding their work in the garden.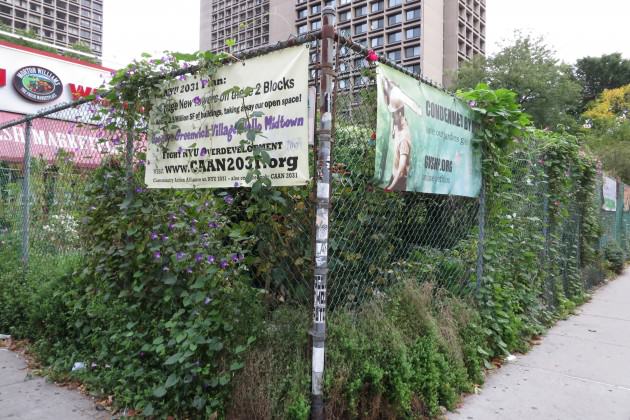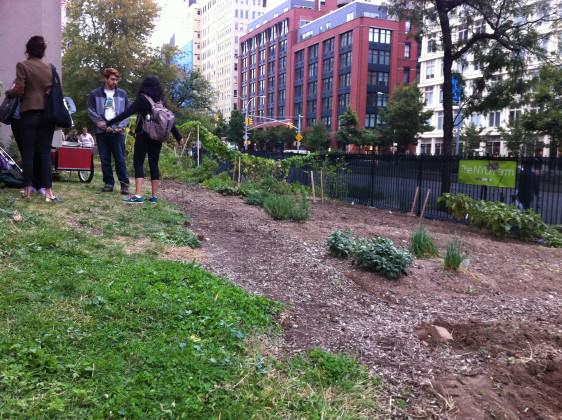 On a commercial scale, the striking innovation is the transformation of gray roofs to urban farms by the Brooklyn Grange. They have two facilities: the first is located in Brooklyn and the second in Queens. They are opened to guided visits on the market days (check the website to see openings that vary according to different seasons. I visited the Queens facility on a beautiful Saturday morning last October (2013). There were a lot of visitors, people buying fresh produce, learning about food planting, appreciating nature on the rooftop of an old building with an astonishing view of Manhattan.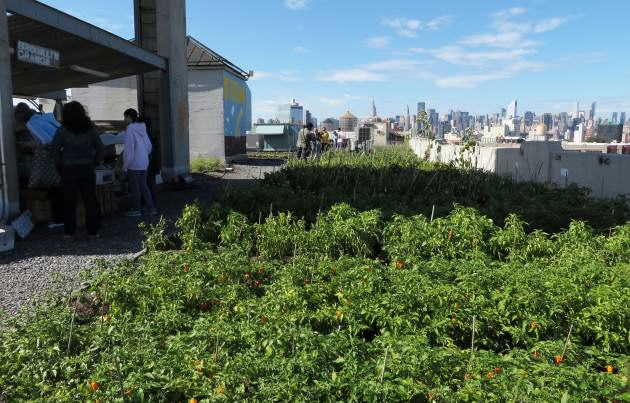 São Paulo
In the city where I was born, São Paulo, Brazil, there is a group called Hortelões Urbanos (Urban Vegetable Producers — in a loose translation) that is transforming places, minds and hearts. It a pro-life movement — in a broad sense — started after two journalists completed a permaculture course and decided to grow their own food. The initial place was at Praça das Corujas (Owl's Place), located in a nice neighborhood. They took over a lawn in this small park to plant food and flowers, and decorated with recycled artwork. In a short period of time, they were joined by more and more residents and replicated the intervention in other public and private spaces. They started a group on the Internet, and in a year and a half they have more than 6,000 members! It is like a good virus inoculated in urbanites in search of a better quality of life.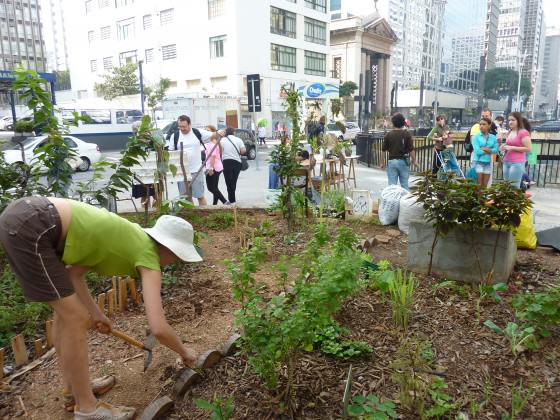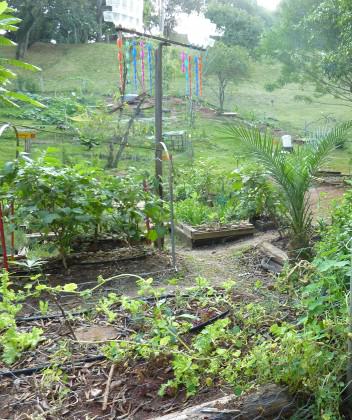 Farmer's Markets go along with those movements. Producers get together to sell their local production to neighbors. Local small urban farmers are gathering to keep productive properties in urban areas in Rio de Janeiro. They have support of local "eco-chefs" that run fancy restaurants. Local is beautiful because it conserve people's jobs and relationships, incentivizes attachment to the land and nature, and maintains traditions and culture, and most of all promotes people's values and emotions.
The benefits are evident: healthy food, people-nature reconnection, better local climate and water quality, more biodiversity and, most important, happier and healthier people. There are many scientific studies that prove the ecosystem services provided by biodiversity and organic food production are essential to maintain life on planet Earth. The recently released book Urbanization, Biodiversity and Ecosystem Services led by Thomas Elmqvist is a must read for people interested in learning more about the benefits of nature in the cities. Productive and biodiverse landscapes should replace lawns and cosmetic gardens with few species, which need costly and constant maintenance. Those areas may be of great importance to build more livable, sustainable and resilient cities.
After years of research, Marco Schmidt (Water Paradigm) eloquently states that extensive land-use change from green to gray, and other uses that cause biodiversity eradication and soil depletion, are important drivers of climate change because there is an alteration in the evaporation cycle that is responsible for the hydrologic cycle which influences local and global climate. This is often ignored. Soils and plants capture carbon and release oxygen, which is fundamental to life; drain and filter water; prevent floods and landslides; cool temperatures and regulate local climate. Urbanization is increasing and so is land-cover change. If we reverse the process, greening and including water in plans and design in many ways in private and public urban areas, we can contribute to build more sustainable and resilient cities. Many of the most pressing crisis may be mitigated and even adapt urban areas for the unexpected challenges that climate change is already bringing to us all, wherever in this planet we may be.
And if public and private lawns were transformed in productive landscapes, planted with food and associated flora for a healthy biodynamic interaction among biodiversity? And if impervious surfaces, such as gray rooftops, sidewalks, parking lots and school yards became green with functional, visible, educational and recreational with water features accessible to all: kids and adults and seniors? And if people, local arts and culture, biodiversity, water bodies and mobility were planned and designed to harmonize communities with plenty of amenities for all ages? What a marvelous cities we would have: livable cities.
These are not dreams. These places exist and people love them, as we have seen above. People have the power to transform the world little-by-little, garden-by-garden, block-by-block, community-by-community.
So, let's get started!
Cecilia Herzog
Rio de Janeiro
As Pessoas Tomam Conta da Natureza em suas Cidades com suas Próprias Mãos
A produção de alimentos nas cidades está ganhando momentum com o lançamento de livros, seminários e congressos, websites e mídia social. Algumas cidades têm promovido programas para que haja um contato direto pessoas e a natureza através de hortas – comuns ou em allotment gardens (lotes públicos que são disponibilizados por uma quantia simbólica anual).
Fiquei instigada por essas questões. Por isso, tenho pesquisado e visitado muitos lugares em busca de casos interessantes. Paris tem sido um modelo empolgante, não apenas por se tratar de uma cidade grande e uma metrópole complexa, mas porque também tem um papel importante no imaginário das pessoas sendo uma das cidades mais visitadas do mundo. Paris atrai visitantes de todos os lugares em busca de arte, cultura, moda, arquitetura, e parques e jardins! Sim, Paris tem inúmeros parques e jardins de todos os tamanhos, formas, funcionalidades e cobertura vegetais. Eles podem ser históricos, recreativos, ecológicos e são parte importante da floresta urbana, como Bois de Boulogne e Bois de Vincennes.
Paris
Tenho ido a Paris com frequência por décadas. Nos últimos anos tenho visto uma grande transformação em como os parisienses estão lidando com a natureza urbana e abrindo espaços para pessoas, biodiversidade e produção de alimentos. Isso está acontecendo não apenas em parques e jardins, mas nas ruas, pequenos lotes, tetos, em áreas públicas e privadas. Ao longo do rio Sena, as ruas no verão são transformadas em praias urbanas. A cidade tem promovido eventos educacionais em todos os espaços e escalas, e minha percepção é que estão fazendo uma revolução silenciosa no modo como as pessoas valoram a natureza e têm melhorado no dia-a-dia as suas inter-relações com o rio, parques e hortas urbanas.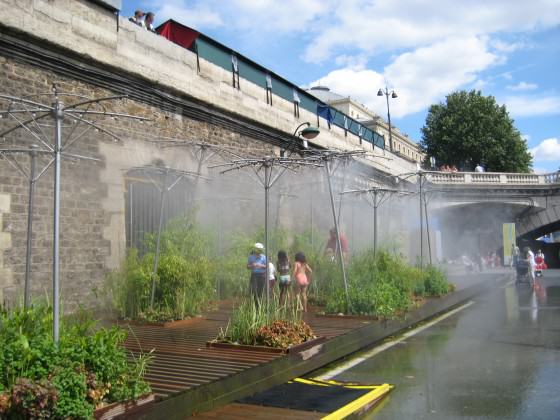 Nos últimos anos Gilles Clément, um paisagista e escritor, tem feito um tremendo trabalho mudando a cabeça das pessoas, tanto de tomadores de decisões como das pessoas comuns. Ele tem projetado e escrito sobre paisagens e jardins, como Tier Paysage (Terceira Paisagem — áreas urbanas não manejadas que se espalham pelas cidades e abrigam expressiva biodiversidade); e Jardins en Mouvement (Jardins em Movimento) — jardins onde o projetista e o jardineiro trabalham com a natureza de forma que a vegetação possa resplandecer com diversidade de maneiras surpreendentes; entre outras publicações.
Meus amigos Miguel, Pablo Gorgieff e Nicolas Bonnenfant são arquitetos e paisagistas que trabalham com comunidades na construção conjunta de jardins (veja o website COLOCO). Eles exploram a biodiversidade urbana de várias maneiras, algumas vezes em performances com a participação do público.
A praça em frente ao Hotel de Ville (Prefeitura) é lugar de diferentes eventos ao longo do ano. No verão, estive numa instalação de amostras de ecossistemas que visavam educar as pessoas sobre a natureza que as rodeia.  Muitos parques novos estão sendo projetados para recriar esses ecossistemas. Por exemplo, o Jardin d'Éole tem um belo wetland (ecossistema de área alagada, no Brasil também conhecido como banhado) e um jardim arenoso, no local onde anteriormente abrigou uma área de manobras de trens.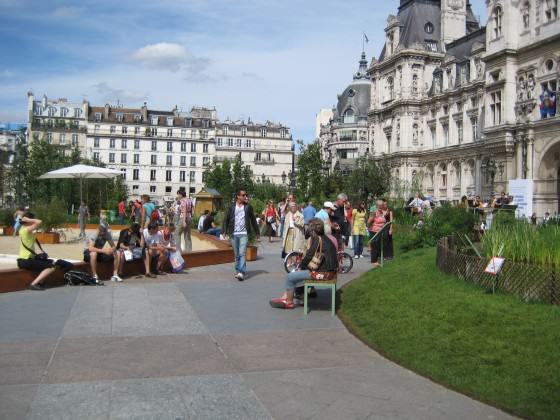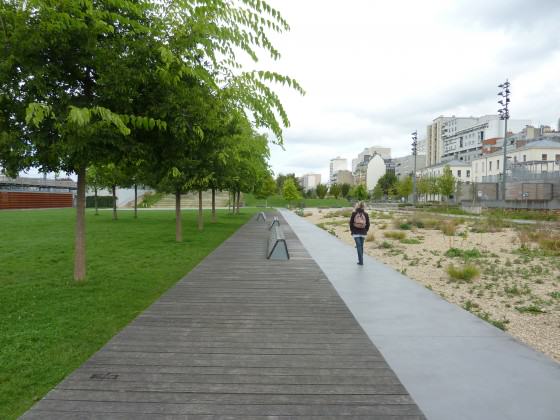 Mas, o que mais me impressiona são as plantações de alimentos que estão sendo incorporadas aos parques e outros espaços públicos e privados. Não é um conceito novo, mas hoje fazem parte de todos os bairros. O programa Jardins Familiaux et Collectifs (Jardins Familiares e Coletivos) tem mais de 100 anos e dá aos "urbanoides" a oportunidade de manter o contato com a terra, com o plantio e colheita de sua própria comida e flores. Há uma longa lista de espera para um lote de terra que possiblita explorar seu próprio jardim, para produção de alimentos ou flores.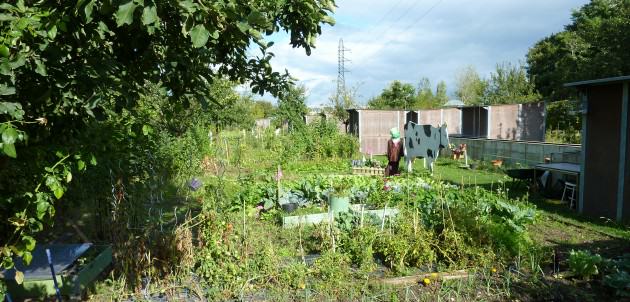 A cidade está desenvolvendo uma antiga área industrial na zona noroeste, no 17eme Arondissement (17o. distrito), Clichy-Batignolles. A estratégia foi a de começar com o novo parque Martin Luther-King. O parque atingiu objetivos sociais e ecológicos, com espaços para umq variedade de atividades, um alagado construído (wetland) e jardins produtivos, que fazem parte do programa Jardin Partagé – Main Verte (Jardim Compartilhado – Mão Verde). Esse é um modo inovador de dar oportunidade a alunos – crianças – de cultivar alimentos em áreas públicas em sua vizinhança. Cada classe (ou sala como se diz no Rio de Janeiro) tem seu próprio lote. O jardim comunitário tem sinalização que mostra quem está plantando o que.

O Main Verte não acontece apenas em parque novos, tem também em Bercy que já existe há algumas décadas (veja o mapa para localização de todas as hortas na cidade em http://www.paris.fr/pratique/jardinage-vegetation/jardins-partages/liste-des-jardins-partages/rub_9111_stand_24892_port_22123). Todo ano no mês de setembro, a cidade promove um fim de semana dedicado aos jardins, com ênfase na produção de alimentos: "Fête des Jardins" (Festa dos Jardins).

Berlim
Há um forte movimento de baixo para cima (vindo dos moradores) olhando "para trás", que visa reconectar as pessoas com a natureza em densos centros urbanos. Estive em Berlim em julho passado, e visitei duas hortas urbanas que realmente me impressionaram: o Prinzessinnengarten na  Moritz Platz (Praça Moritz), e no parque Tempelhof. Ambos são exemplos de engajamento social ativo em assuntos ecológicos relacionados com comida e biodiversidade. São lugares únicos, e têm sido desenvolvidos pelos moradores com a intenção de conservar espaços abertos da especulação imobiliária. O primeiro é localizado no coração da cidade, em um antigo espaço subutilizado. A associação chamada Nomadic Green (Verde Nômade) foi criada e alugou o espaço público da cidade, onde implantou além da horta, um restaurante, um café e uma pequena biblioteca. O plantio é feito em recipientes portáteis – daí a origem do seu nome. Em apenas poucos anos a transformação do lugar e das pessoas tem sido absolutamente surpreendente.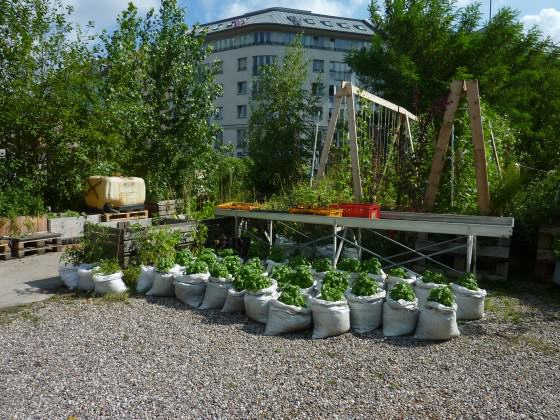 O parque Tempelhof se situa em um aeroporto desativado que foi convertido em espaço público no sul de Berlim. O seu tamanho é impactante. As pessoas usam intensamente e amam o lugar. A área do parque mais marcante para mim foi a parte em que os moradores se apropriaram e criaram hortas e "salas de estar" ao ar livre. É um lugar acolhedor. Mesmo em final de dia com forte chuva, foi agradável ficar em uma tenda comum com o som das águas e do vento, conversando com gente interessante e amigável.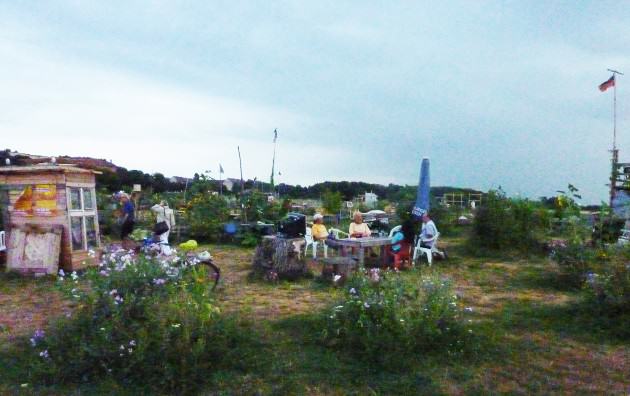 Nova York
Falando de cidade grande e produção de alimentos, Nova York é realmente surpreendente. Existem inúmeros jardins comunitários em todos os bairros, como o West Side Community Garden (Jardim Comunitário do Lado Oeste), na rua 89. Na região da universidade de Nova York (NYU) existem dois exemplos de engajamento com a natureza. No LaGuardia Corner Gardens (Jardins da Esquina LaGuardia), moradores cuidam do jardim comunitário, trabalhando para mantê-lo bonito e com rica biodiversidade. Está ameaçado pelo plano NYU 2031 que prevê a expansão da área para a construção de mais um edifício no local. Alunos da universidade mantêm a Fazenda Urbana NYU. Quando estive lá os alunos estavam terminando o trabalho do dia.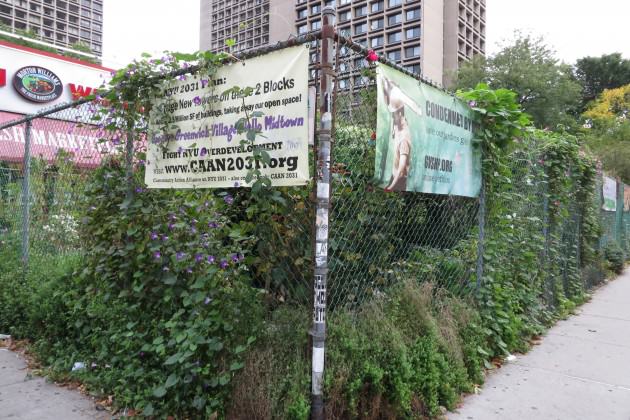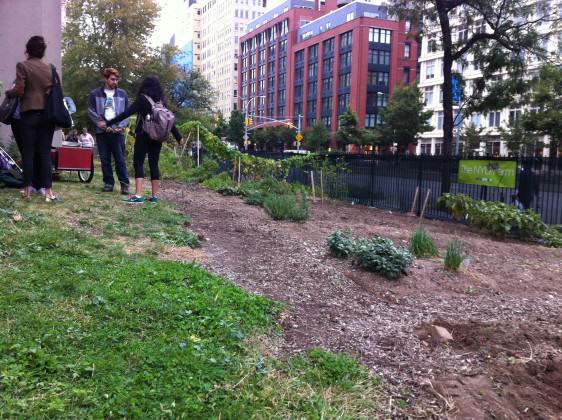 Em uma escala comercial, a inovação espetacular é a transformação de tetos do cinza para o verde nas fazendas do Brooklyn Grange. Ela possui duas sedes: a primeira é a do bairro do Brooklyn e a segunda foi instalada no bairro do Queens. Ambas são abertas à visitação nos dias em que a feira funciona (a programação está disponível no site, pois varia segundo as estações do ano). Visitei a fazenda no Queens em uma bela manhã de outono em outubro passado. Havia muitos visitantes, gente comprando alimentos frescos e orgânicos, aprendendo sobre como plantar, apreciando a natureza do alto do teto de um prédio antigo com uma vista de Manhattan.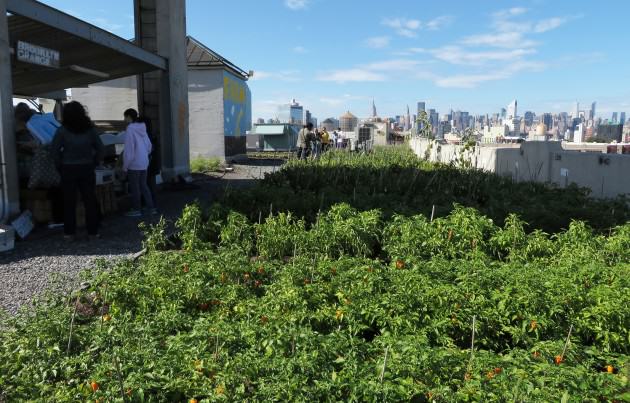 São Paulo
Na cidade em que nasci, São Paulo, há um grupo chamado Hortelões Urbanos que está transformando lugares, mentes e corações. É um movimento a favor da vida – num sentido amplo – começou com duas jornalistas que completaram um curso de permacultura e decidiram cultivar seu próprio alimento. O local inicial foi a Praça das Corujas, na Vila Madalena, um bairro cheio de vida que reúne artistas e muitos jovens. Tomaram conta do que era um gramado ("um deserto verde") plantando comida e flores, decoraram com arte feita de material reciclado. Em curto espaço de tempo, houve uma adesão significativa de mais moradores. Começaram um grupo na Internet, e em um ano e meio possuem mais de 6,000 membros! É como um vírus do bem que está sendo inoculado nos "urbanoides" que buscam uma qualidade de vida melhor.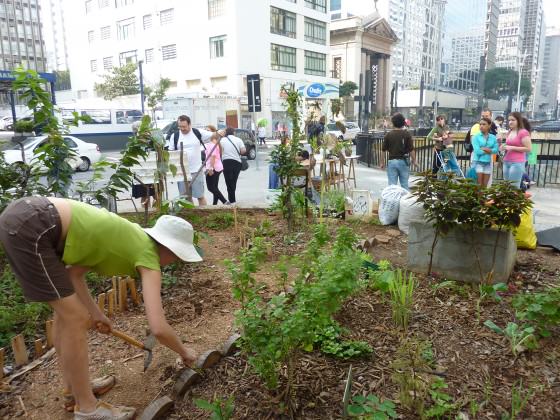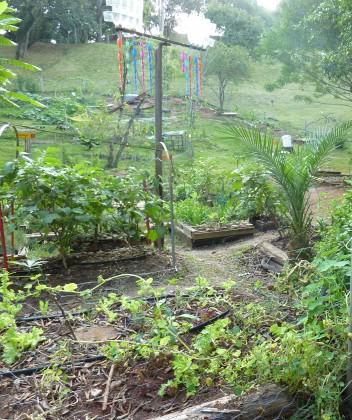 Feiras orgânicas acompanham esses movimentos. Pequenos produtores se reúnem para vender a produção local nos bairros das cidades. Um exemplo de resistência às investidas de urbanização desenfreada é o movimento dos produtores rurais da cidade do Rio de Janeiro, que estão se organizado para manter as propriedades agrícolas nas áreas urbanas. Seus sítios ficaram inviáveis por conta do Plano Diretor que designa toda a área da cidade como urbana, tendo que pagar o imposto por metro quadrado. Eles têm o apoio dos "ecochefs" que trabalham em restaurantes e mantêm uma barraca na Feira Orgânica do Jardim Botânico, aos sábados. Produção local é bonita, pois conserva o trabalho e as relações, incentiva laços com a terra e a natureza, e mantém tradições e cultura locais, e mais do que tudo melhora os valores e emoções das pessoas.
Os benefícios são evidentes: comida saudável, reconexão das pessoas com a natureza, melhoria do clima e da qualidade das águas do local, aumenta a biodiversidade e, mais importante, proporciona pessoas mais felizes e saudáveis. Existem inúmeros estudos científicos que comprovam que os benefícios que a natureza e alimentos orgânicos oferecem são essenciais para manter a vida no planeta Terra. O livro lançado recentemente Urbanization, Biodiversity and Ecosystem Services (Urbanização, Biodiversidade e Serviços Ecossistêmicos) liderado por Thomas Elmqvist é uma leitura essencial para pessoas interessadas em aprender mais sobre os serviços que a natureza oferece nas cidades. Paisagens produtivas e biodiversas deveriam substituir gramados e jardins cosméticos com poucas espécies ornamentais, que necessitam de manutenção cara e permanente, melhorar a funcionalidade da cidade. Essas áreas podem ser de grande importância para a construção de cidades com melhor qualidade de vida, mais sustentáveis e resilientes.
Depois de anos de pesquisa, Marco Schmidt (Water Paradigm) afirma eloquentemente que a mudança do uso do solo de verde para cinza, e em outros usos que causam erradicação da biodiversidade e perda de solo fértil, é um fator que provoca mudanças climáticas porque altera o ciclo de evaporação que é responsável pela manutenção do ciclo hidrológico, o qual influencia o clima local e global. Isso é frequentemente ignorado. Solos e plantas capturam carbono e produzem oxigênio que é fundamental para manter a vida; drenam e filtram águas da chuva; previnem enchentes e deslizamentos de terra; amenizam as temperaturas e regulam o clima local. A urbanização está aumentando, assim como a mudança na cobertura do solo. Se revertermos esse processo, incluindo vegetação nativa e as águas em planos e projetos de diversas maneiras em áreas urbanas públicas e privadas, podemos contribuir para a construção de cidades mais sustentáveis e resilientes. Muitas das crises mais urgentes podem ser mitigadas e até mesmo adaptar áreas urbanas para desafios inesperados que as mudanças climáticas nos trazem, onde quer que estejamos no planeta.
E se gramados públicos e privados fossem transformados em paisagens produtivas, com alimentos e vegetação associados para manter a interação biodinâmica entre a biodiversidade? E se as superfícies impermeáveis, como tetos, calçadas, estacionamentos e pátios escolares se tornassem verdes com águas visíveis, recuperando as funções da paisagem, proporcionando recreação e educação acessíveis a todos: crianças, adultos e idosos? E se as pessoas, arte e cultura locais, biodiversidade e mobilidade fossem planejadas e projetadas para harmonizar comunidades com muitas amenidades para todas as idades? Que cidades maravilhosas poderíamos ter: "cidades vivíveis".
Esses não são sonhos. Esses lugares existem e as pessoas adoram, como vimos acima. As pessoas têm o poder de transformar o mundo pouco-a-pouco, jardim por jardim, quarteirão por quarteirão, comunidade por comunidade.
Então, mãos à obra!
Cecilia Herzog
Rio de Janeiro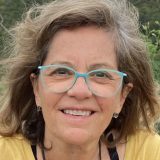 Cecilia Polacow Herzog is an urban landscape planner, retired professor at the Pontifical Catholic University of Rio de Janeiro. She is an activist, being one of the pioneers to advocate to apply science into real urban planning, projects, and interventions to increase biodiversity and ecosystem services in Brazilian cities.