A review of Earth Stories, an exhibition on view at the San Jose Museum of Quilts and Textiles now through February 28, 2016.
The San Jose Museum of Quilts and Textiles is tucked into a rather plain looking beige building at the southern end of San Jose's "SoFA" arts district. You wouldn't think much of it at first glance, but this is the oldest museum in the United States dedicated to celebrating quilts, garments, and ethnic textiles as art forms, and currently stewards a permanent collection of over 800 such pieces.
Material and thread can communicate much about our human relationships with our urban and natural environments.
This particular exhibition is a unique event for the museum, an international "juried" exhibition that marks the 25th anniversary of Studio Art Quilt Associates.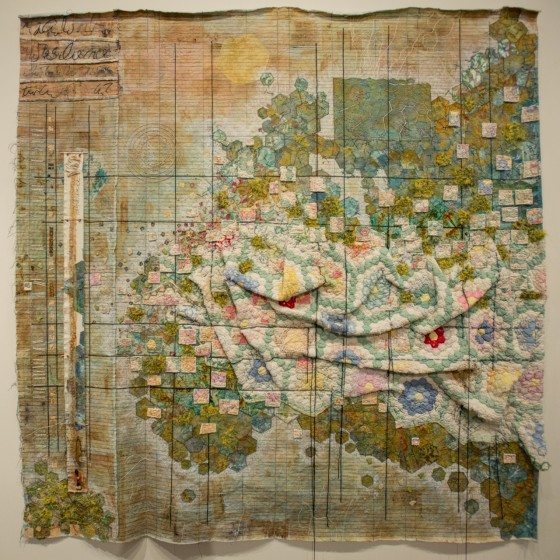 The requirement for having your work considered for the Earth Stories show was that it be inspired by "an individual or organization doing something to save the planet," says the show's juror, Dr. Carolyn L. Mazloomi. It was a selection process she had never encountered before, but one which she nevertheless believes could be critical for artists and museums to engage in during these trying social and ecological times.
"The power of the arts to promote certain causes lies in their emotive nature" says Mazloomi, pointing to the fact that emotion plays a big role in why and how arts can inspire actions, connecting to viewers in ways that data sheets, presentations, and lectures cannot. And so, the Earth Stories exhibition begins.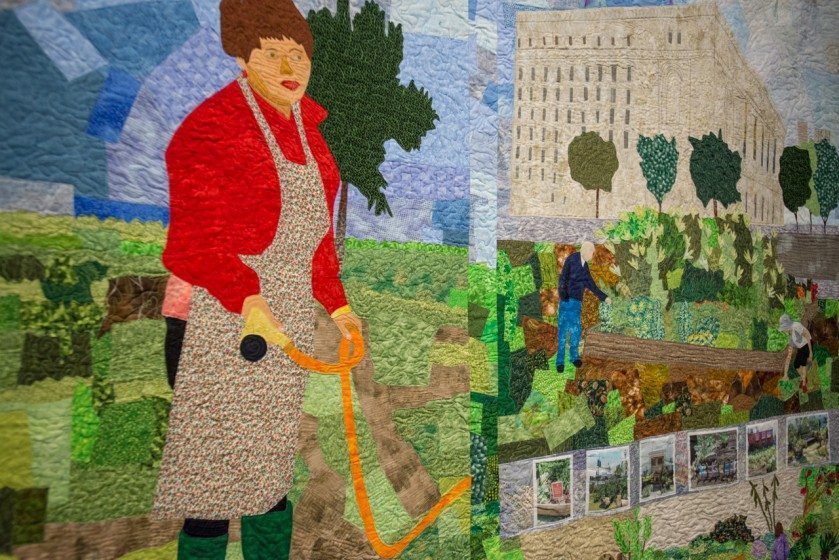 The exhibition showcases 25 textile artists from around the world, but one image in particular, Marion Coleman's Tender Garden, hits home both literally and figuratively. With panels picturing flourishing green swatches and human figures set around the imposing edifice of San Francisco's Civic Center, Tender Garden tells the story of a community garden in the Tenderloin, historically one of San Francisco's most troubled neighborhoods. Historically, the Tenderloin is a food desert; Coleman explains that the garden provides a source of fresh vegetables to the neighborhood. Given the vivid patchwork of natural colors and patterns and how they interact with the human elements, one can't help but feel that the artist enjoys celebrating the connecting of human, nature, and community more than just the food harvest. This piece was inspired by Tenderloin Neighborhood Development, San Francisco.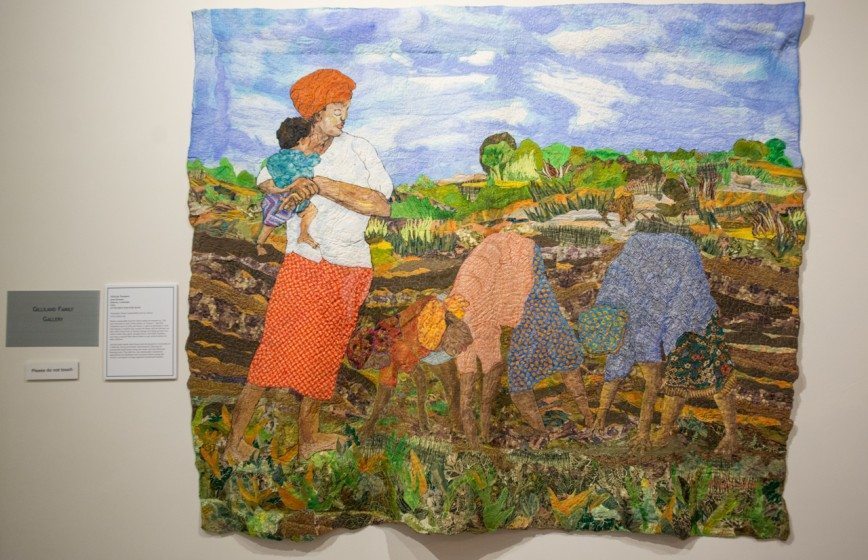 Adjacent to Tender Garden, similar issues are set within radically different circumstances in a work titled African Farmers, by artist Jean Herman. Layers of soil and substrate flow through the middle of the piece, where three women work, hands and feet blending with the soil as another stands close by with a child. In a world where even the most well-meaning Western philanthropy often creates social and ecological turmoil in Africa, this piece gives us an up-close, relevant view of agriculture in Africa and the need for small-scale, local solutions that speak to needs at the individual and village level. The work was inspired by Rotary sustainable food for Africa.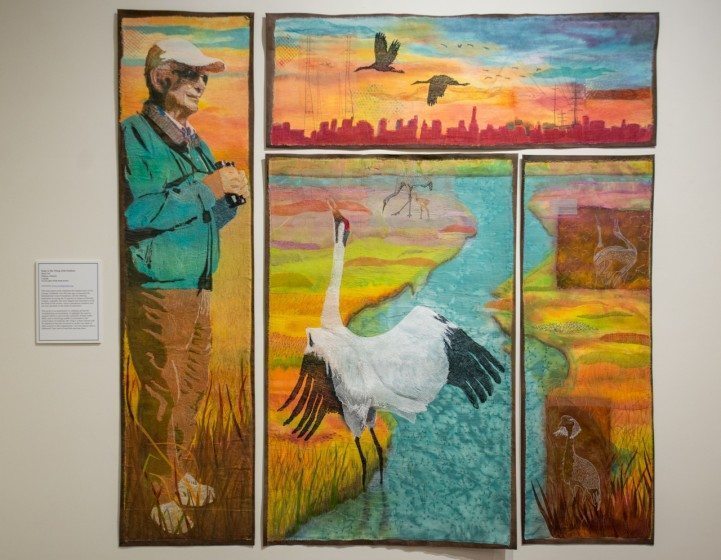 Perhaps unsurprisingly, there is a large collection of work dealing with farming and food in the context of urban and rural society here, but it doesn't stop there. The thought process from artists in this collection extends deep into our homes and lives, as well.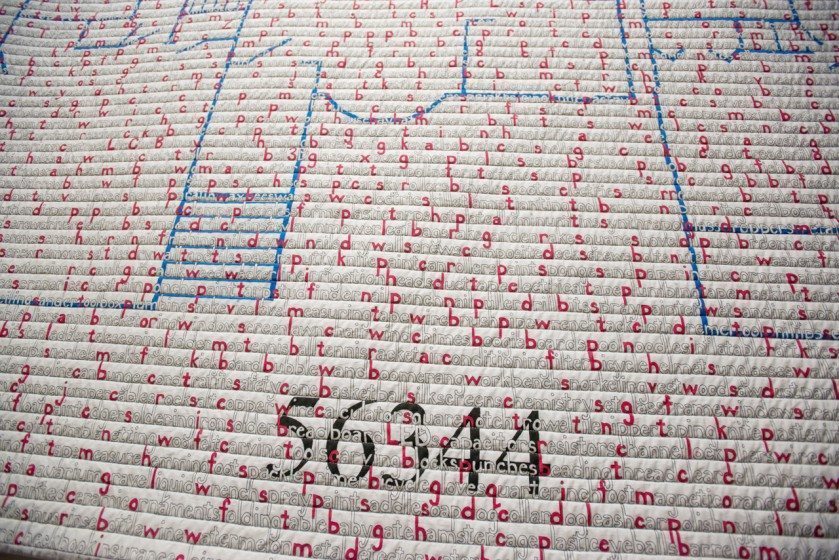 One of the most simple yet striking works was one inspired by Annie Leonard and the Story of Stuff. After seeing the Story of Stuff, artist Kathy York of Austin, Texas, was driven to spend six months dedicated to counting every single object in her home. The compulsion of the artist often plays out in obsessiveness, and this obsessiveness makes a strong statement in York's work. "I value a simple lifestyle and yet I have too much stuff," says York. The six months of counting produced a number that made the artist "nauseous," as York found that she has 56,344 objects in her home.
The quilt which York produced, titled Crowded House, is an enormous and overwhelming work to take in, consisting of a floor plan of her home, and a list of household items ranging from an adjustable sawhorse to wind chimes. The work is a powerful visual, a testament to life, which is all too commonly filled with too much stuff. The "stuffness" of life has perhaps never been so apparent as it is in this bewildering display, line after line of stuff.
While Crowded House is effective in overwhelming us with information, there is one work in this show that, like the museum itself, is so delicate and understated, we could easily miss it, and yet, if we did, we would miss one of the most powerful statements to be found here.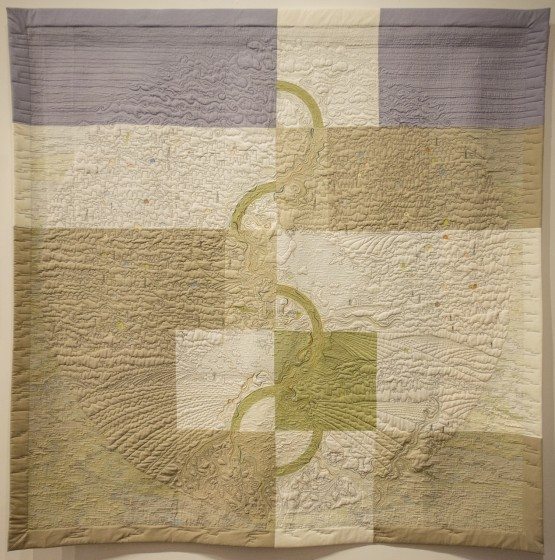 Stream of Consequences offers a subtly colored patchwork which, as one moves closer, reveals layers upon layers, a web of complexity mirroring the interconnectedness and mutual reliance of our urban and natural ecologies. Inspired by the Wolf River Conservancy, artist Paula Kovarik uses single lines of machine-sewn thread to create emotive landscapes: homes, businesses, power lines, and church steeples morph in and out of trees, windmills, and farmland.
The striking bit, however, is in how it all flows together, wind currents blowing and tumbling through clouds into towns and agrarian landscapes and out again through forests and areas of wildlife, all of it done with single lines sewn to form outlines, silhouettes of our various relationships with this earth. All of these are then tied in to a central meandering river.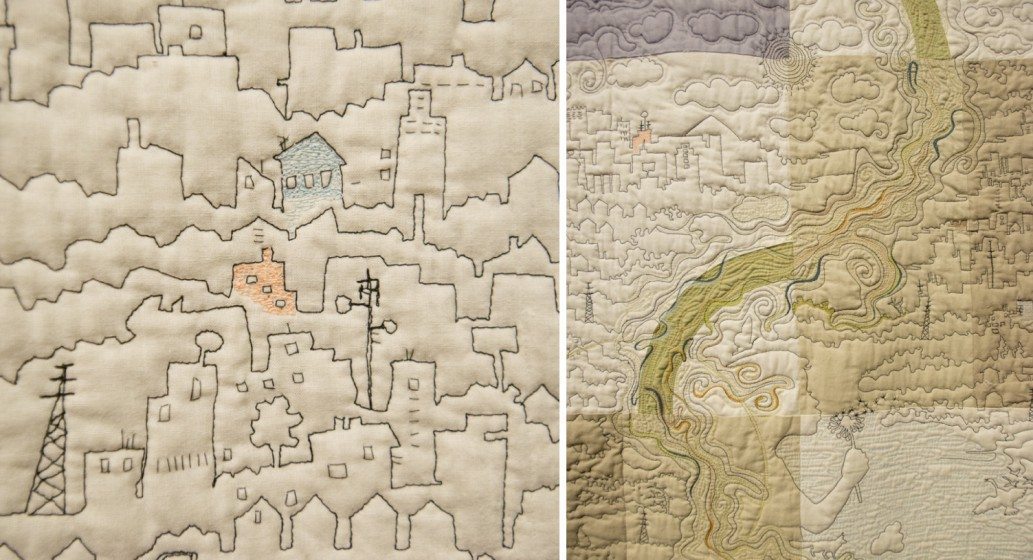 For a person familiar with all of these places as individual entities—a forest, a deer, a farm silo, an apartment tower—Kovarik does the job of giving us the sense of interdependence, how it is all intertwined, how each section of thread is literally tied to the vastness which flows to and from either end.
Kovarik's quilt reminds me of famed naturalist John Muir's observation that "when we try to pick out anything by itself, we find it hitched to everything else in the Universe."
The idea that material and thread can communicate so much about our human relationships with our urban and natural environments isn't so wild. With quilts and textiles, we have such a cultural history of closeness and familiarity. Perhaps this closeness only further deepens the inherently "emotive nature" of art that Mazloomi calls out in the opening to this show.
The works in this exhibition are meant to incite actions to "save the earth," and while that claim does feel overly generic and ineffective, the majority of the works here are certainly not.
If we're working to save anything, whether it's a forest or a culture, one can't help but think how much easier it is to save that something when one has a personal relationship with it. In this way, much of what Earth Stories accomplishes is in bringing enough familiarity to the gallery wall that we might more easily re-establish these relationships.
Perhaps the power of 25 quilts on a wall is in the simple act of using familiar materials and cultural formats to foster new ideas and relationships. With luck, it can inspire actions, too.
Patrick Lydon
San Jose & Seoul
Further Reading:
Environmental Organizations Related to the Exhibition: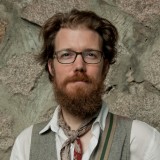 Patrick M. Lydon is an American ecological writer and artist based in Korea whose seeks to re-connect cities and their inhabitants with nature. He writes The Possible City series, is co-founder of City as Nature (Daejeon). He is an Arts Editor here at The Nature of Cities.