This is a tale of an experience I had in Alachua County, Florida. The challenge? How can we encourage the construction of more natural stormwater ponds, which offer more wildlife habitat and more efficient ways to remove pollutants?
Stormwater retention/detention ponds can be designed to provide multiple ecosystem services. The question is whether we we can find the right combination of regulatory policy, economic incentives, enforcement capacity, and public education to allow them to do so.
We have all seen conventional stormwater ponds—deeply dug ponds, with mowed turfgrass and some exotic plants all around the perimeter. Often a chain-link fence surrounds the ponds. These types of ponds may be good at storing water, but they offer little in terms of wildlife habitat and do not efficiently remove pollutants from stormwater. Mowed and fertilized turfgrass around the pond only exacerbates nutrient loading to the pond, not to mention the amount of greenhouse gases that are emitted through mowing and fertilizing. Alternatively, increased native vegetation around the perimeter and within the basin (and decreased turfgrass) help to improve uptake of pollutants from the water and simultaneously provide wildlife habitat. Unfortunately, in Florida, the norm for stormwater ponds is mowed turfgrass throughout.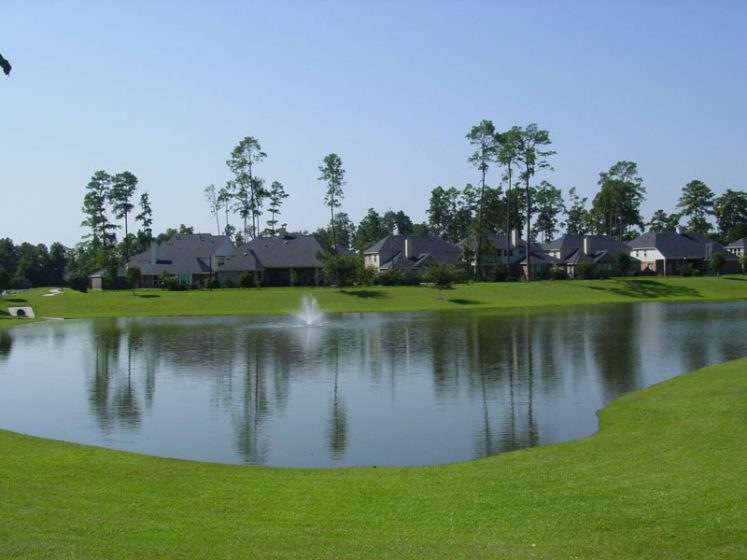 How can we change this norm? We explored this issue in Alachua County, Florida. The stakeholders involved were scientists from the University of Florida, environmental consultants, city/county staff, and developers. We met over a number of years to develop policies that would encourage enhanced ponds. These enhanced ponds would contain areas that were not mowed and increased native vegetation. The goal was for these ponds to offer more wildlife habitat and be better at removing pollutants from stormwater. These enhanced stomwater ponds were nicknamed no-mow ponds. These included primarily detention ponds (that hold water for short periods of time) along with a few retention ponds (that maintain a pool of water throughout the year). Below, I describe a four-part account to create policies that promoted these no-mow ponds and lessons learned.
Creating the no-mow pond policy
About 11 years ago, discussions with county staff, local developers, scientists, and some environmental groups were started to explore policies that would encourage the construction of no-mow ponds. Many meetings were conducted to explore how county policies could be amended to promote these alternative ponds. Design and management practices were hashed out to determine what these no-mow ponds would look like and how they would be managed. The following is essentially what was agreed upon:
the majority of the basin and the perimeter of the pond would not be mowed;
mowed areas only occurred around inlet and outlet for maintenance;
there would be forebays (i.e., shallow areas designed to capture sediments before water runs into deeper areas) and littoral shelf zones so wading birds could forage in shallow areas along the edge;
native trees would be planted in the perimeter and basin;
the public must be able to access and walk around the pond and there should be no fencing; and
educational signage is required explaining the purpose of the no mow ponds because they were designated as open space and not mowing them was unconventional.
To see language of actual code adopted, go to the following link and scroll to Chapter 407.56 through 407.58 (https://growth-management.alachuacounty.us/formsdocs/uldc.pdf).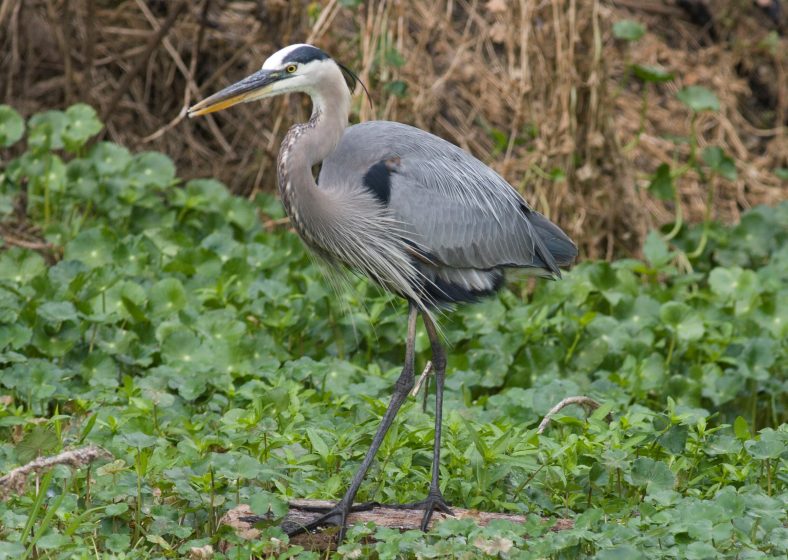 To encourage the creation and maintenance of these no-mow ponds, the county adopted a new incentive policy and made it available for developers to try (voluntarily). It was a voluntary incentive because developers were not required to create these no-mow ponds, but if they did, they were allowed to count these ponds as open space credit. In Alachua County, a current zoning regulation exists were approximately 20-50 percent of proposed developments have to be designated open space. Normally, stormwater ponds were not counted as part of the percentage requirement for open space; however, if the developer created no-mow ponds, the footprint of these ponds could be counted towards the open space requirement for the property. The developers that adopted the construction of no-mow ponds could ultimately build more homes on the site because the remaining open space requirement is reduced. Thus, a big financial incentive!
Policy implementation and failure
Fast forward a few years. Several developers applied and received the open space credit, and created no-mow stormwater ponds. However, upon inspecting these installed ponds, a majority were mowed and had very little native vegetation. The developer had already received the credit but now the designated no-mow ponds look like conventional ponds. What happened?
Essentially, there was no robust mechanism to monitor and make adjustments once landscaping companies took over maintenance or when people moved into the neighborhood. A combination of factors were at work. Foremost, most of the landscaping companies were used to mowing the basins and perimeters of retention/detention ponds so they just continued to do so. No information about the unique management of these no-mow ponds was passed down. When these ponds were located in neighborhoods, residents saw these "scraggly" ponds and they convinced the landscaping company to mow them. Additionally, the educational signs that were installed (to inform the residents and maintenance crew about these no-mow ponds) were the size of a postage-stamp, and did not explain the rationale of these enhanced stormwater ponds. Finally, there was no claw back provision on the permit, so that if these ponds were not functioning as intended, the developer would lose the open space credit or the developer/homeowner association would be fined. With no oversight, the no-mow ponds turned into conventional ponds.
Take two: back to the drawing board
Because of these initial failures, we (developers, city/county staff, and scientists) reconvened in 2014 and brainstormed about how to improve the policy to achieve long-term, functionally enhanced stormwater ponds. I (and others) mentioned the problem of no oversight and lack of communication with landscape maintenance companies.
I suggested four strategies:
Extension services (University of Florida) could be used to train and certify landscaping companies in the region about maintenance of these no-mow ponds. Extension is the outreach arm at the University of Florida, and each county has hired personnel to interface with the public. To get open space credit, the developer and homeowner association (HOA) could only hire these companies to manage these ponds.
Because the developer is benefiting (monetarily, from the open space credit), he/she would set aside some money that would be used to hire a third party monitoring person that would visit the ponds twice a year. After the developer completes the community construction, the HOA is structured in such a way that a portion of monthly dues is set aside to hire a third-party monitoring entity. The fund includes enough money to make amends when things are not functioning.
A significant fine should be levied to the developer if during construction of the community, these ponds fail to be maintained appropriately. After developer leaves, there is a mechanism where the HOA has to keep up with the maintenance, and if not, a significant fine is levied on the HOA.
I suggested that we require significant (i.e., more conspicuous) signage that really explains the purpose of these ponds and why they look the way they do. To see examples of these educational signs, visit https://www.thenatureofcities.com/2015/06/14/how-can-we-engage-residents-to-conserve-urban-biodiversity-talk-to-them/.
Of the four suggestions, only the significant signage requirement was considered as a draft revision to the code. The third-party monitoring, levying fines, and limitations on types of landscaping companies received significant resistance from the developers in the group and even county staff thought it would be too difficult to monitor and levy fines. From the developer perspective, reading between the lines, they wanted the extra open space credit but did not want to give up control of who maintained it and did not want to open themselves up to fines. Moreover, developers said the third-party monitoring would cost extra money even though building a few extra homes (the credit) was a significant financial benefit. From county staff perspective, I think the staff recognized that these first three solutions would be more robust, but they hesitated because it would be difficult to create and write up the mechanism for monitoring and levying fines. For example, which county staff would oversee the third-party monitoring and maintenance by an appropriate landscaping company? Who would check and levy a fine? The county staff were already stretched thin, and while University of Florida Extension could step in, train landscaping companies and even monitor the ponds, the regulatory part (levying fines) would still fall on county staff. Who would do this? In addition, there was confusion about who actually had regulatory authority among different county departments, and these representatives were not always at the table in these discussions.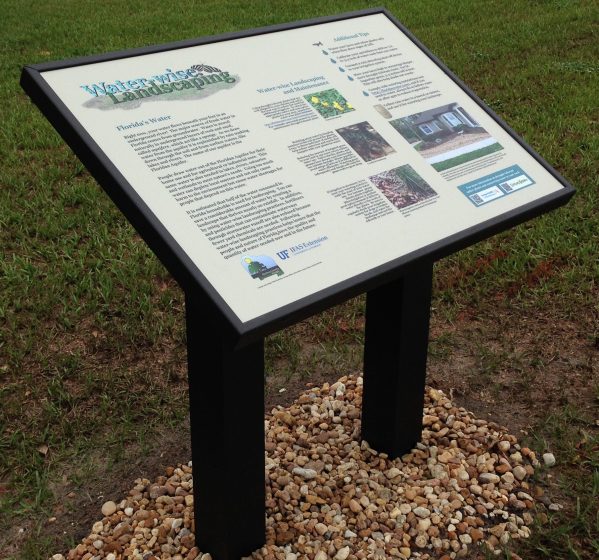 Thus, the larger signage requirement was placed into the proposed policy revisions along with some proposed modifications to the pond design. Although I was not entirely happy with the outcome, at least we implemented the improved signage into the review of open space credit applications. Although not formally adopted into code (as of yet), the improved signage and improved modifications to the pond design were communicated to developers (by Alachua County staff) as essential to obtain open space credit.
More failure, but some mini-successes
To see how the new and improved requirements would play out, I became involved with a development in Gainesville that installed the no-mow ponds. Working with county staff and a developer that had received open space credit, we ran into some issues regarding the maintenance of these no-mow ponds and in installation of the signs. First, it was very apparent that the developer and site manager (my main contact) had no idea about what these no-mow ponds actually meant. This is likely because there had been no communication between the engineering consultants that applied for the open space credit and the site manager. It took a lot of back and forth (with county staff involved) to get the developer to recognize that these ponds were special and required proper signage and a unique maintenance regime.
Were the ponds mowed? They were, at first. Initially, the site manager communicated to county staff and myself, in emails, that the ponds were not being mowed and that the hired landscaper understood what was to be done. However, several spot checks revealed that the pond basins and sides were still being mowed. Instructions about the no-mow areas were not communicated to the hired landscaping company and their workers. It took quite a bit of effort on my part and that of the county staff to educate the people overseeing the landscaping company that these areas should not be mowed.
Overall, the developer and site manager did not put much emphasis on how important it was to maintain these ponds in the spirit of the original design and management plan. If it were not for myself and dedicated county staff to go back multiple times, take pictures, and communicate repeatedly, I strongly believe that these ponds would have turned into conventional ponds as before. To date, though, it seems the basins are not being mowed. But who knows what will happen two to five years down the road, especially when the developer leaves and the homeowner association obtains control of managing these ponds?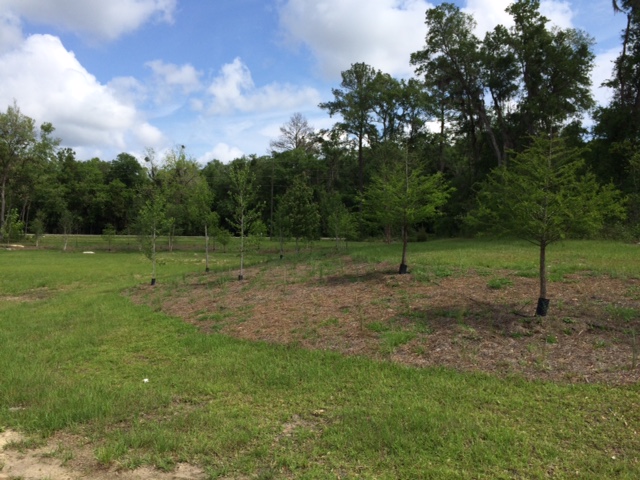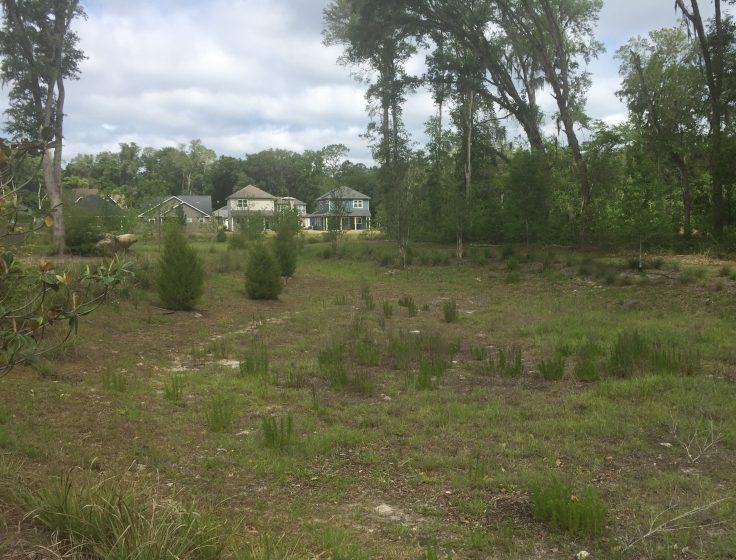 Lessons learned
First, I think success will be determined by how well a developer and engineering consultants, working on submitting a plan for the unconventional stormwater pond credit, understand and are motivated to create and maintain an enhanced stormwater pond. Unfortunately, in most cases, I believe motivation to maintain a functional pond is limited. Thus, a policy that offers incentives to create no-mow ponds needs to have mechanisms where the ponds are monitored, evaluated, and adjusted when issues come up. The following four key requirements in such a policy are:
A required funding mechanism where a third party bi-annually evaluates no-mow stormwater ponds to assure that they are functioning as intended.
Developers and HOAs are required to hire only approved landscaping management companies that know how to maintain these no-mow ponds.
Fines are levied on developers and HOAs that do not maintain the ponds appropriately.
Education signs are required to be installed with no-mow ponds that explain to residents why they are not being mowed and their purpose, describing how they benefit people and nature alike.
Monitoring and evaluating the functionality of any landscape design is typically difficult for government entities to do. Although requiring a third-party entity to monitor the ponds helps to maintain the enhanced stormwater ponds, the regulatory side still needs to be handled by government. Thus, some city/county resources must be allocated to hire additional city/county staff. One funding possibility is that a portion of stormwater taxes to be set aside to hire personnel to oversee the long-term monitoring of enhanced stormwater ponds. Additionally, some governments have the capacity to assign responsibility to current staff, but early communication and agreement should be established before adopting the new policy. A local government will adopt a new policy, which contains government oversight, only when a clear path towards government capacity is established.
Mark Hostetler
Gainesville